Winter Green Man 2022 Race Report
Write up of the 46 muddy, mucky, gorgeous miles along the Community Forest Path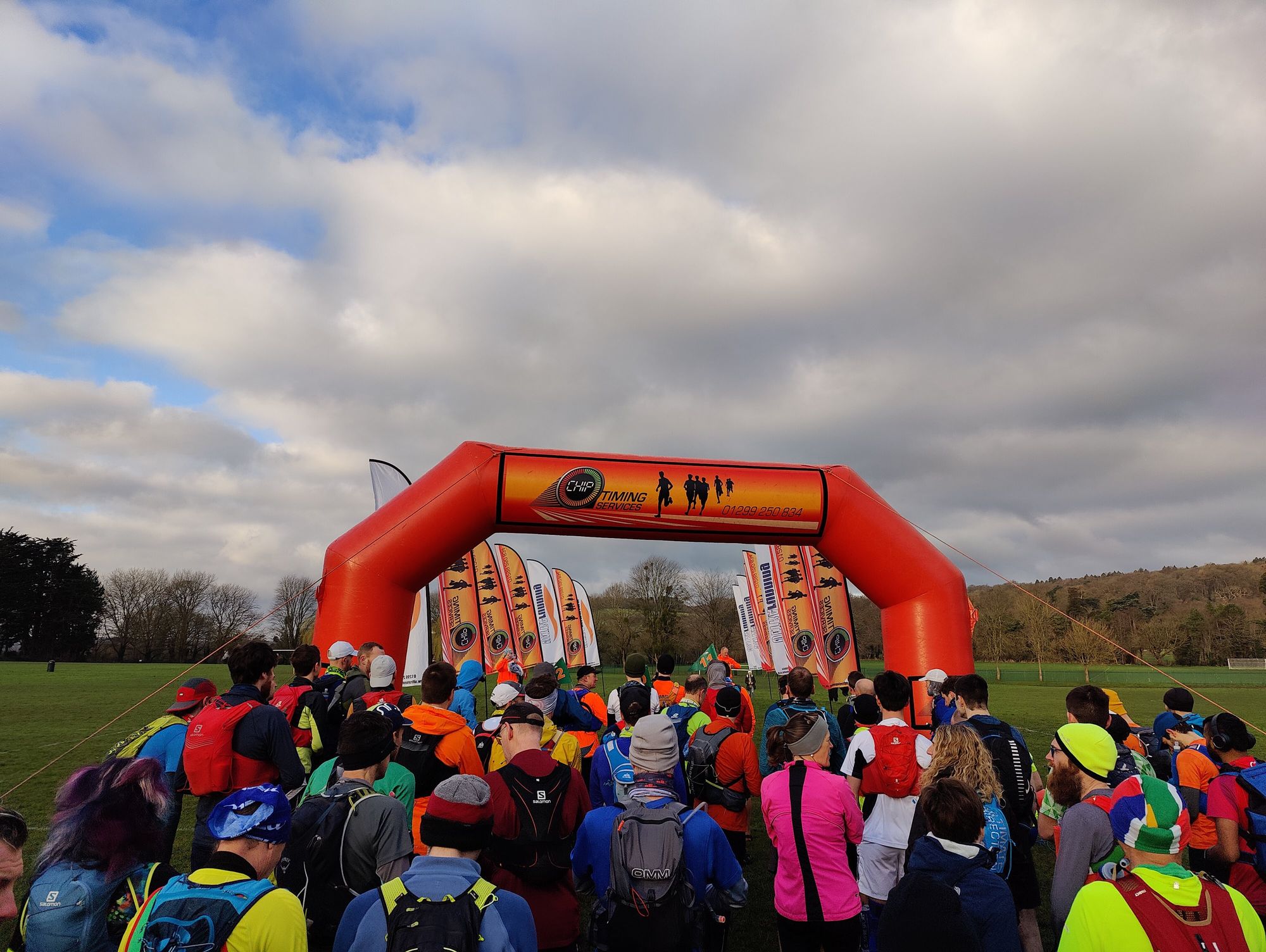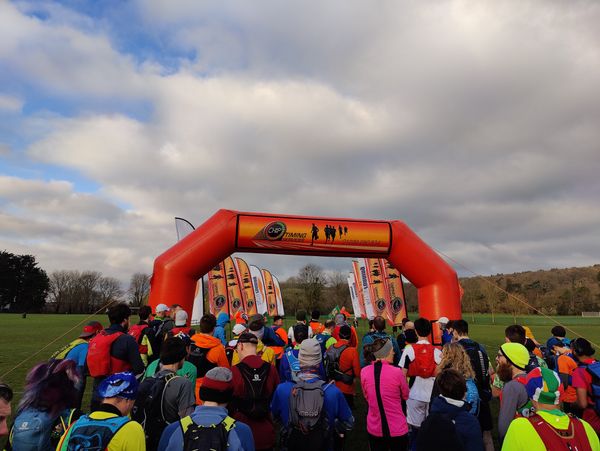 It was a long road to my first Green Man completion. After a DNF in my first attempt in Summer 2021, followed by a successful solo attempt a few weeks later, I ended up with a yearning to complete the event on race day and earn myself both a medal & an entry into the Book of Woodwose (a big list of everyone who has completed a loop of the Avon Community Forest Path in one go)
This is part 2 of the article, a write up of how the race itself went.  The first part discussing training, tactics, gear & nutrition can be found here.
Goal
I knew I could do it after my completion the previous year, it was just a case of keeping a sensible pace, eating often and staying positive.
With my solo attempt taking me 10:34:00 I was keen for a sub-10 hour finish.  That formed my "Plan A", with "Plan B" being to finish under the cut off time & preferably in one piece.
Obligatory Flat Lay
Here's all the gear I was packing for the day; a fair bit heavier than the summer as the lower temperature required many more layers, though I was hoping the cold would help keep my heart rate lower too.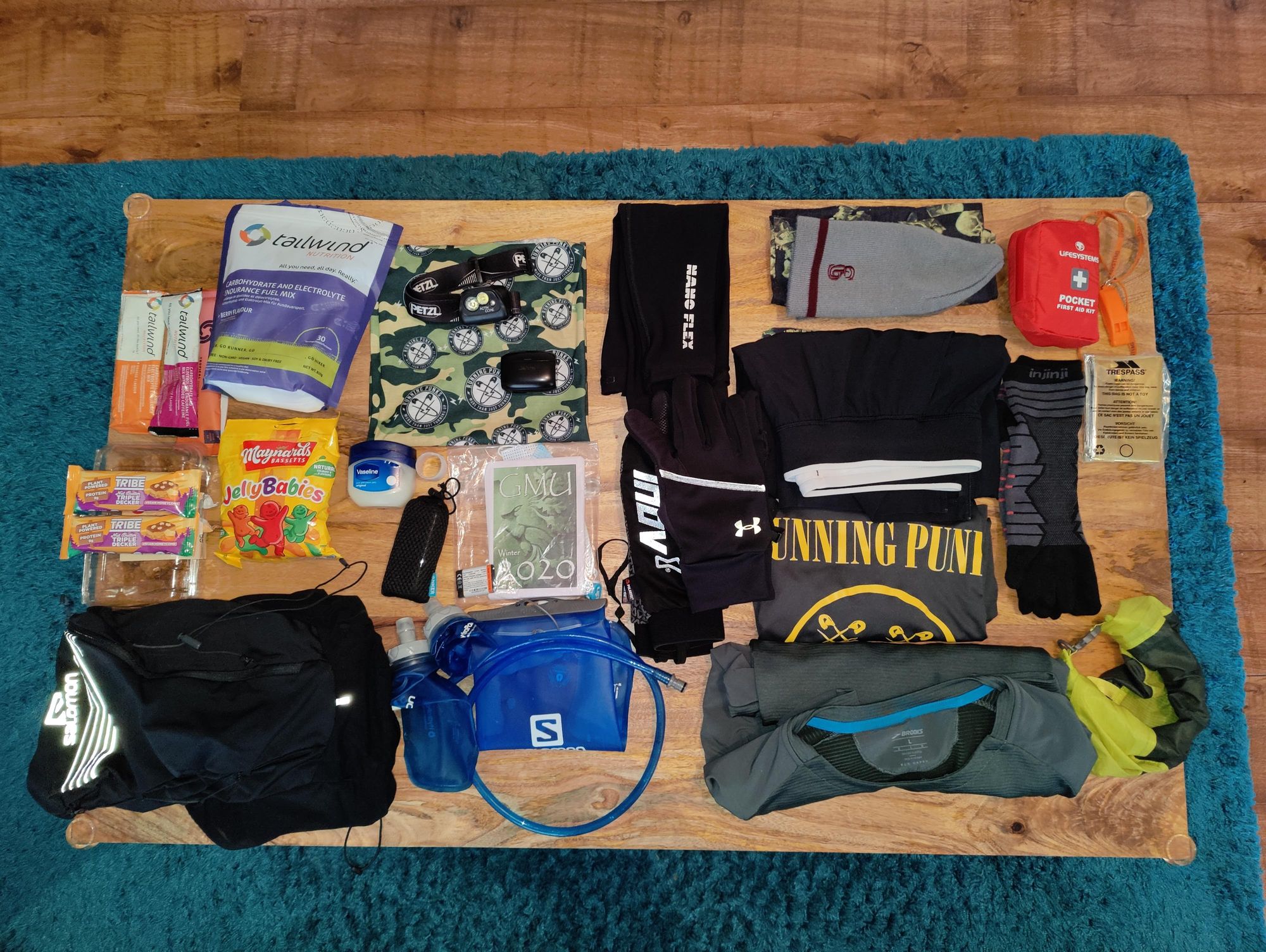 Opted for more real food (if you can say that about Jelly Babies) with Tailwind forming the basis of the nutrition in case I struggled to eat. Had some tasty but hard to digest Tribe bars too for extra energy, with the plan being to eat what I felt like at the aid stations as well.
Conditions On The Day
We'd had unusually warm bright weather on the lead up to the event, spoiled by a solid stretch of downpours before the big day. Any trails that had dried up were well and truly back to pre-spring muddiness!.
And boy oh boy were they muddy; most of the susceptible areas (of note being Long Ashton and the stretch through Winterbourne) were boggy underfoot leading to some slow going. This was made worse by being middle of the pack; going through them after ~60 other runners had churned up the ground was even more challenging.
As for the day itself it was certainly a crisp, overcast morning, but dry throughout with little to complain about
Lining Up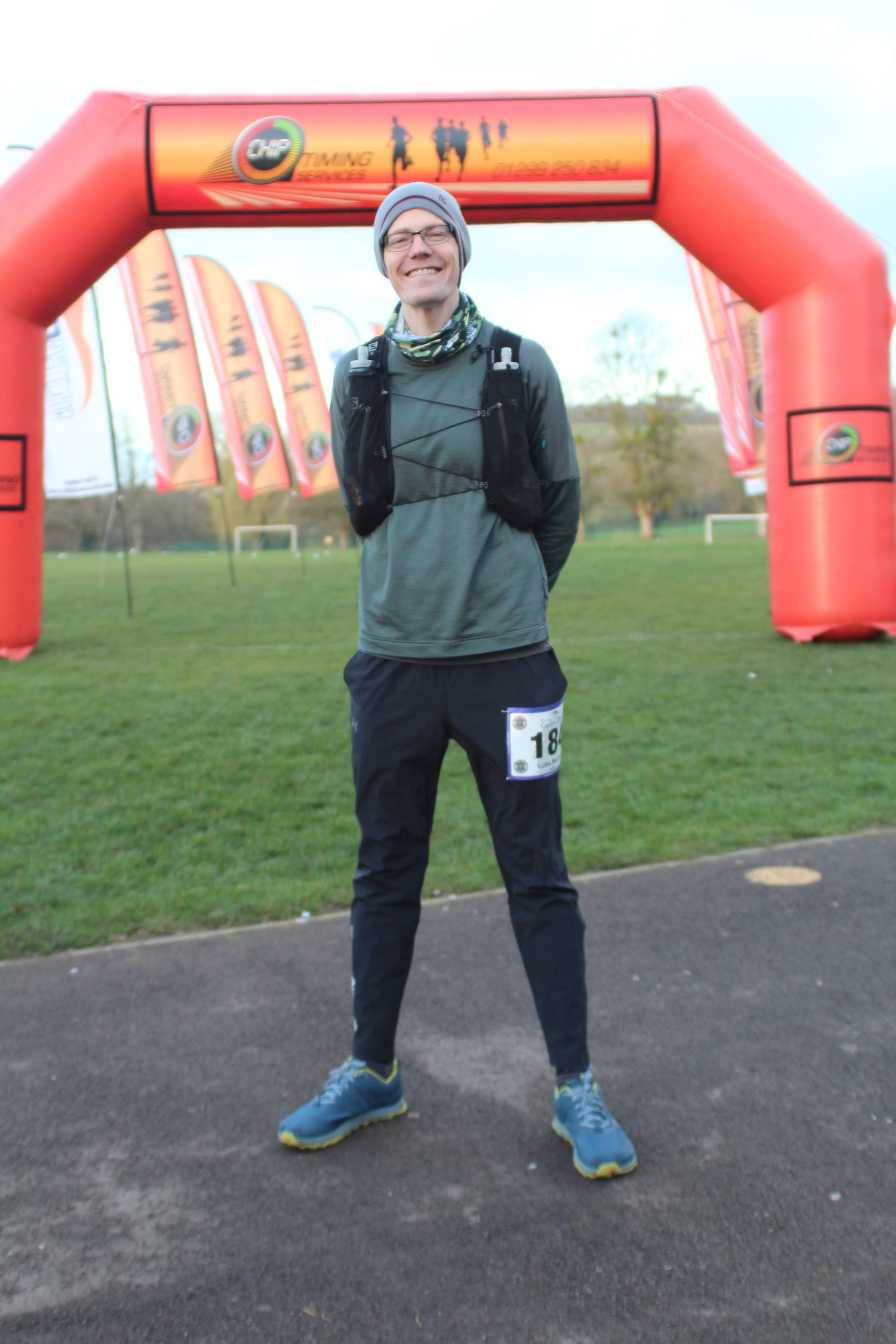 Always a bit awkward at large events filled with folks I don't know, so it was nice to be pulled over by some TACH folks for a chat before the starting horn went; was glad to hear they all completed the challenge as well!
Trip to the loo, safety briefing, then we were off for a solid day's bimble round the woods.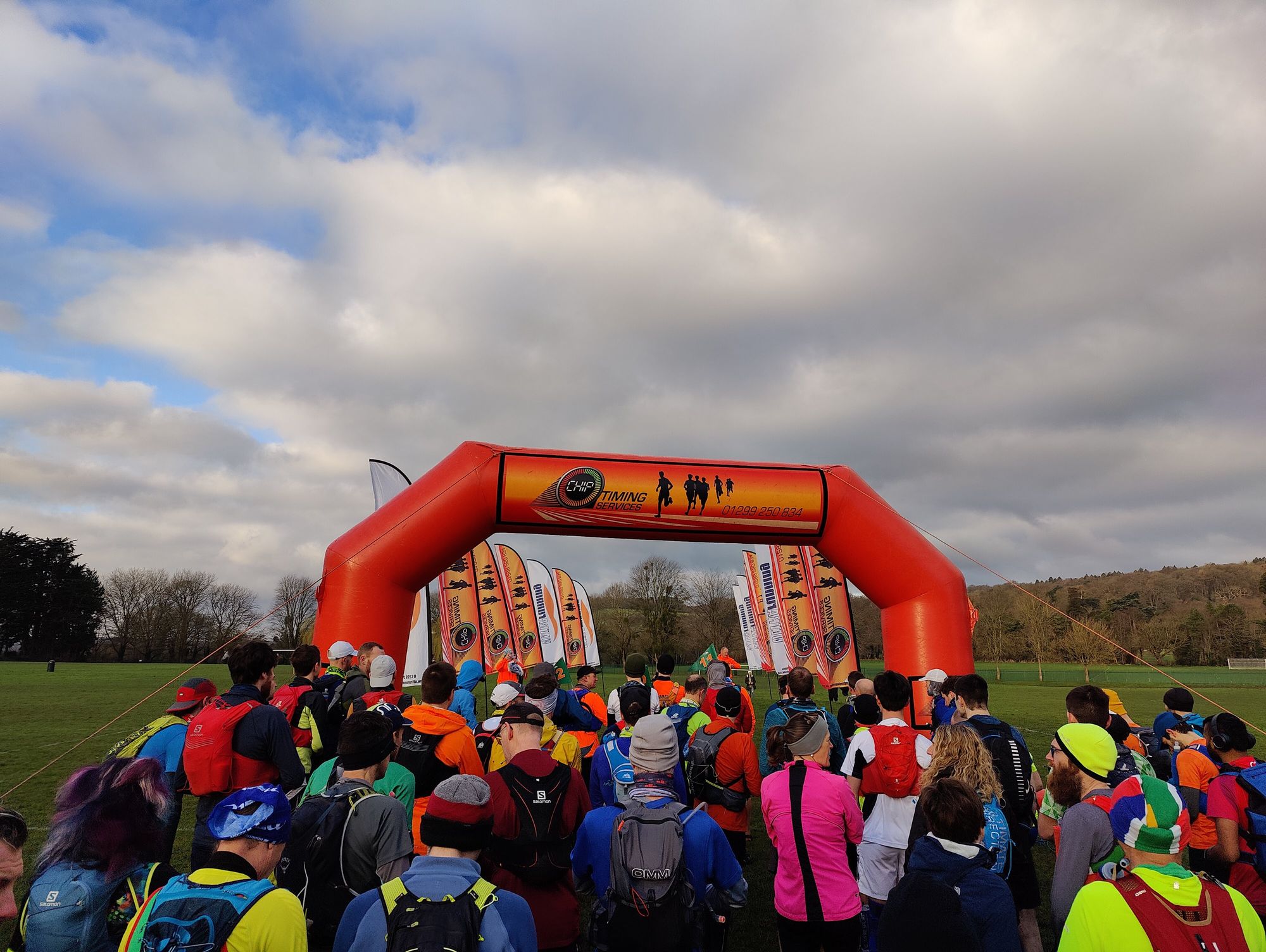 Stage 1: Ashton Court to Norton Malreward
Via Long Ashton & Dundry
The first stage leaves Ashton Park School, goes into Ashton Court for a stretch then across Long Ashton Golf Course into some very muddy woods before a long mucky climb up to Dundry.
The Dundry climb is infamous; in the Summer it is towards the end of the course, so it was a pleasant change to get it out of the way early before leaving the biggest hill in the rear-view mirror.
I'd say this was the muddiest stretch by far with lots of field crossings and narrow trampled trails to navigate over, getting better as we got higher.
Reaching the top of Dundry gives you excellent views across the whole of Bristol, whilst also providing the daunting realisation that you're about to run round all of it, across trails that are barely pin-pricks in the distance from this vantage point!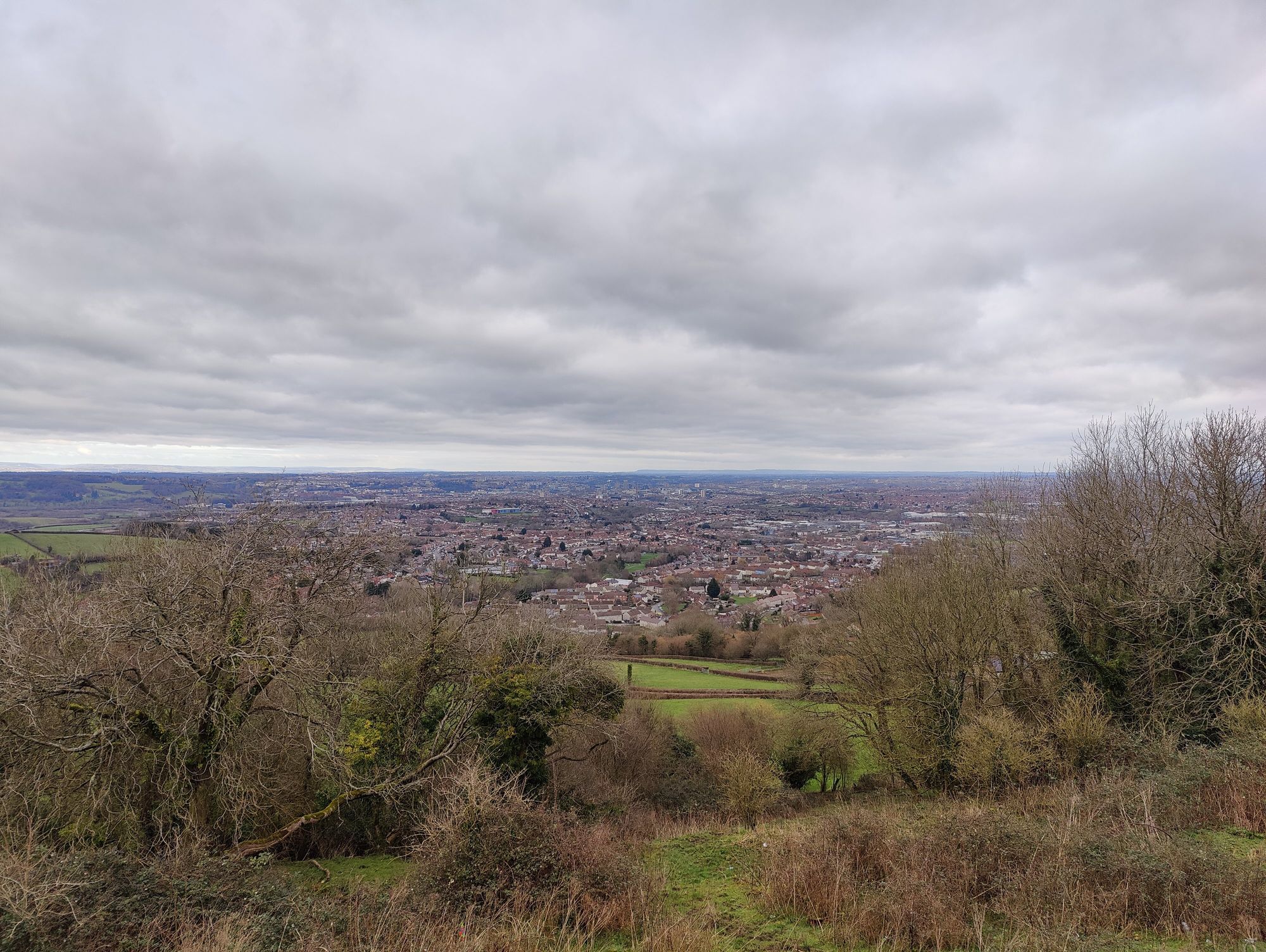 Along the whole of the Green Man route folks set up unofficial aid stations; usually supporters of those running on the day, who then stay the whole time to help the other folks doing the challenge. These people melt my soul and are absolute heroes through and through.
Here's the first we came across outside a farm near a lovely downhill stretch, giving out jelly babies and encouragement.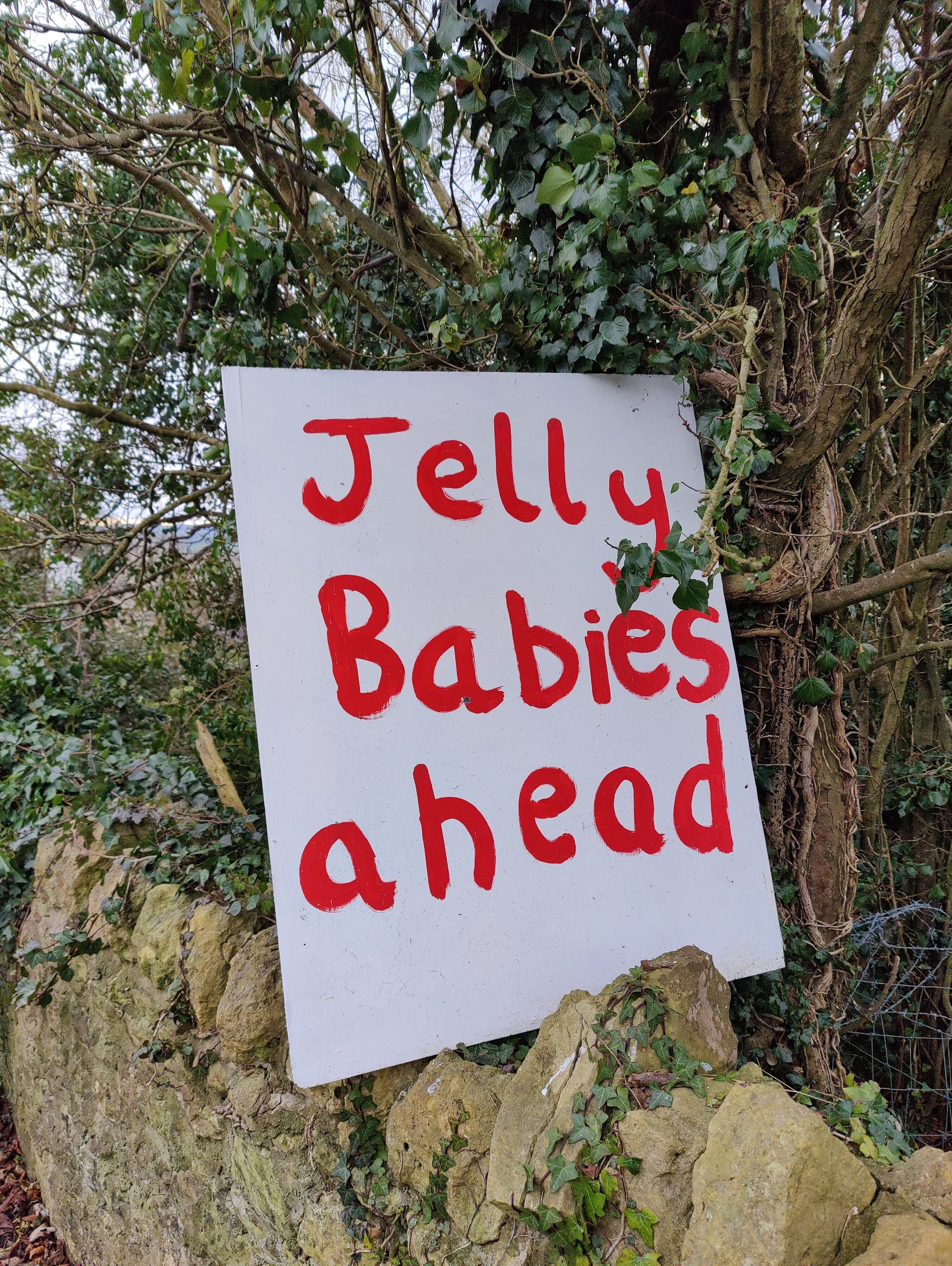 After coming down past North Wick & Norton Hawkfield it was time for the first aid station at Norton Malreward. Topped up the water and grabbed handfuls of Soreen and Jelly Babies (noticing a theme?) before trundling off towards Pensford.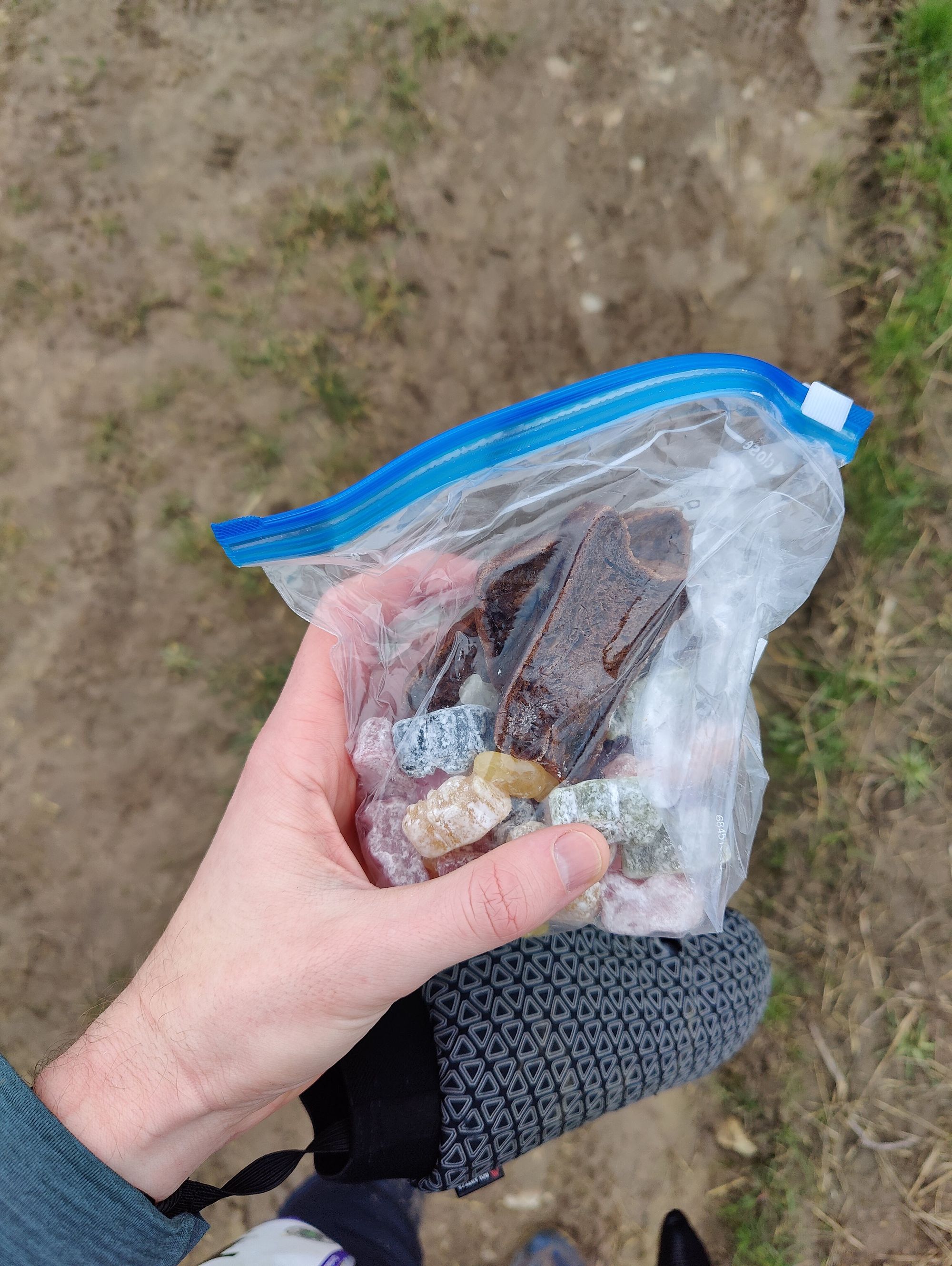 Stage 2: Norton Malreward to Keynsham
Via Pensford, Woolard & Compton Dando
Shortly after the aid station I ran past the photographer. I overheard him say to the person just behind me "Congratulations, your currently 2nd lady! Keep it up".
As a proudly middle-of-the-pack wannabe I should never, ever be close to a podium spot runner, that obvious meant I was going too fast and would burn out too soon (like I did last time 🤦‍♂️). I slowed right back, let them pass, and took on a much more gentle pace for the foreseeable!
(That person was Hannah Large, who did indeed smash it to 2nd place!)
From Norton Malreward it was a short stretch to Pensford and it's viaduct, seen standing proudly as you descend towards the village.  I was still feeling strong at this point, in high spirits and eating properly.
From Pensford is the most picturesque stretch across fields, woods and streams through the villages of Somerset. I started to tire & feel the burn as we approached the edge of Keynsham, even taking a wrong turn that was kindly corrected for me by another runner giving me the heads up.
The Keynsham stretch goes through some lovely parks before dropping in to the Lock Keeper where the River Chew and River Avon meet for the 2nd checkpoint.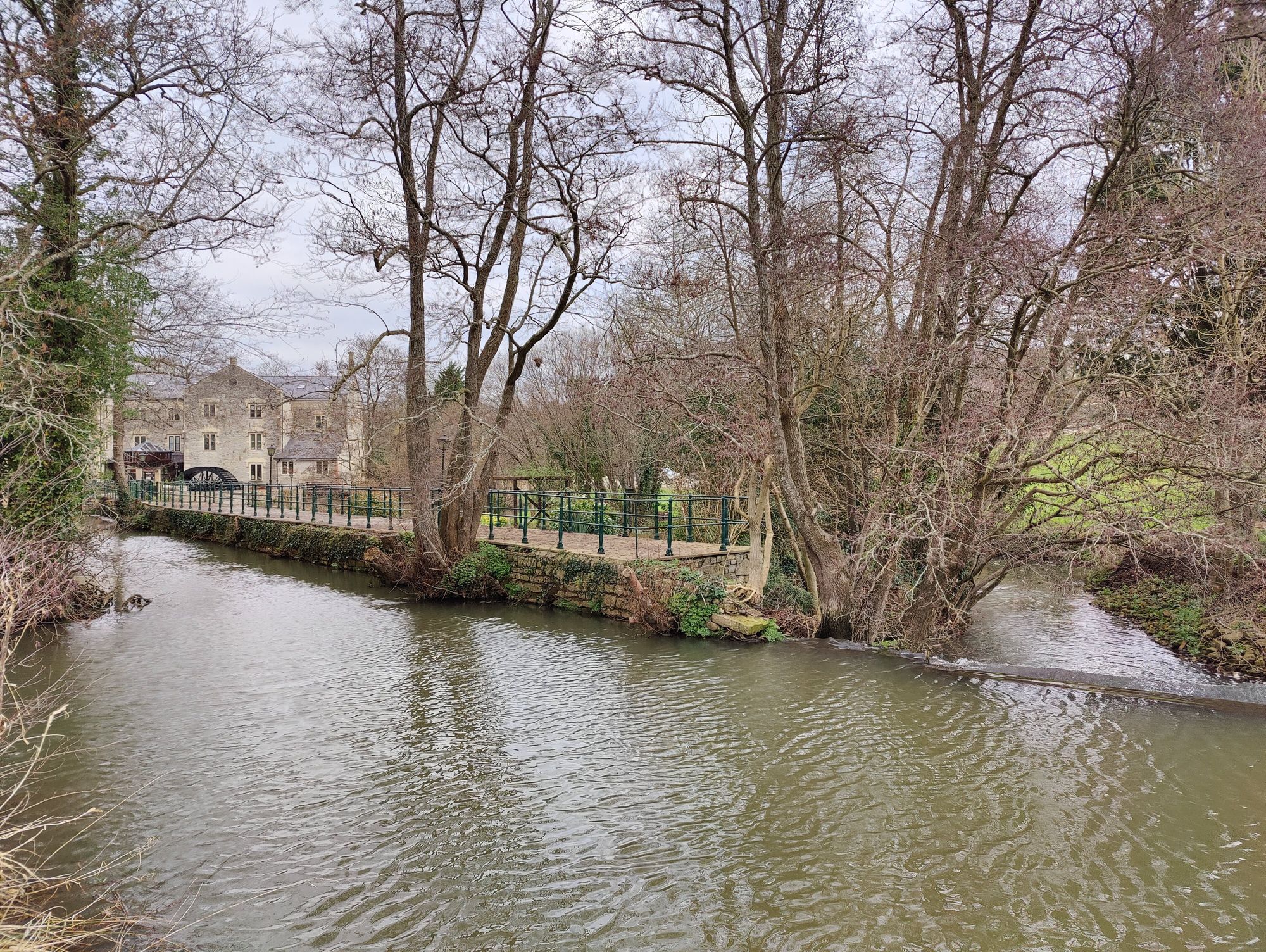 I was very glad to see the checkpoint here and took a little longer refuelling and recovering. Had a lovely chat with one of the marshals as I tried (and failed) to refill my water bottle with Tailwind powder, before taking a walk out of the station to rest and sort my gear without losing more time.
Stage 3: Keynsham to Hambrook
Via Warmley & Winterbourne
The longest stretch between aid stations, this one is where you need to really start digging in & gritting those teeth. Lots of hills to climb along with some long flat stretches that seem to go on forever (looking at you Bristol Bath Railway Path...).
Did get a nice photo on the way out of the aid station though, so there's always that.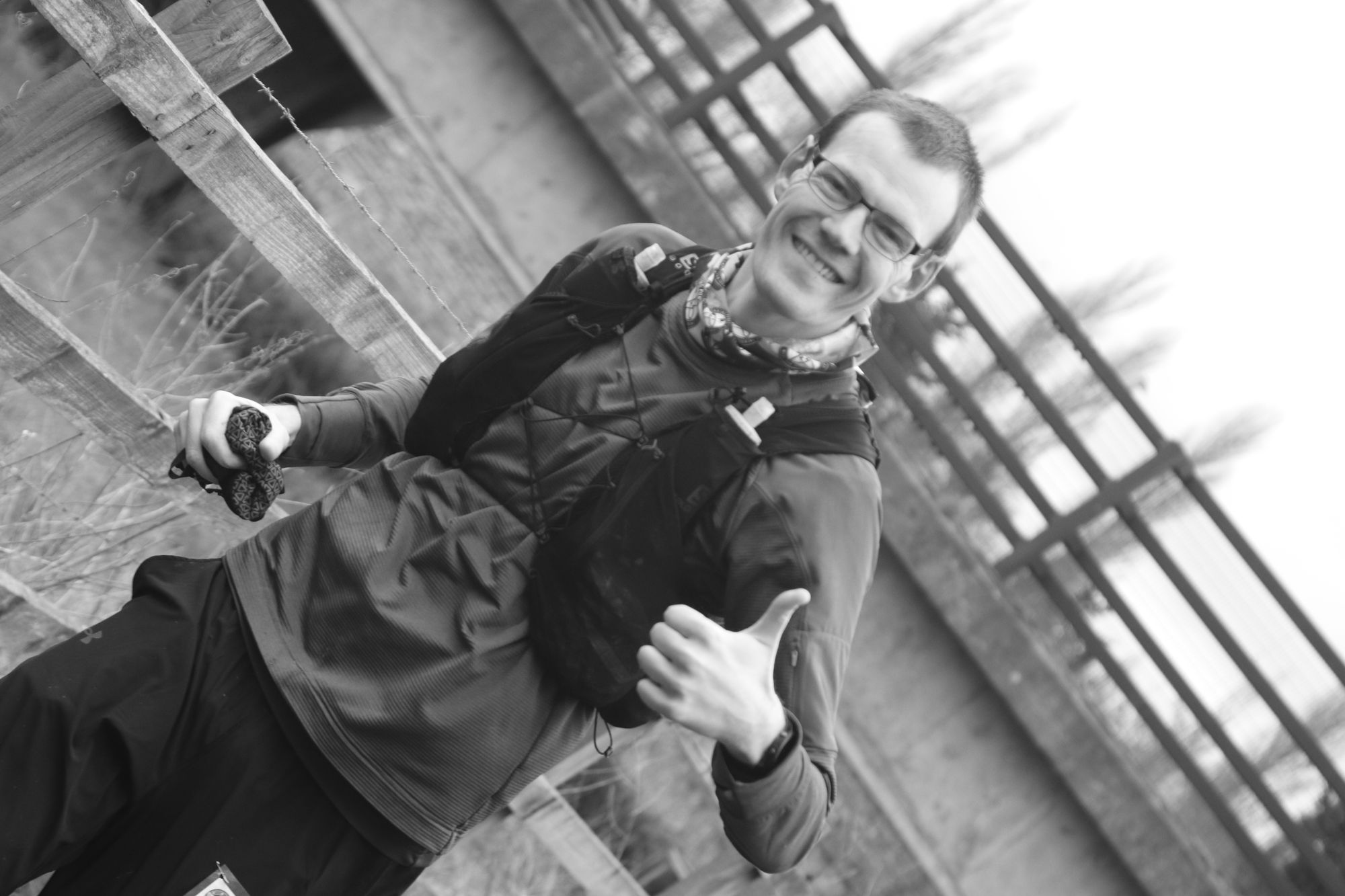 Along the trail I met up with two friendly souls, Nick and Daniel, who were both aiming for a sub-10 hour finish like myself. We chatted away a bit before noticing the 10 hour time lord was hot on our heels and gaining ground!
Looking at our watches, we couldn't believe he and his posse of runners were here! We were doing well on time and had a good bit in the bag for when things started to suffer later on.
Sighting him put a fire under us and we started pushing harder as we passed the Kendleshire Golf Club, reaching a tough pace through the Frome Valley as we struggled to get to the third checkpoint at the White Horse in Hambrook before he arrived.
We beat him, just, and took a breather before quizzing him on his position. The timelord was doing positive splits with lots of time at each checkpoint, which was why we'd been caught up like that.
Still, it made that sub-10 hour target seem very real and on the cusp of slipping away.  Nick and Daniel left quickly, I needed a longer break before leaving the White Horse.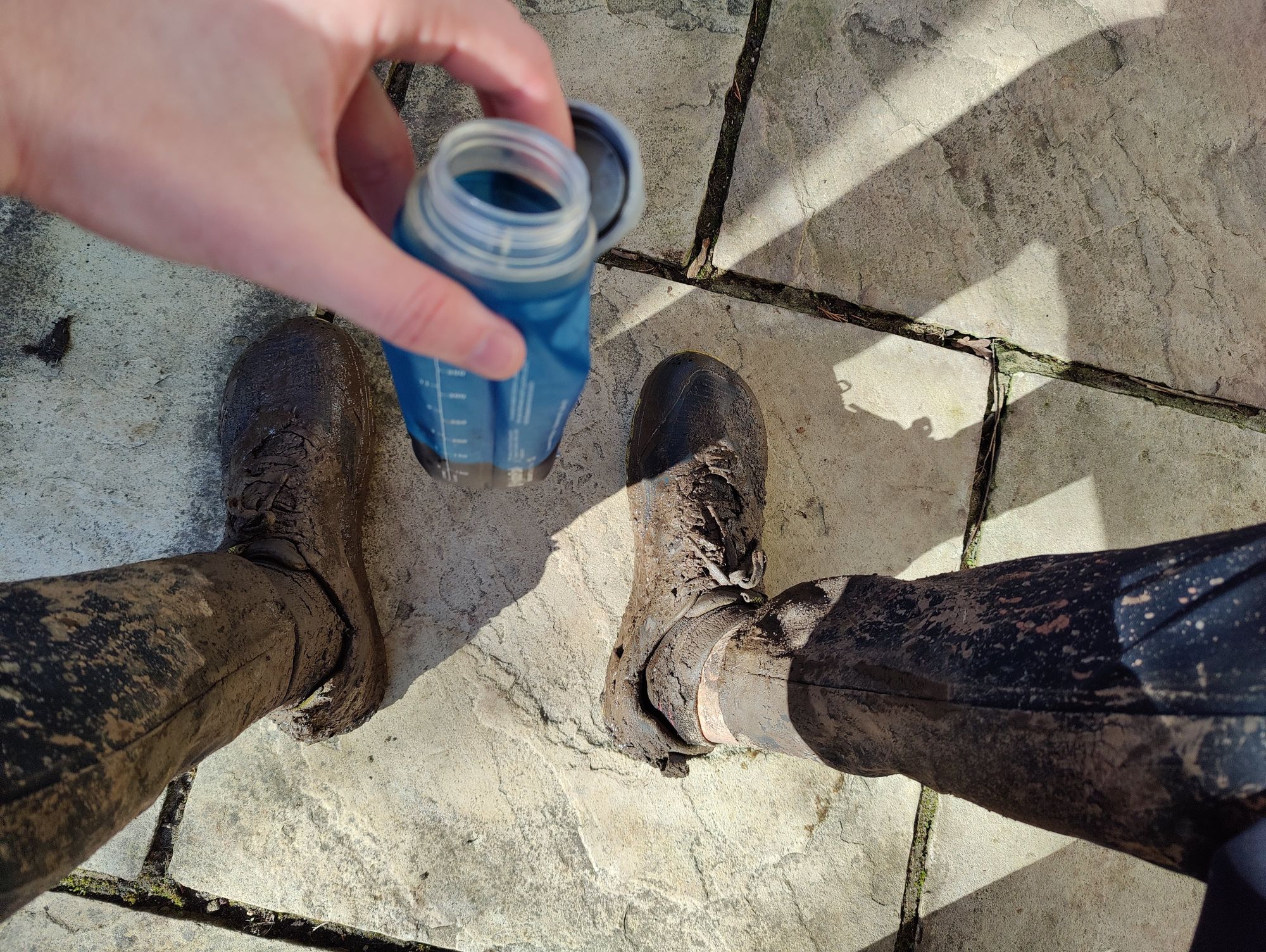 Stage 4: Hambrook to Blaise Castle
Via Bradley Stoke, Easter Compton & Henbury
I caught up with Nick and Daniel for a bit, we chatted away before I pulled away to jog ahead. I had a little more pace left in me and wanted to capitalise on it whilst I could, though those 2 fellas ended up less than 5 mins behind me at the finish and had much wider smiles on their faces, a poor decision on my part there!
The next section took us through a whole mixture of scenery, from suburban pathways to the Three Brooks Nature Reserve, then back to road running before a long stretch through Easter Compton and over the fields towards Henbury.
During this stretch I hit a long black spot, digging in to keep going but struggling immensely. My pace had descended into lots of alternating between running and walking, always with that aim to stay ahead of the timelord in my mind but knowing I was losing ground.
The climb out of Easter Compton is where things really took a turn; my feet were killing me, I opened a gate the wrong way and bruised my side, and I submerged my whole left foot in a deceptively deep puddle at a stile.  I'm glad there were no kids around to hear the language I used on both occasions!
Over most of the hills on the northern stretch I was alone, however coming down into Henbury lo and behold, the 10 hour time lord is there again, gang of runners in tow!  I couldn't believe it! I was so close to the 4th checkout and once again having to push to get there in time.
Rushed in to Blaise as fast as I could handle (which was not that fast), registered my number, downed 2 cups of coke then walked out towards Shirehampton to get as much of a lead on that brutal 10 hour mark as I could.
Stage 5: Blaise Castle to Ashton Court
Via Shirehampton, Sea Mills & The Downs
I walked across the grass of Blaise Castle up to the King Weston Fields that stretched to the golf course before resuming a slow plod. Thoroughly broken at this point and regretful that I didn't get a longer break at Blaise, nevertheless I trundled on.
I live in Shirehampton, and I can't express how tempting it was to bail on the whole thing and wander down the hill to my house, rather than take on the climb up to the Downs and over to Ashton Court.
Tempted resisted though, and soon (well not soon, I was walking a LOT here) I saw the Clifton Suspension Bridge from the observatory.  I've never been so happy to see the bridge before, as it meant I was nearly there.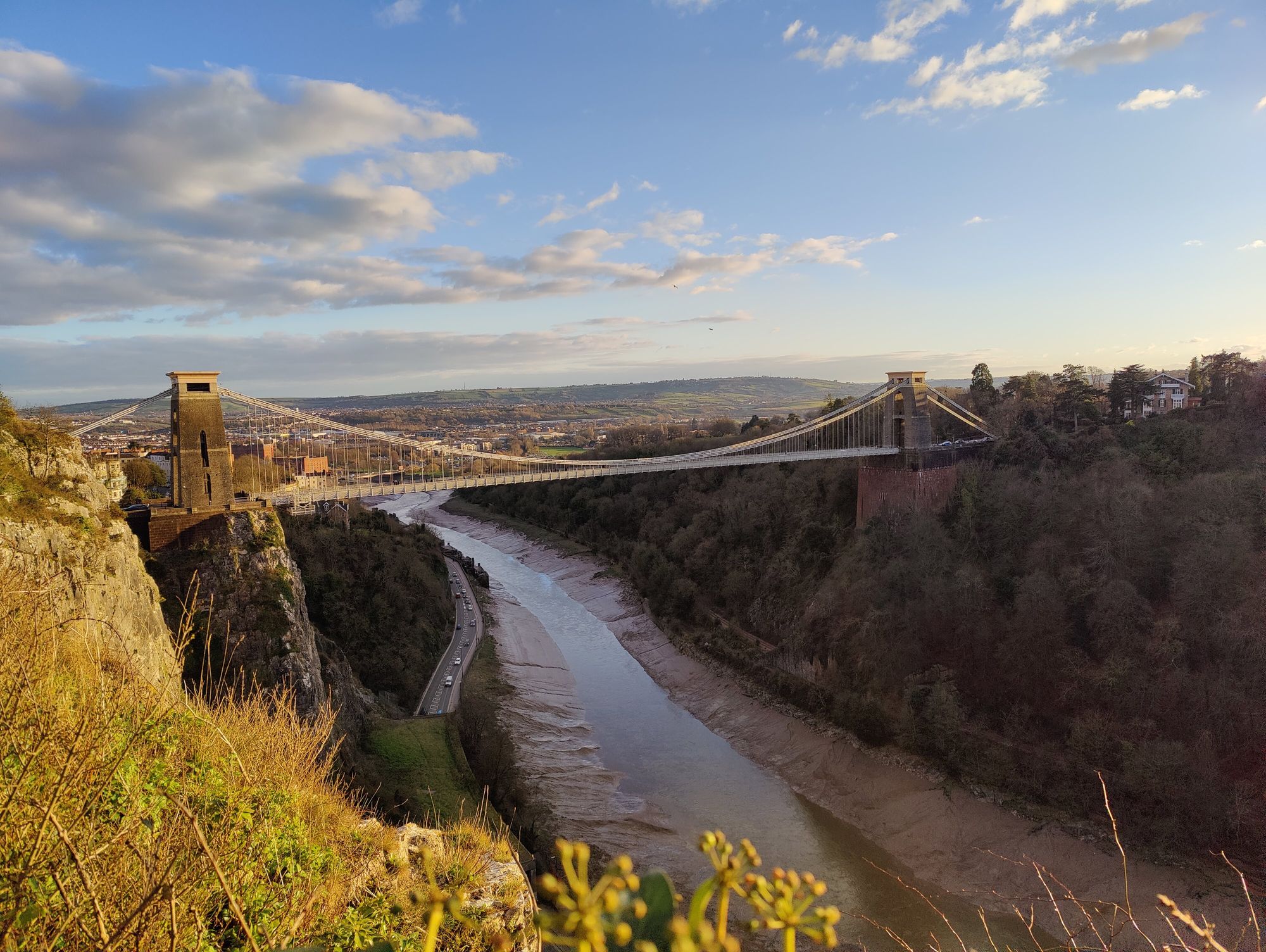 At the traffic lights before crossing into Ashton Court I saw a group of runners coming behind me. For a minute I panicked that it was the timelord again. Thankfully it was a group of 4 friends completing the race together.
They were massively friendly, lovely folks, with an infectious level of enthusiasm for a group of people who had just run ~44 miles.  They whisked me up and gave me a big morale bump to get me through the last 2 miles.
Helped them get a group shot in front of the Green Man statue below, before taking my own photo.
I tried to keep up but had to fall behind for the last stretch, whilst still carrying that motivation they'd given me to get going.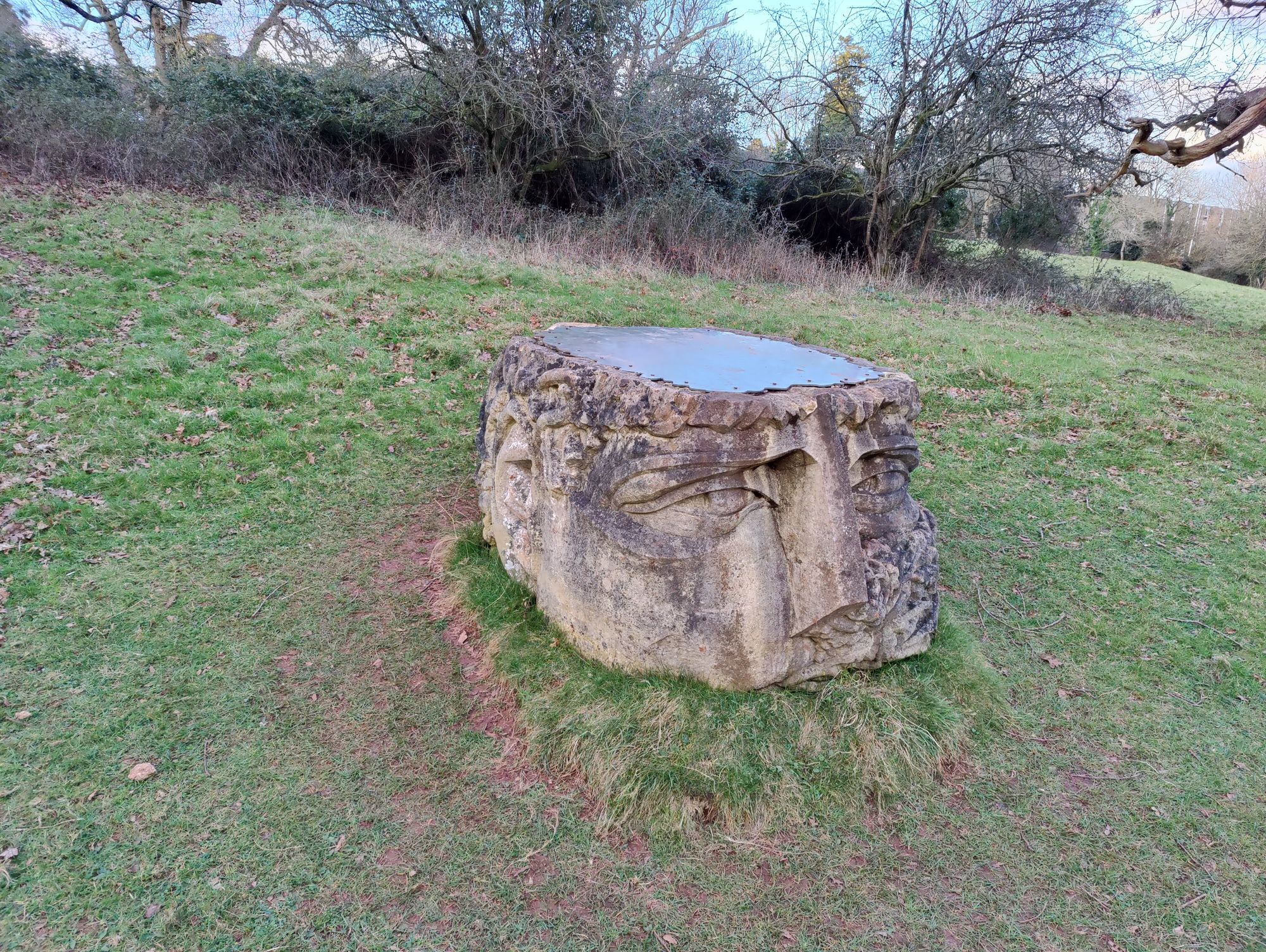 Crossing to the manor in Ashton Court, I saw the GPX on my watch led directly down the hill and into Ashton Park School.  I was confused, I thought there was a longer stretch through the estate first, but no, one easy stretch lay between me and a long nap!
Here I made a video for my fellow Running Punks, ecstatic about the prospect of finishing.
Approaching the finish I opened up the throttle as much as it would go (not far) and heard this great cheer from a kid who was shouting folks over the line. Absolute hero that kid (pictured blurred out below), made it feel very special.
This finish line photo is terrible, but I don't care, I bloody did it!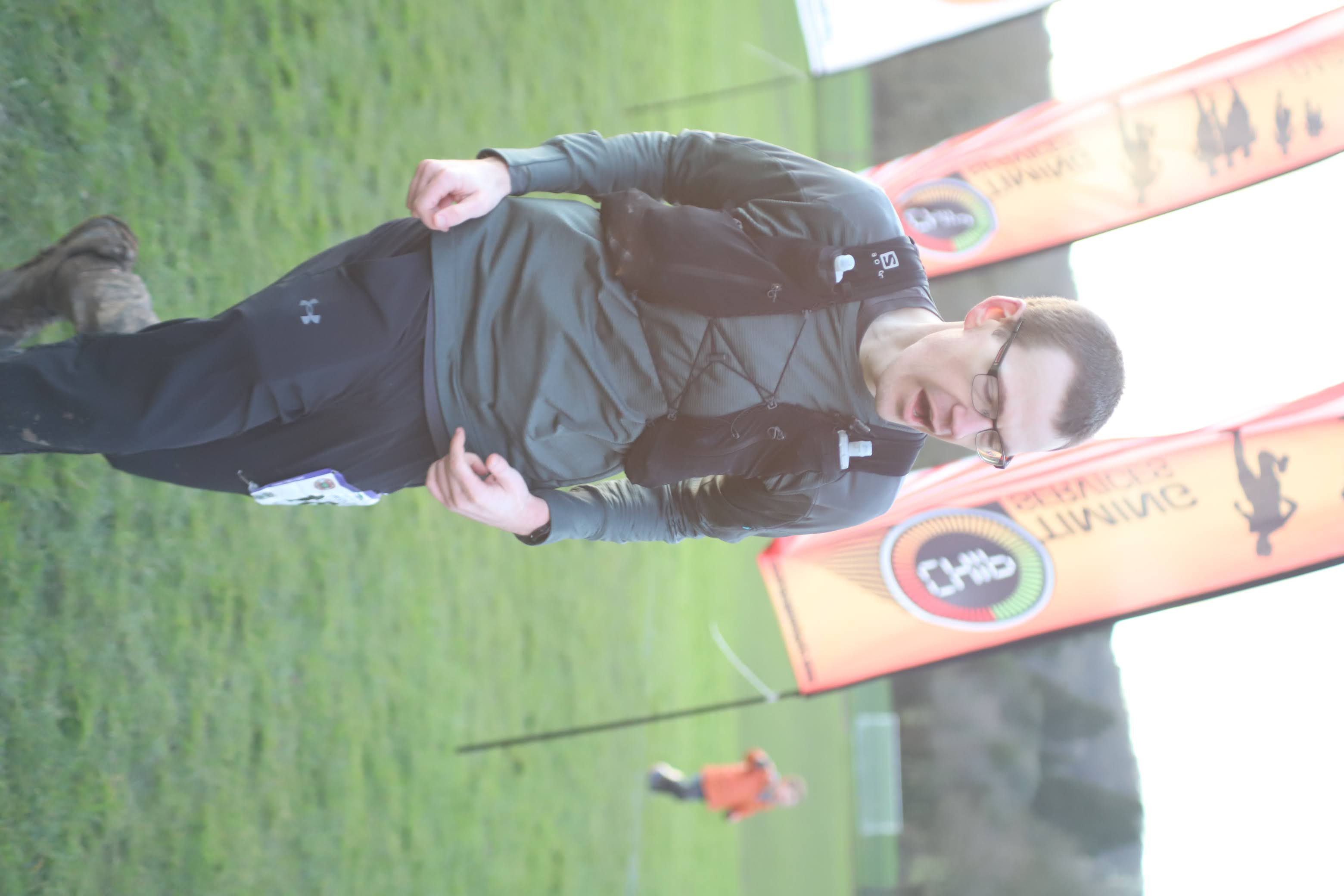 Official time 09:36:29.
Medal round my neck, clutching a certificate and t-shirt in one hand, and a doggy bag of recovery food in the other, I saw Nick and Daniel coming up to the finish line.  They both completed in 09:39, no time lord in sight, with this random knackered stranger giving them a roar from the side-lines.
After Action Report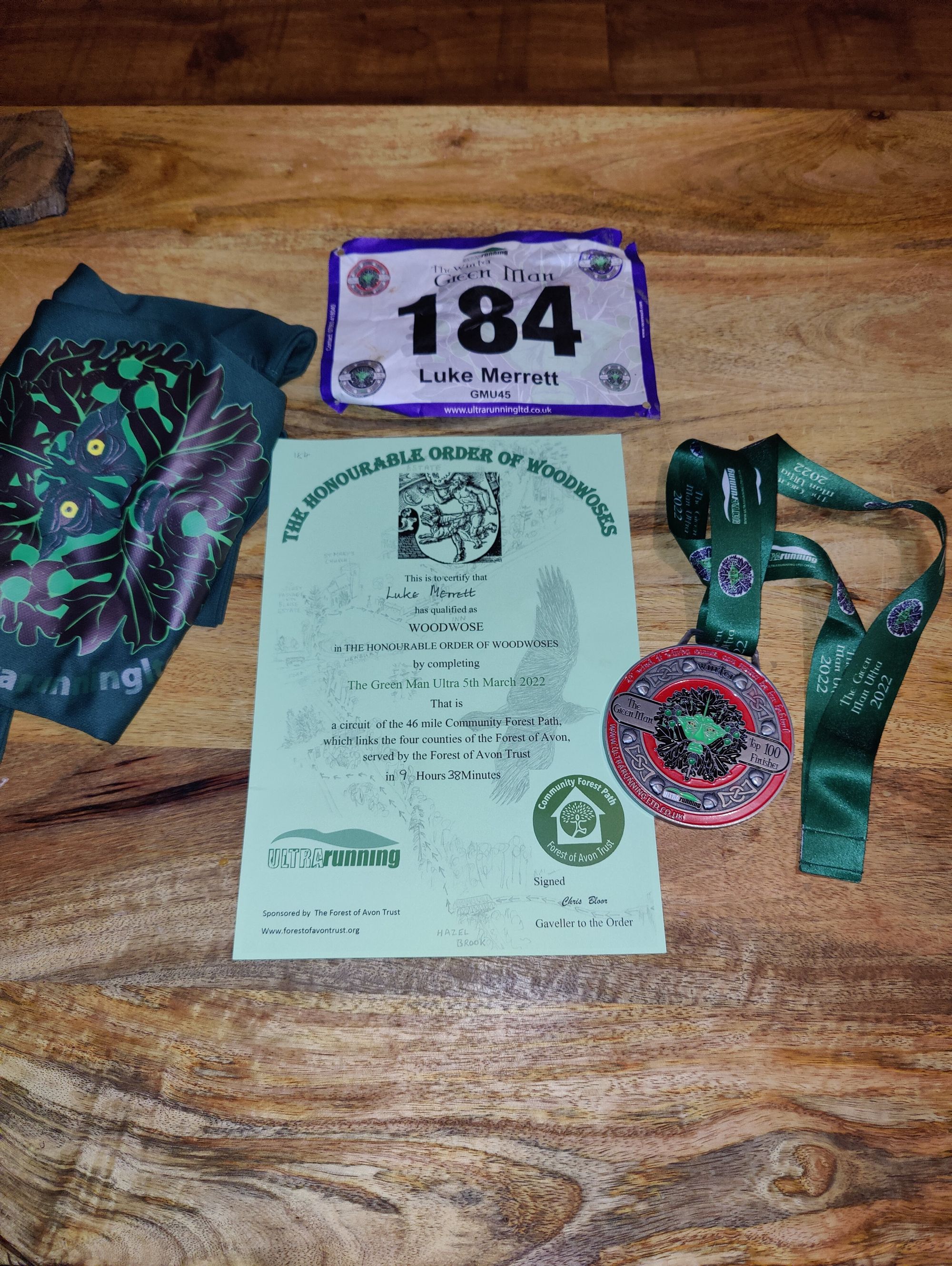 Damage
There were 3 main things:
A sore extensor tendon on my left foot, likely a combination of tight laces and the foot swelling.  Took a couple of weeks to recover but didn't stop me training
Sore toes from toe bashing, especially when descending
Bruised hip from opening that ****ing gate the wrong way!
Got off lightly I think.  Feet smelled atrocious though, took a few baths to get them looking normal again.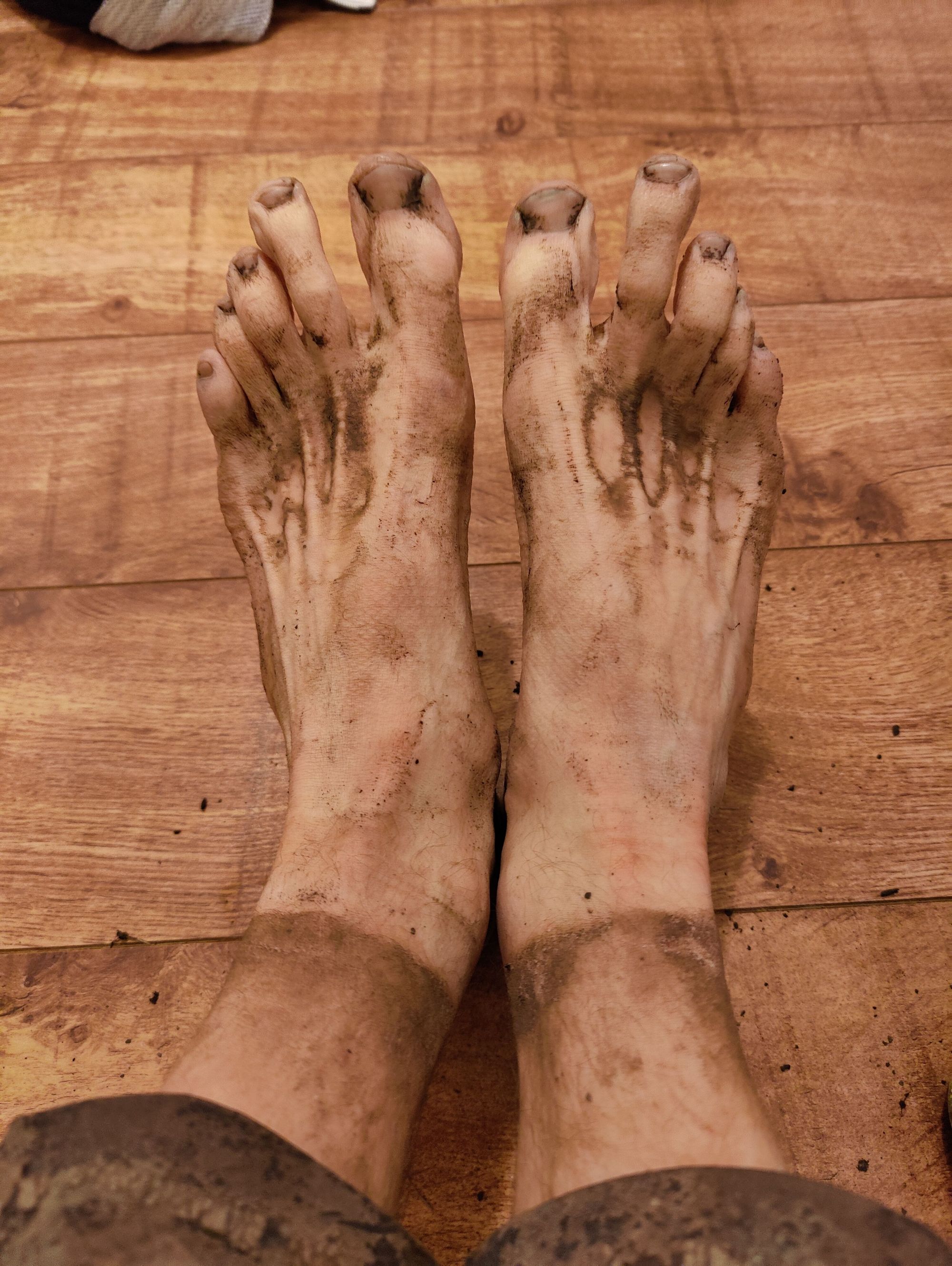 What Worked
Tailwind kept my energy levels high much longer
Stopped overthinking the food as much, enjoying treats at aid stations and trying to eat little and often.  Didn't touch a gel
Started slow and got slower, kept that pace real low and made sure to start in the middle of the pack
Splitting the run into sections between aid stations, rather than thinking about the remaining total distance. It always felt like a "reset" when reaching a checkpoint
Not checking the distance on my watch, ignorance is bliss
What Didn't
Nutrition still fell apart for me, this time a little later at the 5 hour mark. It was too much sugar, I didn't want to eat / drink anything else "sweet", was making me feel sick. By the end I was on water and coke (for some reason I really really wanted coke at each aid station)
Twinned with this, the second I stopped eating was the second I stopped being positive. The dark spots I hit were when I was struggling to put food inside me
I've always been a bit of a solo runner, but seeing how happy the groups crossing the finish line together were showed me just how powerful pushing through together is
Still getting some bad toe bashing, it's a balance I can't seem to get right (shoes tighten enough to be secure, loose enough to allow for swelling)
Would I Do It Again
Absolutely, which is good because I'm doing the Summer one in August 🙈