Summer Green Man 2022 Race Report
Round two of my nemesis, my original DNF, and a strong desire to get a buckle.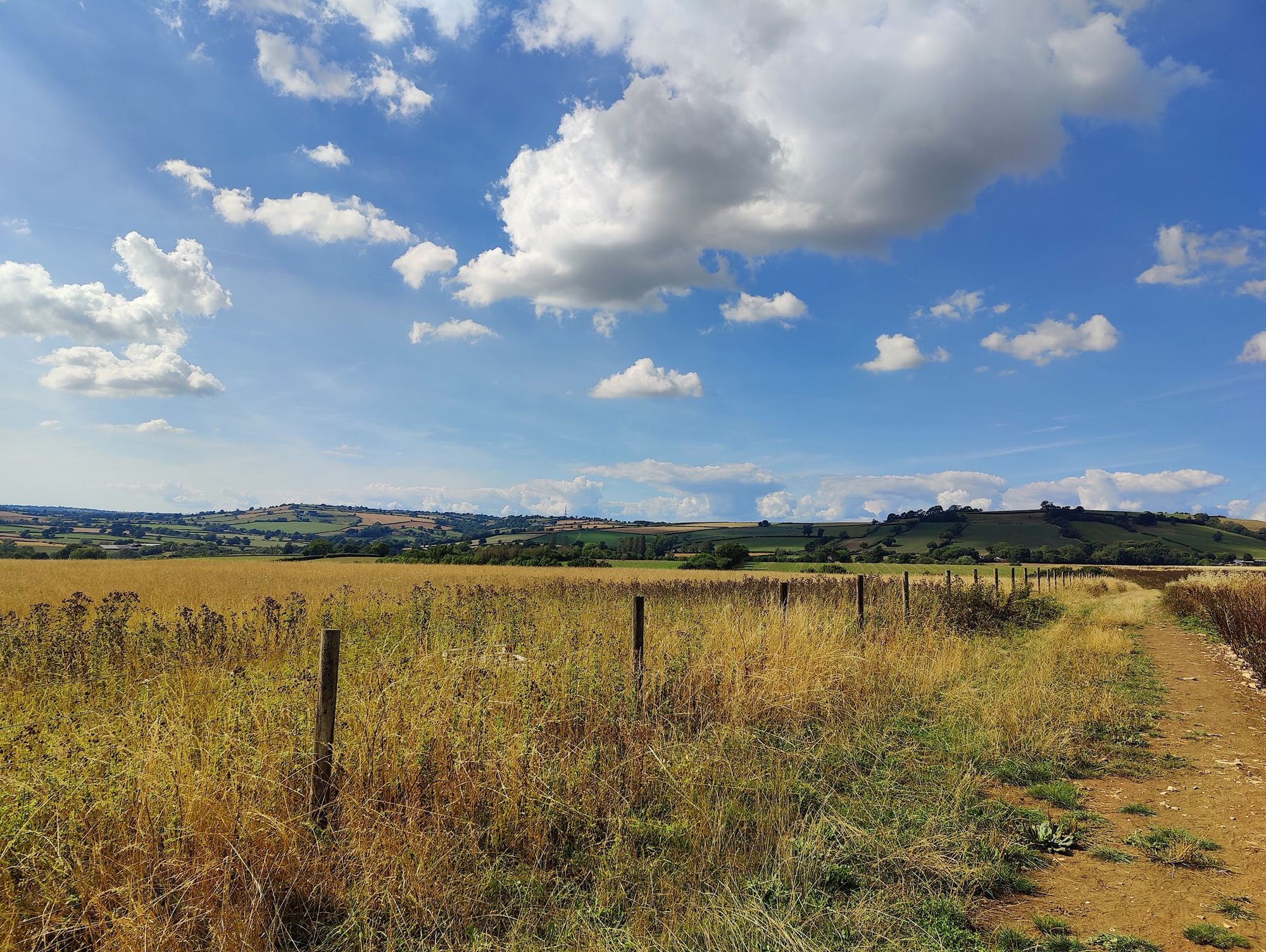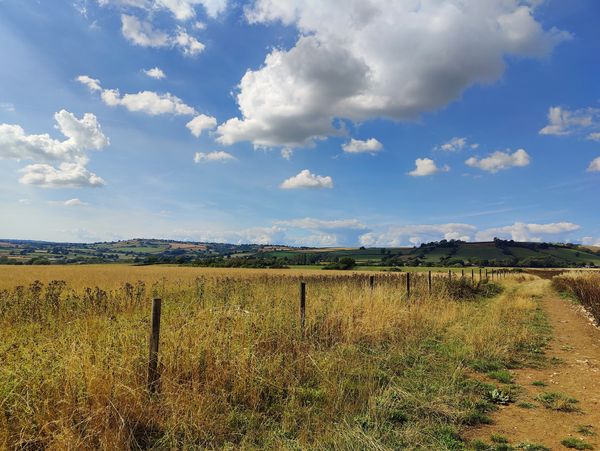 Back in 2021 I signed up for my first ultra race, the 46 mile Summer Green Man, a route that takes you around the outskirts of Bristol along the Avon Community Forest Path.
After going out too fast I ended up also getting my first DNF, crashing out before the halfway point and getting a lift of shame home.
With the help of friends and family I went and attempted it solo later, completing it in 10:34.
However it was important to me to go back and do it again on race day in 2022.
If you do both the Winter Green Man and Summer Green Man in the same year you get a buckle for The Double, I wanted that buckle badly as a token proving I could beat that trail.
So how did it go?
Training & Goal
From a strength perspective mostly happy with my training with an aim to maintaining the fitness built up for Race to the Tower and the EDDUM.
Did feel like I should have done more hilly hikes though, being doing too much flat running over the summer and needed more experience in the legs for all that hill climbing.
Main concern was, as always, nutrition. I'd tweaked the fuelling strategy after the last ultra but hadn't had a chance to practise it, it was all theory really.
Goals for the day:
Plan A: Sub 9 hours (in hindsight this was a frankly silly goal)
Plan B: Beat my previous best time of 09:36 from the winter
Plan C: Finish before cutoff, anything for that friggin' buckle
Gear & Nutrition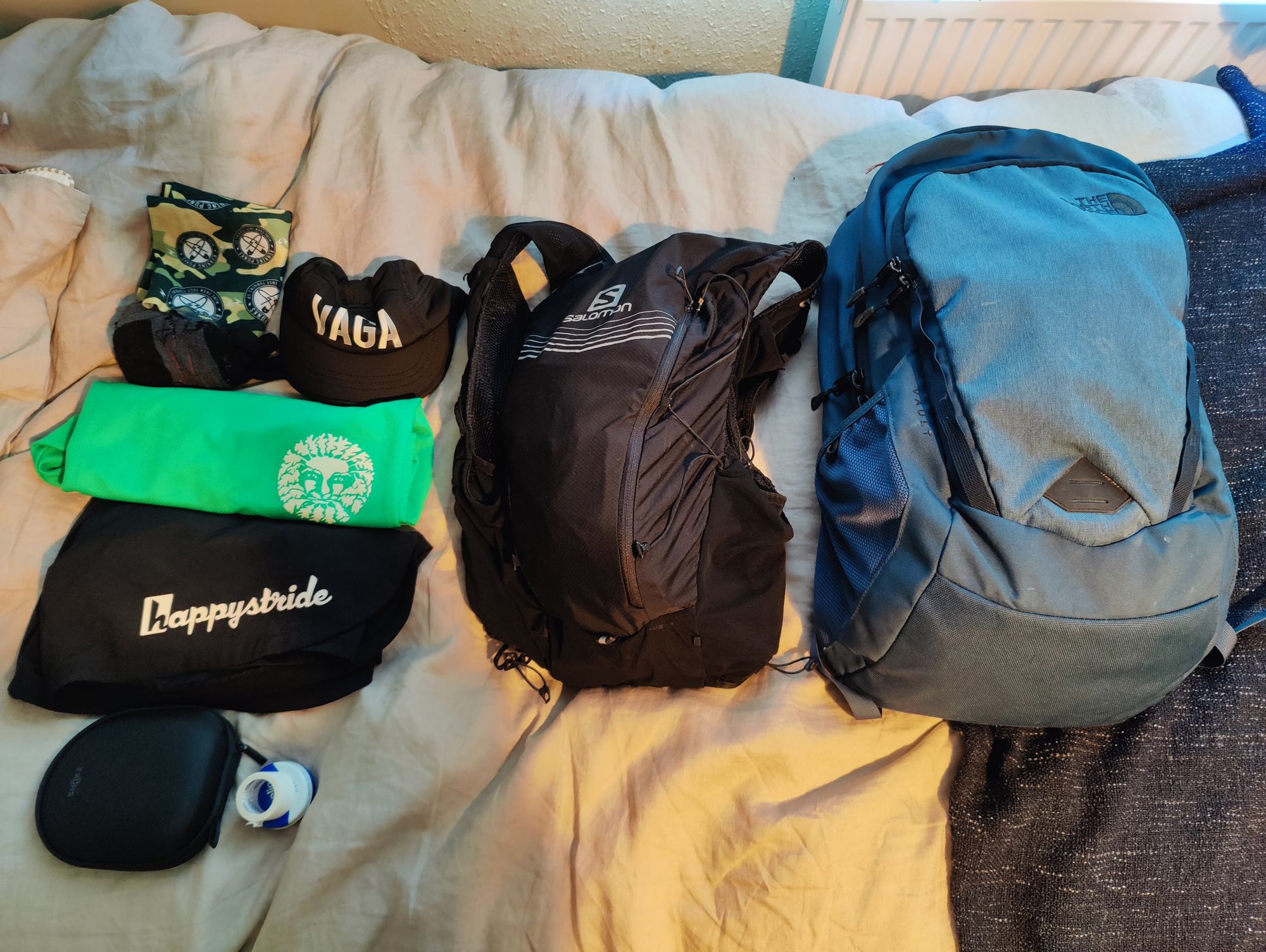 Still very happy with my Salomon Adv Skin 12 and Lone Peak 6s, equipment wise I felt dialled in & wasn't carrying anything that felt unnecessary.
Nutrition wise I was still opting for Tailwind, but more diluted with a water bladder on my back full to ensure I didn't get dehydrated.
I'd opted to continue eating 1 carby "thing" an hour to supplement the Tailwind, and a snack at each aid station.
Conditions on the Day
The forecast was ideal: cloudy with sunny spots, warm yet mild.
What we ended up with was clear skies and a strong sun from around 10:30 right through to the afternoon, with cloud cover only coming towards the end of the race.
There's a bit of tree cover along the route, however it's patchy and rarely lasts long. Most of the day was in direct sun.
Lining Up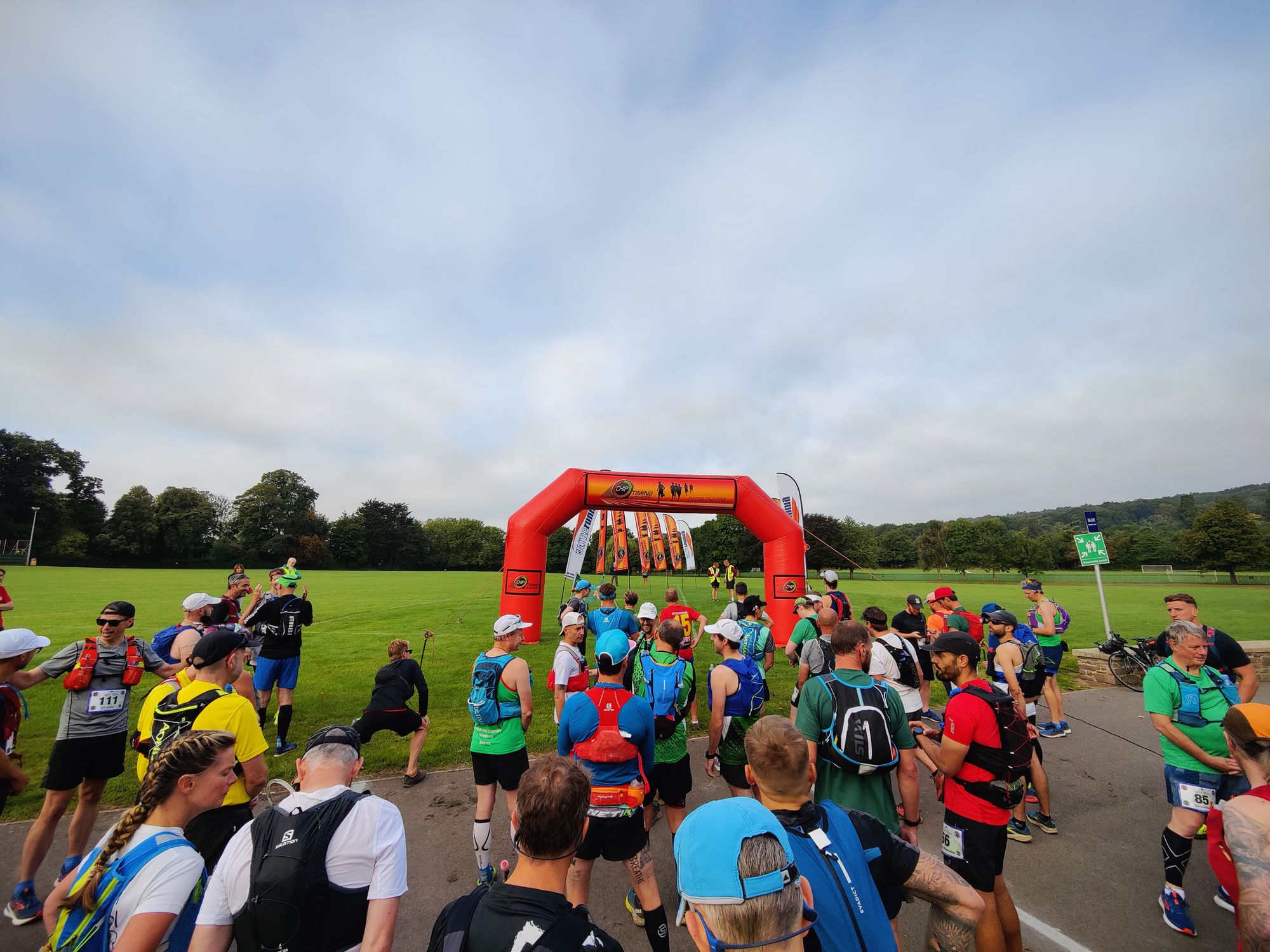 Arrived around 06:50 for registration with my partner Zoe and daughter Ellie dropping me off. We were given a branded red hat instead of t-shirts this year, which Ellie enjoyed parading around in whilst other runners arrived.
I got talking to Dave from TACH (my local running club) about race day strategies, quickly realising we were in very different leagues as he quotes a significantly faster time that I'd ever imagine hitting. Wished each other luck then went to entertain Ellie before the briefing.
Before we knew it the horn was blown and we were off, climbing through Ashton Court towards the Clifton Suspension Bridge.
Stage 1: Ashton Court to Blaise Castle
In what felt like an immensely good omen as I was leaving Ashton Court at the traffic lights I bumped into a guy who recognised me from the winter race. Back in the winter (which you run in reverse direction) at the exact same traffic lights coming into Ashton Court he and his group passed me and gave me a good morale boost helping me push to the finish.
He was out on a morning jog coming towards us, shook my hand, gave me a quick hug and wished me the best of luck for the day.  Absolute gent & a lovely boost right at the start.
Took things steady over the familiar ground in my neck of the woods, later bumping into Tom from TACH who was out with his partner walking their dog on King Weston Fields. Got a lovely shout out there that gave me a smile all the ways to Blaise checkpoint.
Real quick turnaround here, filled a water bottle, grabbed some jelly babies and got moving straight away.
Stage 2: Blaise to Hambrook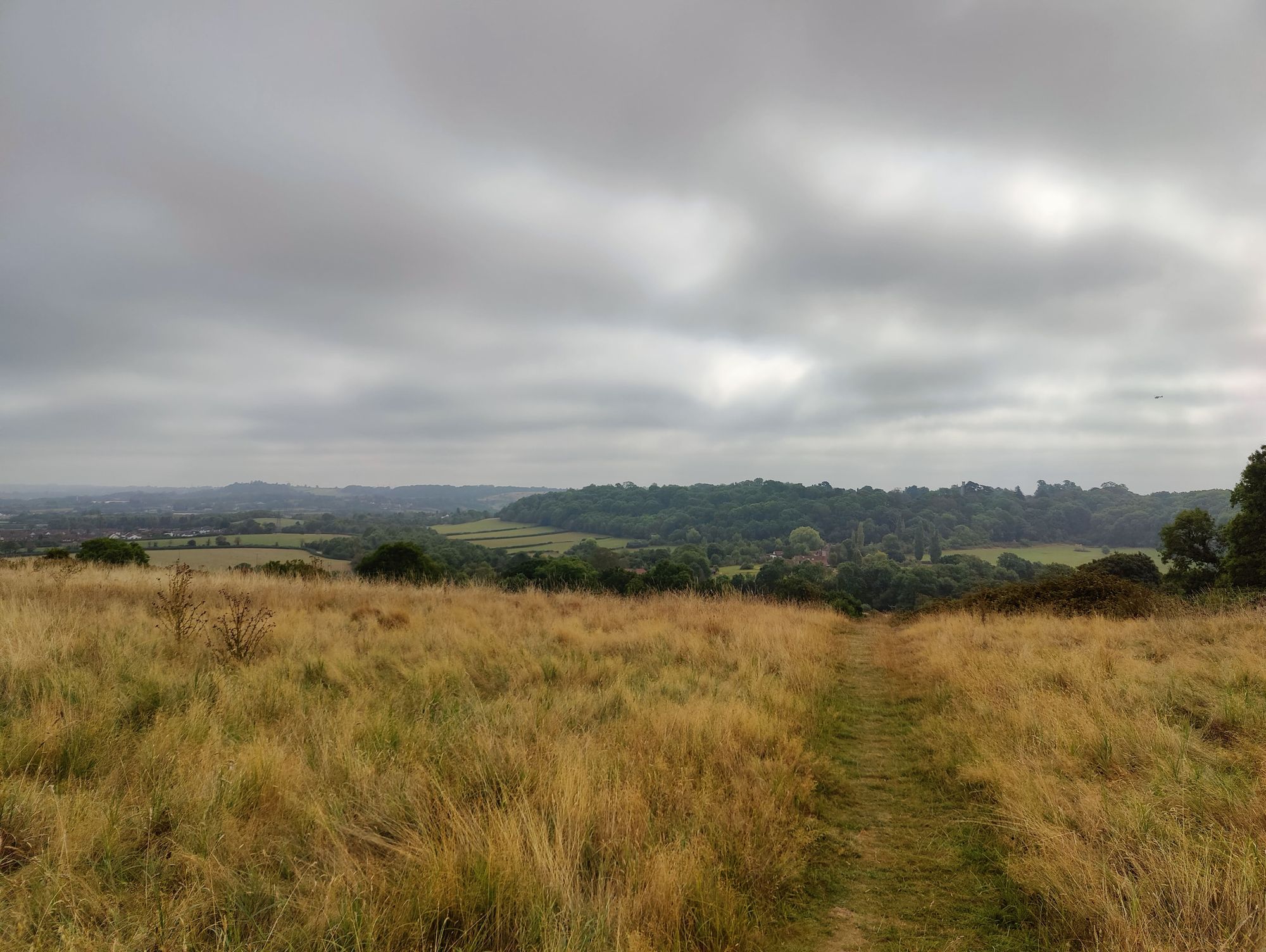 A nice stretch here of countryside as you leave Henbury, continuing on until we enter the built up area of Aztec West & Bradley Stoke.
Over those fields I met Nick, another TACH member & custodian of the Green Man, he was ringing a cowbell & ran with me for a stretch, checking how I was doing and giving me some much needed advice. Here he told me I was currently about 15th/20th position, a state that wouldn't last!
Onwards I started feeling "chased" by a group of 5 other runners behind me. I was enjoying trying to keep ahead over the fields near Easter Compton, before realising I was pushing too hard, may be torpedoing my race, and dropped back to let them pass.
Through Three Brooks in Bradley Stoke, I met Scott from the Running Punks on the other side for a 4 mile stretch.  The company was much appreciated and it was great to share part of the day with a fellow punk!
Another TACH member, Neil, was out taking photos just before the Hambrook checkpoint. We had a quick chat then it was on to recharge.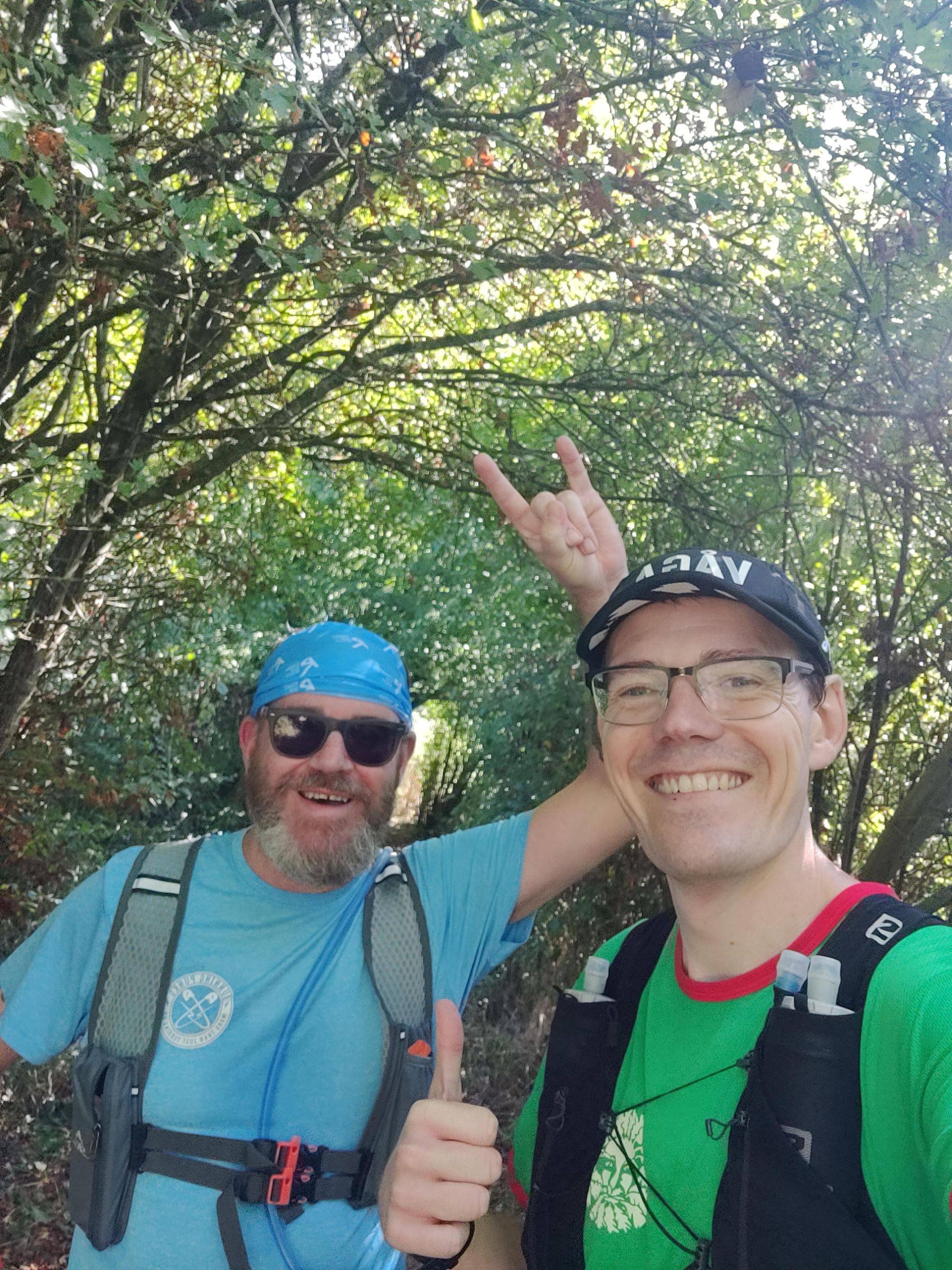 Stage 3: Hambrook to Keynsham
Bit of a longer break here at Hambrook to refill all my water and take a loo break.
Scott and I continued on through Winterbourne Down, exploring the lovely Frome Valley Greenway & chatting away.  Scott got me through a patch where I usually hit my first dark spot (~30k mark), instead I was smiling from the chats. We parted ways when we got to the lane leading away from the river. Only a marathon to go.
As I got past the golf course the heat was starting to feel more intense, I was struggling here. Glad I had lots of backup water, especially as the Tailwind was tasting too sickly.
Put some headphones in to keep my morale up as it was dipping, listened to Evanescence's bloody brilliant Synthesis album & danced along pumping my arms in the air to the ballads.
As I hit the Bristol Bath Railway path I'd ran out of plain water.  I did have some Tailwind left in the bottles but couldn't stomach it. Starting to feel familiar this...
Was going to get some more water and a sugary drink from Willsbridge Mill, however they were having a mini festival! It was cool, it did make the queues crazy long though so I had to duck out to a garage instead.  Walked out with some lovely chilled water and a Lucozade Sport.
Reached Keynsham checkpoint in dire need of some shade and a rest, but still smiling.  With that the longest stretch between aid stations was over & we were well past the halfway point.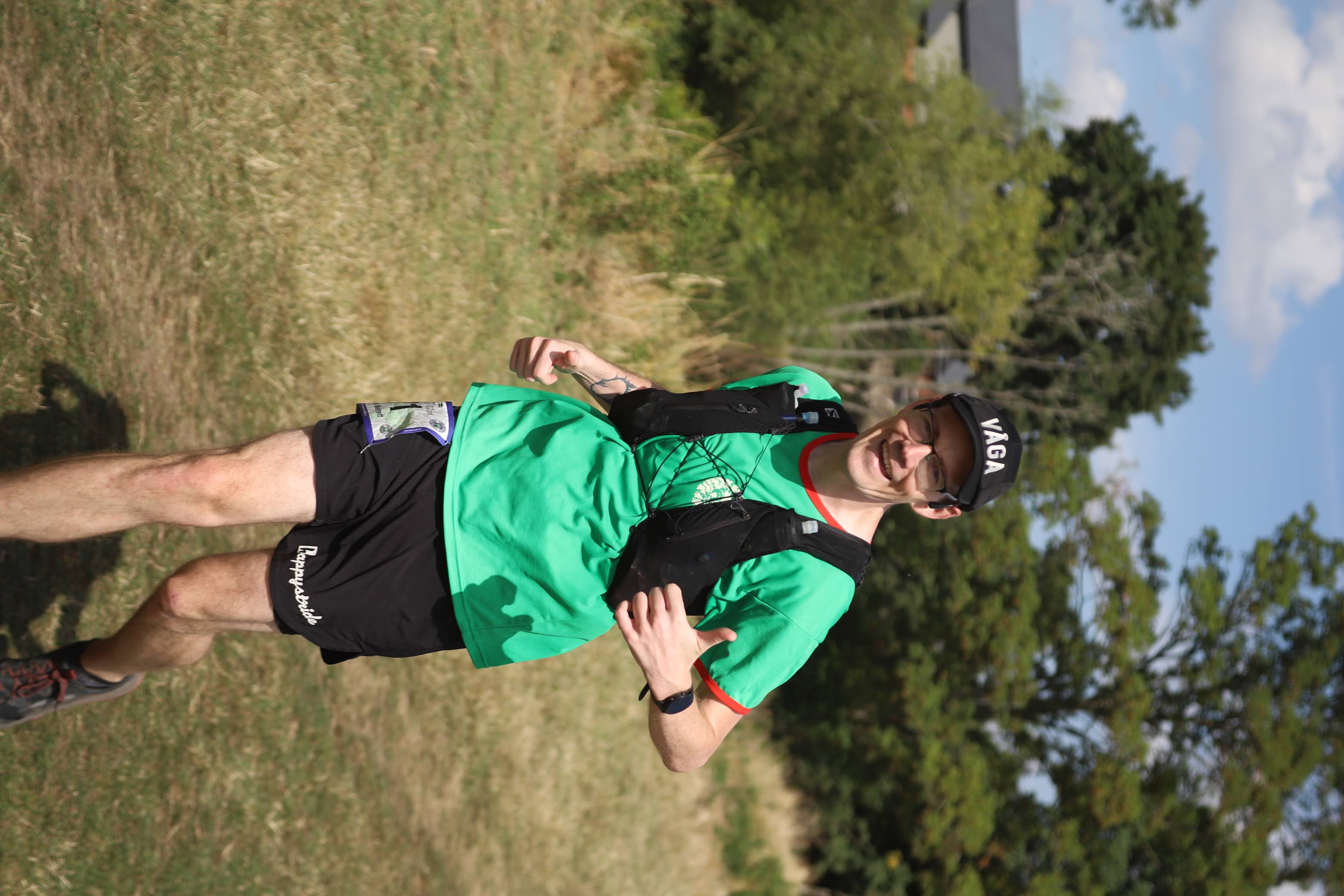 Stage 4: Keynsham to Norton Malreward
Shortly after leaving the aid station I started running with Laura, a strong ultra runner (Laura finished Race to the Stones in 13 hours!  It's 100k for goodness sake!) who'd just entered the same dark spot I had.
Chatted away and kept each other motivated to keep running through the next section as we approached Wollard.
However, hitting the long climb up a lane to the village, I had a sudden bout of sickness and, once again around the 6.5 hour mark, found myself throwing up on the side of the road.
I urged Laura to go on and ended up staying there for a bit making sure it was out of my system. Glad she went on too, as Laura ended up placing third woman this year (massive congratulations! 🤘)
Broke down to a walk here, trying some jeffing as I went but feeling that usual mixture of low energy and lower morale. Was determined to finish, even if it mean walking the whole way.
Things went well for a bit on the power walk, before another bout of vomiting, this time just from the water I'd been drinking, not a great sign I must admit.
Bought a can of coke in Pensford which recharged me a bit, useful as the climb from Pensford to the next checkpoint would prove to be the most brutal of the day. Long, steep, arduous. View at the top was nice though.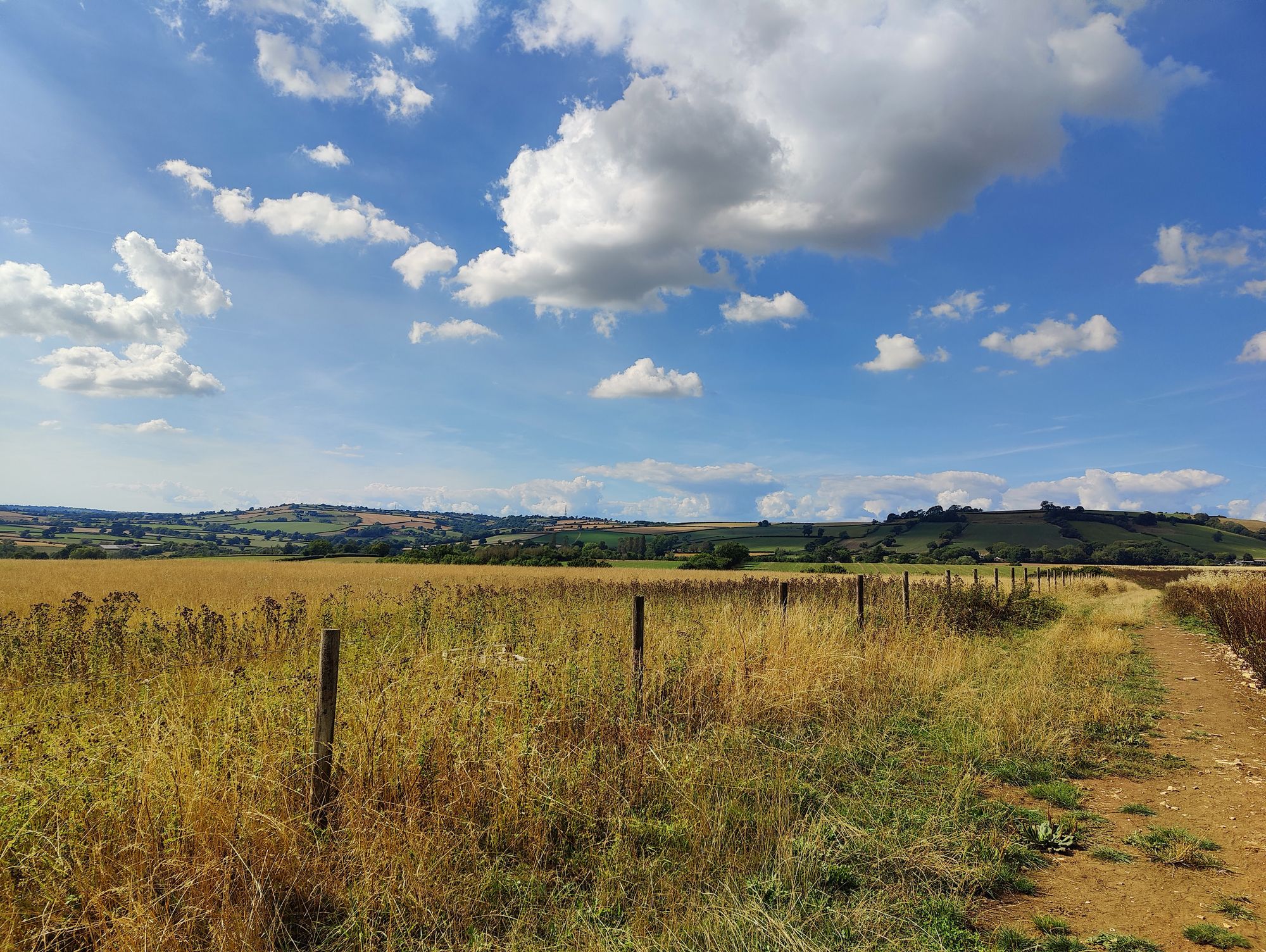 Stage 5.1: Norton Malreward to Dundry Inn
Took my time at the checkpoint. There was a lovely warming marshal at the entrance giving everyone a morale boost as they walked in, smiling away and reminding us how close we were now.
Chatted with a fella there who was dropping out due to cramping. Despite having to quit here he was in excellent spirits and being very stoic about it 🤘
Left with another belly full of cola, before promptly throwing it up on the hills just outside Norton Malreward.  Had 2 runners check I was ok, before pushing on with a steady walk.
The next part was the climb to Dundry, it's brutal but also leaves little chance to run anyways, so I felt better about being in walking mode.
Kept sipping water to stave off dehydration, however was well into ketosis here having not ate or drank carbs for quite some time.
Saw a familiar sign on East Dundry Lane on the way up...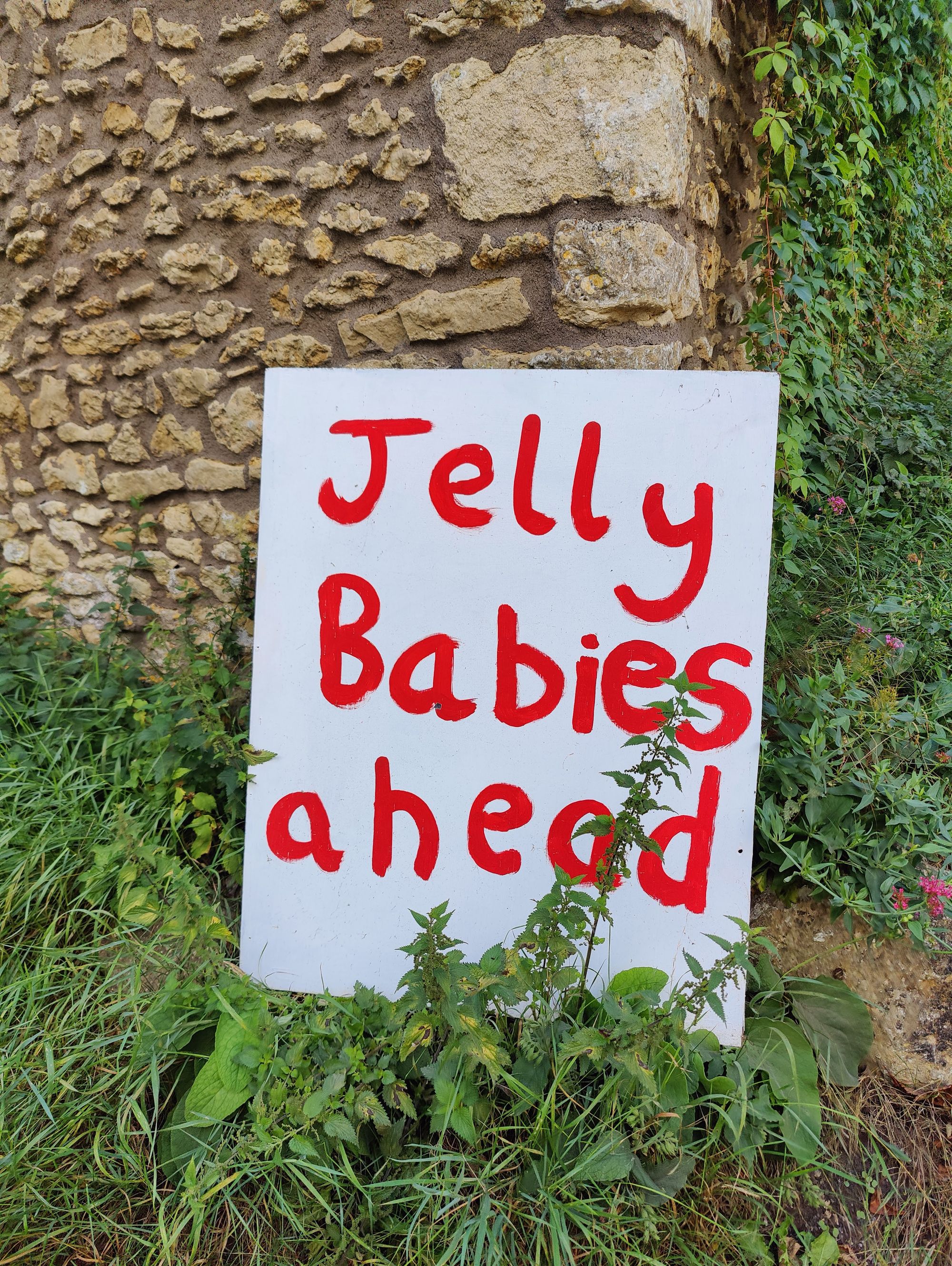 This lovely couple were outside their house with that sign in the winter as well, setting up a rebel aid station with water & snacks for us runners. Beautiful souls!
Had a chat with them and got a water bottle refilled, critical as it was almost dry again!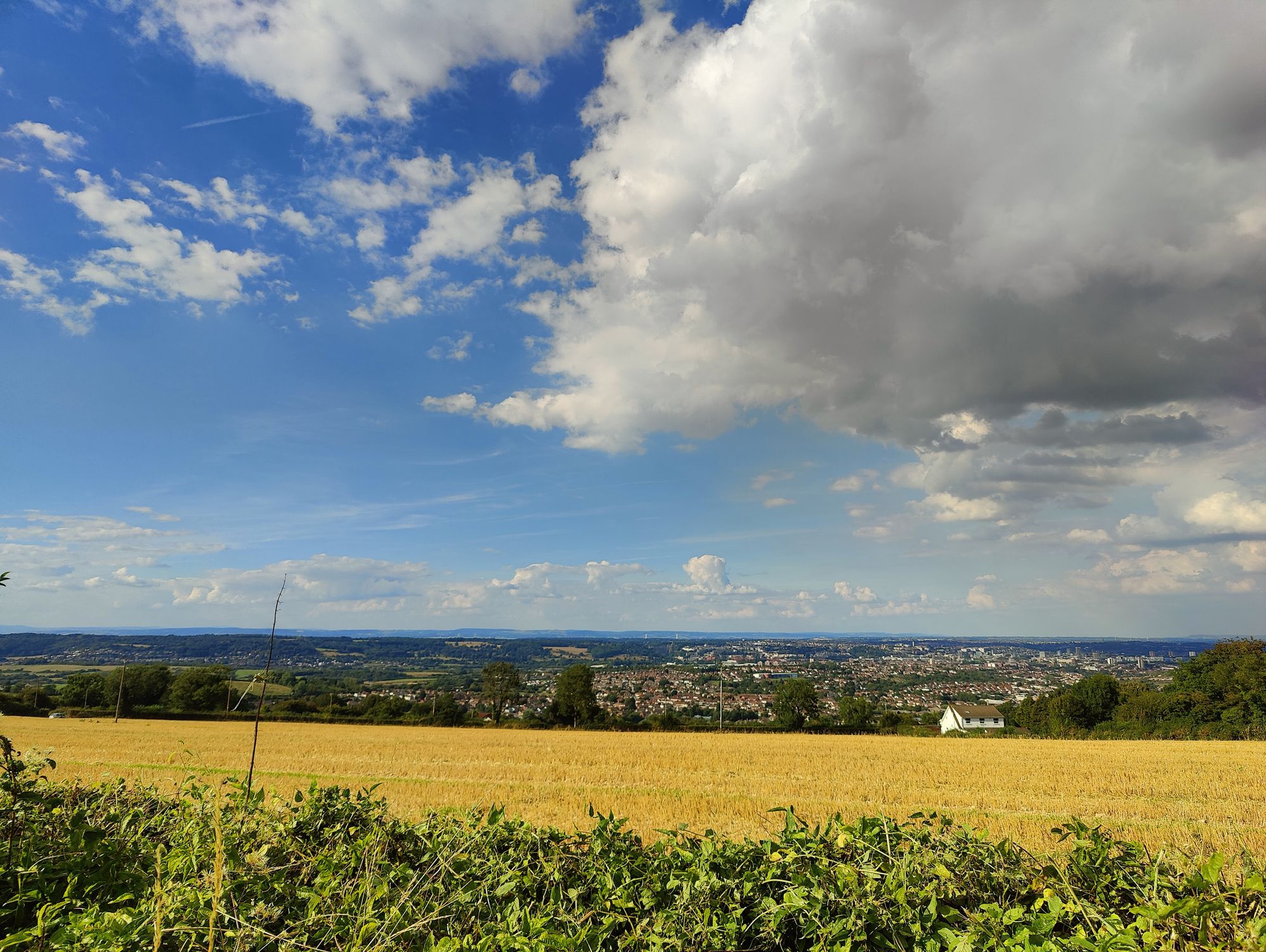 When I got to Dundry village I saw they had a pub, the Dundry Inn, just round the corner. Feeling worse for wear I hopped in, ordered a pint of coke & ice and nursed it sitting down. Did me the world of good, felt a million times better.
Stomach was still feeling horrible though, and now it was full of fizzy cola. Each step of a run felt uncomfortable, walking was definitely preferable here.
But, with a little energy at least, I had made it to the top of Dundry, ready for a long descent into Long Ashton. I was hoping to at least run some of this part.
Stage 5.2: Dundry Inn to Finish
Started to pick up the pace on the downhill stretch that came next. My stomach was definitely not enjoying the bouncing motion, but I needed to capitalise on the easier stretches whilst I had some energy.
Ran with a guy called Simon for the last section, we kept each other going with chats and some jeffing, whilst also cursing that last climb through the woods of Long Ashton to the golf course.
Bumped into Fran from TACH walking her dog with her partner, she gave us a good cheer for that last 2 km stretch through Ashton Court.
As we came through the gates into the school field, Simon went towards the finish, whilst I veered off towards a small shape toddling towards me from across the pitch.
Ellie was bounding away from her Mum with a smile on her face, we held hands and waddled in together. Now she did have a slight trouser malfunction at the finish line that got a good few giggles, but also a tonne of clapping.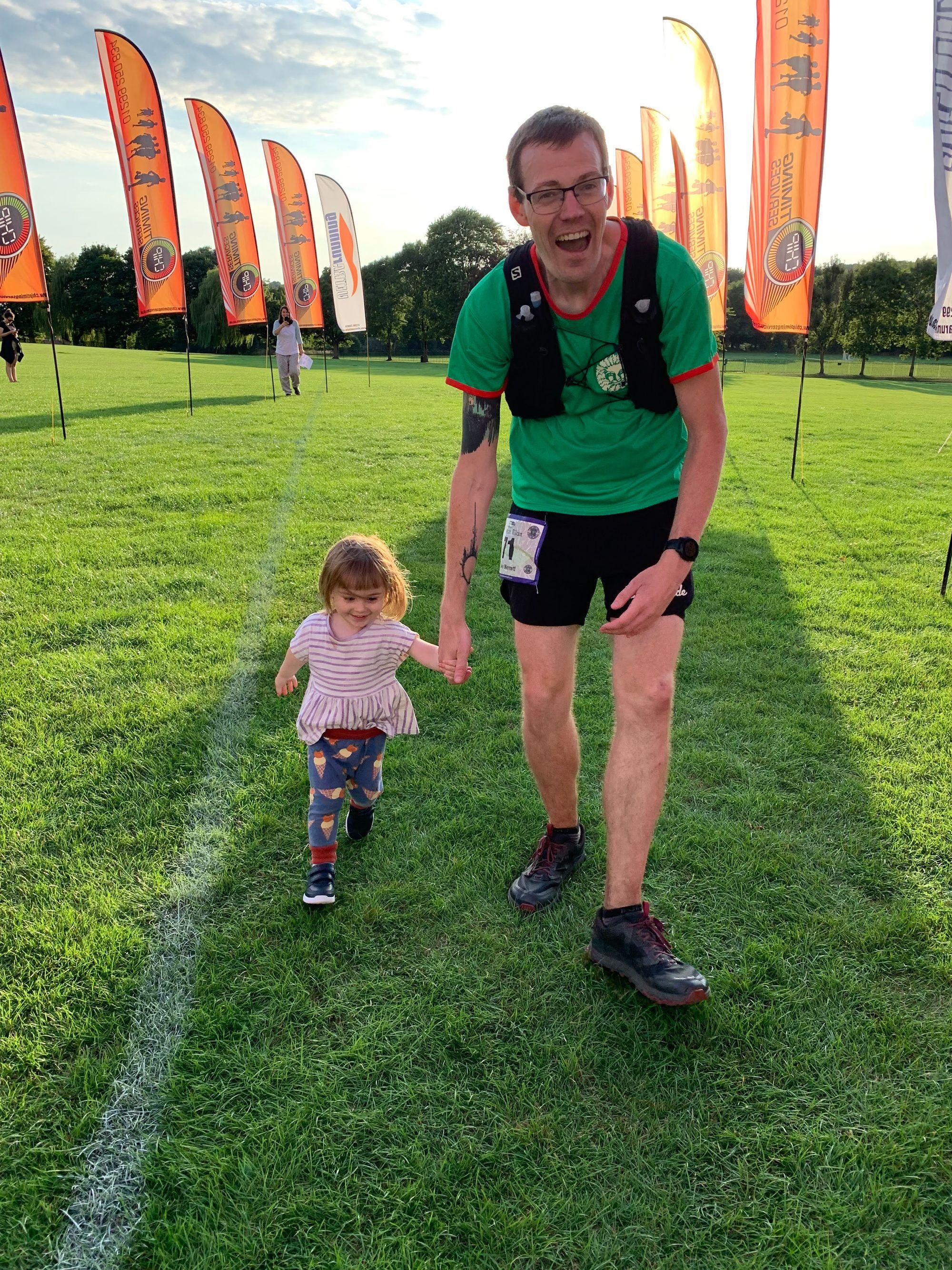 With the best possible ending I could hope for, crossing the line with my daughter, I'd finished in 10h 41m.
I received a top 50 finishers medal and, the ultimate prize, a sub-21h buckle for doing the Green Man twice in 1 year.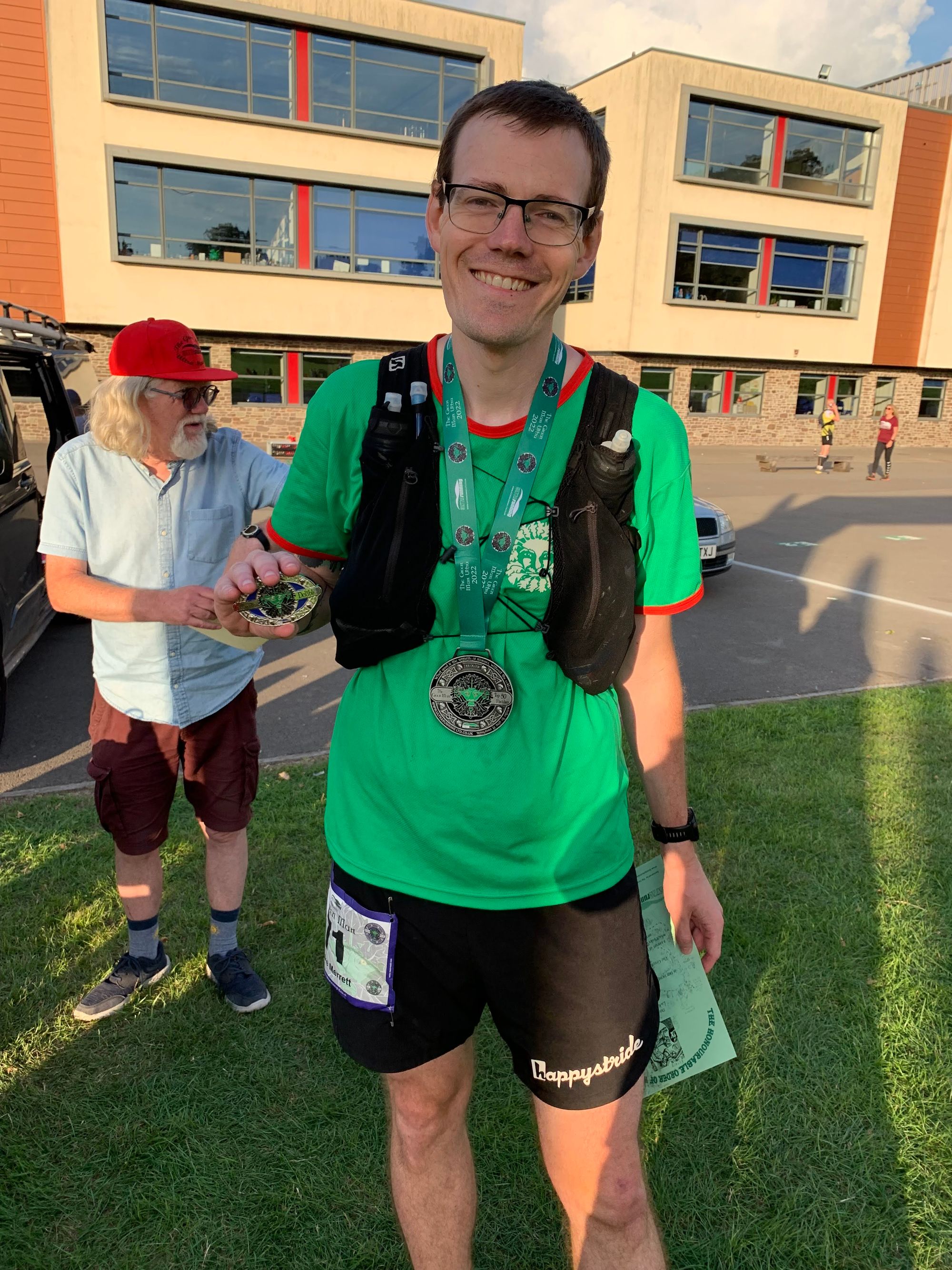 After Action Report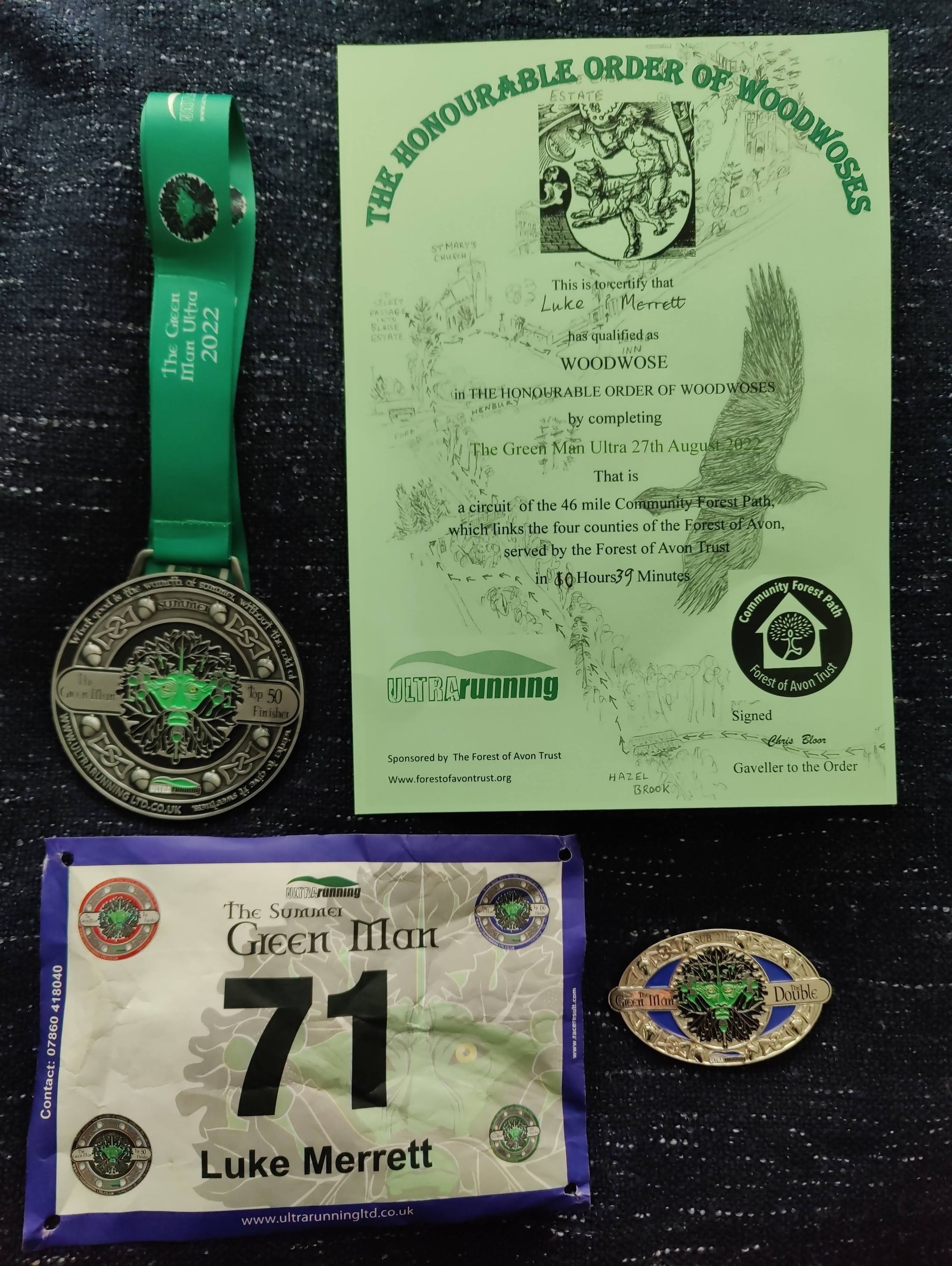 Am I happy with my time?  No. I think with the difficulties at the 6.5h mark I really struggled both from an energy and a morale pov for the rest of the race, at least until I could smell the finish line.
I am however happy that I was better at adapting to challenges this time, seeking ways to rest, pushing on with a walk, trying to keep going however I could.
I am damn proud of finishing regardless.
And I'll never forget running in with my daughter, both grinning from ear to ear.
Damage & Recovery
Very little issues to speak of, nothing that's going to last more than a handful of days.
Aching legs, actually probably the worst I've had, likely due to how recently I'd done another ultra.  I forgot just how hilly the Green Man gets in the final third
Stomach wasn't right for a few days, real hunger didn't come back until Tuesday
Left big toenail still looks grim, but is also still battling through like a trooper
Rested from Sunday through to Tuesday, trying my first recovery run on Wednesday.
What Worked
Being super prepared for aid stations, getting my bottles out for refilling, having pouches to hand, all helps shave off time
Socialising with other runners, by the second half of an ultra you'll tell your life story to a total stranger, and it really helps pull through rough patches as a team
Being dialled in on the gear, I didn't take anything I didn't need this time, pack was lighter than usual
Being able to adapt to issues as they appeared, knowing the key is just finding ways to keep moving forward regardless
What Didn't
Tailwind & nutrition in general. I thought having more water on hand would help, reduce the risk of dehydration and ensure my stomach had the water it needed to process food. I still threw up in the same timeframe as in the EDDUM and RTTT.
The heat really got to me, my heart rate barely went under the tempo zone all day, a recipe for disaster that.
Letting my stomach feeling sick stop me running, towards the end it still felt funny but went away after prolonged running, you can push past that feeling.
Lessons
Biggest lesson is that I've still not nailed my fuelling at all. I'm going to experiment for the rest of 2022 with using electrolyte tablets instead of Tailwind & focusing on more solid foods, moving to gels later.  Maybe using Tailwind in the latter stages of a race when solid food is a struggle, instead of at the start?
A key lesson is that you can go a very long time burning just your fat stores (ketosis) when the carbs run out, you can keep going and keep pushing, it just feels horrid at that stage 🙈
Thanks
All the wonderful helpful marshals on the day, boosting your morale, helping refill bottles & giving out advice
The amazing rebel aid stations set up with fruits and sweets and smiles and well wishes
All the TACH folks who came out to cheer us on, big thank you to Tom, Nick, Neil & Fran
Massive thanks to fellow Running Punk Scott for joining me on the day for a stretch and getting me smiling through the 30k mark
Massive thanks to Laura Foote & Simon Dodd for being running buddies helping through the darkest times
Thanks to Chris Hewett for his advice both during the EDDUM and at the finish line of the Green Man.  We both suffered through 2 tough ultras ✊
My partner Zoe for supporting me throughout
My daughter Ellie for crossing the line with me 🤘
Next
I'm going to have a few relaxed weeks, it feels good to cut back on training and focus on adventure runs I want to do over feeling like I have to maintain a certain level.
I'd like to do some trail marathons in the later part of 2022, along with 1 more ultra before year end.
As for the Green Man, I'm happy to put it to bed now as ticked off.  Next time it's happening though I think I'd like to set up my own rebel aid station! 🤘