Gower 50 Ultra 2022 Race Report
Third bash at completing a 50 miler, this time on the gorgeous Gower peninsula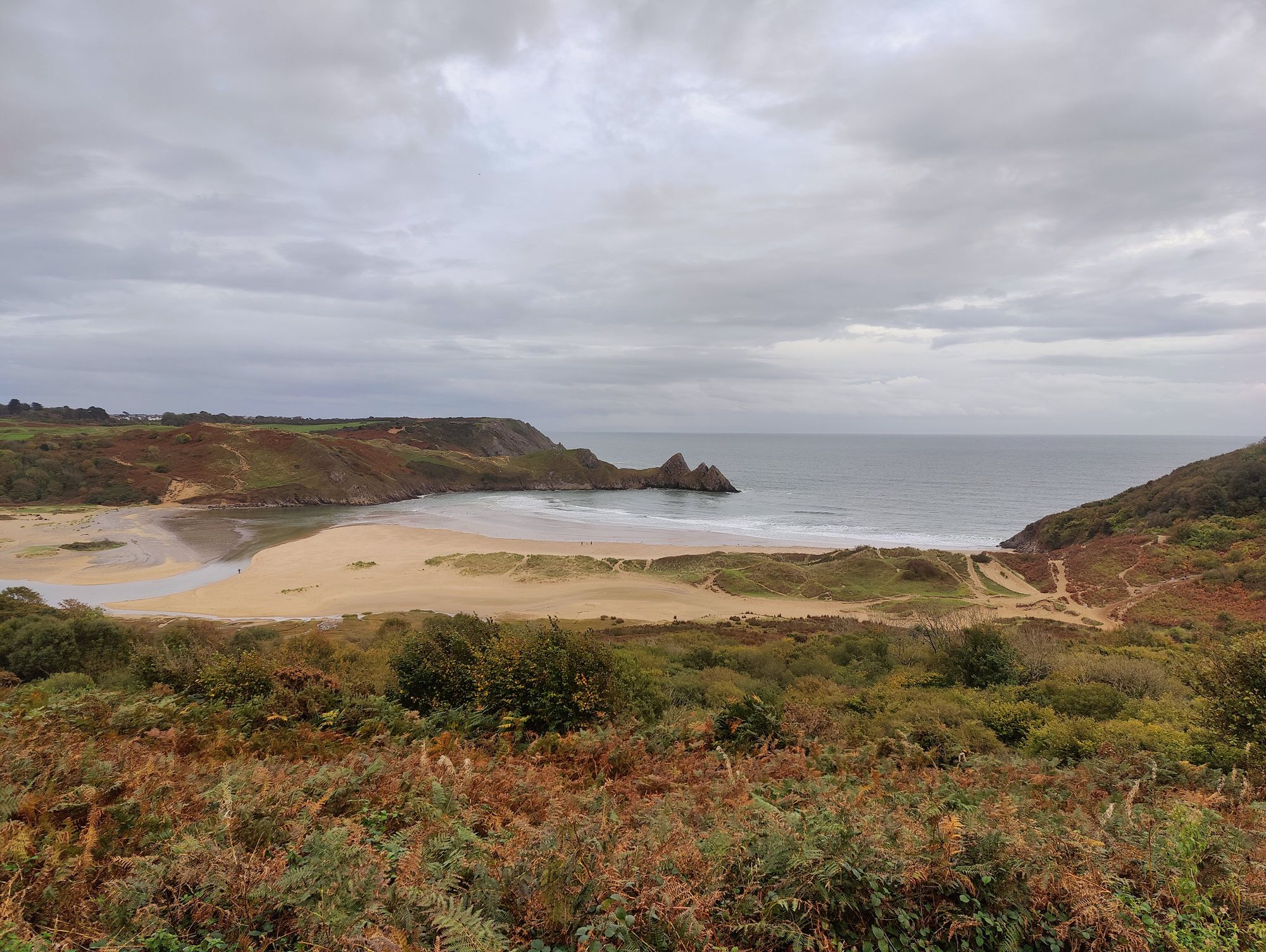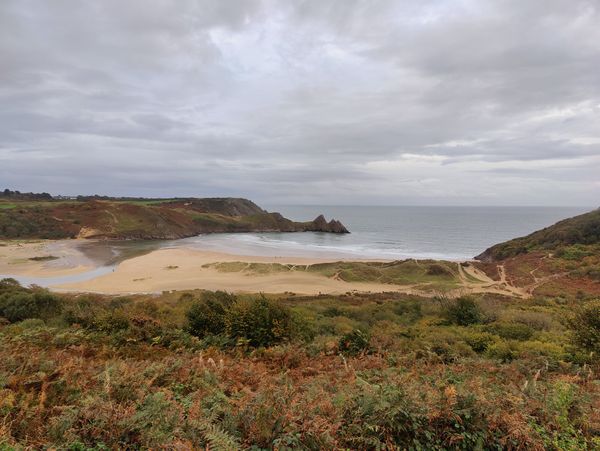 My big challenge for this year was to break the 50 mile distance. It felt like a natural jump from the 46 miles of the Green Man Ultra and I'd originally planned for the Race to the Tower in June to be my first.
That didn't quite work out with me crashing out at 44 miles (race report) following some bad stomach issues.
Later I tried again at the EDDUM, a tough but beautiful course around the Epynt Way above the Brecon Beacons. I completed that race (though not exactly gracefully...)! But the total distance was only just over 48 miles so no dice.
So: here we are in October, looking at attempt #3: Run, Walk, Crawl's Gower 50 Ultra. This course takes in the whole of the Gower peninsula, starting in The Mumbles, going north then anticlockwise around the coastal path.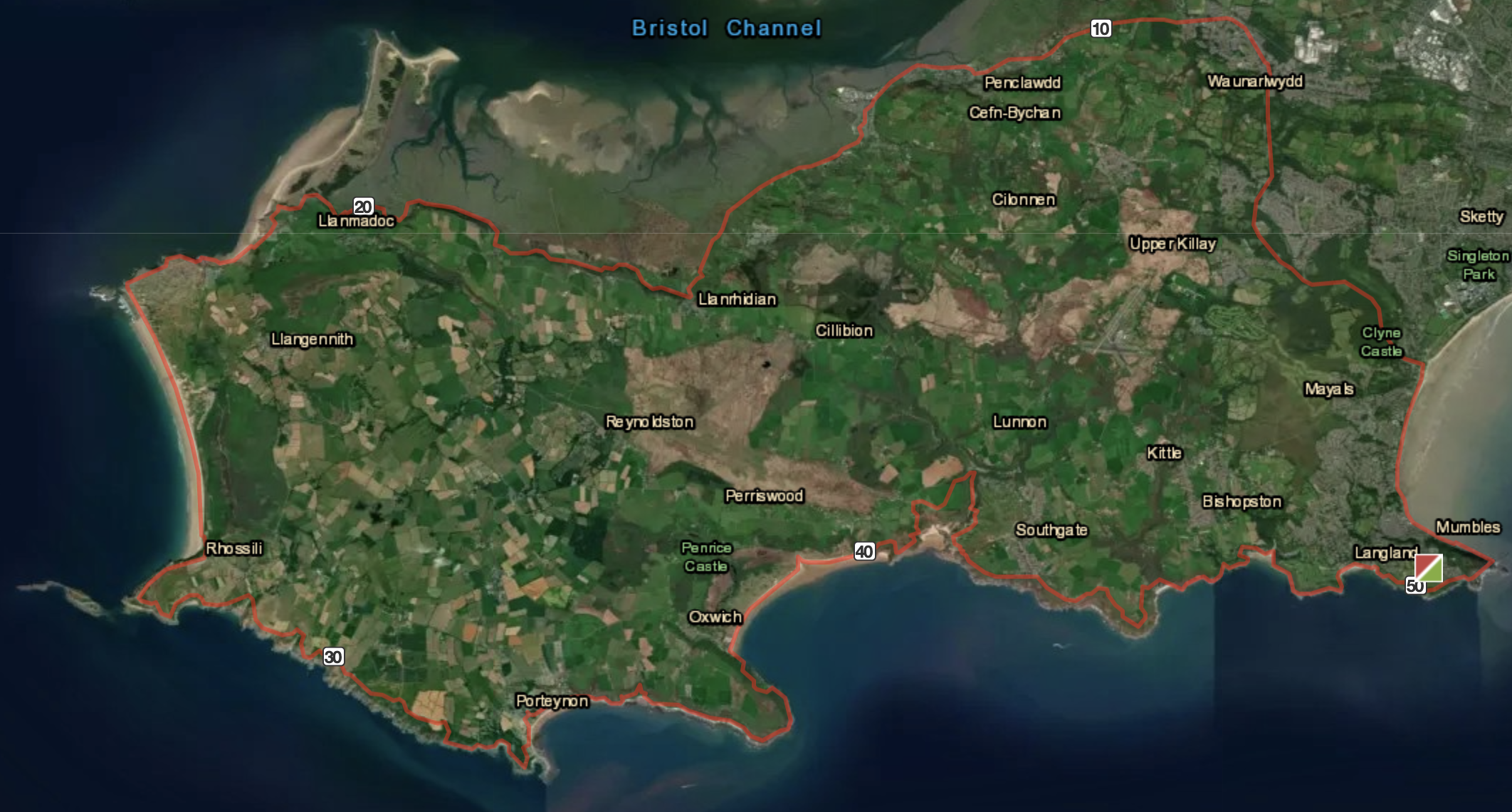 It would be my 10th ultra (counting distances 50k and above), easily clears the 50 mile distance & would certainly be one heck of a day out, so how did it go?
Training & Goal
Fitness wise I was happy with where I was at after the EDDUM and Summer Green Man ultras of the last few months. I'd tried to maintain that level of fitness with solid weekly mileage and a long run each weekend.
Nutrition was, as I'd found out the hard way, the biggest issue for me. It's true what they say: "Food == Mood", once you can't get fuel into your body during an ultra it all goes wrong pretty quickly like a collapsing tower of cards.
My downfall had been using powdered carbohydrate mixes like Tailwind, I found that around the 5 hour mark I'd start struggling to drink them, and wasn't able to take on real food either, leading to a huge drop in energy and eventually throwing up on the side of the trail.
The issue as I see it was this: Tailwind ties your water, electrolytes and nutrition together in 1 drink, which is super convenient. However the issue is balance, if one of those goes out of whack (say you need more water, or you've ate too much at an aid station and are feeling a bit full) having it all in 1 drink stops you being able to control your intakes individually and recover.
To mitigate this I'd been training using real food instead: fruit & nut bars, malt loaf, fig rolls, pop-tarts, anything that had a better mix of macronutrients (ok pop-tarts probably don't fit that bill) rather than just simple sugars. In my water I was using SIS electrolyte tablets to keep my salt levels in check, and completely stopped using Tailwind.
The fuel plan was simple: eat a portion every 30 minutes, chased with lots of water. Mix between different types of food and eat small amounts of what you feel like at aid stations.
Goals wise then I had 3 aims:
Complete it 🏁
Without throwing up 🤮
In under 12 hours 🕛
The 12 hours goal was arbitrary and more just a motivator based on what felt like a reasonable time to aim for.
Gear & Nutrition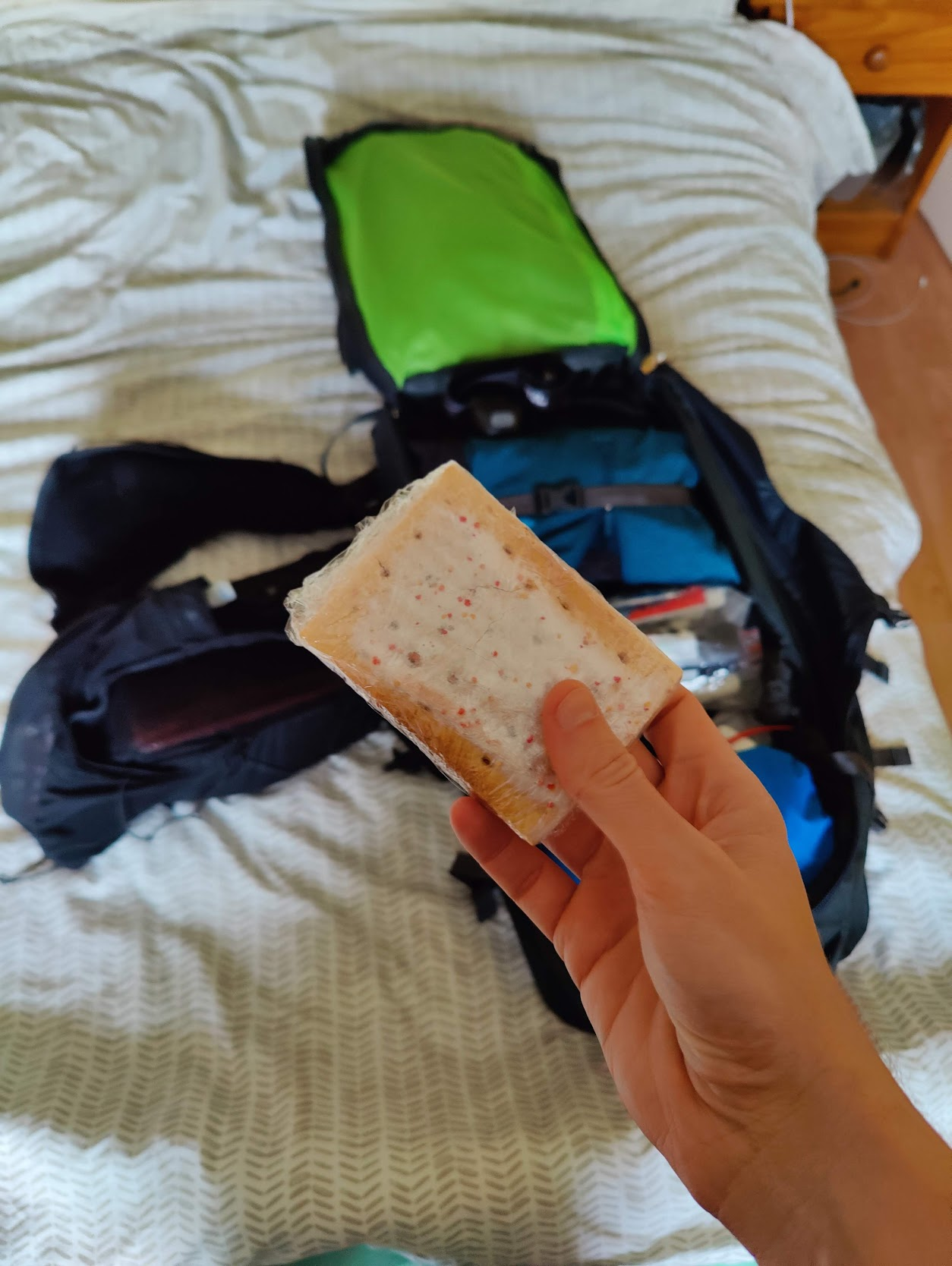 Standard race kit of Altra Lone Peaks, a Salomon Adv Skin 12 pack, Running Punks top & a Brooks midlayer for warmth
Opted for running trousers as they were mandatory kit and I didn't feel like carrying them in my bag
In fact a fair bit of required kit for this race, including a real compass and a second backup head torch, first aid kit, waterproof coat, full survival bag (not just a foil blanket)
3x bottles, 2 up front and 1 backup in the back pocket, rather than a hard to refill bladder
In terms of food I was carrying
Veloforte bars - these are pressed fruit & nut bars, a bit like bigger versions of Nakd bars. Love them, relatively easy to chew and a good source of real food
Gu gels - for the sugar hits, go down easy when chased with water
Emergency pop tarts - for a bit of a morale boost and smile if I needed it. Didn't end up using them, instead had them for dinner post race
Clif bloks - a backup for variety, didn't touch them
SIS electrolyte tablets - for my salts, 1 in every 500ml bottle of water
Brought some Active Root and Tailwind sachets as a backup - felt they may be handy in the later stages of the race if I went off real food completely.
Lining Up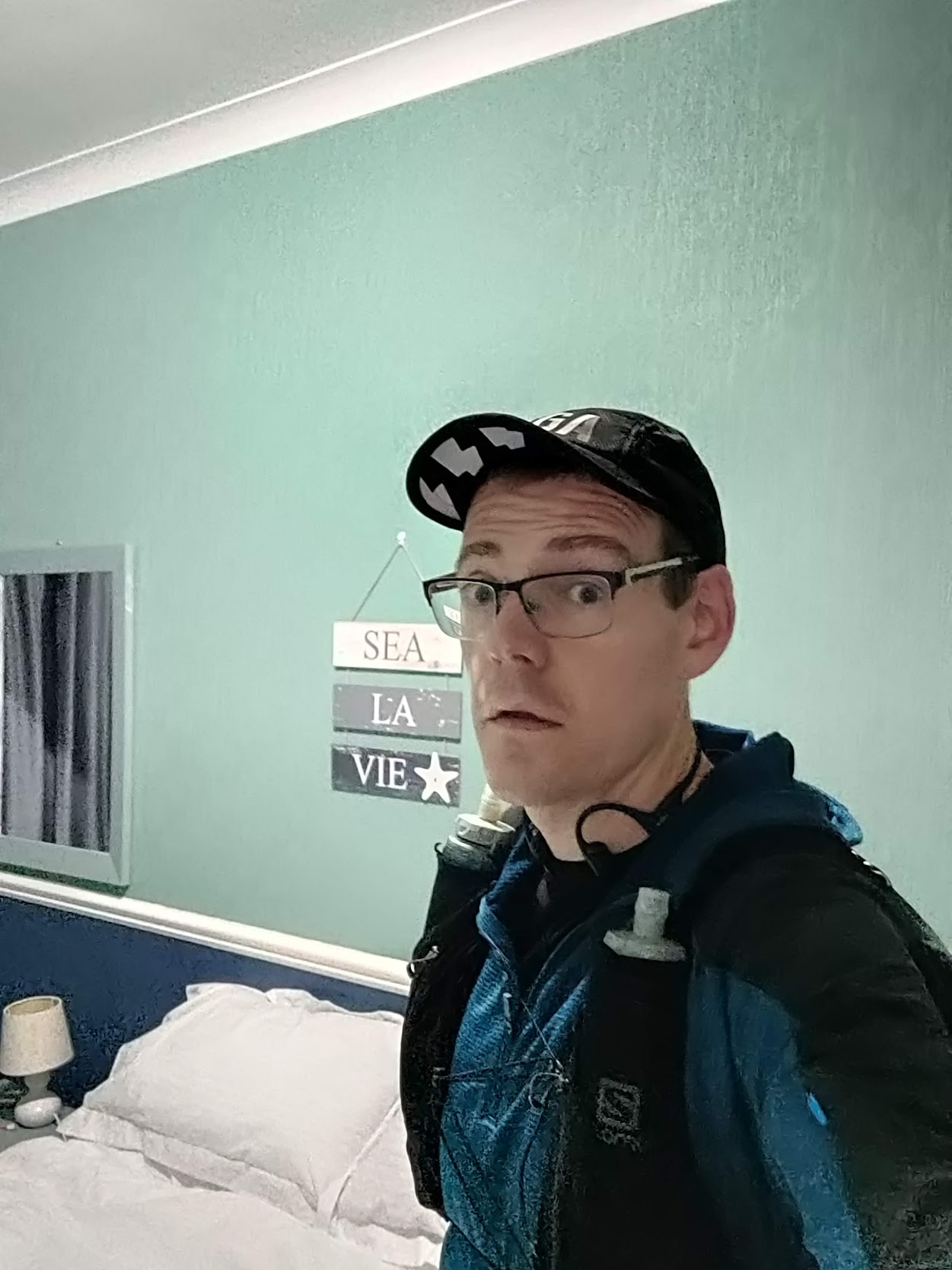 Day was set to be dry and cloudy for the most part, with rain coming in later on in the afternoon.  Warm enough but difficult to pack for as it can get windy and chilly along the coast even on mild days.
Race HQ was the Mumbles Cricket Club with a nicely provisioned indoor area to get kitted up and stay warm.
I bumped into Natasha, a fellow TACH member from Bristol who was doing the 50 as well. We chatted away then lined up together at the start.
After a briefing everyone got ready at the edge of the coastal trail, head torches on, facing a still dark morning. 07:00 struck and we were off!
Stage 1: Mumbles to Dunvant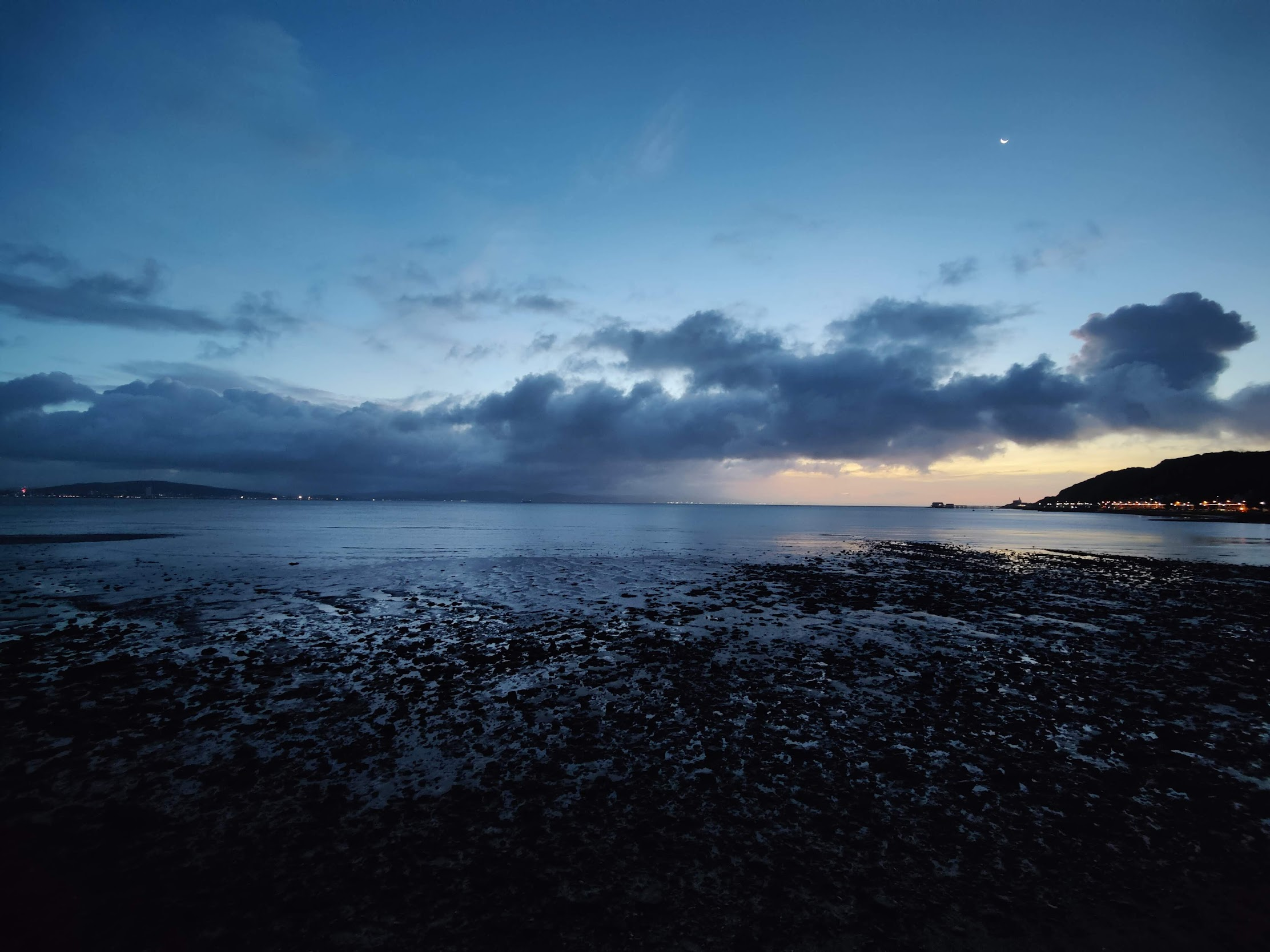 We set off along a short narrow trail section over the cliffs before descending back to The Mumbles for a nice morning run along the promenade.  The sun rose as we headed east before we went north onto a cycle path that cuts across the peninsula.
All the way to CP1 was flat road running and plenty of folks took advantage of it with a faster pace.
CP1 was in a car park just off the cycle track.  Here I ate half a banana and a yummy Jaffa Cake.
Stage 2: Dunvant to Llhanrhidian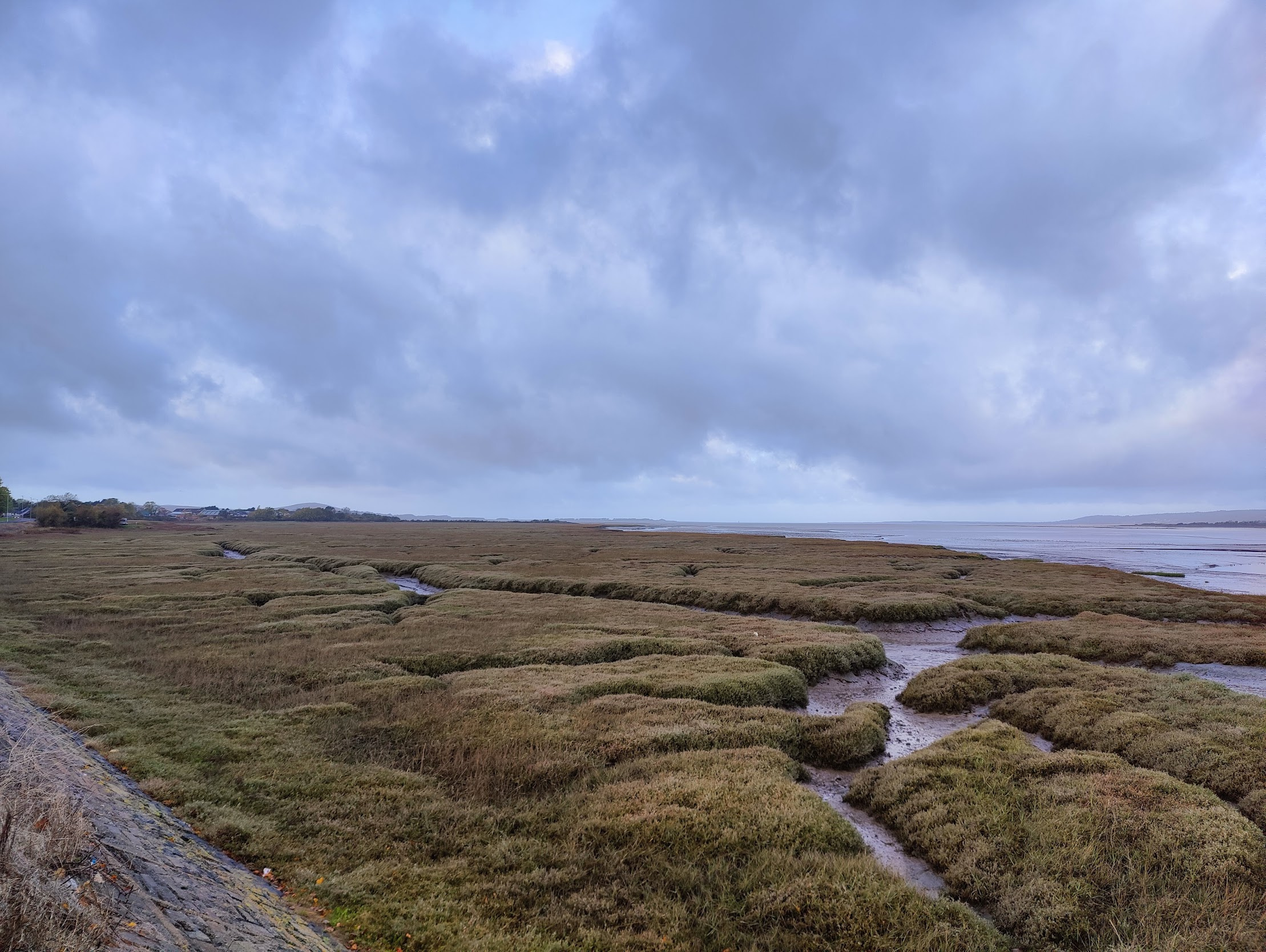 Leaving CP1 the tarmac continued for the rest of this section, firstly on the cycle path then through villages as we made our way westwards.  It ended up being the first 17 mles of the course that were on these road conditions, leading to some tired legs before the trails began.
CP2 was a toasty village hall with plenty of seating.  Here I had an off-brand Mars bar and an orange slice.
Stage 3:  Llhanrhidian to Llanmadoc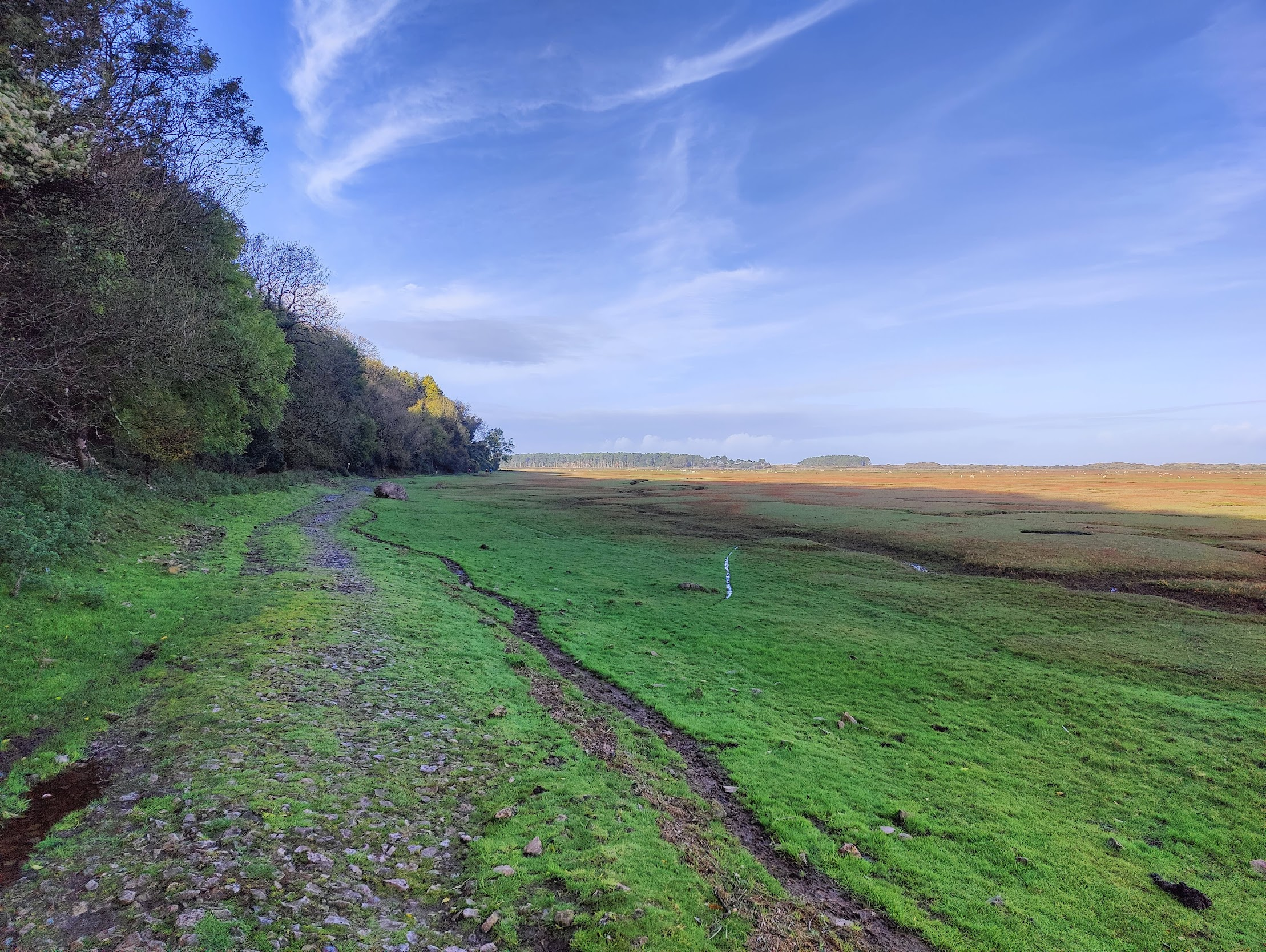 Here's where the real adventure began as we continued west onto the proper coastal path trails.  It quickly got very muddy underfoot as we passed through fields and marshes along the northern coast of the Gower.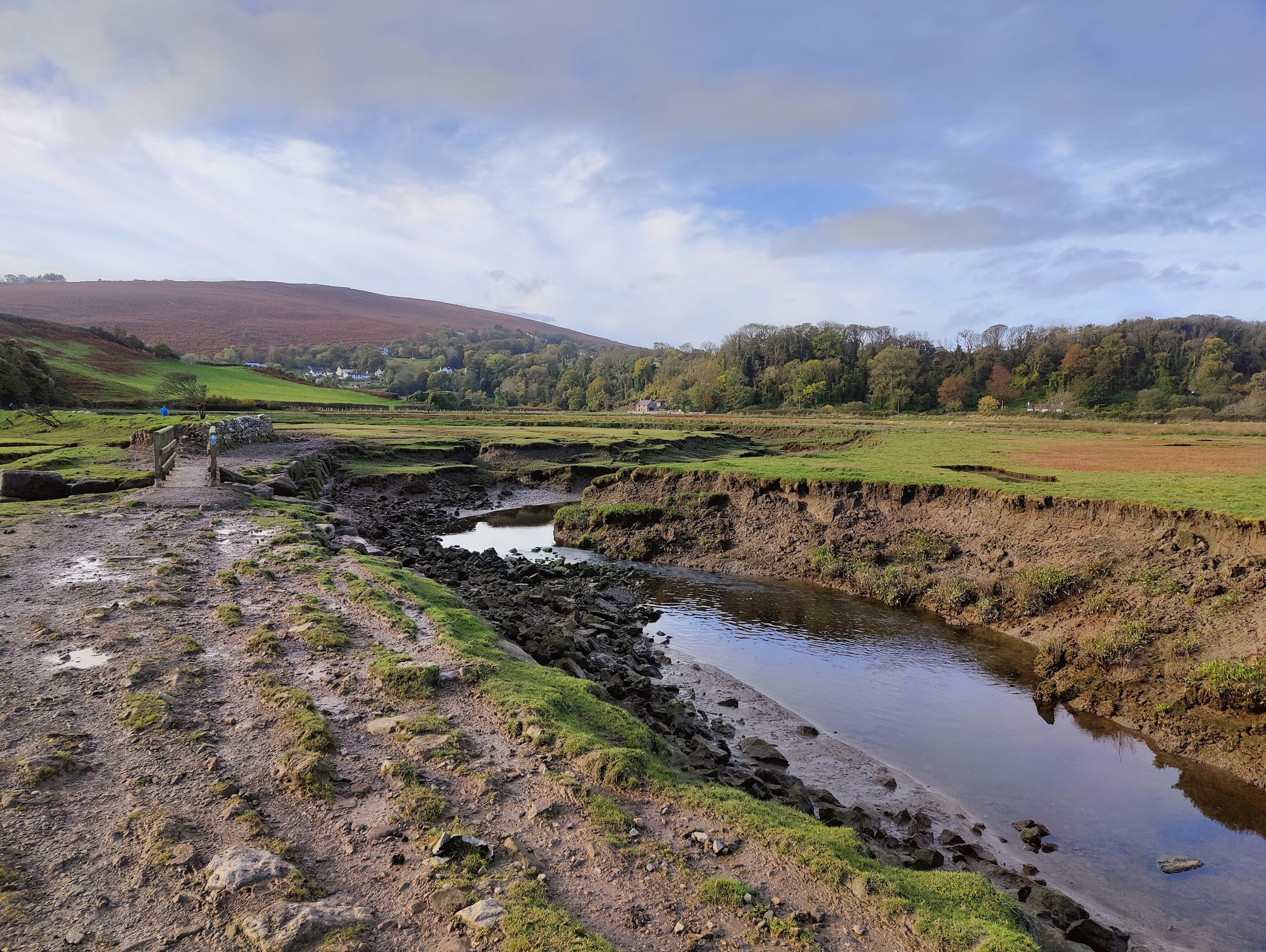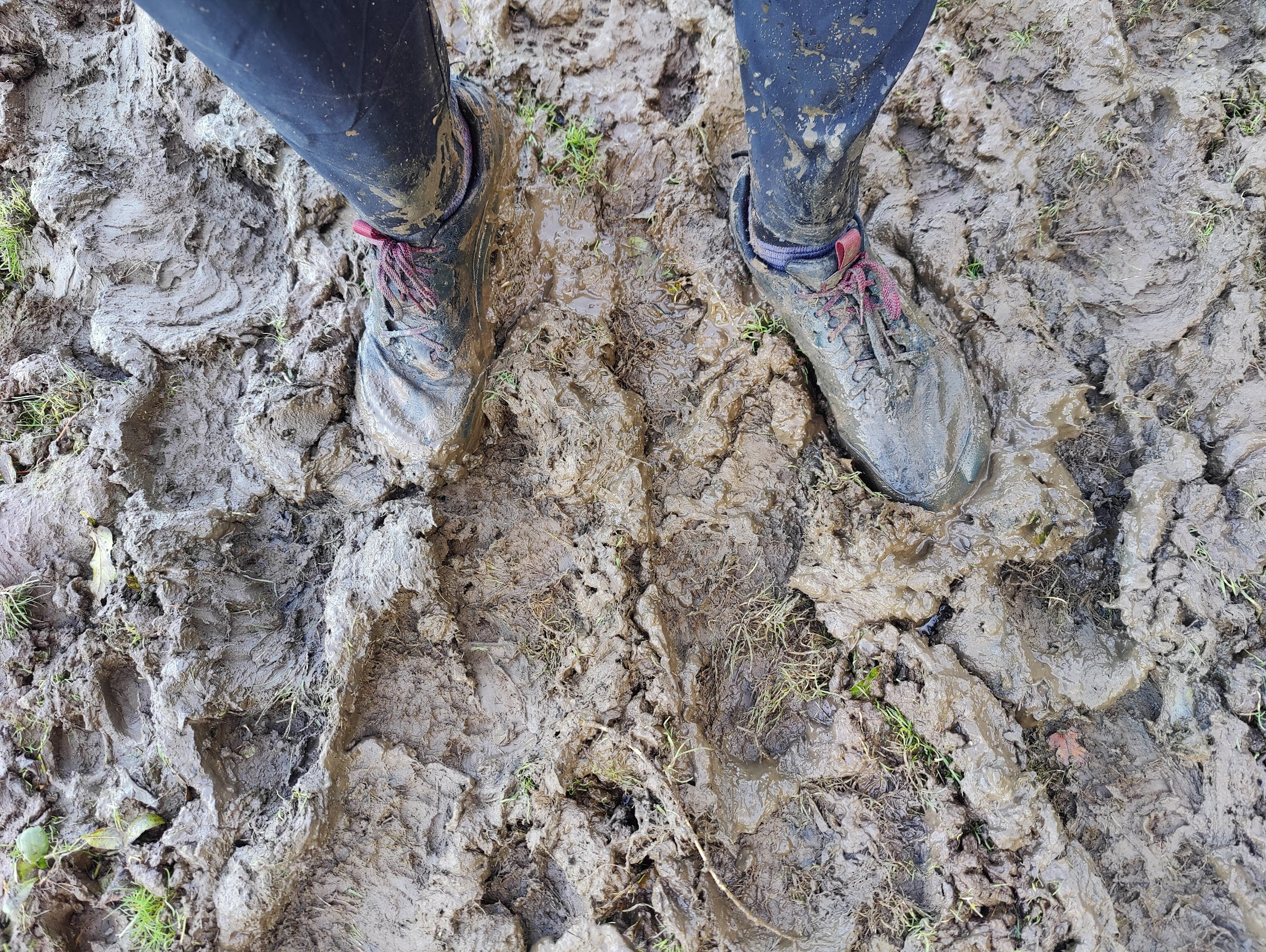 Still relatively flat along here as we approached CP3. Here I had a packet of crisps and filled up a bag full of jelly babies for the road. Made sure to walk out the checkpoint and finish the crisps (with lots of water) before continuing.
Stage 4: Llanmadoc to Rhossli
The final stint west climbed up the cliffs heading to the edge of the peninsula.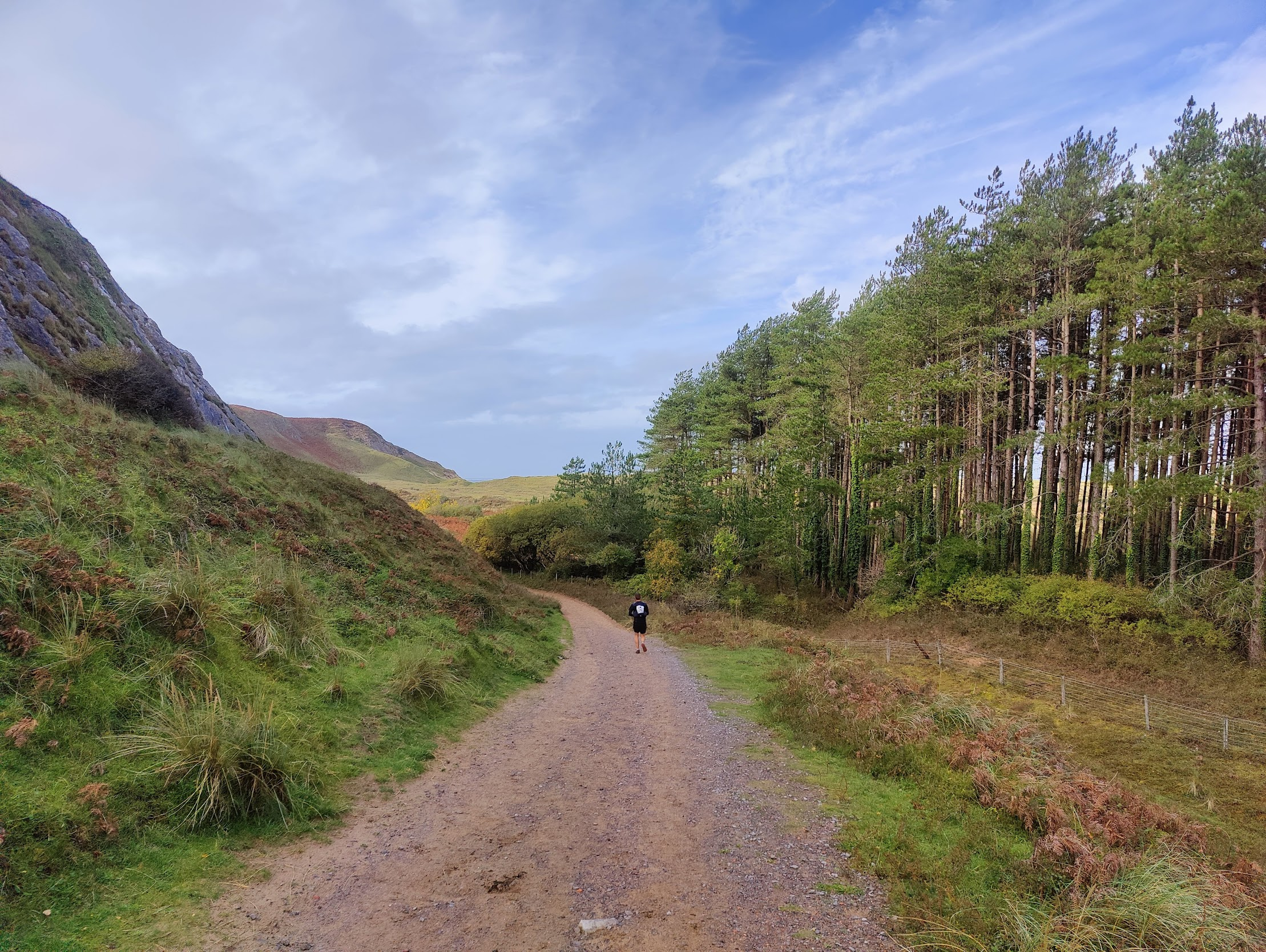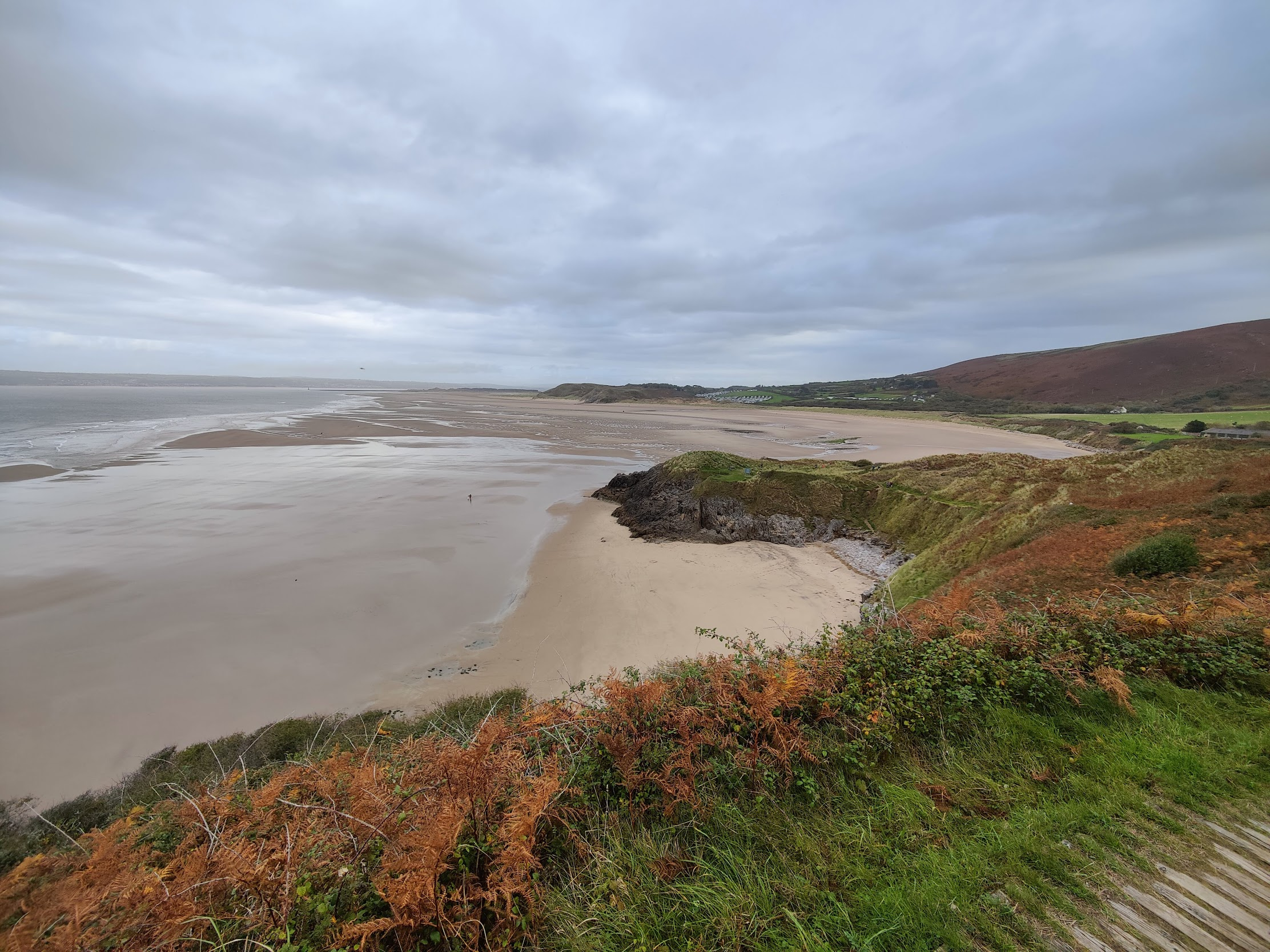 Had a good chuckle at a message in the sand, presumably left by locals, saying "Run U Dogs".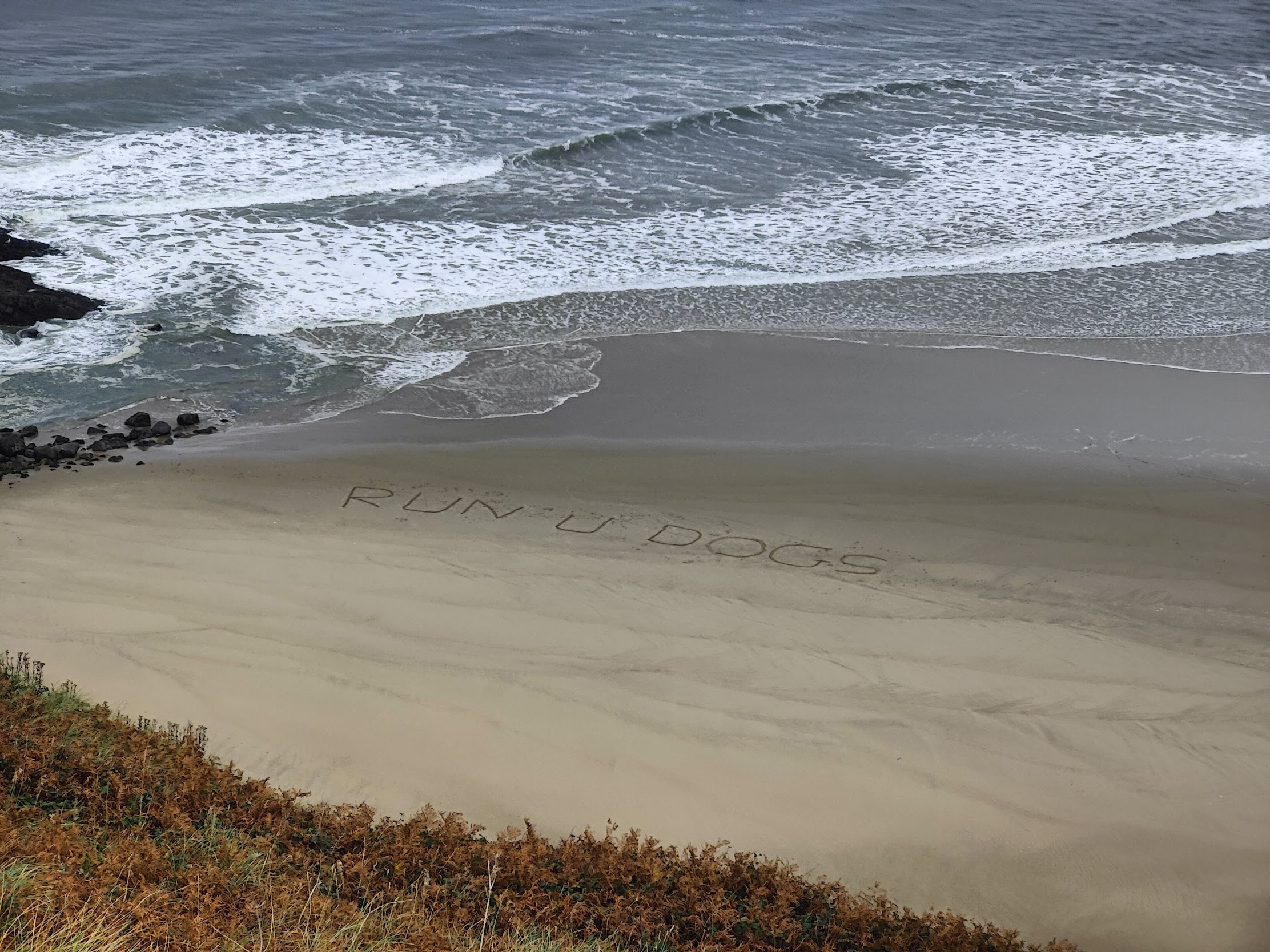 As we turned south the dreaded 3 mile beach lay ahead. It was a beautiful section, however felt like it went on FOREVER. It covered the majority of the distance running south back down the Gower.  Thankfully the sand was well packed and easier to run on then most beaches.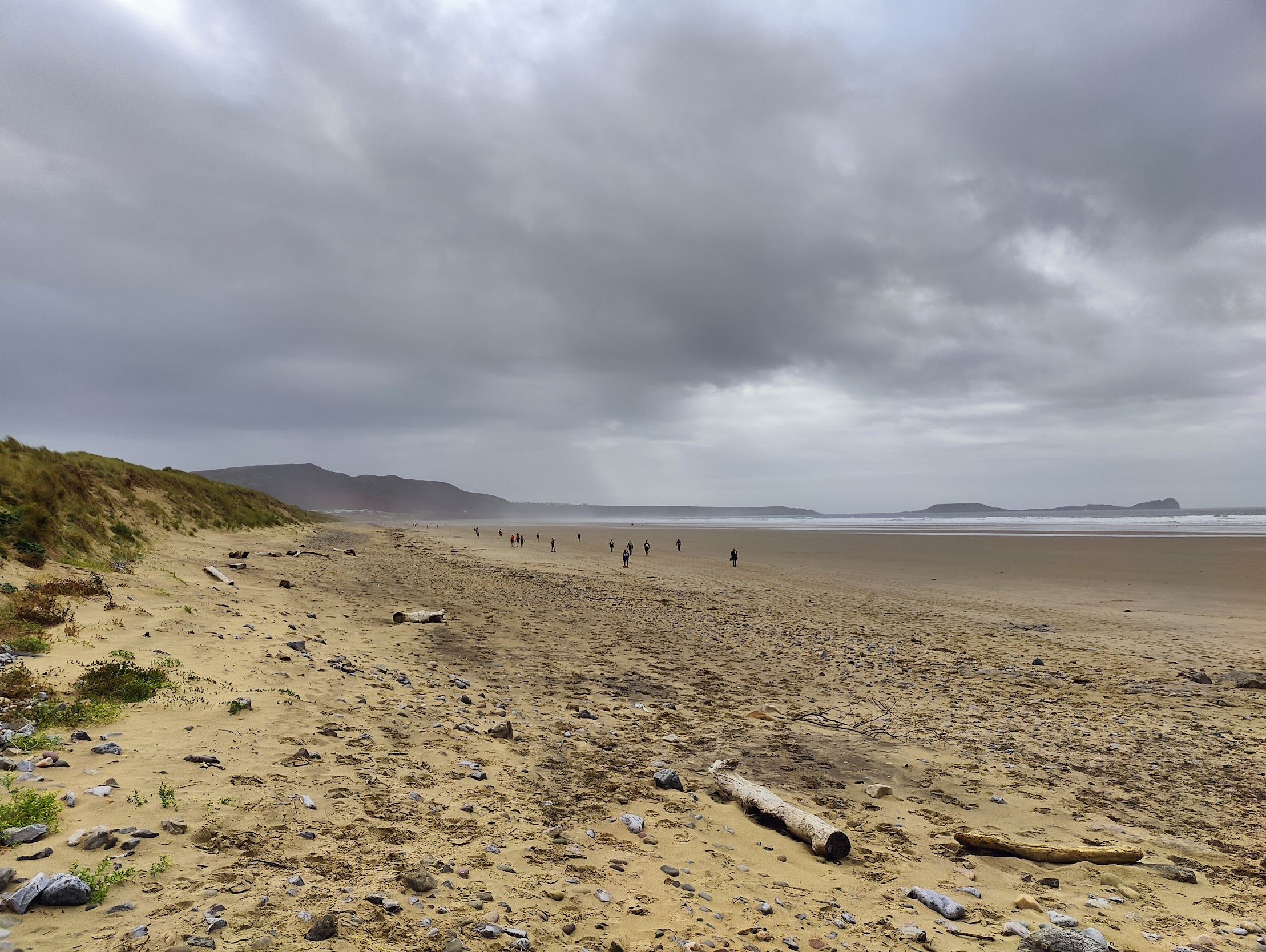 CP4 was a climb off the beach overlooking the stretch we'd just done.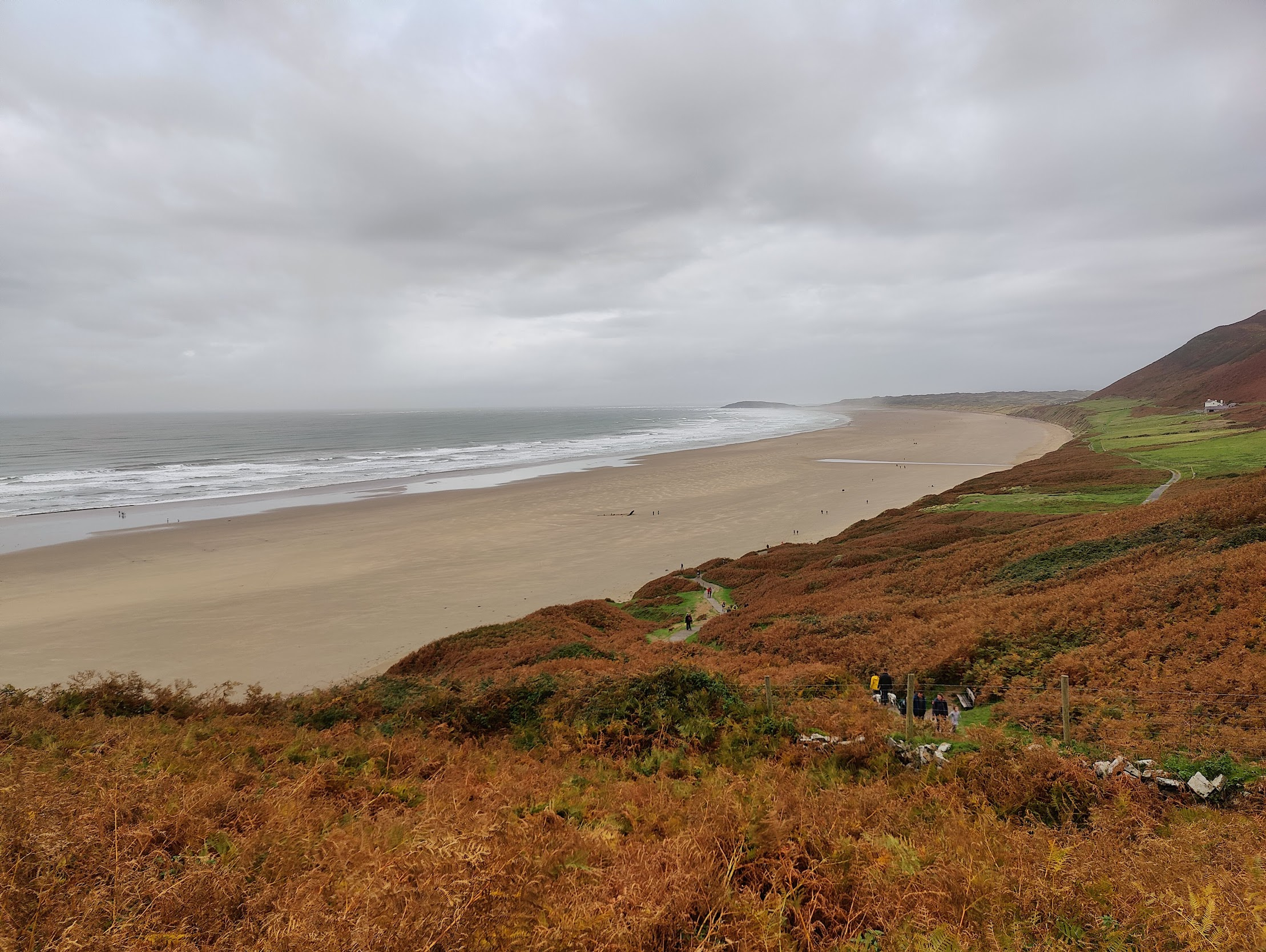 At the checkpoint I'd found my SIS tablets had turned to dust after hitting the edges of their case. Thankfully had some Active Root as a backup, though I was digging into it earlier than I wanted.
Chomps at this checkpoint: 2 orange slices and a can of pepsi from the National Trust shop. Grabbed a handful of Jaffa Cakes to eat on the way (spoiler: never touched them, travelled back with me to Bristol in a mushy mess).
Stage 5: Rhossli to Port-Eynon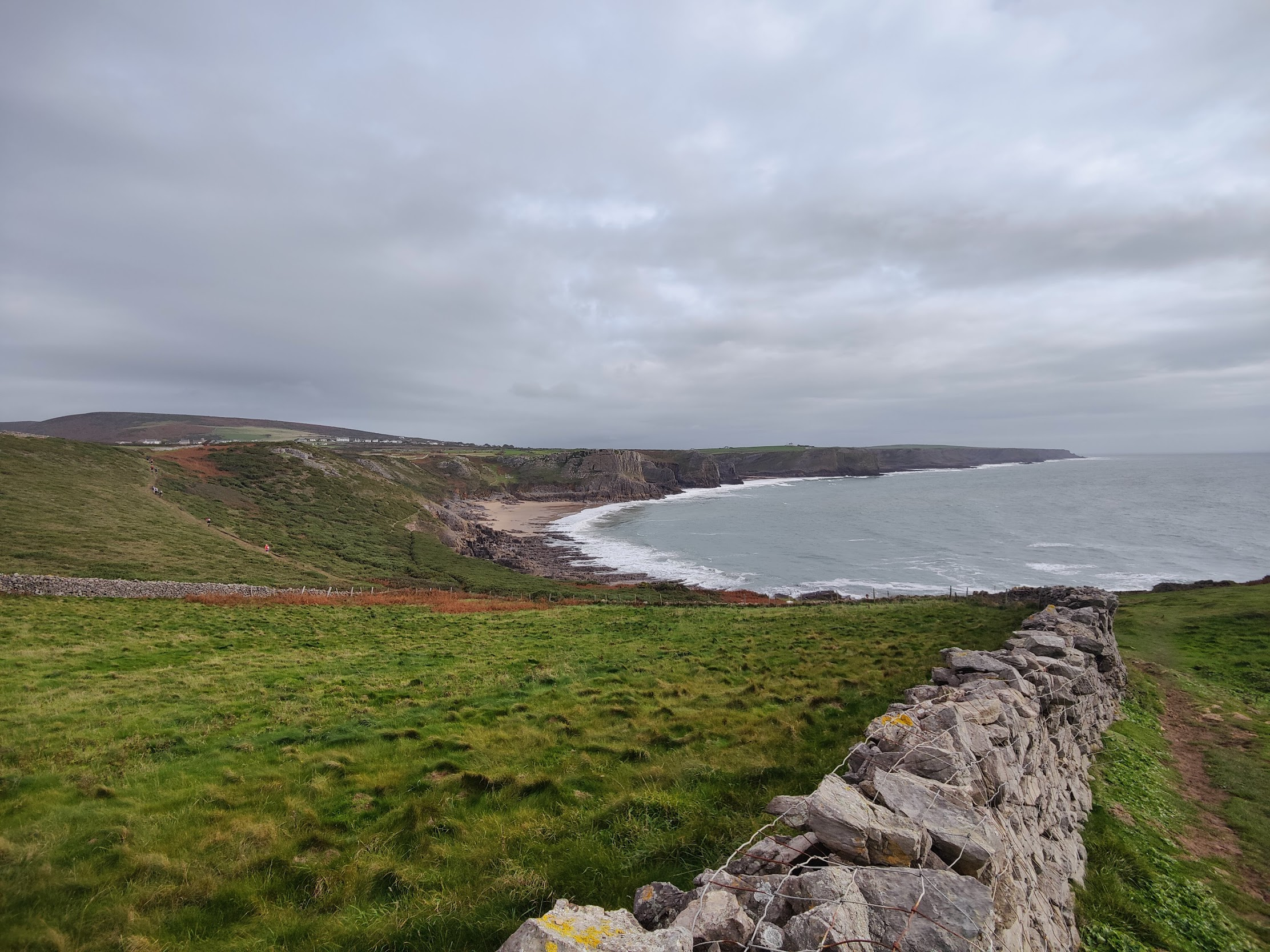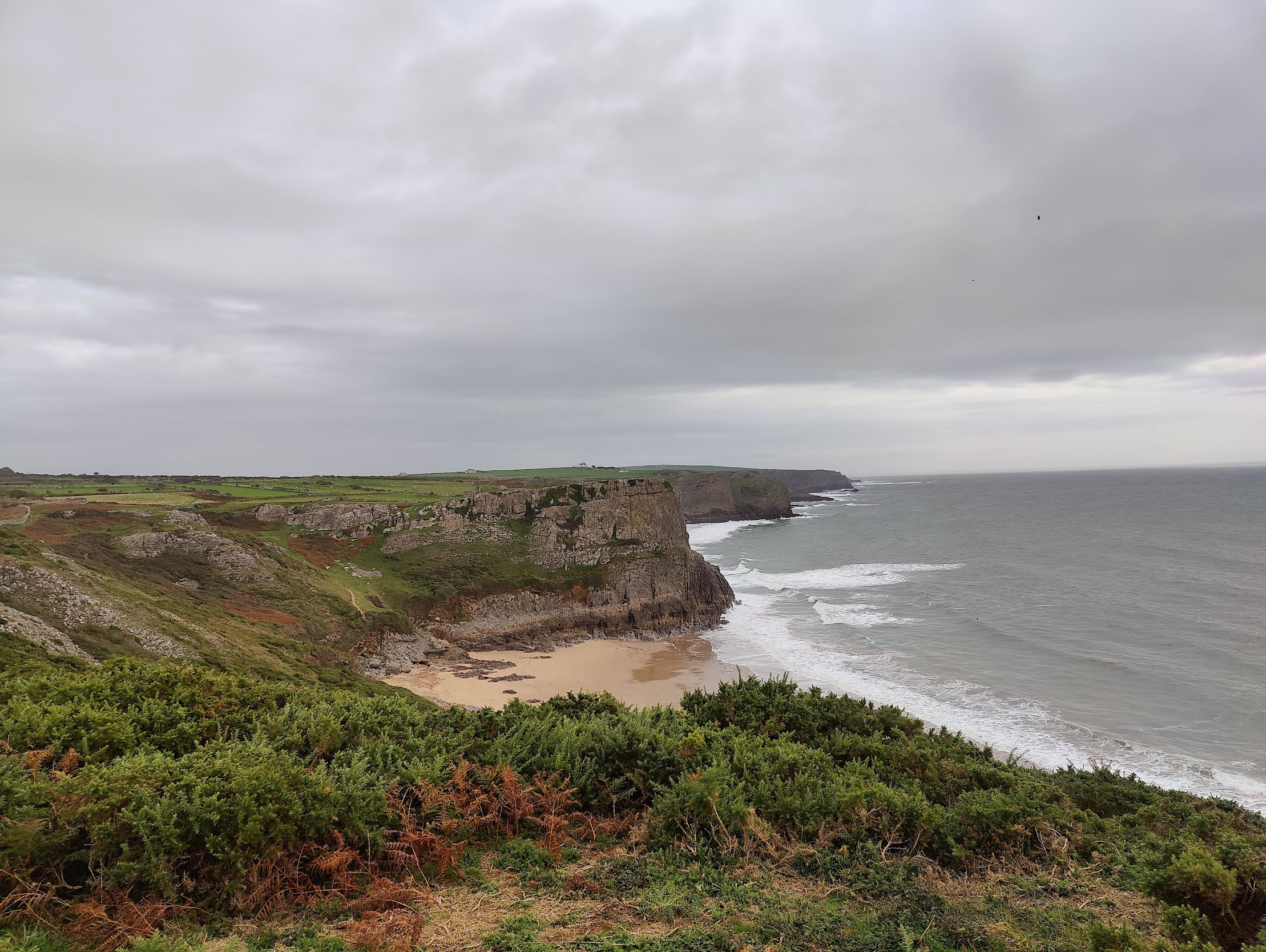 The next stage was one of the most picturesque and what you think of when you sign up for a run along the gorgeous Welsh coastline, much more rustic and away from civilization.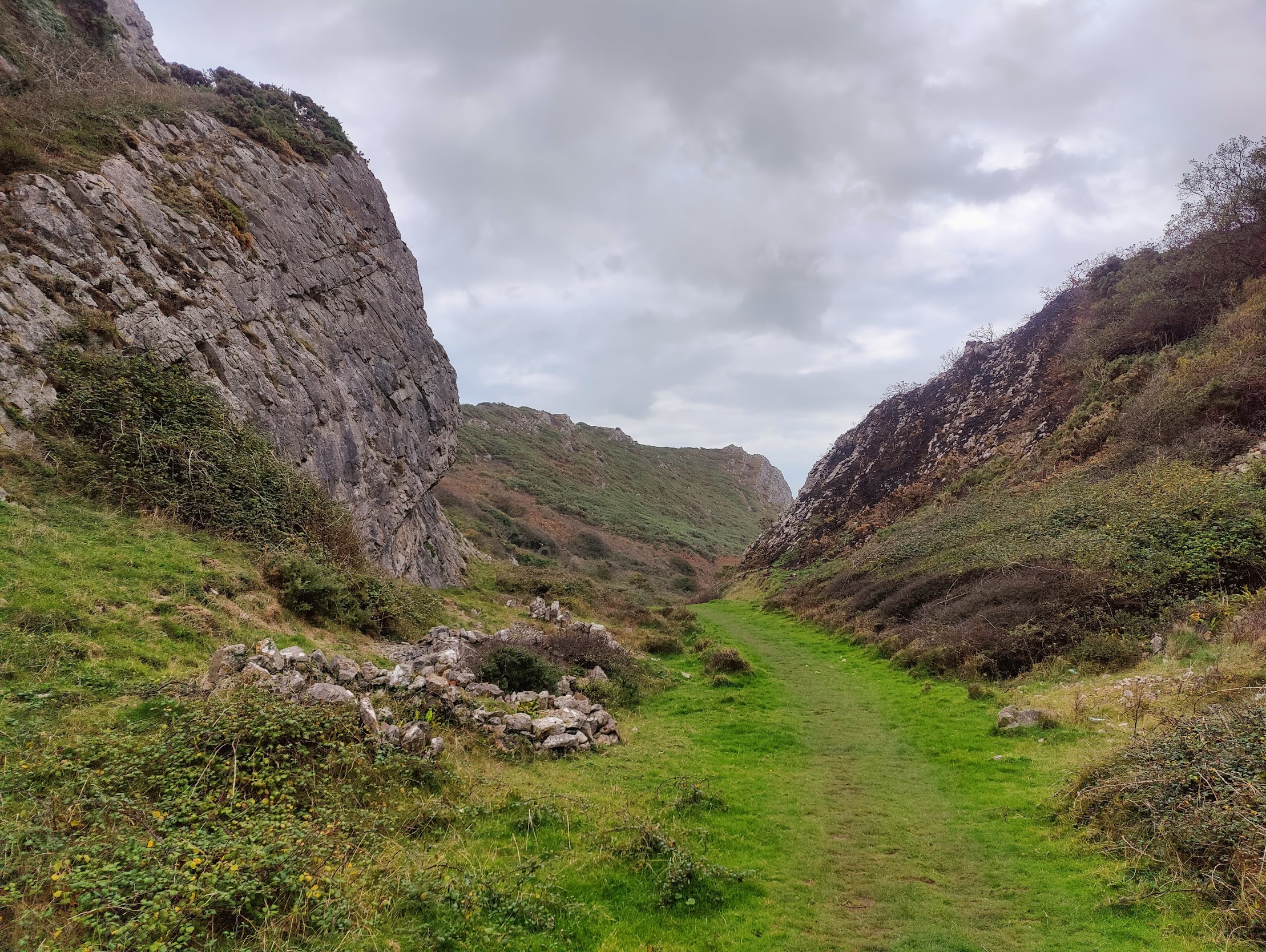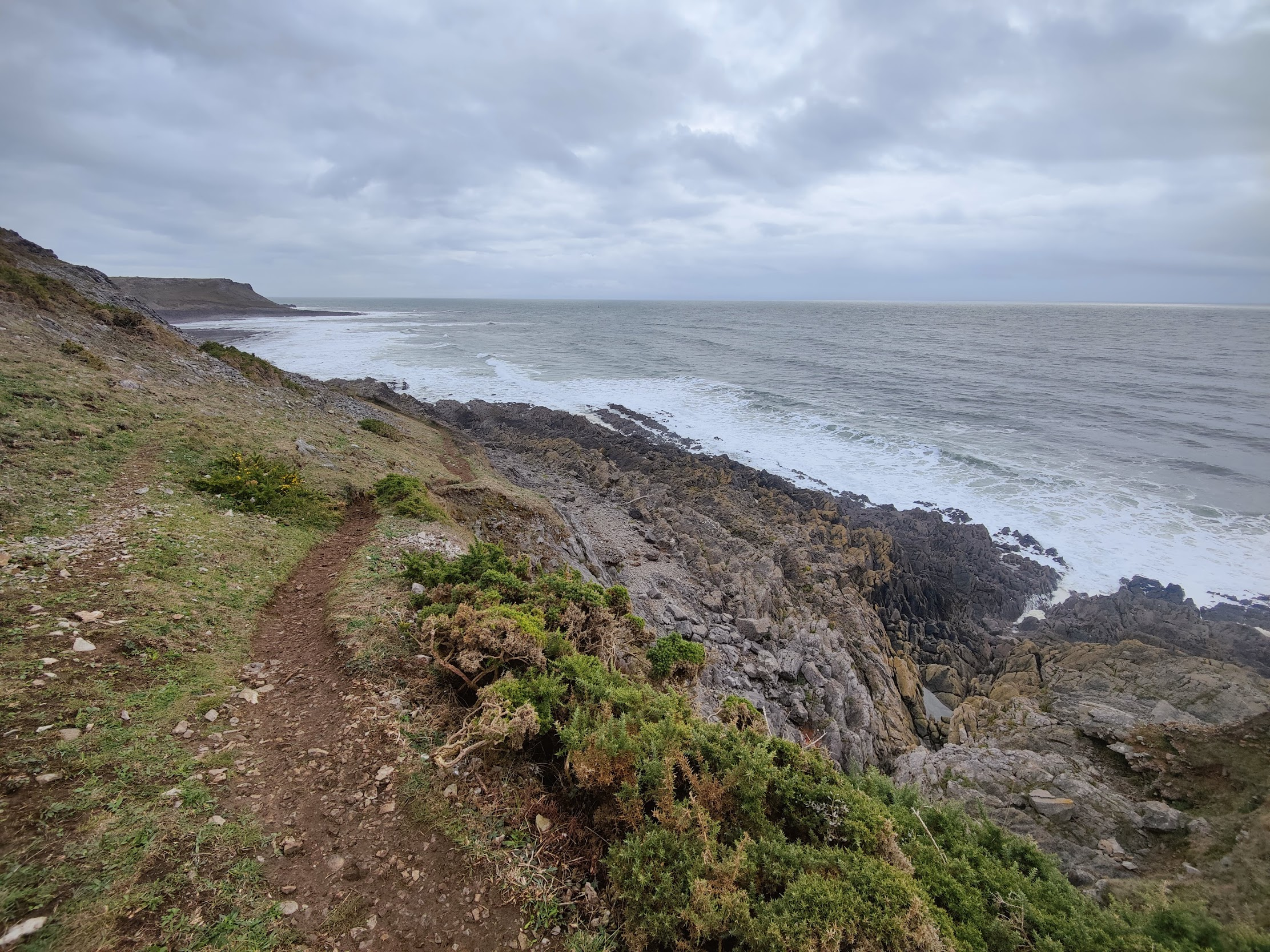 It was also the stage that felt the longest due to lots of tough climbs and technical sections slowing the pace right down.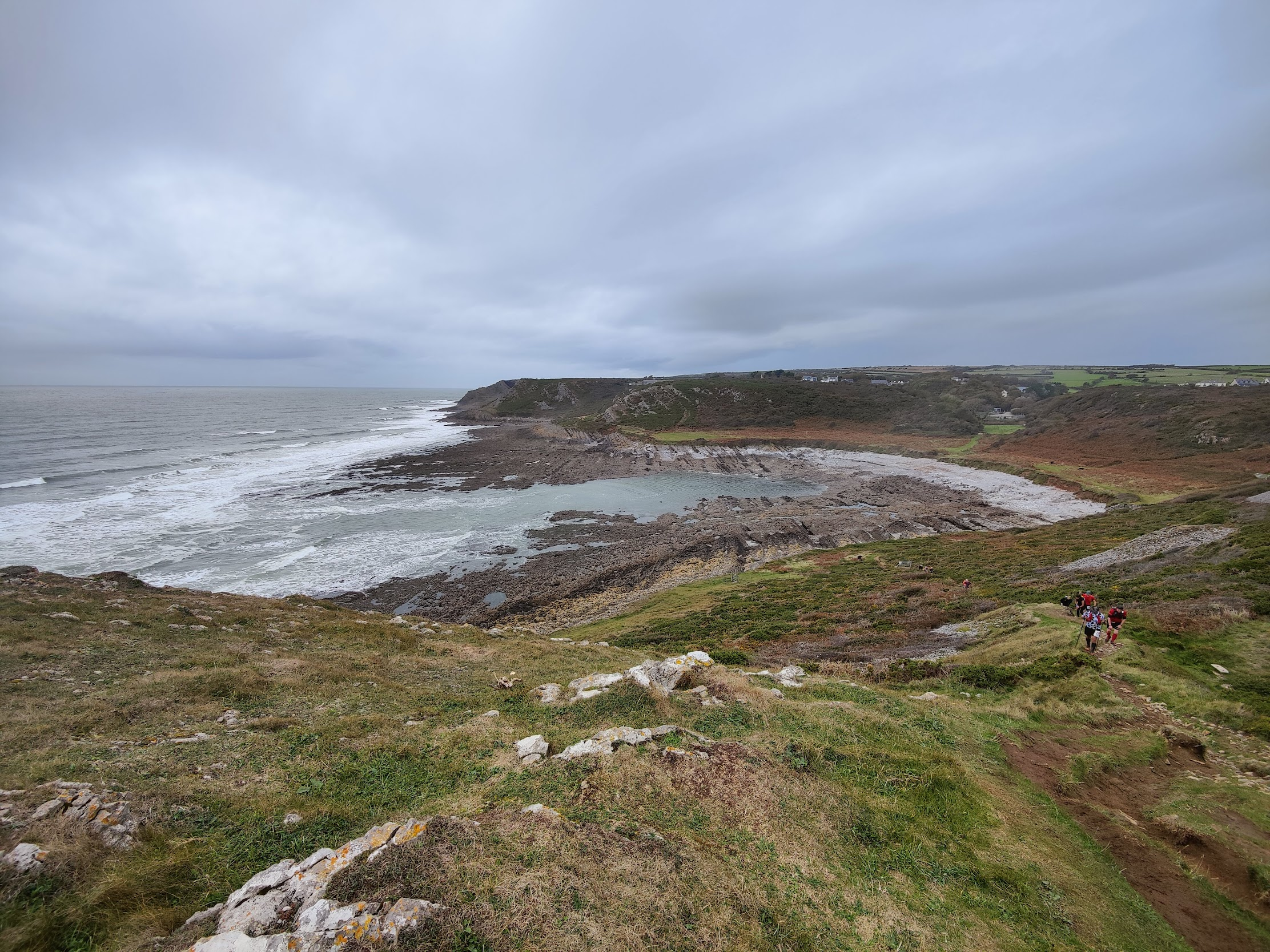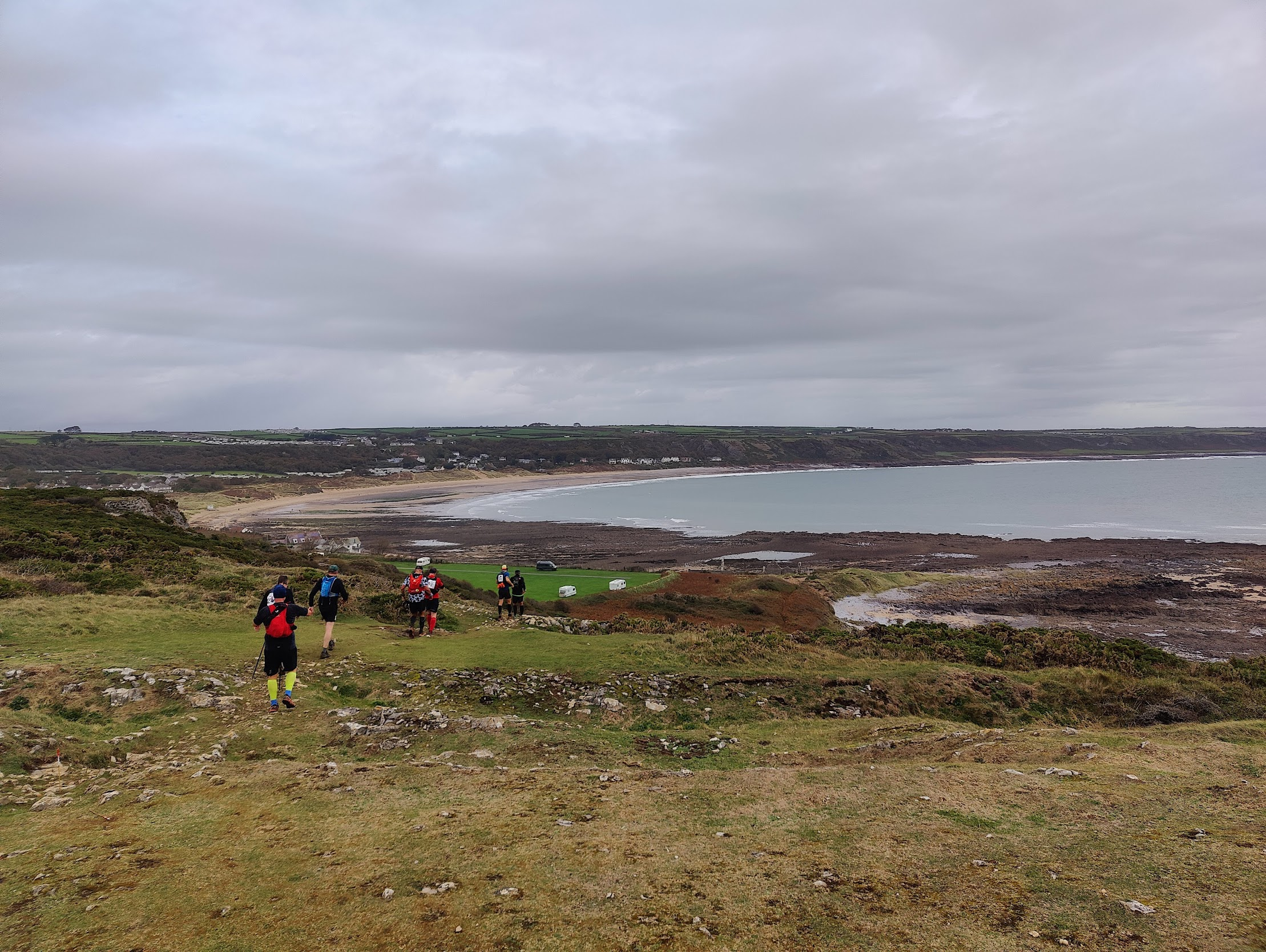 Continued making our way east, we descended to the town of Port Eynon for CP5, another village hall this time serving much appreciated hot food and drink.
Here I had a hotdog in a buttered roll and a cup of tea combined with a longer sit down rest.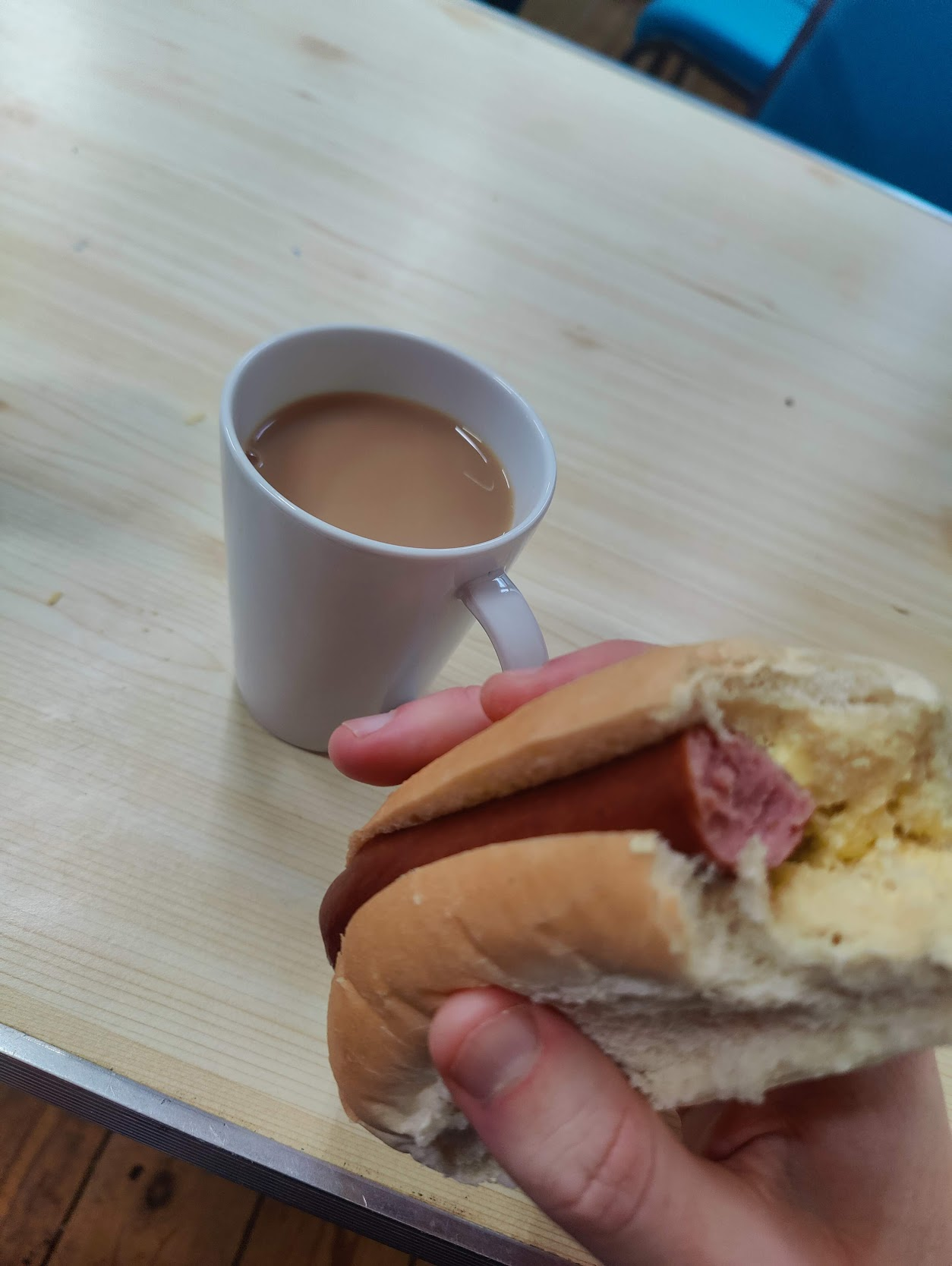 The Active Root wasn't doing it for me and my tablets smashed so I switched to squash in 1 bottle, plain water in another.
Stage 6: Port Eynon to Oxwich
Not gonna lie, neither the hotdog or the tea went down particularly well and sat heavy in my stomach. Felt important to get something more substantial in though so I forced it down then opted for a 15 min walk away from the checkpoint to give my body time to settle.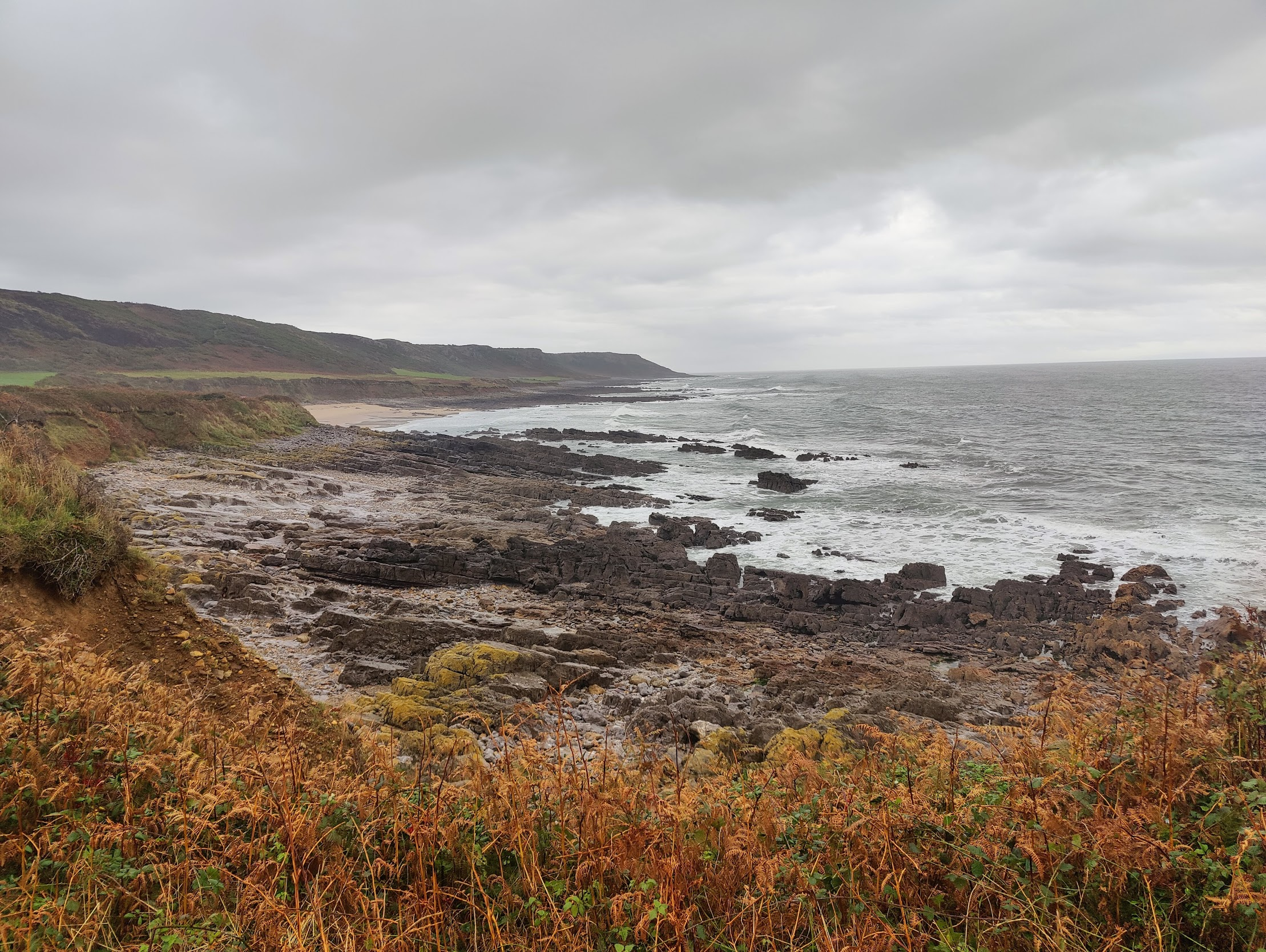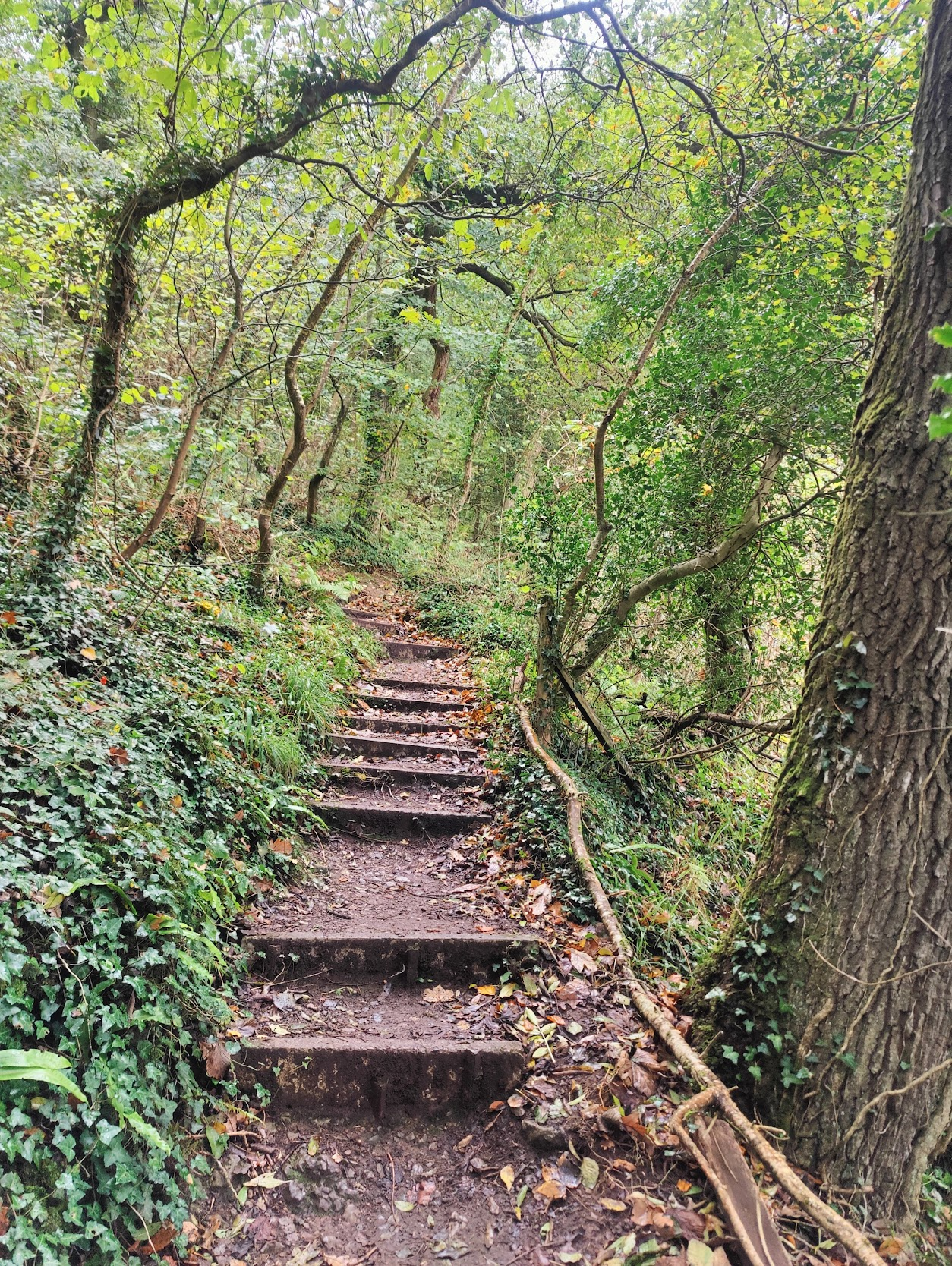 Checkpoints from here on were closer together. Well, theoretically closer, they all still felt like a bleeding long way due to the slowing pace and amount of climbing involved.
A long tough section through thick woods with a horrendous amount of stairs punctuated the latter half of this stage.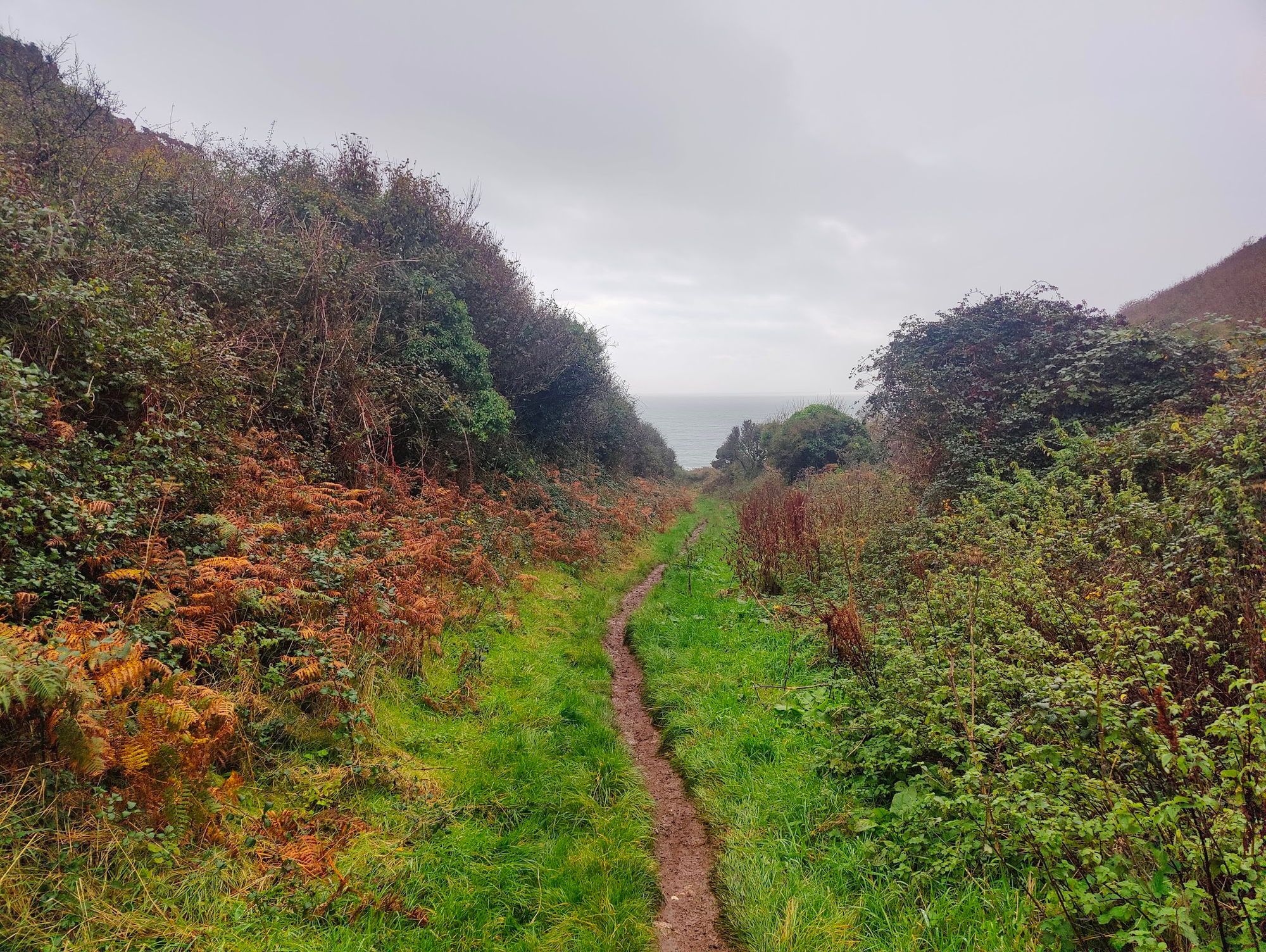 CP6 sat on the edge of the next long beach section. Here I had 2 orange slices as my stomach was in tatters. There was however a cafe that did proper cold glass bottles of coke though so grabbed one of those, drank it whilst power hiking on the beach, then had to carry a glass bottle in my vest til the next checkpoint.
Stage 7: Oxwich to Three Cliffs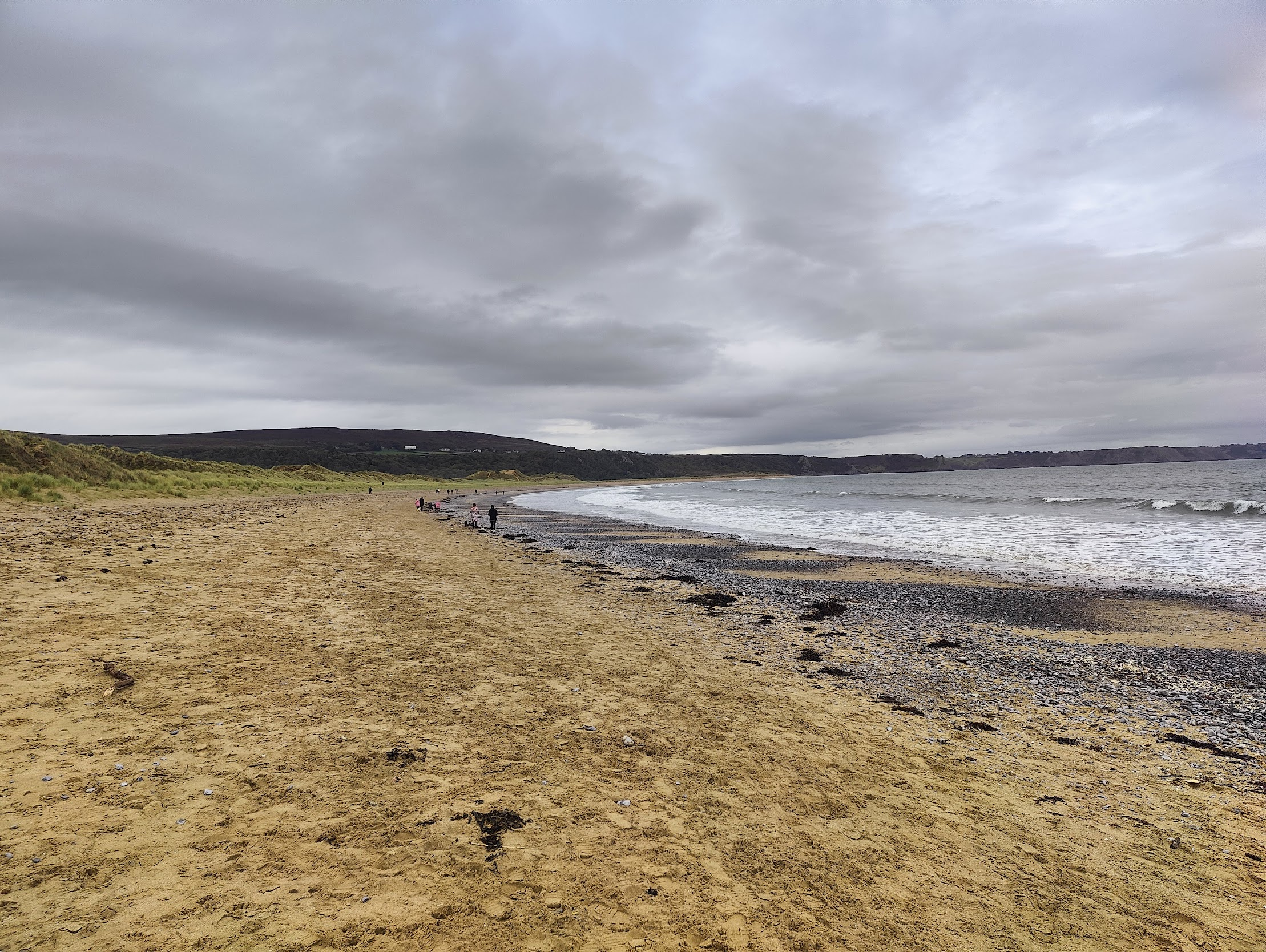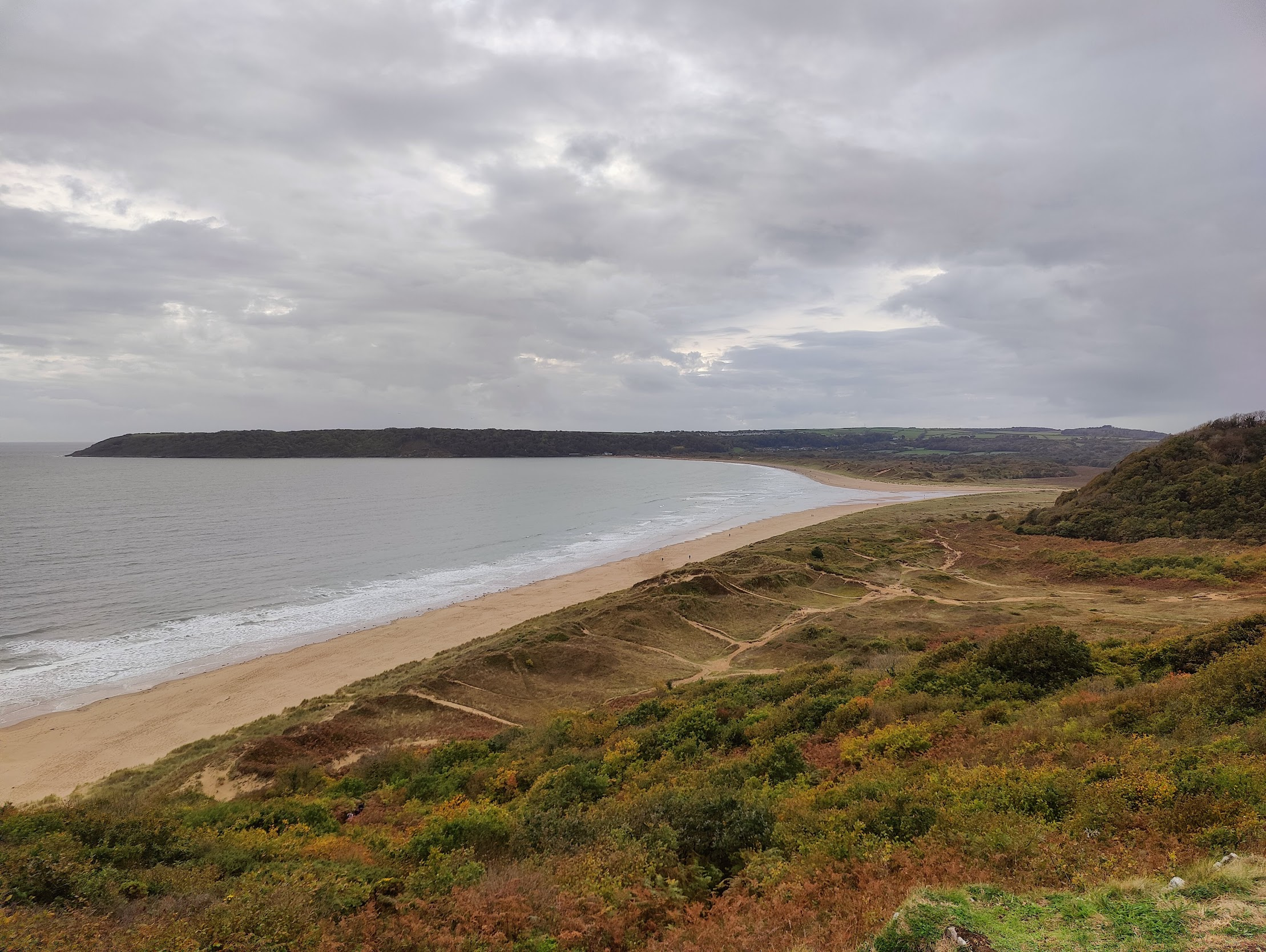 Started with the second long beach stretch, a little tougher here as it was softer sand.  Walked the majority of this beach, picking up the pace towards the end when I could see the exit.
Route got a bit broken here, the signs pointed a different direction to the GPS so got a little lost. Thankfully another runner who had done the course previously pointed me right and we did the next climb together, a fun rocky stretch with some scrambling.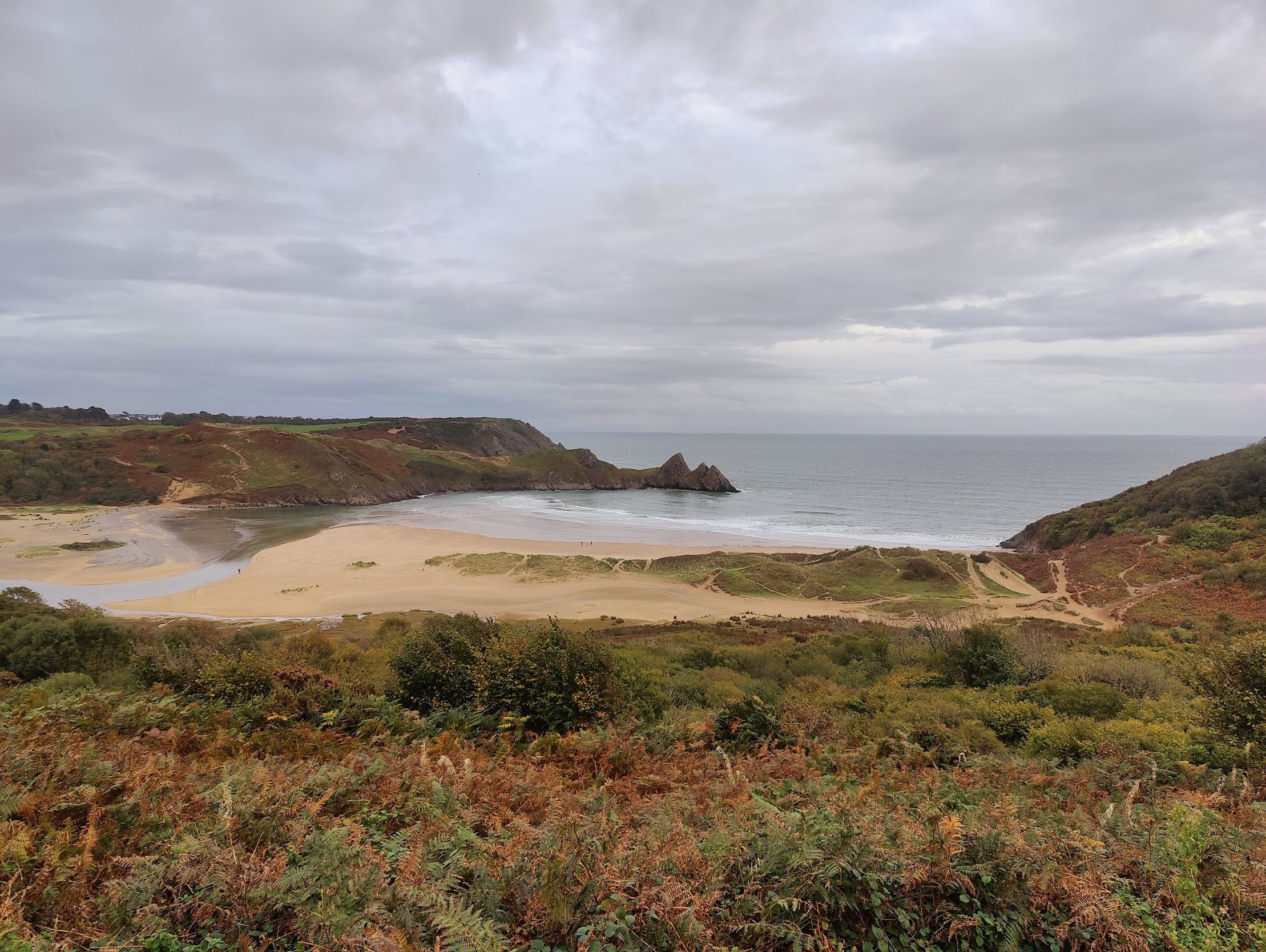 After the beach was a short section leading to the beautiful Three Cliffs Bay, where we climbed up a steep incline to CP7 at the top.
Here I managed an orange slice and walked out eating a Rocky bar slowly chased with lots of water. Forced myself to finish it so I could get more energy in.
Stage 8: Three Cliffs to Southgate
Only 15km left at this point, a morning training run! 😅
Caught up with a fellow Running Punk doing his first marathon, AND first ultra today. He'd picked a particularly brutal ultra to boot, and was doing incredibly well.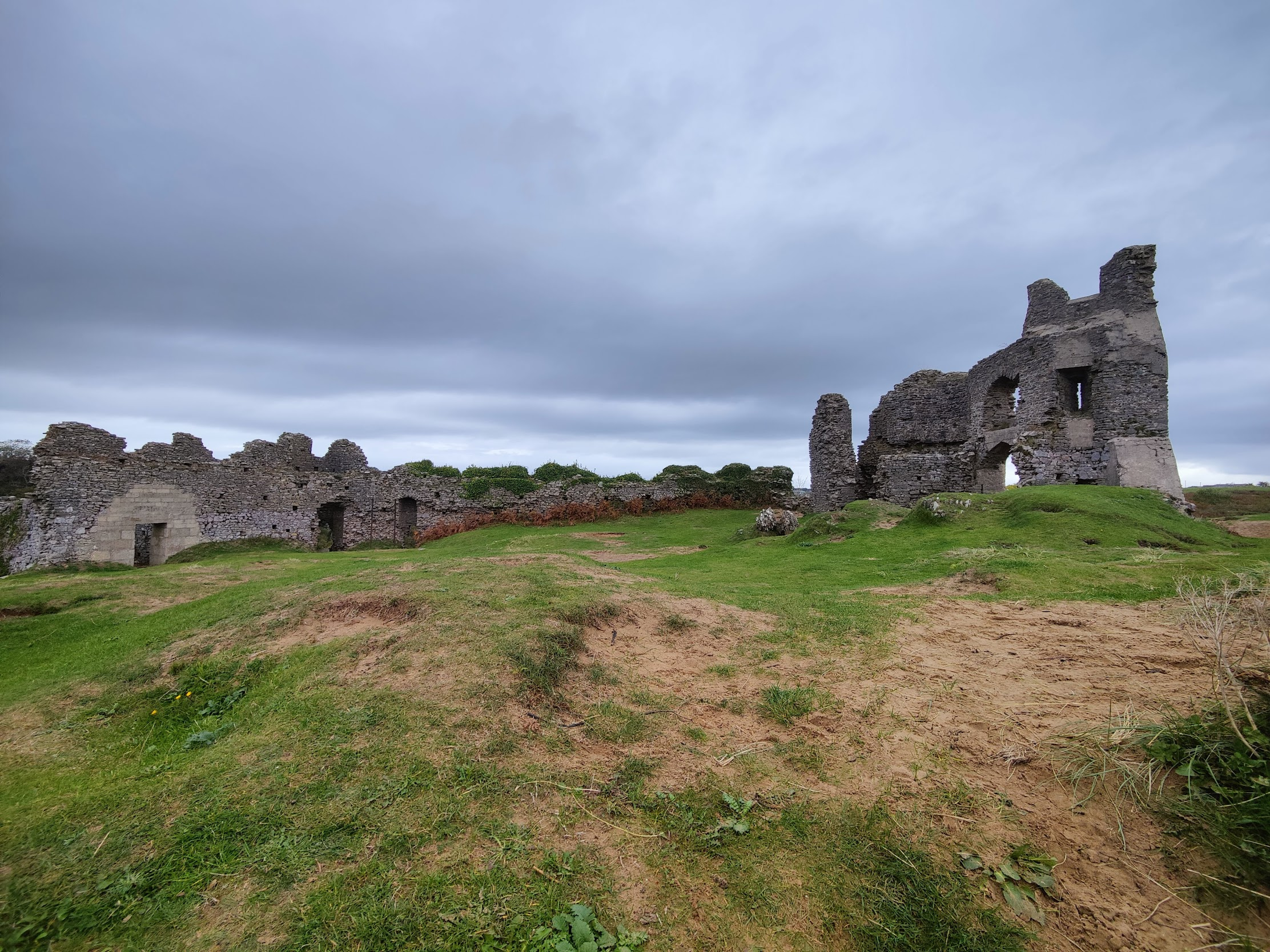 I cannot express how bloody brutal the climb was here. A steep sand dune with poor footing that lead up to some castle ruins, before descending back towards the trail we'd just left!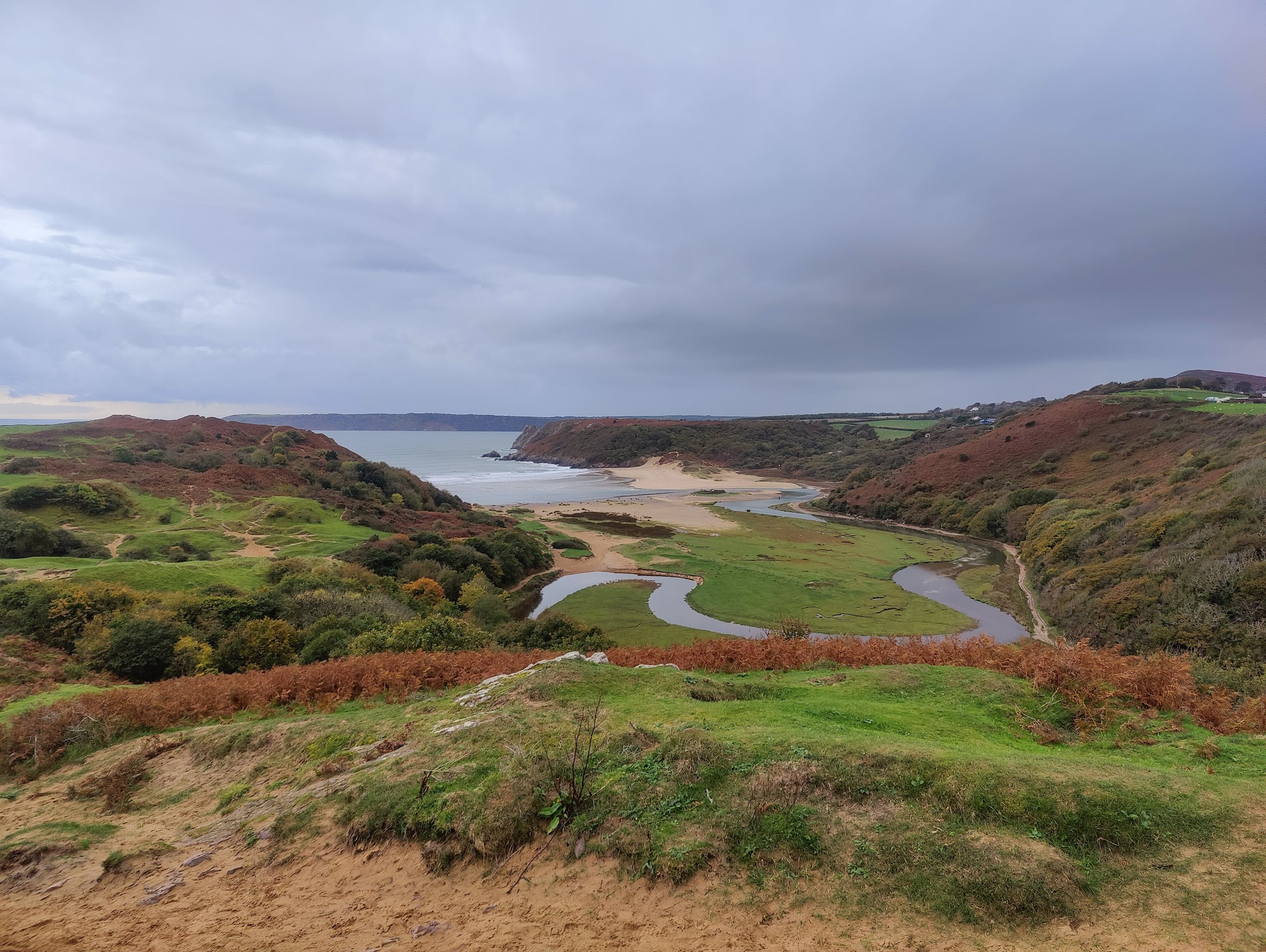 This lead to a difficult to navigate section of high sitting sand dunes that rose up to reach CP8: the last checkpoint before the finish.
Here I managed half a Jaffa Cake, my body was not down with it.
Stage 9: Southgate to Finish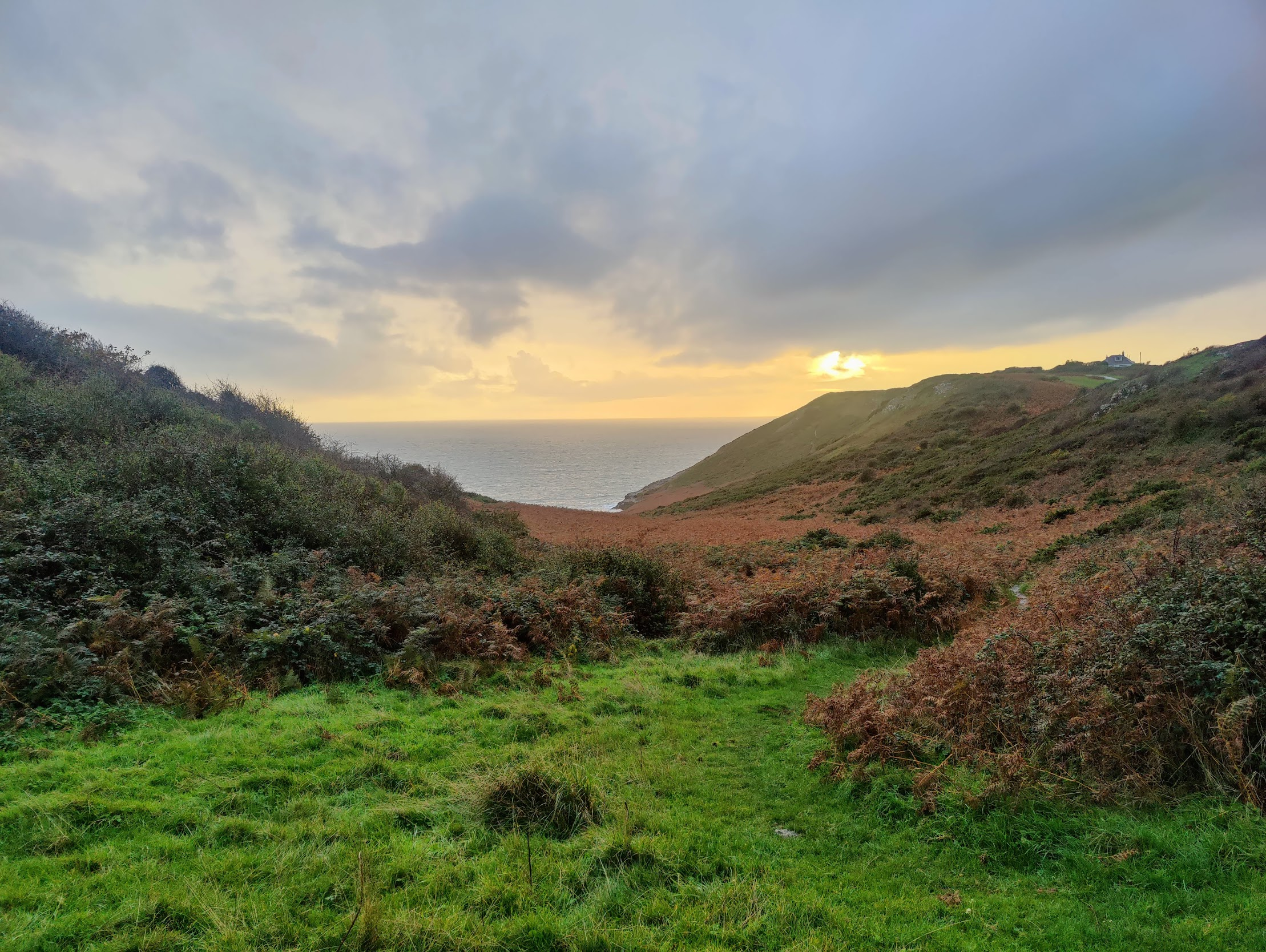 The next section was especially tough, full of technical gnarly descents that required careful footwork my body was no longer capable of.
But there was only 10k left to the finish.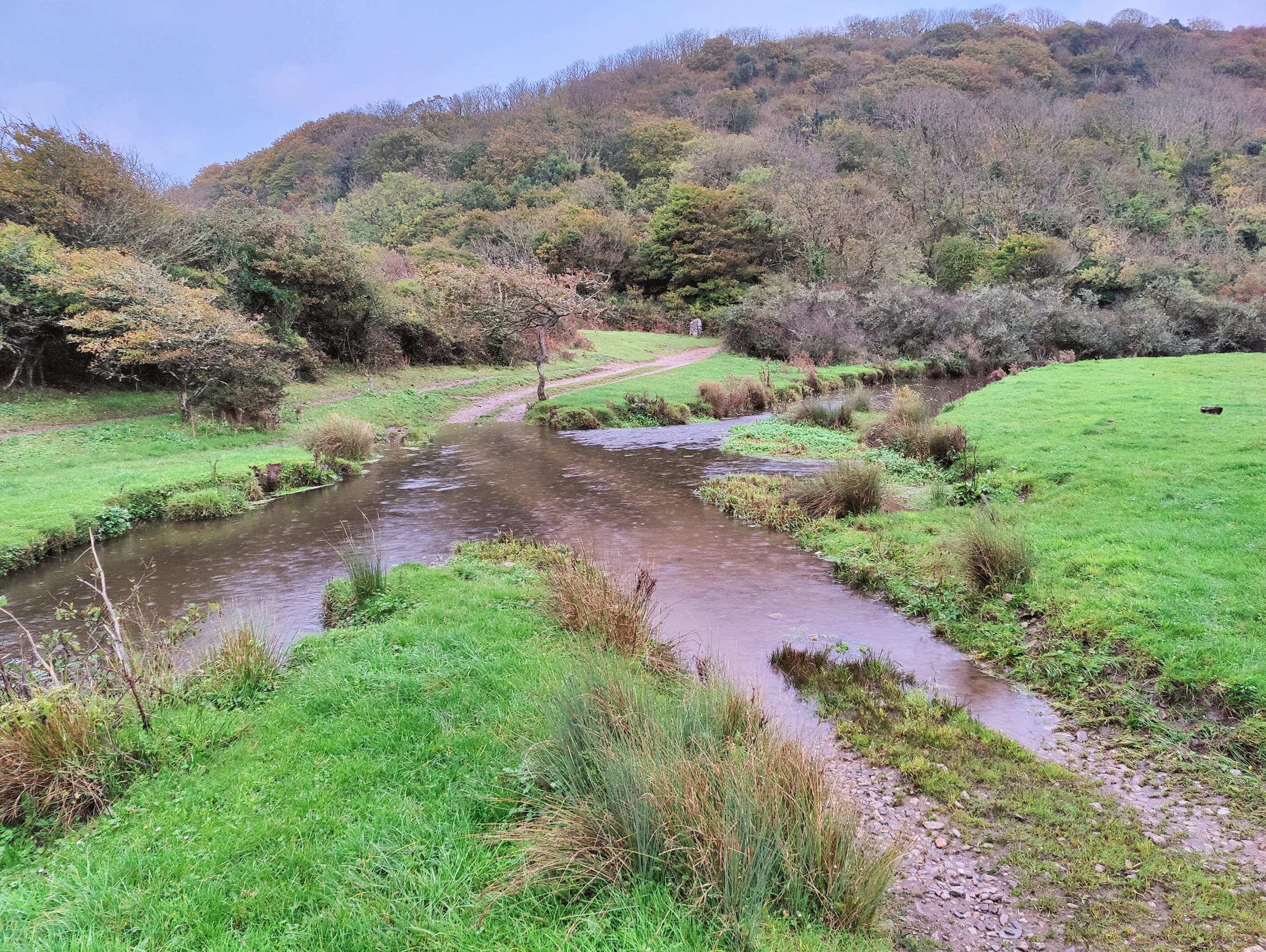 Went the wrong way a few times, including a section that had flooded (I backtracked rather than trying to ford it)
Had a full on argument with my tummy, it was telling me it was hungry, but rejecting any food I was thinking of.  Managed to down a Gu gel, actually to my surprise I was able to eat it, albeit slowly, something to remember for the future.
A lovely stranger walking his dog was passing out fizzy sweets to runners, and that little strip of sugar was exactly what I needed, giving me a little boost.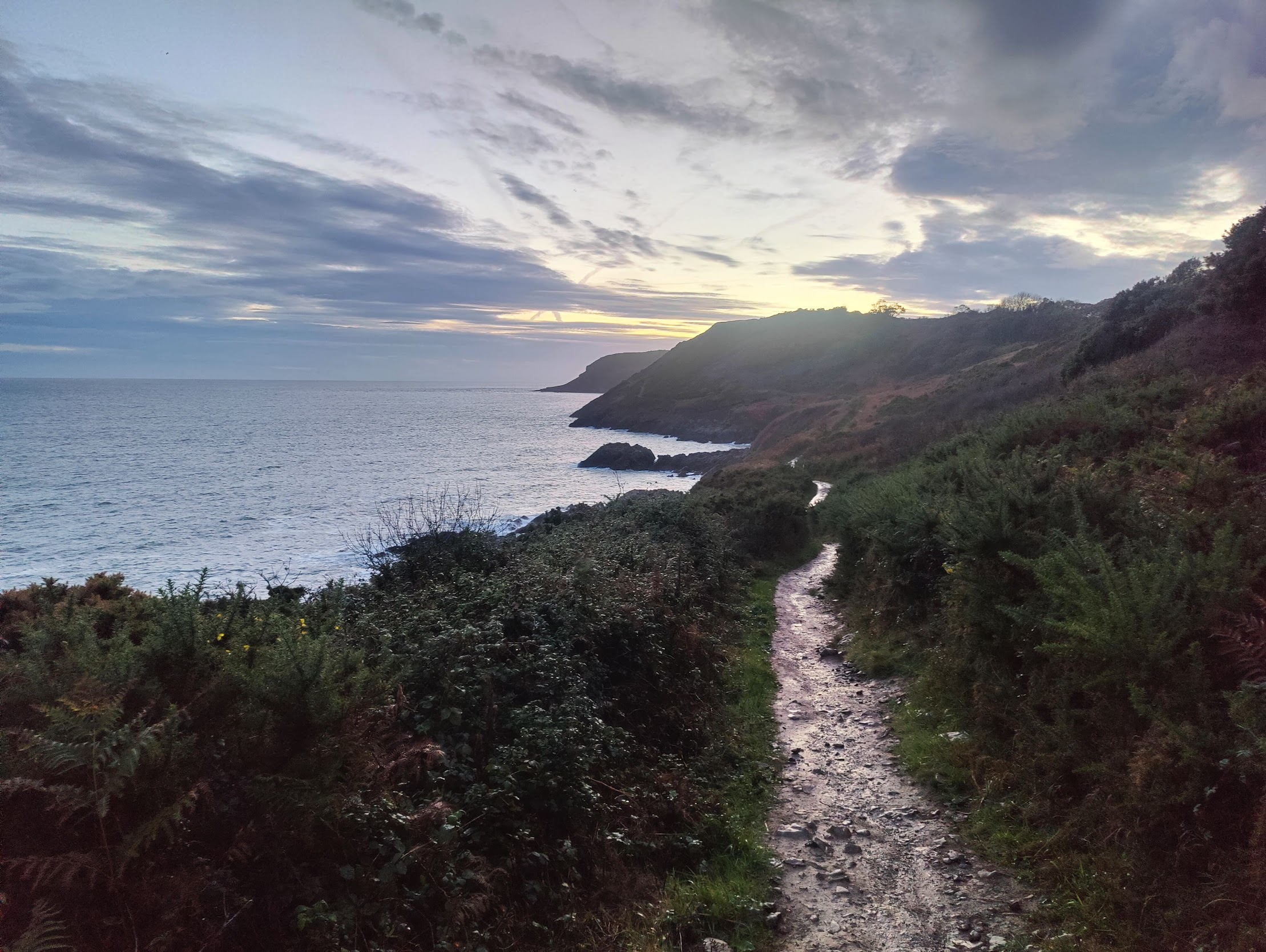 The sun was starting to go down & rain came gushing in, impacting my morale greatly.  Went to a dark place here, lots of swearing internally and out loud. I knew there was little left but so wanted it to be over now.
The last section felt neverending, it followed the coastal path closely eastwards towards The Mumbles. Each turn felt like it would be the last, each turned out to reveal another cliff to navigate.
However the route became easier to move over as we got closer to the end, a well tarmaced walking path snaking round the cliffs made for faster going. I was able to start running again here knowing we were so close.
One well meaning spectator told me there was about a mile left to go. This didn't have the intended effect as I was previously certain I had already reached the finish line!
As I climbed another part of the coastal path, I saw on my watch a map showing the line I had run 12 hours ago, it was the last stretch of trail back to the cricket ground!
Thoroughly broken and in need of a rather large hug, I pushed a short run for the last 100 meters to the finish line.
51.6 miles. Done in 12 hours 10 minutes and 46 seconds, position 73rd out of 156.
After Action Report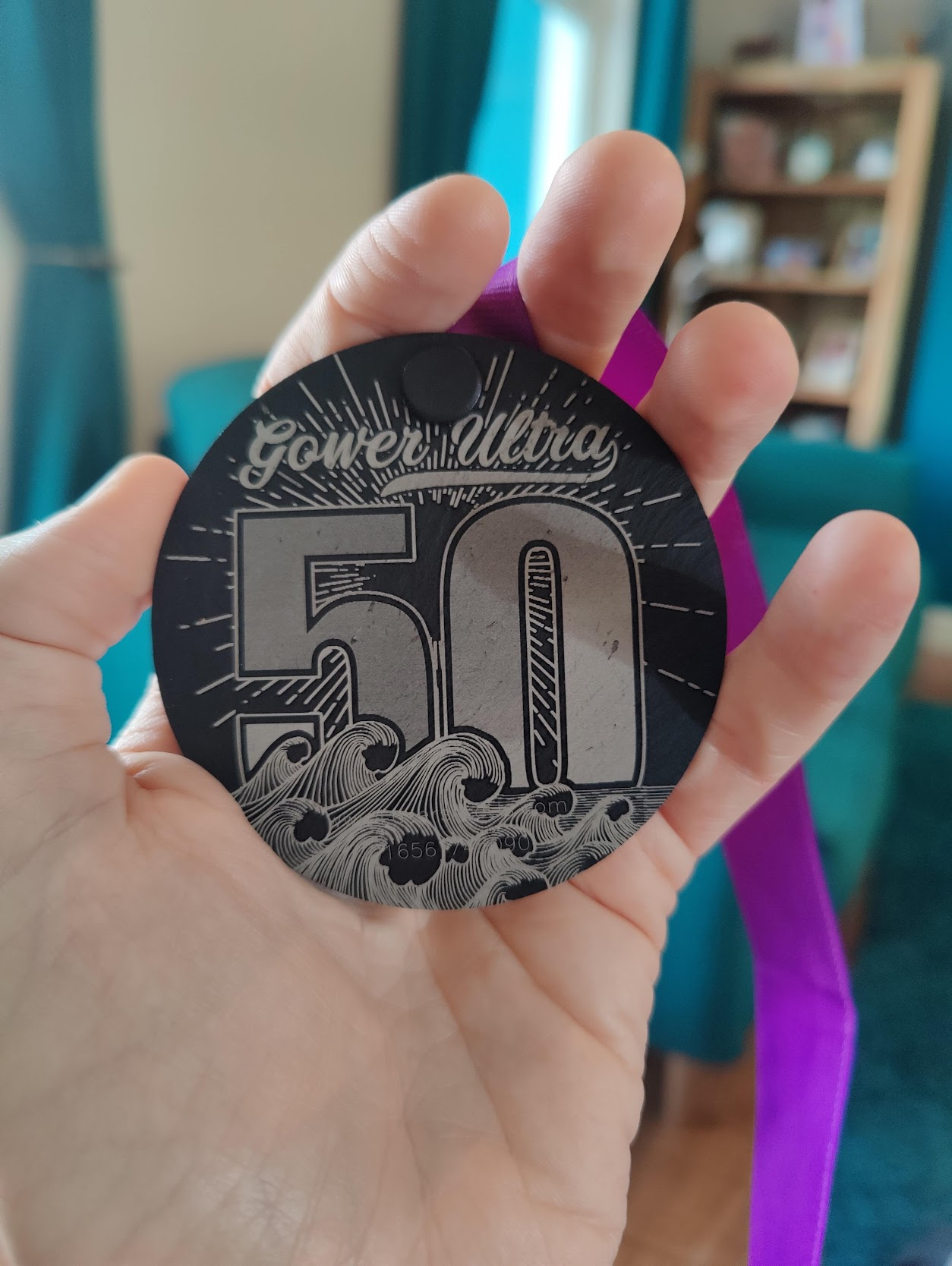 It wasn't the most graceful post race night if I'm honest. I stumbled a bit shocked in to the Mumbles Cricket Club, nursed a pint of coke whilst the post ultra shivers hit my body, before shortly wandering to a co-op, grabbing whatever I could stomach then retiring to the hotel room to curl up in a bed!
There were many points during the race I'd felt emotional, but by the time it was done it felt almost anti-climatic, likely due to tiredness & feeling thoroughly "empty".
However. Here we are. 2 days later, and I am so happy that I've managed to complete my 2022 goal of running 50 miles. It's still not fully hit me yet, I imagine one day this week I'll just start bawling to myself 😅.
Damage & Recovery
Very sore legs (expected!), especially my left knee. Having to take a deep breath before going down the stairs
First blister in a while, under my right midsole, likely due to having wet feet for so long
Stomach much better than before, appetite returned by morning and has been fierce for 2 days
What Worked
Eating real food instead of drink mixes, every 30 minutes, went much longer and ate more consistently, still had (a very small amount of) energy towards the end to keep going, mood stayed much more positive for the majority of the race
Respecting my digestive system more, giving it time to process, walking after food for a bit to let it settle, drinking much more water to help digestion
Good steady disciplined pace, didn't over exert even on the flat road sections in the first third
What Didn't
Still felt nauseous the last 5k after not being able to eat much the last 2 hours, I don't think I could have prevented this tbh, felt like it's an inevitability after 11 hours running
Electrolyte tablets in a tube, couldn't believe how smashed up they got, glad I had a back up because if I was dependent on them I'd have been screwed
Lessons
Important to carry a variety of food, and still having sugary gels for when solid foods just aren't an option anymore
Those electrolyte tablet tubes can end up smashing your tablets to pieces due to the up and down motion, I'm glad I took a backup, maybe swallowable salt capsules would be better in the future
Recognising when your stomach needs time to settle, drinking lots of water and giving yourself that rest time are all essential in completing long races
Thanks
Thank you as always to the Running Punks for their incredible support & words of encouragement through every stage of this long, winding journey.
Huge thank you to all the incredible volunteers and supporters on the day, it was lovely seeing friendly faces around the course & being cheered on so much. It makes all the difference.
And lastly but most importantly my partner Zoe for looking after our sick (but thankfully recovering) daughter at home during what was originally meant to be a nice family weekend away in the Gower.
What's Next?
This marks the end of my 2022 "season" (whatever that means!)
I'll be returning to running for the joy of it, exploring trails and finding fun challenges over the winter months.
In 2023 I have the next big distance jump, the 100k Race to the Stones in July, however before then Zoe and I have our own challenge of our second child, a baby boy, due in February, so keeping my calendar free for that 🙂