Taffy 55 Ultra 2023
Tackling the Taff Trail as a team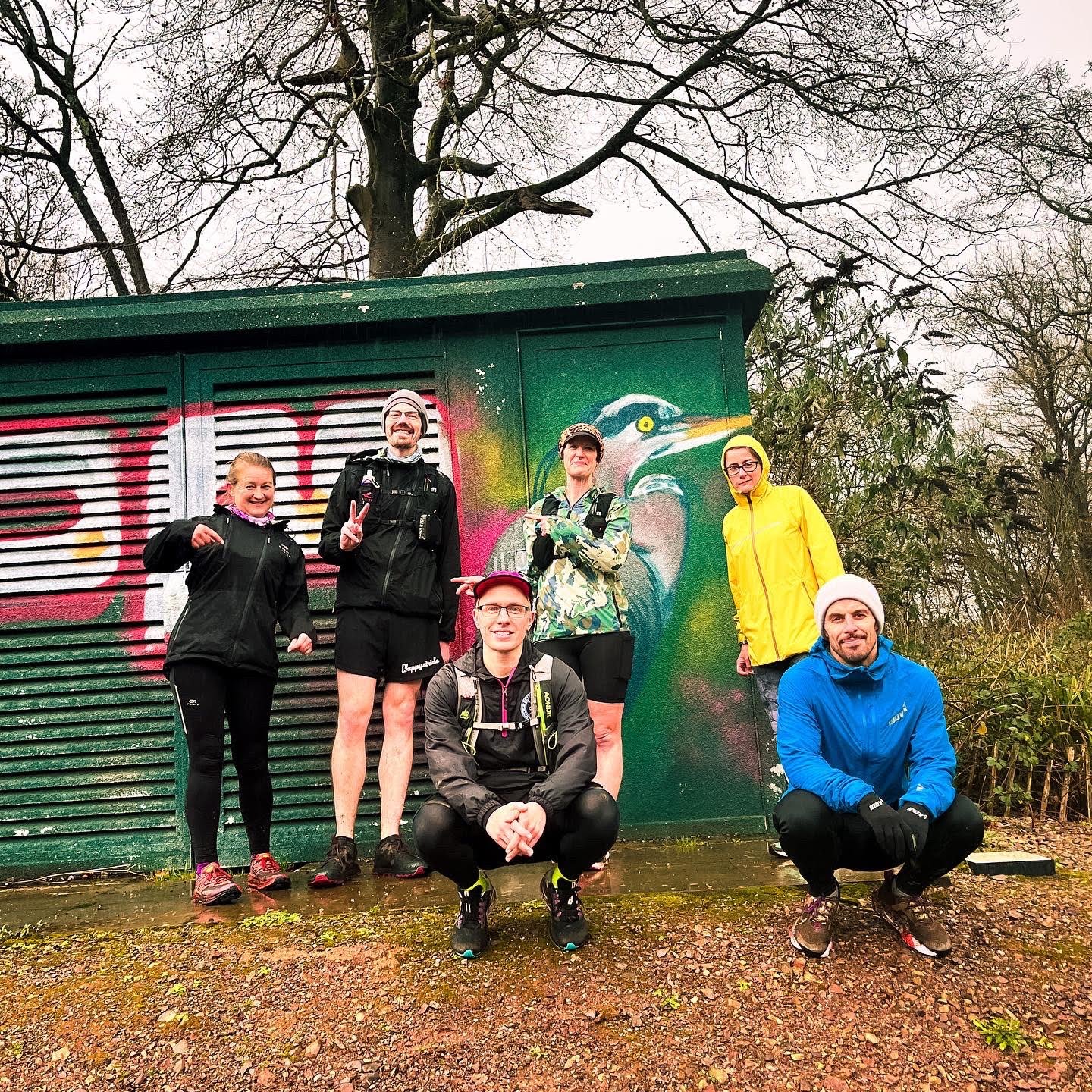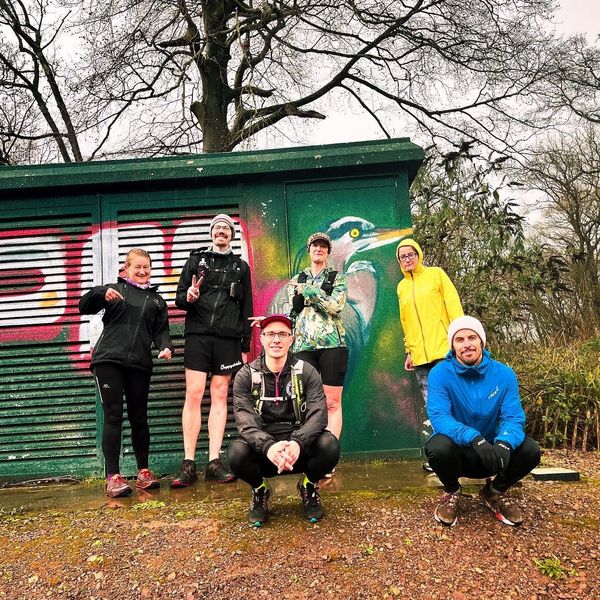 The Taff Trail is a 55 mile route that starts on the canals in the town of Brecon, skirts up through the Beacons then meanders along the River Taff all the way to Cardiff Bay. The trail has one fairly steady climb up to the shoulder of the mountains before a long descent down the river's path. Once leaving the Beacons behind it is mostly cycle paths through woodlands and parks, with the odd run through a town.

I wanted one last big challenge before our little boy is born in February, something that would push past my previous longest distance and would test all I'd learned from last years hard lessons. The Taff Trail looked like a great candidate: it was 4 miles longer than my personal record, would require some self sufficiency due to the first 4ok being all rural trails & would need me to manage my fuelling properly to get to the end.
So Ellie, Zoe, bump and I packed into the car and spent a weekend in a lovely little AirBnb right on the start line overlooking the canal, exploring both the village and the waterfalls of the Beacons. Ellie was in her element wading through the puddles left by all the recent heavy rainfall, and got spoilt rotten with a rather large stack of chocolate pancakes for brunch.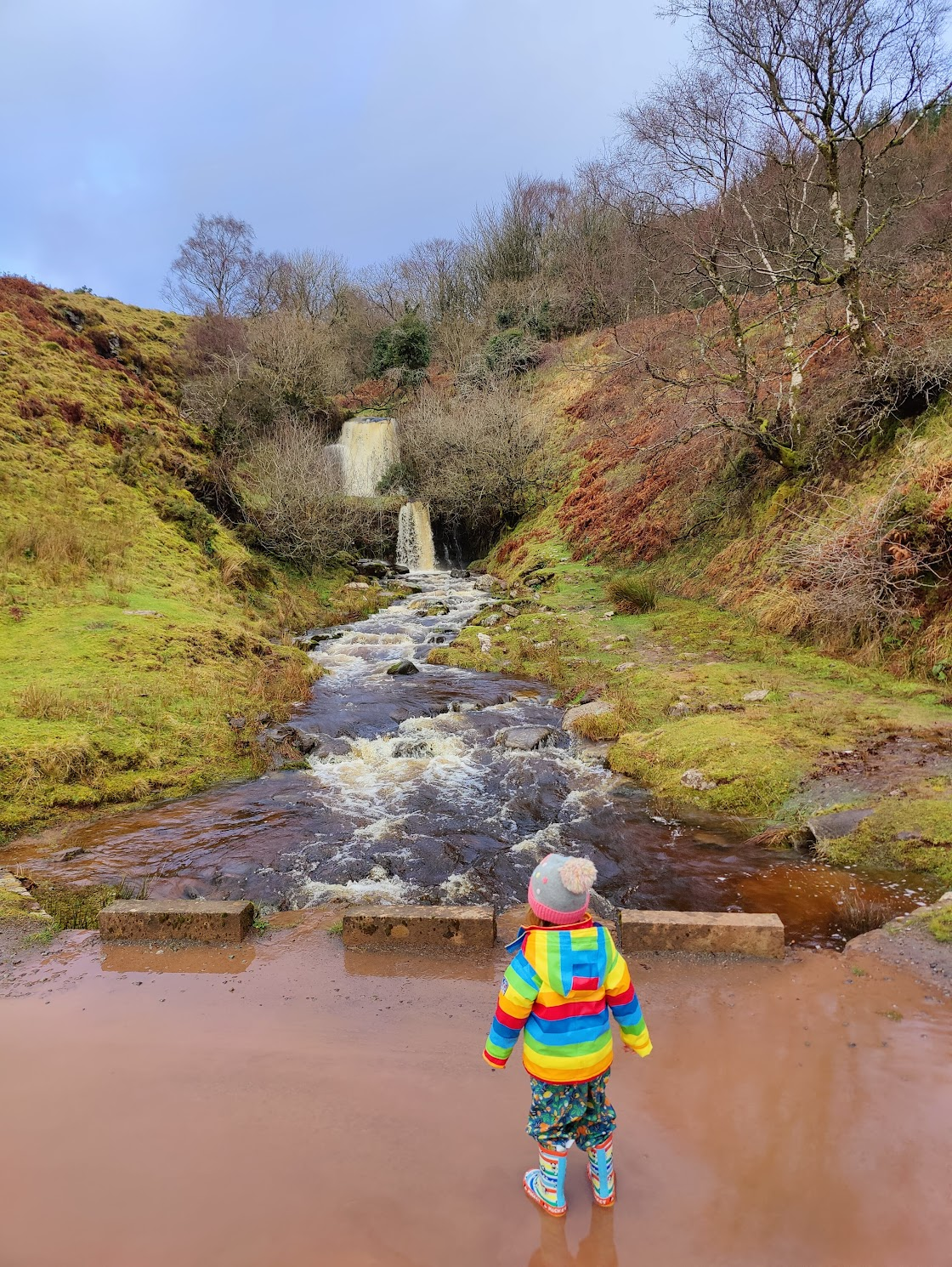 After our mini adventure: the plan was I'd leave on Sunday morning then Zoe and Ellie would pick me up in Cardiff once I'd finished (or en route if something went Pete Tong).
Training & Goal
Run Up To Christmas was the best training I could ask for prior to this event. I'd put in three 100k weeks over December with lots of trails, long runs and back to backs that prepped the legs nicely.
Time wise I estimated it'd take me 13 hours, based on taking just over 12 hours to do 51 miles around the Gower in the Autumn. I didn't have any expectations outside of that, mainly just wanted to finish in a time that felt like I'd pushed myself.
I'd tapered really nicely up to the event, doing only gentle 5ks for the most part, carb loading to a frankly ridiculous level and ensuring I had plenty of sleep on the days leading up to it.
Gear & Nutrition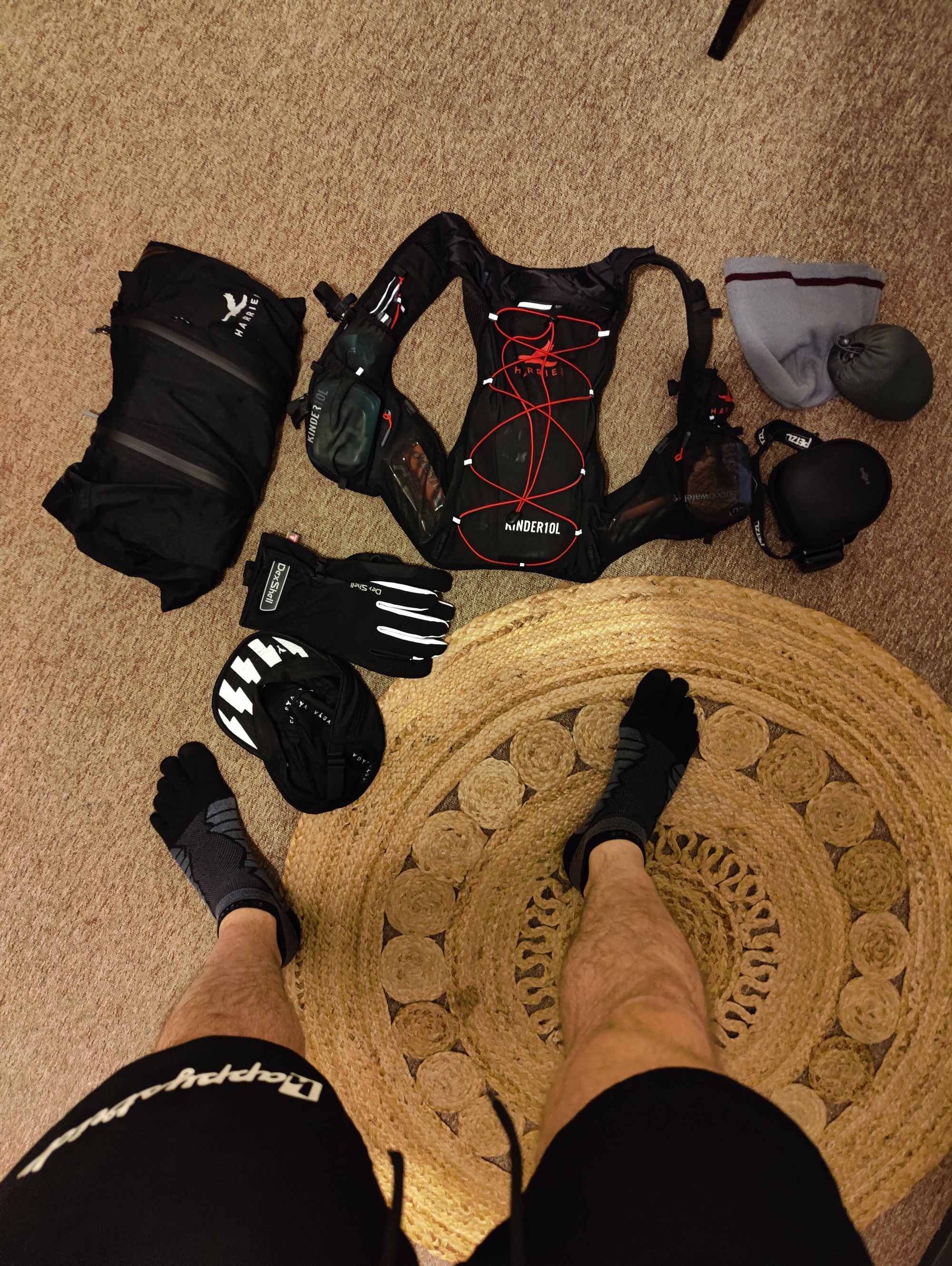 I did a super nerdy deep dive into the gear here so I won't go into detail on the race report.
I was still nervous about the new Harrier race vest. The kit all fit in there and I had spare pockets in the jacket I could use, but of all the gear it was the biggest question mark.
Also, due to the distance between Brecon and the next town (Merthyr Tydfil) I'd be using a Salomon XA Filter for the first time to source water from streams along the route. I was both excited and nervous about that prospect.
Finally it was forecast for bouts of rain, pretty much all day, and all the way. I had a good waterproof jacket, 2x hats, 2x buffs and 2x pairs of gloves, yet knowing how cold my hands get I was concerned the gloves wouldn't cut it the whole distance.
Lining Up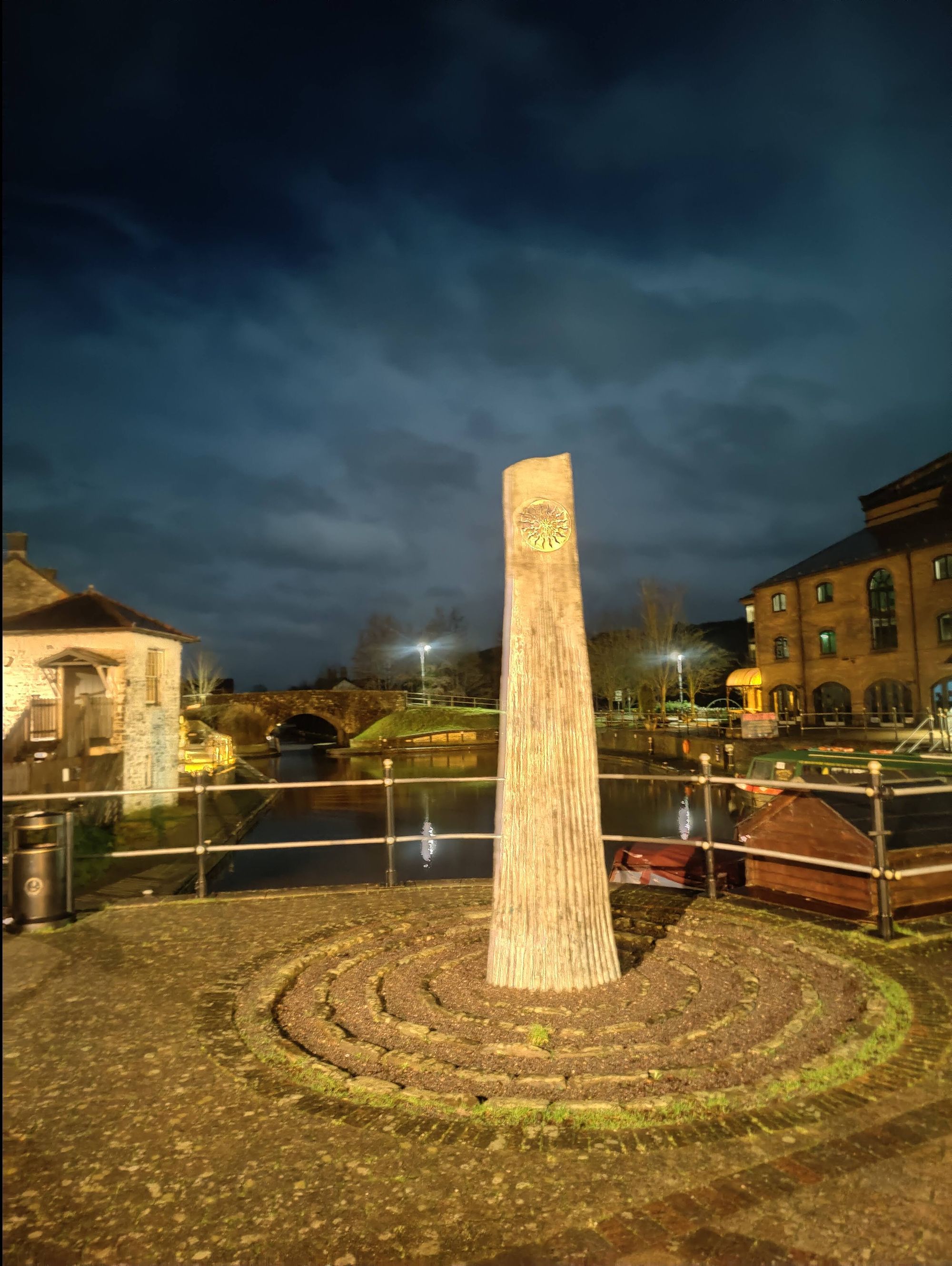 04:00 in the morning in the sleepy town of Brecon at the start of the Monmouthshire & Brecon Canal I had my many layers on, my vest was loaded and was ready to go. Slept pretty well (thanks to my wonderfully supportive partner settling Ellie at night so I wouldn't have to get up) and, at least when I started, the rain was rather light.  Oh how naive I was...
Stage 1: Brecon to Talybont-on-Usk
Distance covered: 0km
Not gonna lie, the first stretch was especially creepy. It was 10k in the pitch black along dead quiet canals with not a soul about whilst light rain came down.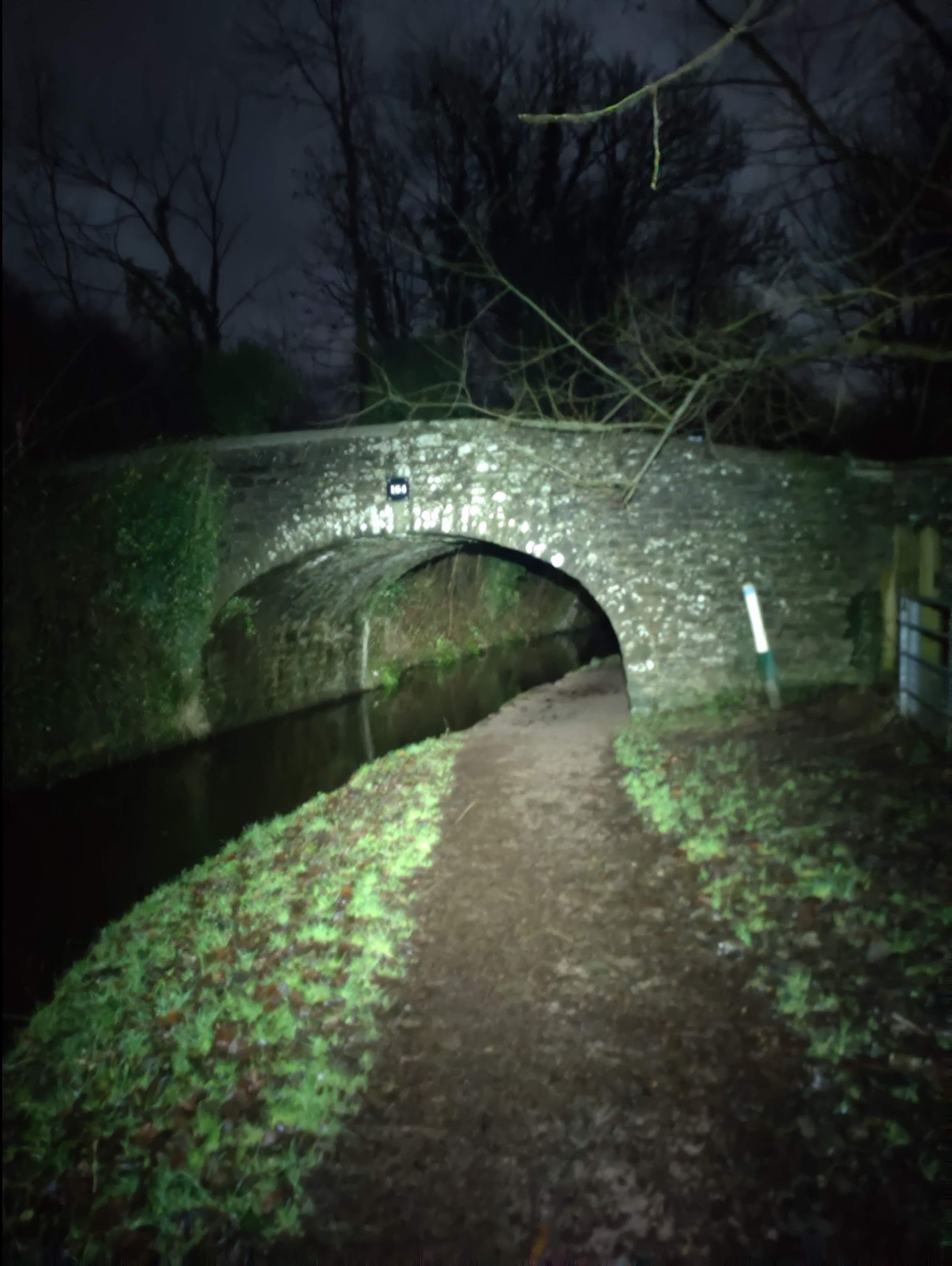 Rather uneventful, got into a steady relaxed pace and tried to avoid getting my feet too wet in the puddles left from the rainfall.
Stage 2: Talybont-on-Usk to Pontsticill
Distance covered: 10km
Reaching Talybont you start on a stony old road towards the reservoir (shown below in moonlight) before climbing up alongside it into the Beacons.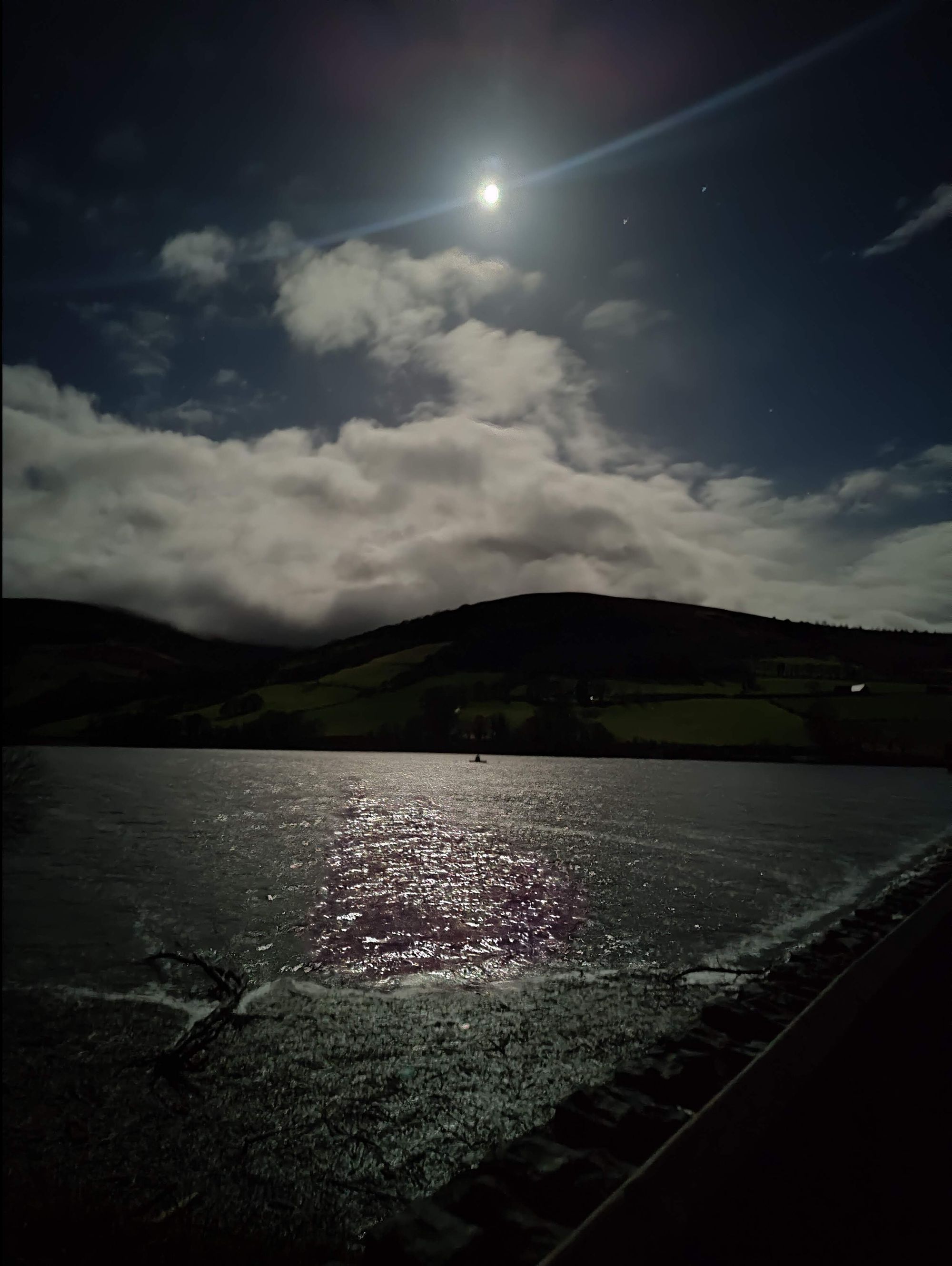 The climb is very slight and quite runnable, in daylight it gives gorgeous views over the Brecons that I'd recommend anyone checks out. Because I'm a muppet however I was doing this at 05:00 in the morning and couldn't see a thing.
It was also a full moon, so hoped the tales of werewolves in the National Park were greatly exaggerated, otherwise I'd be a prime target. The only other souls I saw were 2 head torches from early hikers going up Craig y Fan Ddu, and the odd car lights in the distance.
The trail leads up to the high roads that sit below the mountain range, then turns south taking you over and down to the Pontsticill Reservoir. The sun came up here for me and my headlamp went into the vest.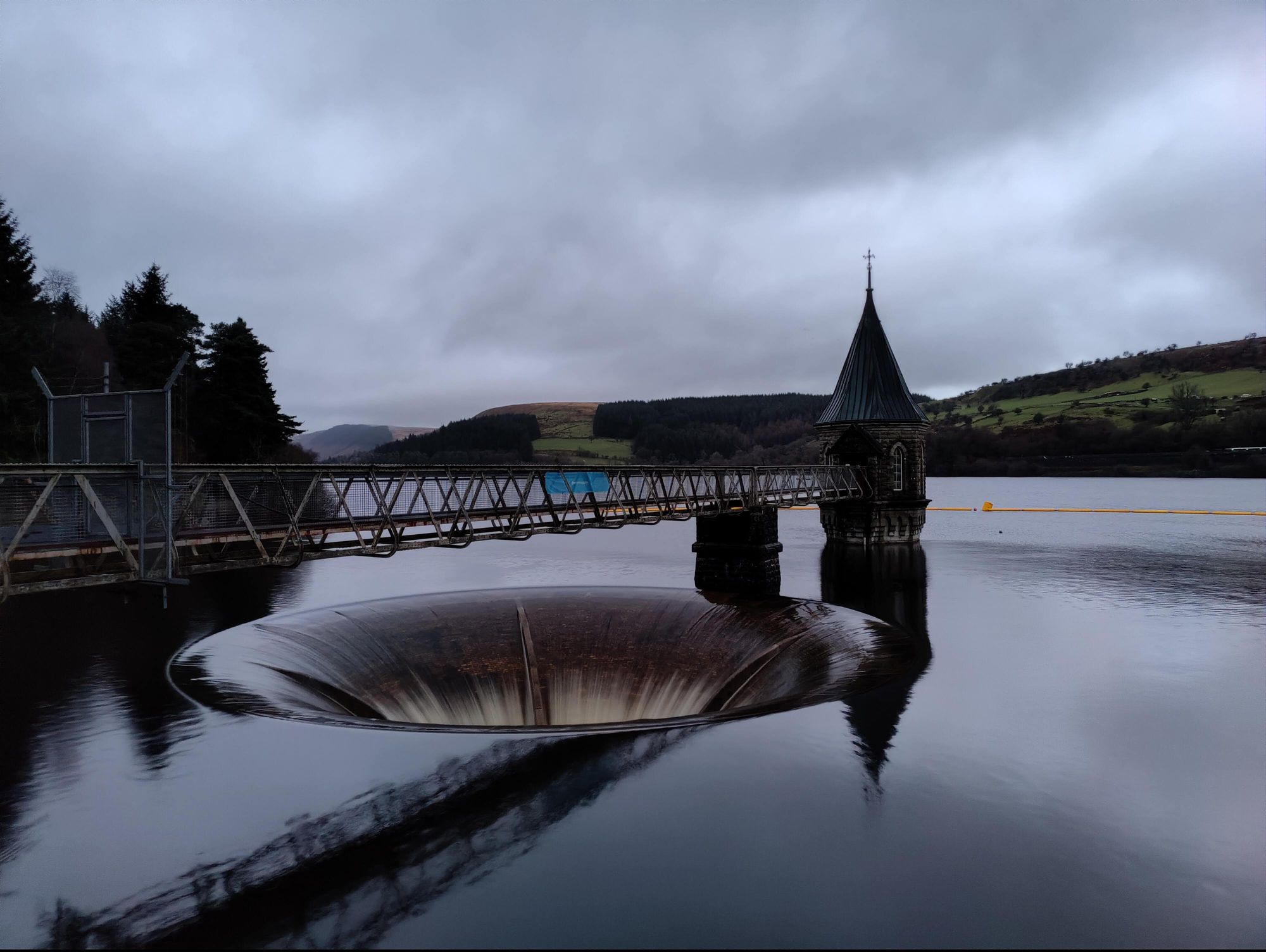 At this point my first pair of gloves were soaked and cold on the inside from putting wet hands back in and I had to swap out to the backup pair.
Stage 3: Pontsticill to Merthyr Tydfil
Distance covered: 30km
Up to this point I'd refilled my water bottles using the Salomon XA Filter a few times and was very happy with it. When it arrived I wondered was that plastic hook on the side was for, before realising (after getting my gloves soaking wet) that you can grip it and dip the bottle in water without getting soaked.
Still tried to go for flowing water coming off rocks where I could rather than any standing stagnant pools. Was quite rewarding to see bits of mud at the bottom of the bottle not. being passed through the filter.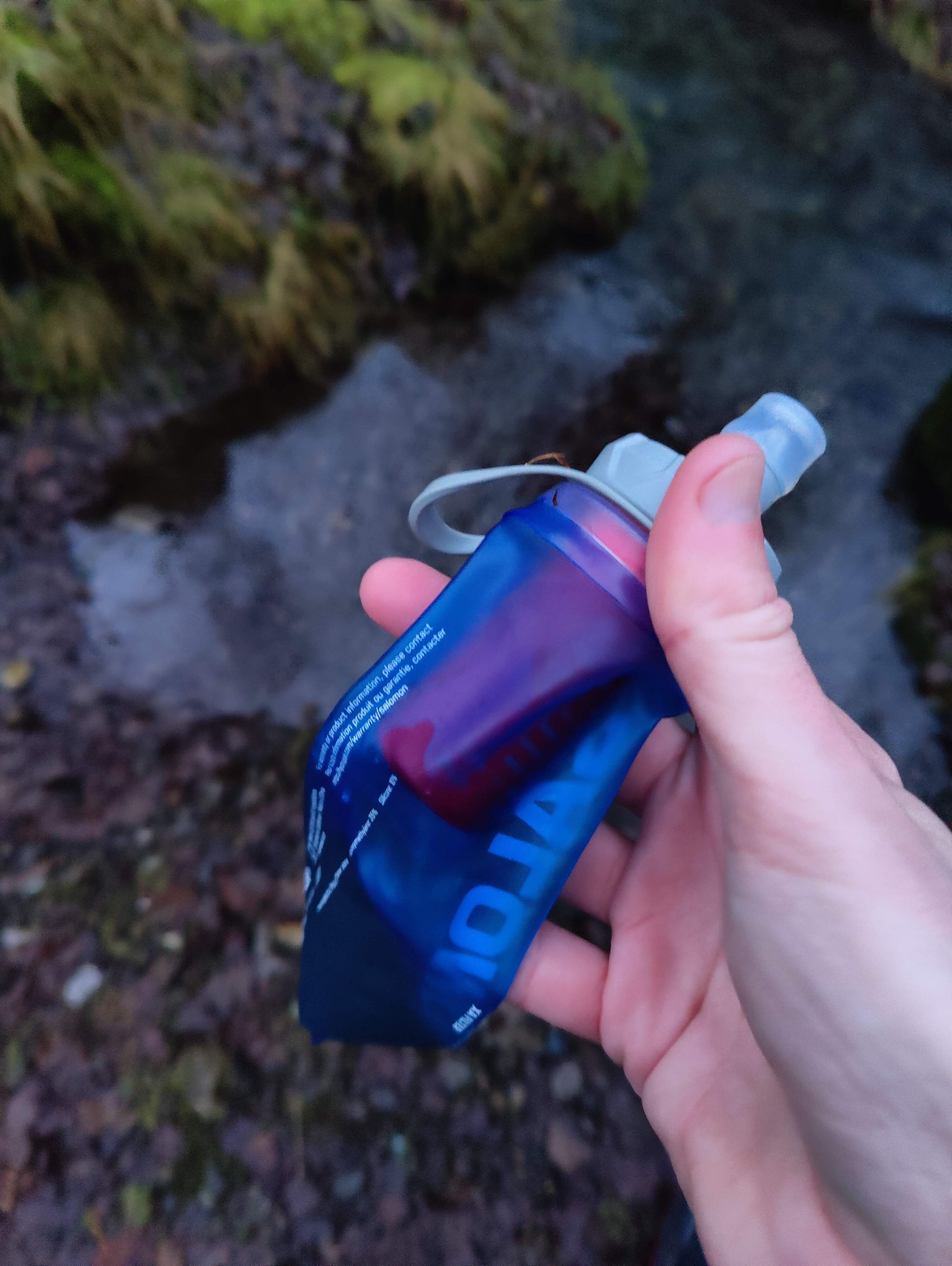 From Pontsticill was a short stretch over country lanes before joining the start of the cycle track, a tarmacked surface that was pretty consistent right through to Cardiff from here.
To Merthyr was mostly woodland sitting a little higher above the river before crossing the Cefn-coed Viaduct into the town.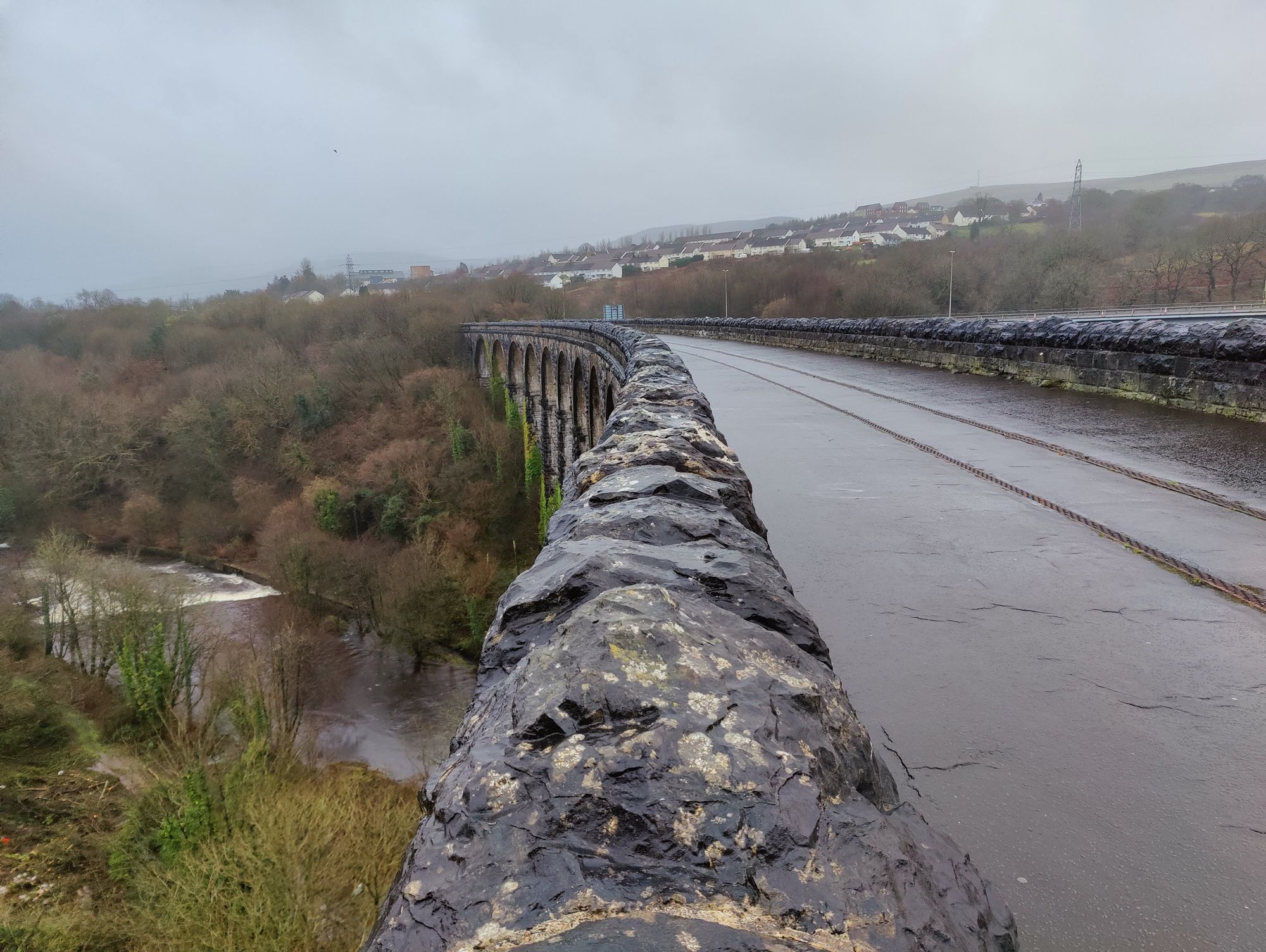 Had originally planned a water stop here, but the filter was doing it's job well so kept on marching through Merthyr Tydfil onto the next stage.
Stage 4: Merthyr Tydfil to Pontypridd
Distance covered: 40km
Fuelling wise so far I was doing well. The first 2 hours I used Tailwind, then after that it was 1 "portion" of grub every 30 minutes. Had been eating the Veloforte bars, some gels, some chews and jelly babies, all going down well and keeping me energised. The salt tabs were working nicely too as I crossed the 40k mark.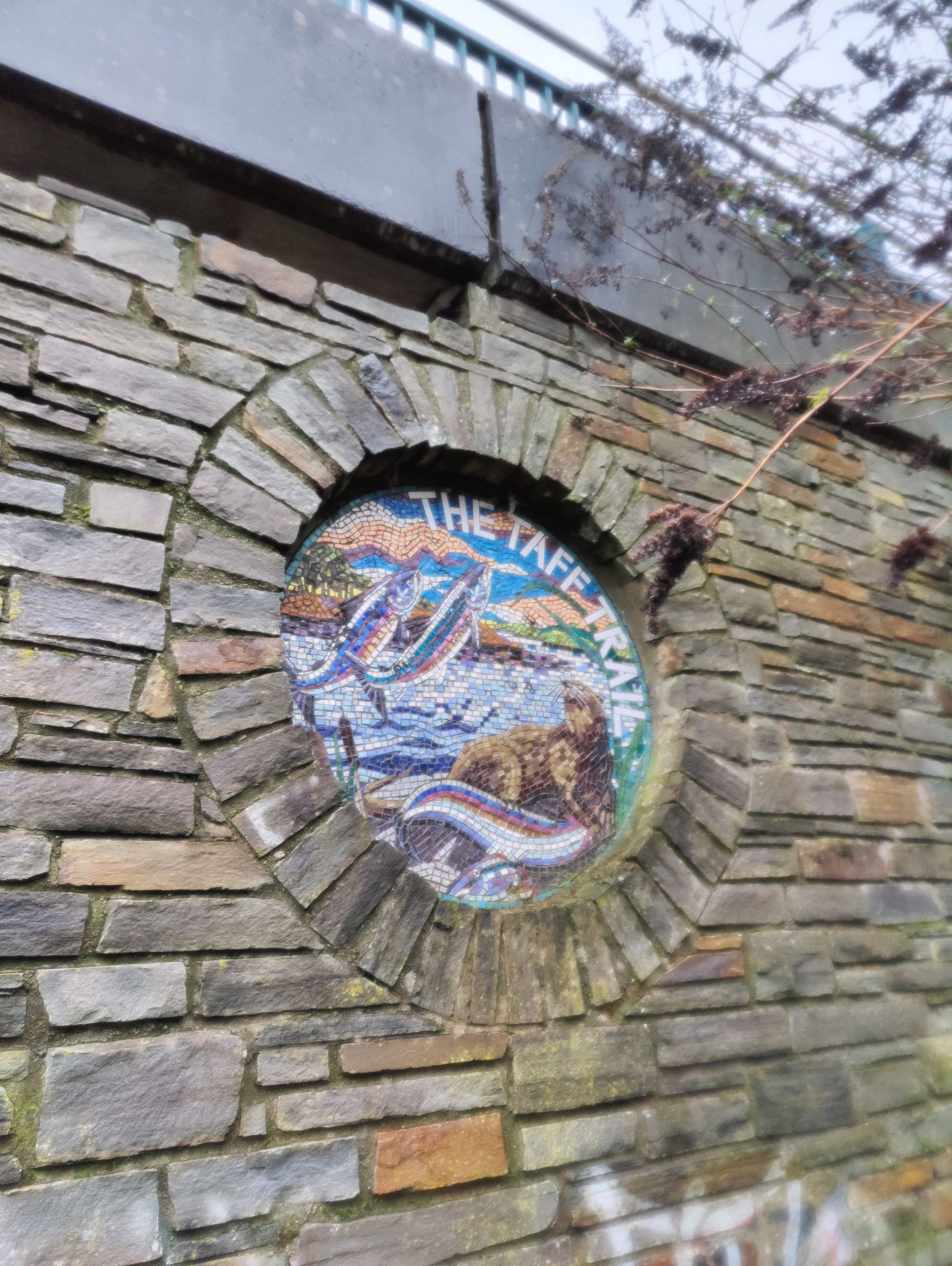 On leaving Merthyr the scenery soon become more rural and picturesque with views over the valleys and long stretches of woodland.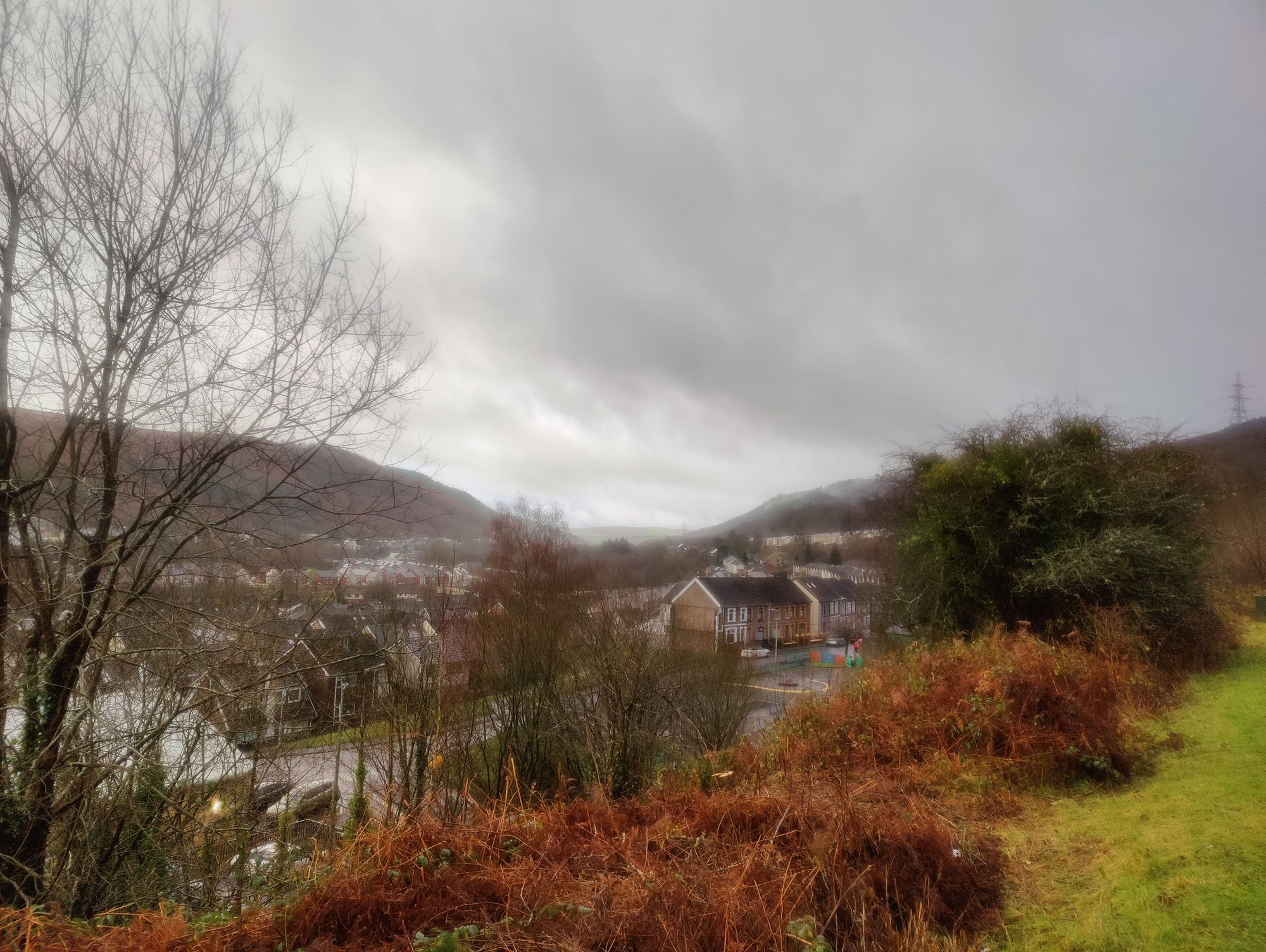 It also absolutely chucked it down, loads, switching between light and heavy rain every few minutes. By this point both my gloves were soaked through and the morning chill had pierced my hands to the point that getting them back into the gloves was painful.
Had a bit of a breaking moment where I couldn't get the lid of the water bottle off with either gloved or ungloved hands, and the effort was rubbing my already painful hands raw. Remembered I had some spare tissue in my pack so dried my hands out as much as I could and managed to get them a little warmer again.
Spent long stretches waving my hands at my sides trying to get the circulation going again, whilst looking like a right plum.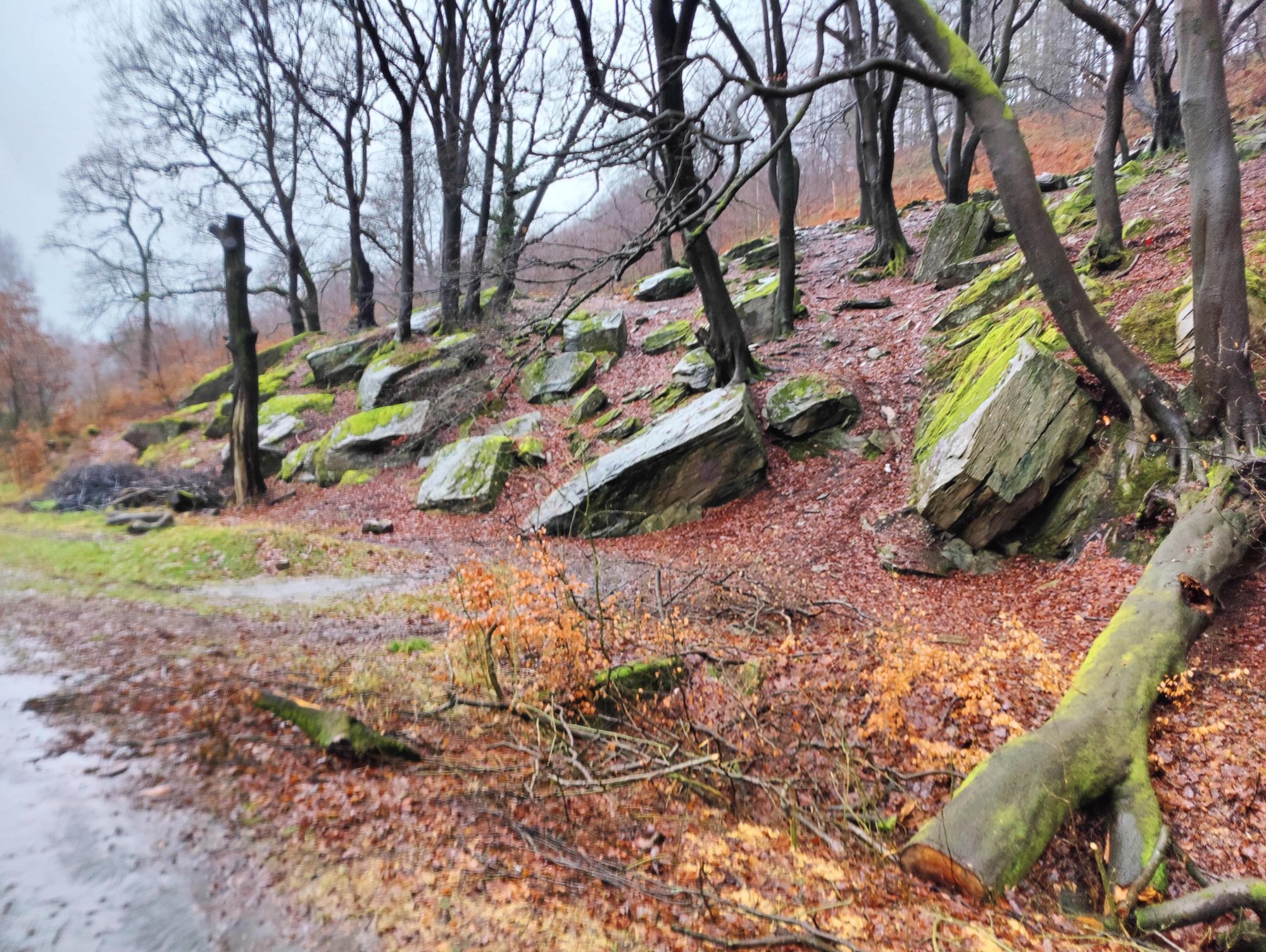 As the woodland got thicker the temperature rose, especially enjoyed this section that cut down across the river (over some heavily flooded trails) the skirted alongside it for a while.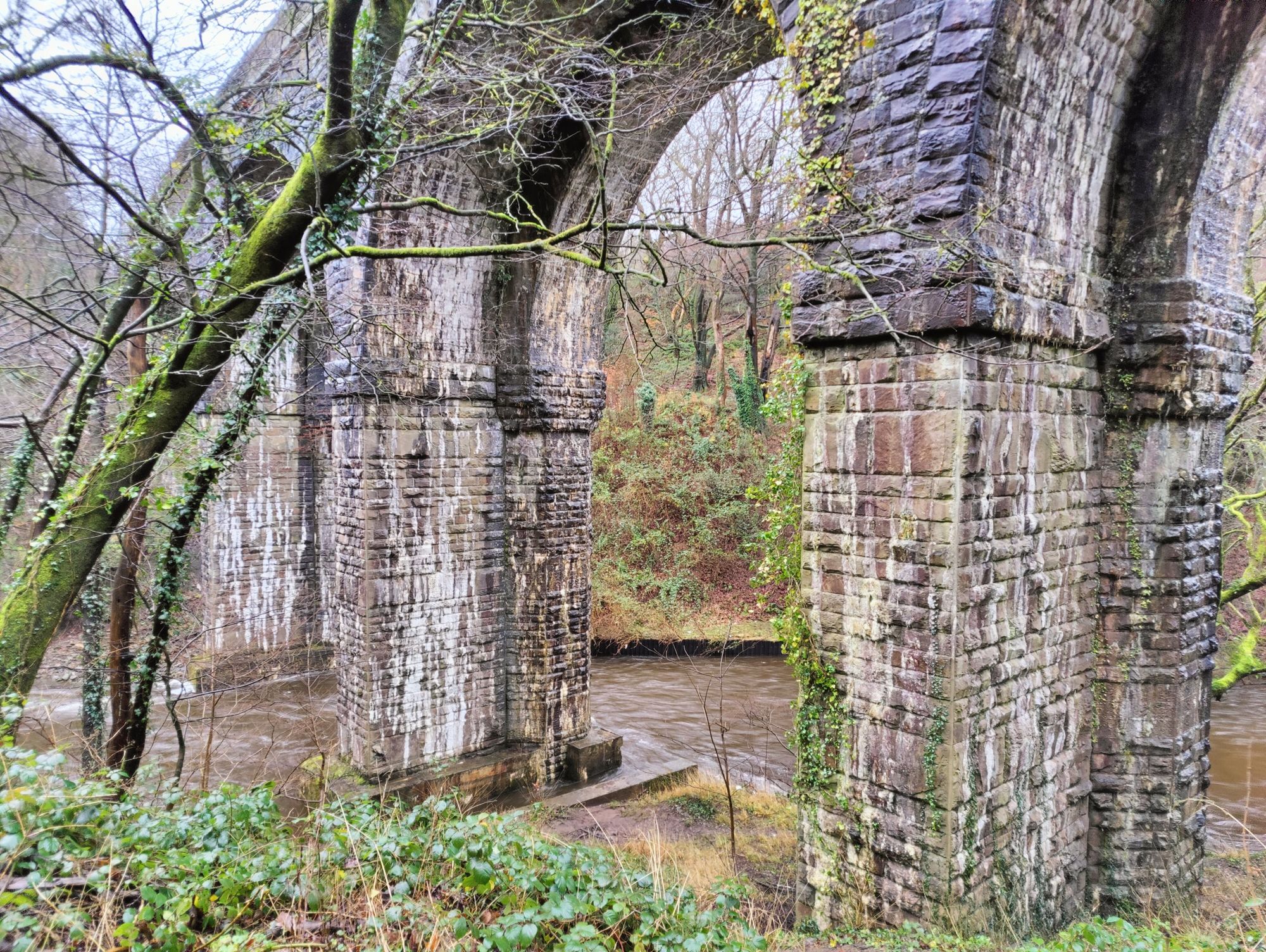 Coming in to Pontypridd I stopped at a local store to get crisps and a can of coke, then found some public loos in the park that had this beautifully warm dryer I stood with my hands and gloves under for far too long.
Absolute bliss, it's amazing how the little things get magnified during runs like this. That hand dryer was the best...thing...ever and renewed my spirit no end.
Stage 5: Pontypridd to Castell Coch
Distance covered: 64km
Talking of being renewed, I was blessed to have 2 punks join me on the edge of Pontypridd: Laura and Running Punks cofounder Rhods! Both ended up running with me right through to Cardiff Bay, at 24k that's no small picnic.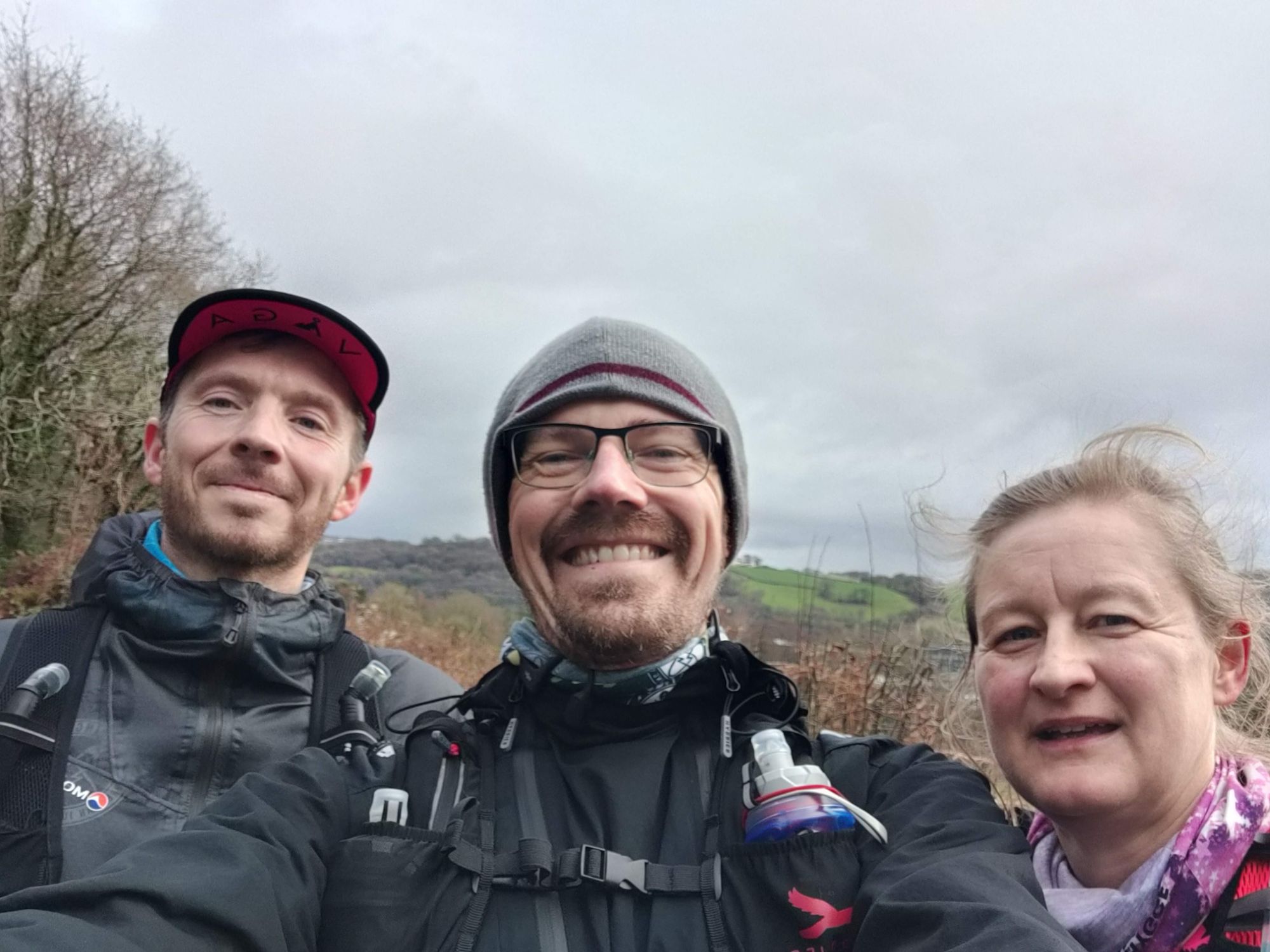 The morale boost was incredible and both of them were incredibly supportive, totally cool at, what was now, a rather lethargic pace and happy to do walking breaks whenever I needed.
We continued on chatting away towards Castell Coch along woodland cycle tracks.
Stage 6: Castell Coch to Radyr
Distance covered: 72km
At Castell Coch 3 more punks joined us, the Wednesday Trail Running Massive of Sarah, Andrew and Paul, and made the whole thing feel like a classic punk social, rather than the end of a gruelling day out.
I cannot express just how much it lightened the load to have these folks running alongside me, I'll be forever grateful & questioning what I did to earn that support in the first place.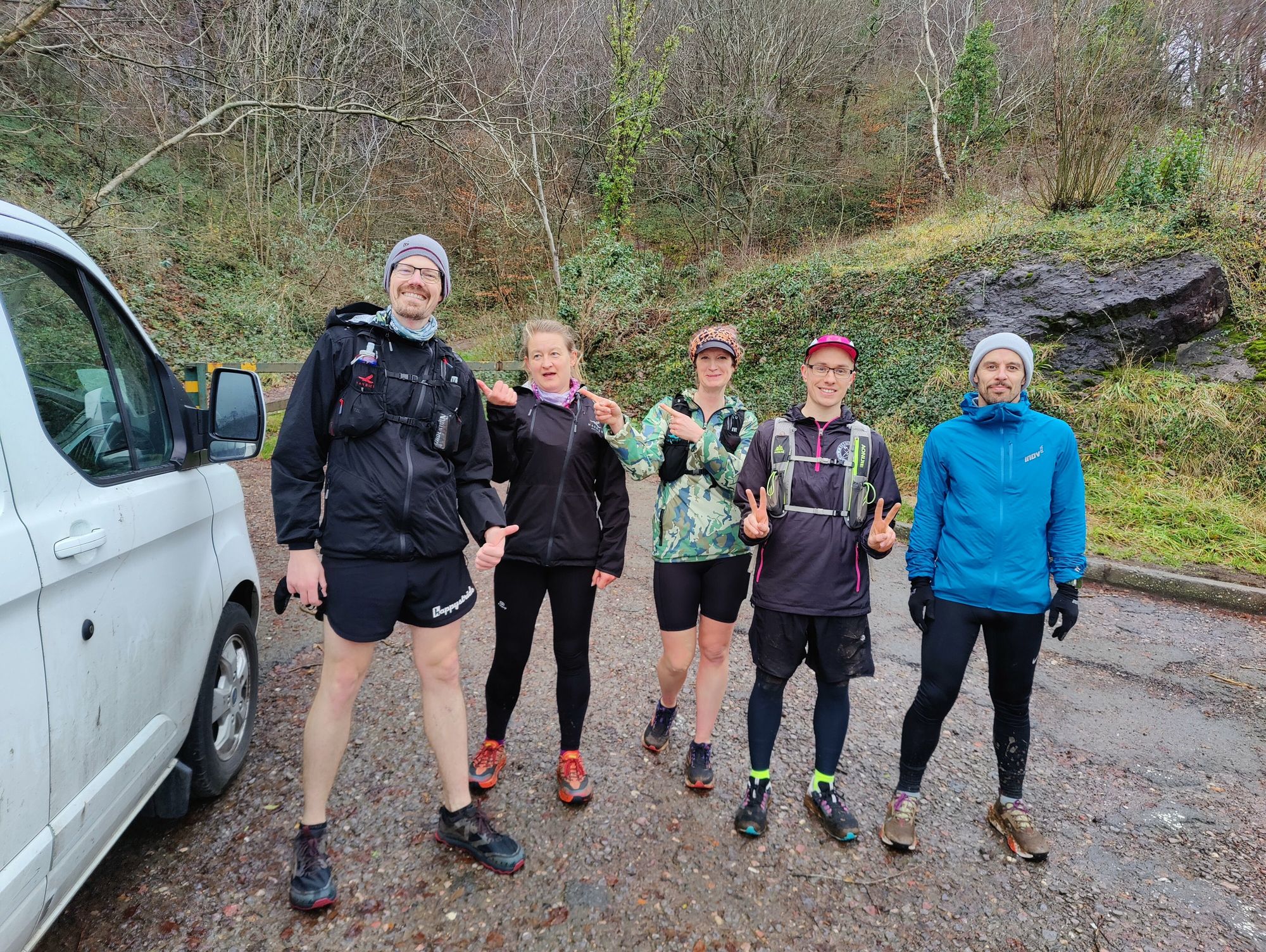 On we went along the Taff Trail, chatting away and keeping a steady adventure pace.
Stage 7: Radyr to Cardiff Bay
Distance covered: 76km
At Radyr we met the final member of the crew, RP queen Rosie! Joining us for the last stretch as we approached the edge of Cardiff.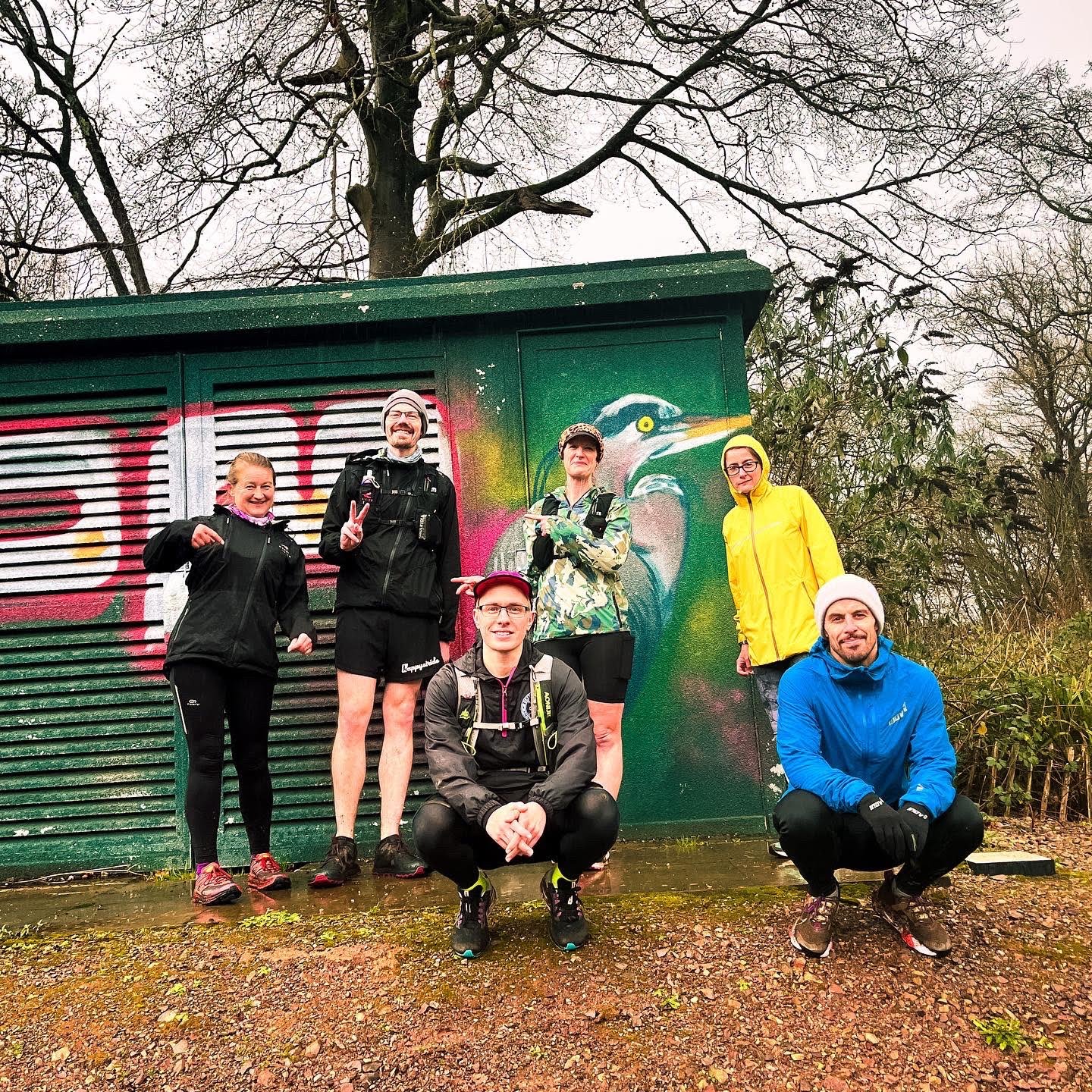 Now I'm not going to lie, even with the awesome crew, I was really struggling here as we went on to the city. Those last ~13k seemed to stretch on forever: park after park after park before hitting the more urban areas.
The rain kept getting heavier then lighter again, messing with my morale.
I'd let my fuelling go to pot too, I just wanted it to be done, but there was enough time left that I really should have been keeping up with eating and salt tabs. Instead I was sipping water only.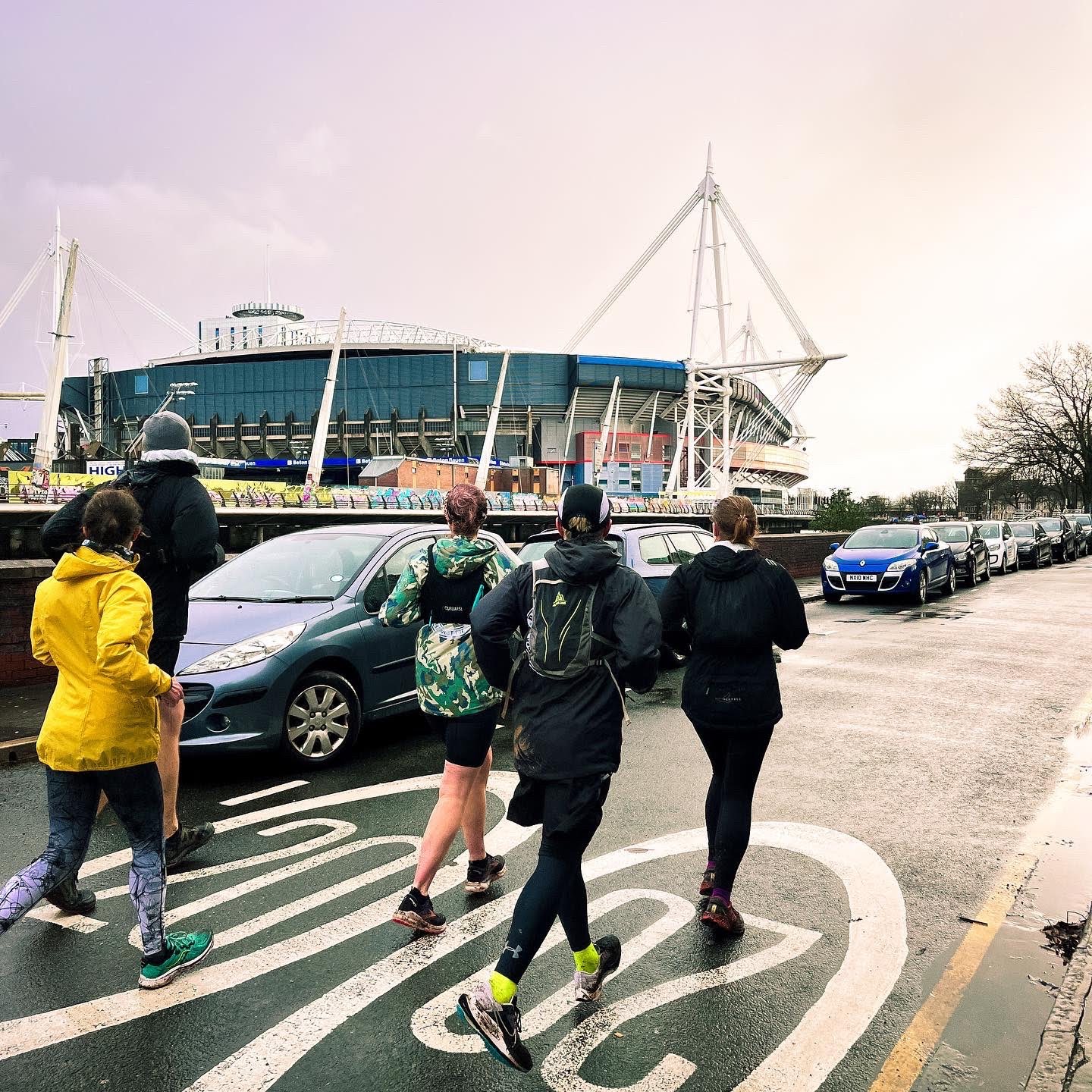 As the cycle track turned into streets Sarah started giving a guided tour. I probably didn't show it at the time but it really helped keep my mind off the remaining distance.
My original finish point was the Senedd, but the big Armadillo (the Wales Millennium Centre) next to it felt like a much more fitting end (even if the overhang did massively mess with my GPS signal 😅).
Taking a last little sprint (felt like a sprint, was probably more a waddle) we ran up and touched the doors, ending the ultra at 55 miles in under 11 hours. I couldn't quite believe the time, 2 hours faster than predicted, heck it was still light out!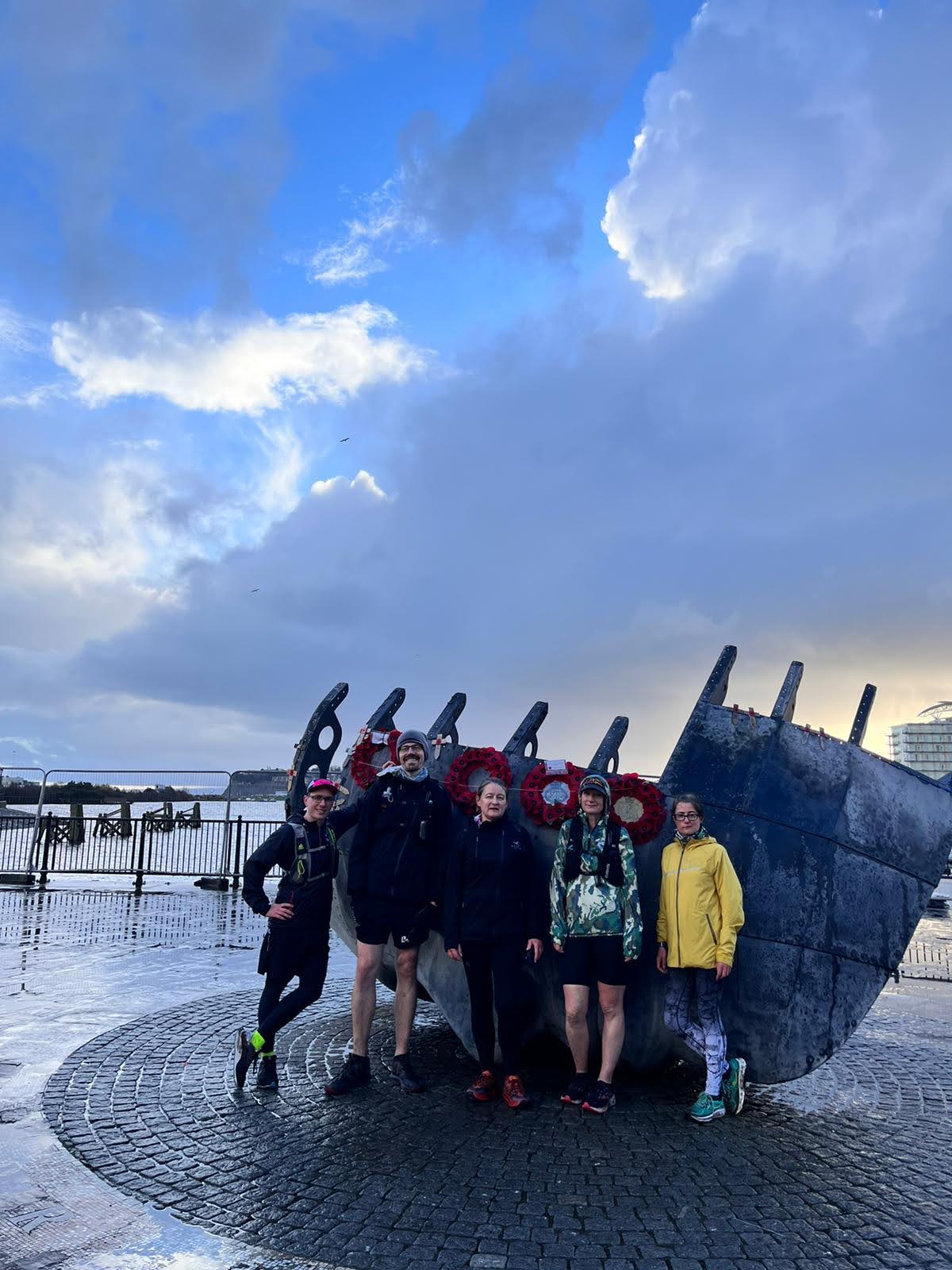 Above is the crew (Rhods is behind the camera, Paul had to turn back at Hailey Park) in Cardiff Bay before we went to get coffees and snacks at a local cafe.
The second we sat down in the cafe, even heavier rain hit the bay 🌧
After Action Report
Total distance covered: 89.6km.
Strava Activity Link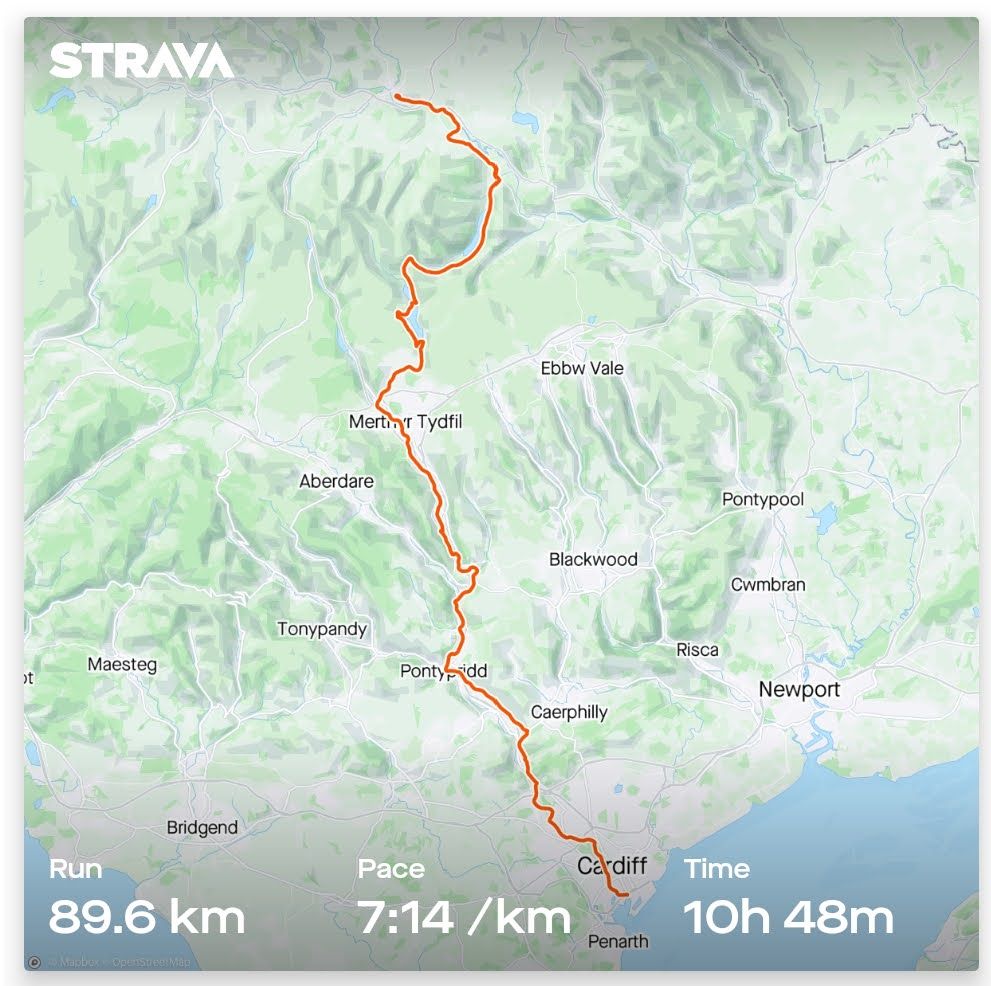 Couldn't be happier with the time on this one, really proud of that push. I'm also under no illusions that it was being picked up and supported by the Running Punks that led to that 🤘
Fuelling wise I'm mostly happy, the new strategy absolutely works and feels like a solid basis for future ultras. I must remember though to keep fuelling even towards the end, as I think those last few miles would have felt a little better had I remembered to bloody eat.
The Harrier Race Vest! It did wonderfully, I do have a few things I'd wish were better about it but in general it held up nicely and I came away with no aches, pains or chafing from where it sat.
Am a full convert to the Salomon XA Filter (especially now a few days have passed and I haven't got violently ill from ingesting dirty water!), I'll be using that more for future long trail runs where supplying water is challenging.
Damage & Recovery
Standard aching legs, to be expected, knees were quite sore, likely from it being a pretty tarmac heavy route.
Stomach recovered pretty quickly, much more than usual, and I think that's down to the salt tablets and better fuelling, along with trying to eat quite soon after the finish.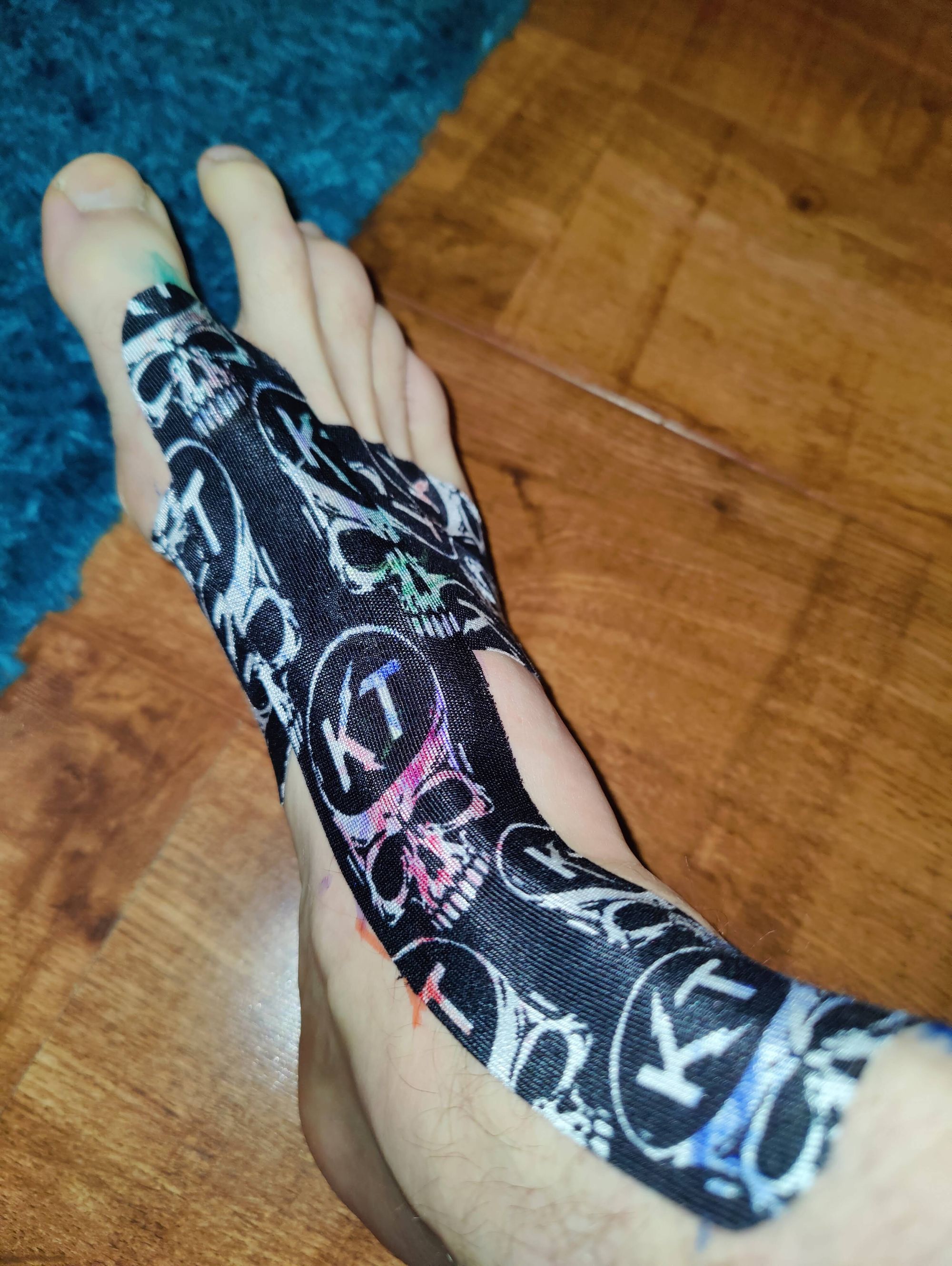 Didn't come away completely scott free though. I tied my right shoe laces too tight across the top of my foot and, as my foot swelled more during the run, it put too much pressure of my extensor tendon. Have extensor tendonitis now, which I've previously dealt with and know can take quite some time to recover from.
But on the plus side my daughter Ellie loves colouring in the KT Tape so swings and roundabouts.
What Worked
Fuelling plan! I can finally say I've nailed it down 🎉
Harrier jacket was brilliant, held off literally 11 hours of intermittent heavy rain
Harrier race vest: not convinced it's better than my Salomon Adv Skin 12, but it did the job nicely and with no chafing
Salomon XA Filter for getting water from natural sources
Pacing, kept it at the right level and really happy with the results
Having folks come and support en route, it made the world of difference
What Didn't
I had some solid waterproof gloves, but they were too bulky to operate my vest with. Every time I took my hands out my fingers would get soaked in rain, then were hard to get back into the gloves and also made the inside of the gloves wet and cold
Altra Lone Peaks: good general purpose trail shoes but the route was mostly tarmac and my feet suffered for it being in more minimalist trainers
Tied my laces too tight, and was too stubborn mid race to stop and adjust, despite feeling that niggle around 70k
Didn't fuel properly in the last 2 hours leading to a preventable slump at the end
Lessons
Taking a small / microfibre towel in a ziplock bag would be useful in the future for when it's wet and cold for a long time. So many times I wish I had a way to dry off my hands and gloves. Laura brought a towel for me when I met her in Pontypridd and it was such a morale boost
Match shoes better with the terrain, I needed more underfoot support for the tarmac. Looking at Hoka Speedgoats for future ultras that come with better cushioning
Personal admin mid ultra: I should have corrected the tight laces issue immediately, now I'm going to go through a long recovery period because I didn't
Keep fuelling, every 30 mins, right up to the end, no excuses
Thanks
Originally I was calling this a solo self supported adventure.
That's utter bollocks, this was 100% a team effort through and through.
Firstly to Zoe and Ellie for coming with me to Brecon and making it a fun relaxing weekend. Next to every ultra runner who has kids there's always a partner going through one a heck of a childcare shift so the runner can go off and spent hours on the trails; Zoe has been the rock doing that for me for over 2 years now.
Secondly to Laura, Rhods, Sarah, Andrew, Paul and Rosie for joining me on the run, never once complaining about what was, let's be honest, a snail's pace, & doing everything in their power to pull me along to the end in high spirits.
Thirdly to Laura and Chris for giving me a lift home to save Zoe having to drive out with a toddler.
And lastly to all the punks for their support before, during and after, with special mention to the legendary Jo for dropping off a rather incredible amount of cookies and coffee the day after to help me recover.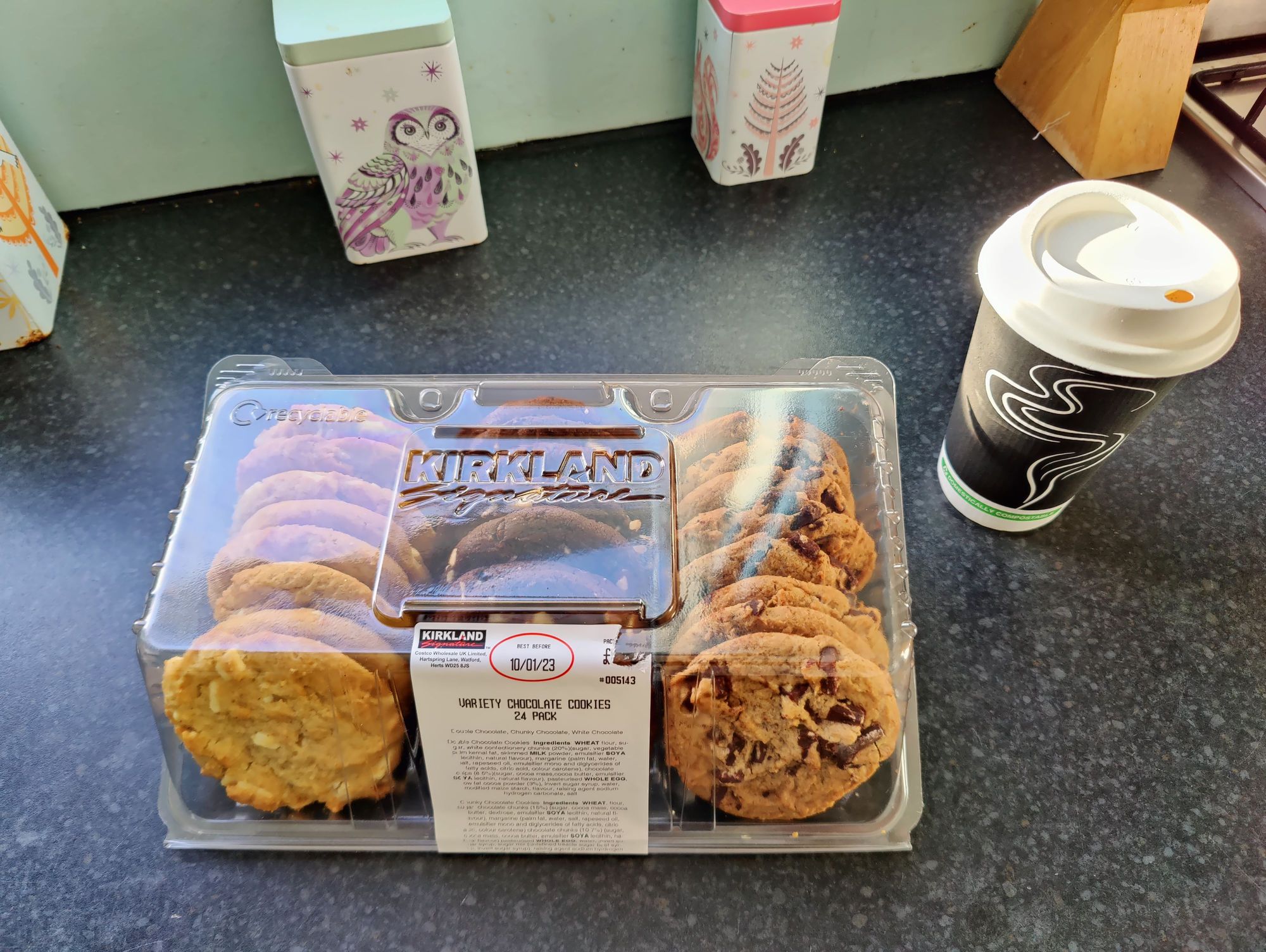 What's Next?
Well that's me done for a long while now. Soon we'll have our second child, not much sleep but plenty of joy, so that'll be the focus until time opens up to fit insanes runs in again.