Taffy 55 Kit Breakdown
A deep (and super nerdy!) dive into the gear & nutrition I'll be carrying for the Taffy Trail Ultra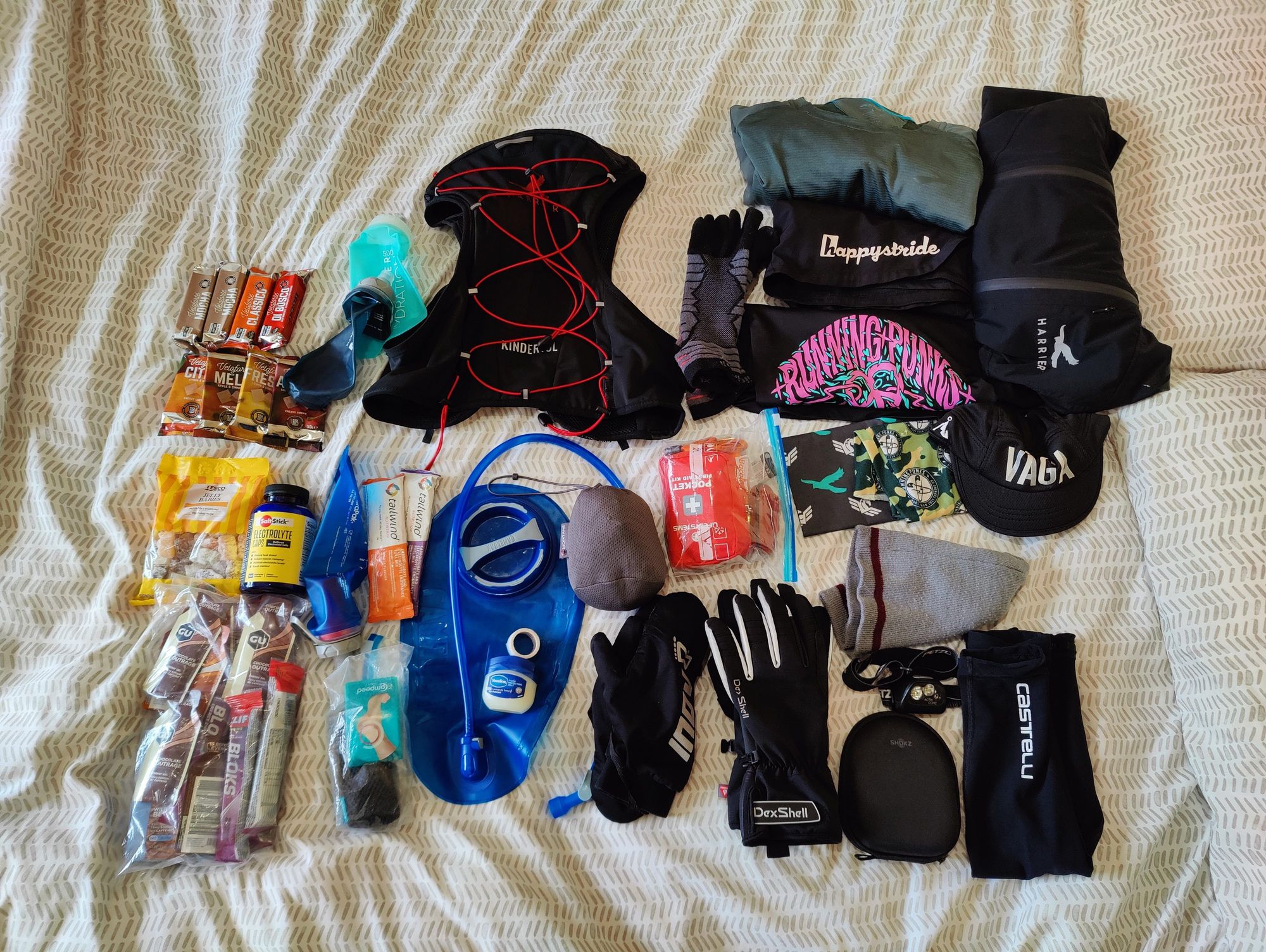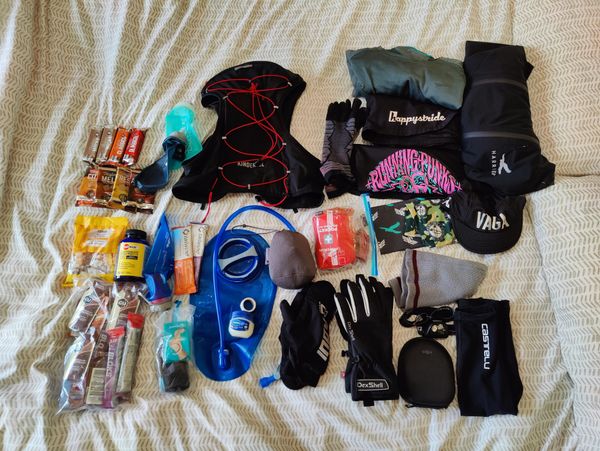 Prior to our little boy being born in February I wanted to get one last big challenge under my belt; before taking a long break to focus on our newborn without any training pressure.
This run will be my longest distance yet at 55 miles: following the Taff Trail from Brecon to Cardiff Bay.  It'll be mostly solo self supported with some fellow punks meeting en route towards the end for a morale boost.
I know a few folks who are looking at doing their first ultra this year: so thought it may be helpful to do a deep dive into all the gear I'm carrying and nutrition I'll be chomping along the route.
Where possible I've linked off to the product so you can find out more if one sparks your fancy.
Forecast for the day is light showers and around 5-7c up in Brecon so this'll be the cold & wet variant of my kit list! ☔️
On Person
Clothes, gear and shoes I'll be wearing on the day, starting from the bottom.
Altra Lone Peak 6 - The shoes I wore for every ultra last year, the latest model are a better fit for me and come with grippier laces that help keep them from slipping. A solid zero drop hybrid shoe with enough cushioning to get me through to the end & without injury
Injinji Ultra Run Mini Crew socks - TBH, these are pretty expensive for what they are, however toe socks are great at preventing blisters on ultras and these have done me well throughout.
Happy Strides 'Basic b*tch'' Black Shorts - Only shorts I run in these days, super comfy with a liner inside, a spacious phone pocket to fit those oversized bricks and a zip up back pocket for keys and the like.
Nip Tape and Vaseline - The anti-chafing strategy that works for me is vaseline all over my ... bits ... along with anywhere I traditionally rub like where my pack sits on my back, then with microporous tape over both nips to stop them rubbing. Works a treat, even if it's a bugger to get off later.
Running Punks x Tom J Newell Tech Tee - One of my favourite tops, not that anyone will see it under a thermal jumper and rain jacket 😅
Castelli Nano Flex Arm Warmer - These are bloody brilliant, compression arm warmers that keep you super toasty even when it's freezing out. When the temperature warms up you can pull them off easily and stow them in a pocket
Brooks Notch Thermal Long Sleeve - Solid performing mid layer that keeps you warm, I find that this combined with arm warmers and gloves helps a lot in the colder weather
Harrier Exmoor Waterproof Jacket - Partner got me this for Christmas and I couldn't be happier, it's so well designed with lots of ventilation, feels super comfy and has plenty of pockets to stow gloves, hats and the like mid run
Running Punks Punkdana Buff - Pretty much always wear a buff round my neck for long runs, useful for keeping the warmth in, wiping off sweat, blowing your nose...
Vaga Night Club Cap - Apart from looking cool as shit, these caps are super light and fold down small so perfect for packing away mid race if needed. I'll be using this to help keep the rain out of my eyes mostly
DexShell Waterproof Ultra Weather Gloves - Brother got me these for Christmas, they are great at keeping the wind and rain out and warm enough to keep you toasty. My only reservation is that getting your hands in and out (something I'll have to do a lot to grab food from my pack) can be tricky when wet: water on your fingers can make it hard to push your hands back in
Petzl Actik Core Headlamp - Only torch I've used for over 2 years now; the battery is great and it goes up to 600 lumens for good visibility even in deep dark woodlands. Battery is also straightforward to swap out for another "Core" powerpack so I carry a spare in my vest. Will need about 4 hours of light in the morning and maybe 2 hours to find the finish
Garmin Forerunner 945 Watch - The watch I've used for over a year and I've managed to tweak the settings so the battery lasts well past the 13 hours I'll need on the day. I'm still not in love with it though, the GPS is often spotty and the strap is now held down by a rather fetching pink hairband after the retainer snapped. It does have full colour maps for navigation though, which is nice.
Back up clothes in the vest will consist of: a cheap wooly hat in case the temperature drops, a spare buff and some thermal gloves in case my main ones get soaked through (pretty much guaranteed here to be honest).
I may pack a spare waterproof coat, I have a bin-bag one from Montane that packs small, but it'll still bulky enough to give me pause. Will take it in the kit bag and decide on the morning.
Race Vest
What I'll be wearing on my back to carry my supplies, grub and water.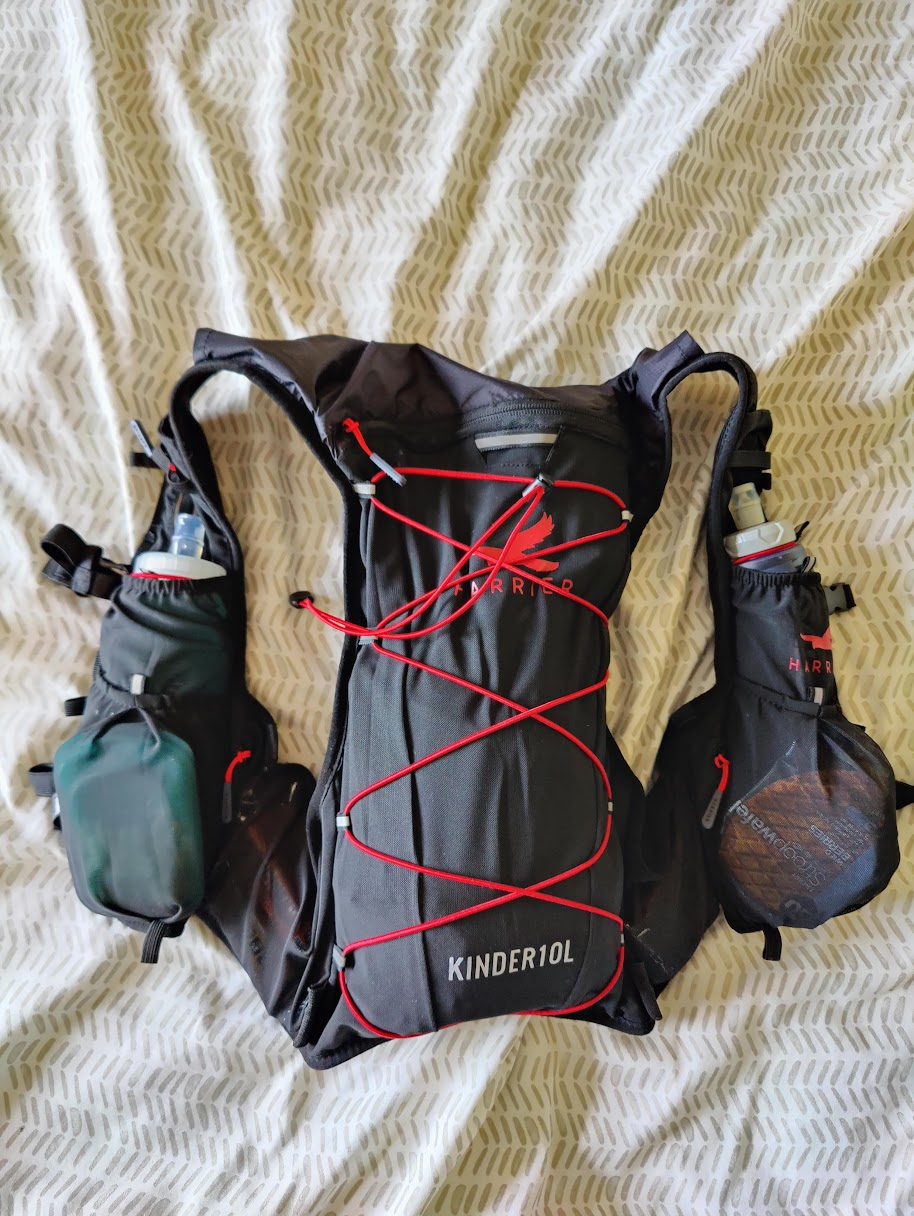 Usually I use a Salomon Adv Skin 12, it's been my staple for years and done me solid throughout. However I felt it was time to give another brand a shot so have gone with the Harrier Kinder 10L Race Vest.
Now I'm not going to lie: I am a little nervous. I've tested the kit out on shorter runs but nowhere near as laden as it'll be for this challenge. It has to hold 2 litres of water, all my food, spare kit and safety gear, so if it doesn't sit well on my back I'll know about it pretty quickly!
Anyways sure it'll be fine, if it's anywhere near as good as the jacket I'm sold. here's what will be in the pack:
In the back we have:
My standard safety bag consisting of a Lifesystems Trek First Aid Kit, a Thermal Blanket, a Backup Head Torch, a spare battery for my Petzl Actik Core, toilet paper & an Emergency Whistle.  This comes along on any long run out on the trails
A portable power bank to charge my phone if needed, haven't had to use this on an ultra yet however, being as this is a solo one far from home, thought it best to pack one
Spare buff, gloves and a hat
Second half of the nutrition for the race (see below for specifics). I'll stop and swap it into the front pockets at the half way point
2x 500ml Salomon Soft Flasks, filled with plain water, will swap them in when my front flasks are empty.  One of these has an XA Filter on it I'll talk about later
On the front we have:
First half of the nutrition spread evenly throughout the vest's many pockets
Salt Stick Electrolyte Caps in a waterproof silicone pouch to keep them dry (discussed later)
2x 500ml Salomon Soft Flasks, filled with Tailwind and water. Will drink Tailwind for the first 2 hours then switch to plain water, I find I can easily stomach 2 bottles worth and it saves me carrying even more food!
Nutrition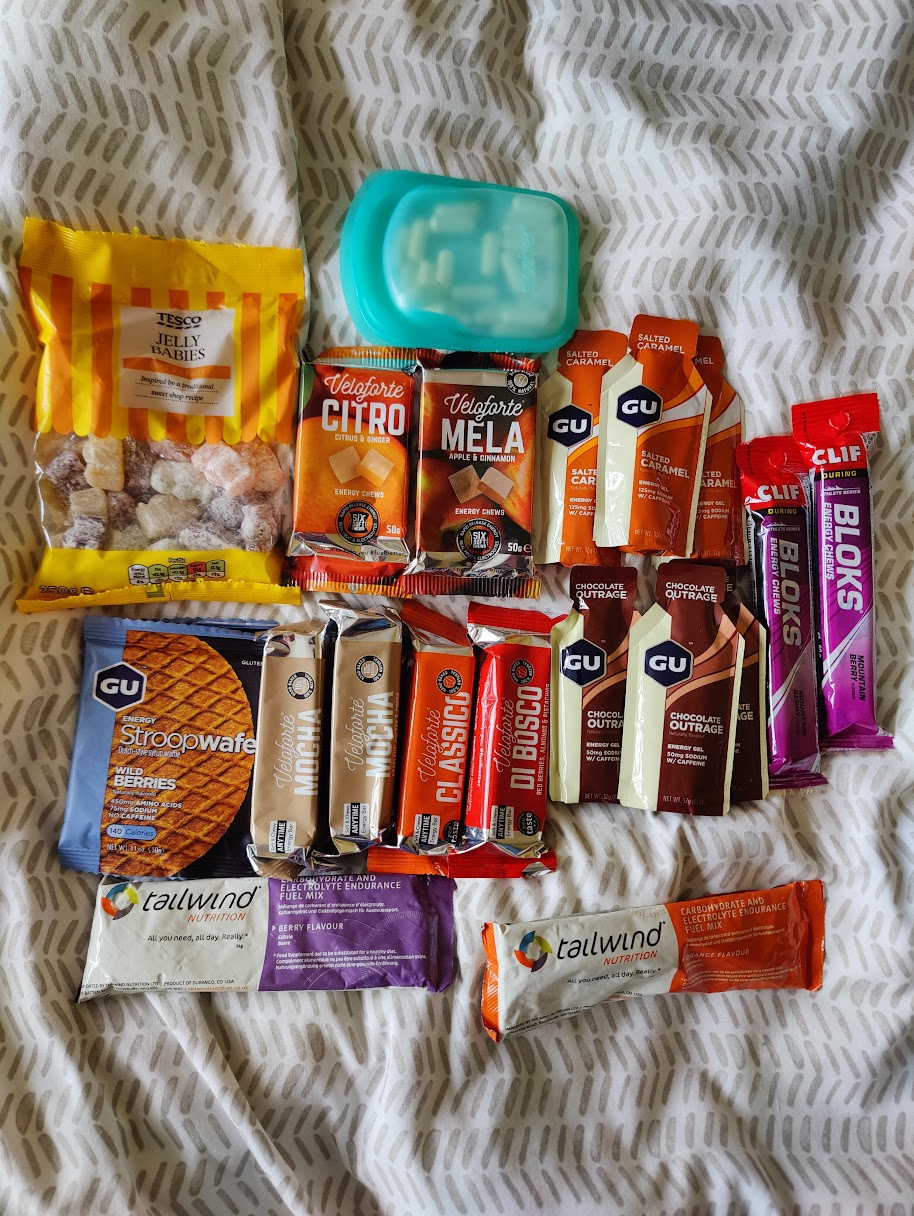 My favourite bit! A big variety here picked from what worked for me last year.
I'm estimating the challenge will take me 13 hours. I have 1 ~25g portion of carbs every 30 mins so that'll be 26 total portions of food to eat.  That's a lot of food!
Here's the breakdown of portions (carrying a little extra just in case):
Starting with 2x bottles of Tailwind, each bottle is 50g carbs so that's 4 portions (covering the first 2 hours). Saves faffing about when you still have lots of energy, gets those first 2 hours out the way at a good clip before you start having to open up the race vest for grub
Then alternating between any of these, whichever I feel like at the time, preferably alternating between 1 "very sugary carby thing" and 1 "more real foody thing":
4x Veloforte bars (8 portions) - Good solid real food bars consisting of pressed fruit and nuts. Tasty, don't give me gut bombs and work wonders for my energy levels
2x Veloforte Chews (4 portions) - Super easy to get down chews that pack small considering they are 2 portions each
2x Gu Stroopwafels (2 portions) - More real food, though less whole food focused, these have a little fat and protein in too and are easy to eat
6x Gu Gels (6 portions) - Just a big old shot of processed sugar and caffeine, which sometimes you absolutely need
2x Clif Shot Bloks (4 portions) - Jellies that are easy to get down, also mainly processed sugar
16x Jelly Babies (4 portions) - More processed sugar, but in baby form. Like the chews these are easy to eat
Will also be stopping off at the halfway point to grab some more substantial lunch like a sandwich and crisps from a local shop.
Hydration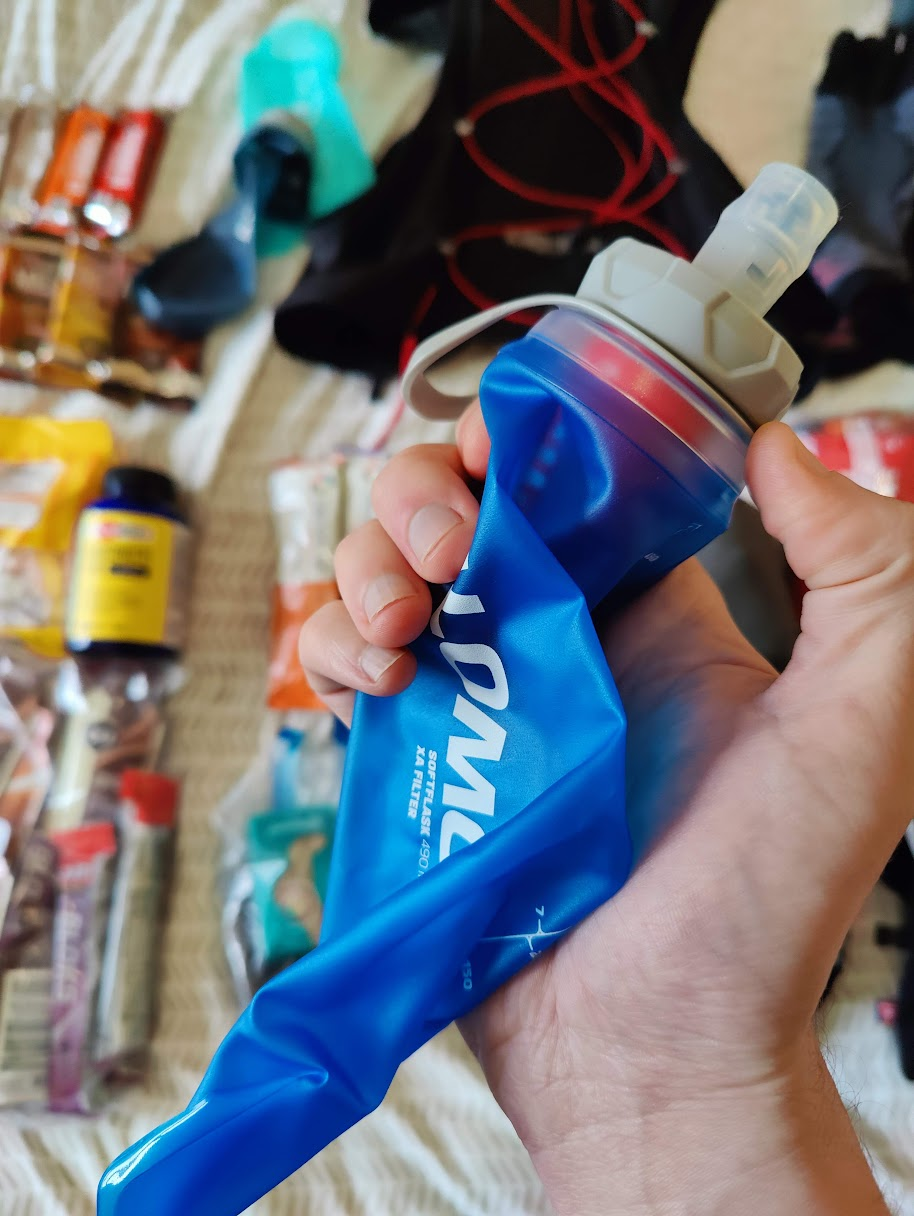 Starting off I'll have 2x bottles of Tailwind on me, before switching to plain water for the rest of the route.  When drinking plain water it's important to continue topping up your electrolytes, so I use Salt Stick Capsules, 1 every 30 mins, which keeps everything in balance.
Getting water will be a challenge in and of itself, it's 40k before we even reach a town based on the map, so I'm carrying 4 filled bottles to get me there.
As a backup I have a Salomon XA Filter, the red thing inside the bottle in the above picture.  This allows me to source water from streams and rivers along the route, filtering out anything potentially hazardous whilst I drink it. I can use this to top up my other water bottles too so hopefully won't have to buy any plastic bottles as I go.
On the second half of the route I pass through plenty of towns where I'll be able to get more water and supplies if absolutely necessary.
Closing Thoughts
Looking forward to this next adventure! It feels like the culmination of lots of lessons learned the hard way in 2022 and a good way to finish off my season.
If anyone has any questions on gear, or experiencing using something I've mentioned they'd like to share, please do feel free to ping me on Twitter or Instagram