Merrell Agility Peak 5s - First Impressions
Is this love at first sight?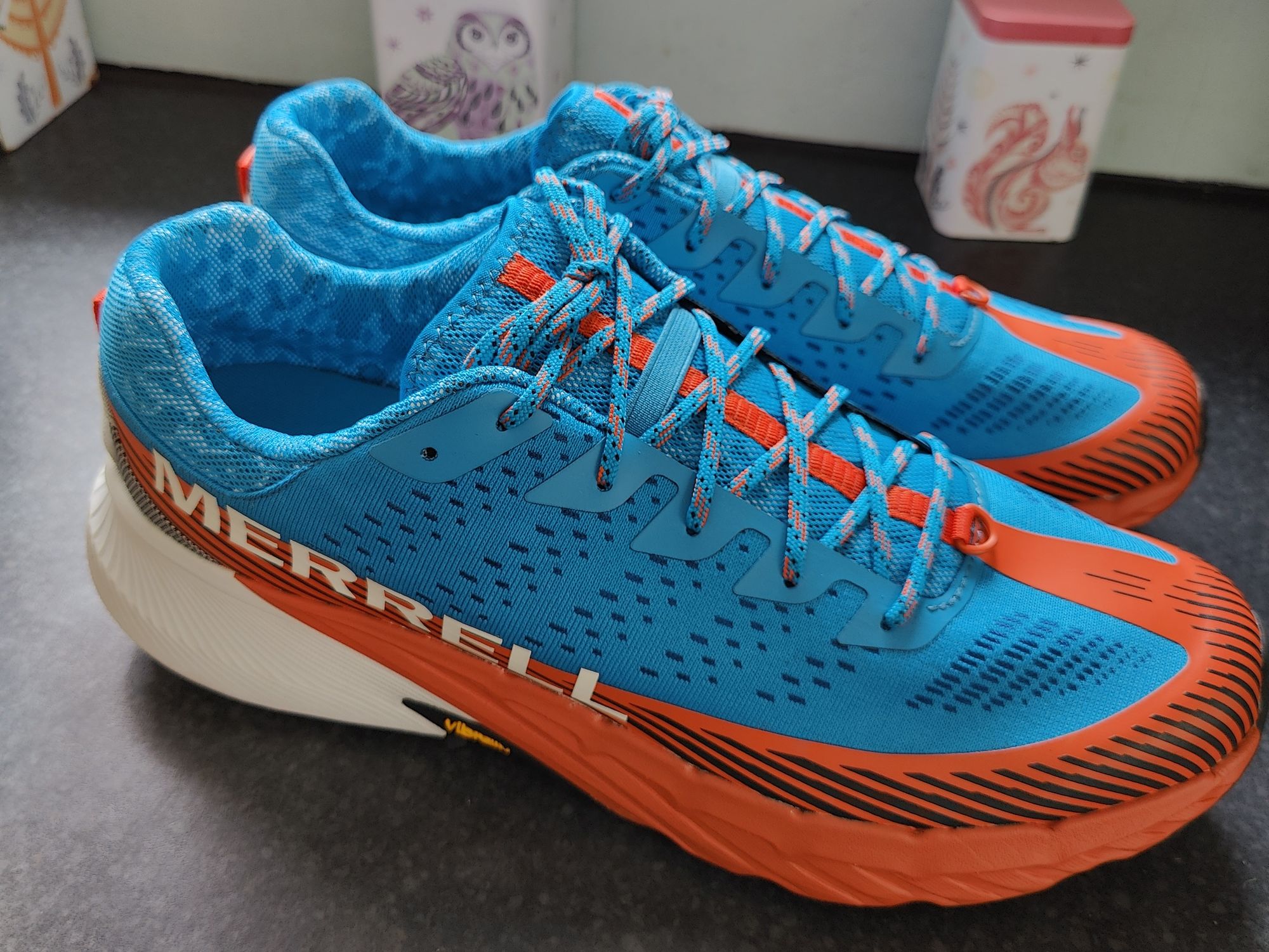 I've got a bit of history with Merrell; my first running shoes were the Merrell Trail Glove 5s, a set of shoes that helped pave the way for my running obsession & were on my feet for my first 5k, 10k and Half. I find their shoes fit well, are spacious for my clown feet and are environmentally conscious; with plenty of recycled materials.
Over the years I've tried a few of their other offerings but nothing really hit home for me, and moving on to longer distances the Altra Lone Peaks became more appealing than the more minimalist Trails Gloves, so away from Merrell I went.
Recently however Merrell have been making some serious strides in their trail running range, and one shoe in particular stood out from the crowd.
The new Agility Peak 5s.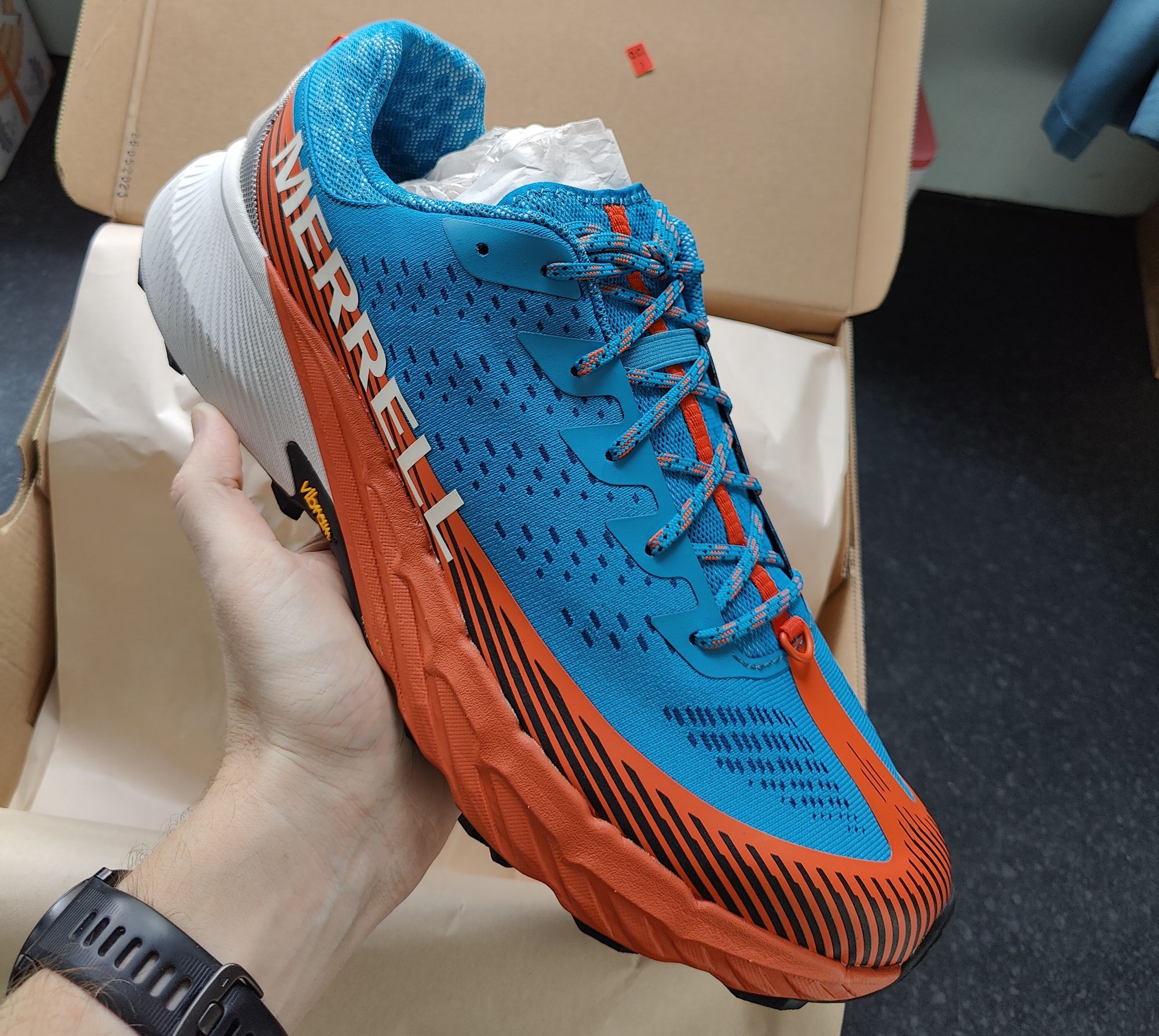 Apart from looking pretty sick in my eyes; the AP5s going for that technical distance racing vibe with aggressive, Vibram Megagrip lugs, a thick midsole and a light mesh upper. They've also been getting some decent reviews, notably from Run4Adventure who was a big fan of them in his first impressions video.
Features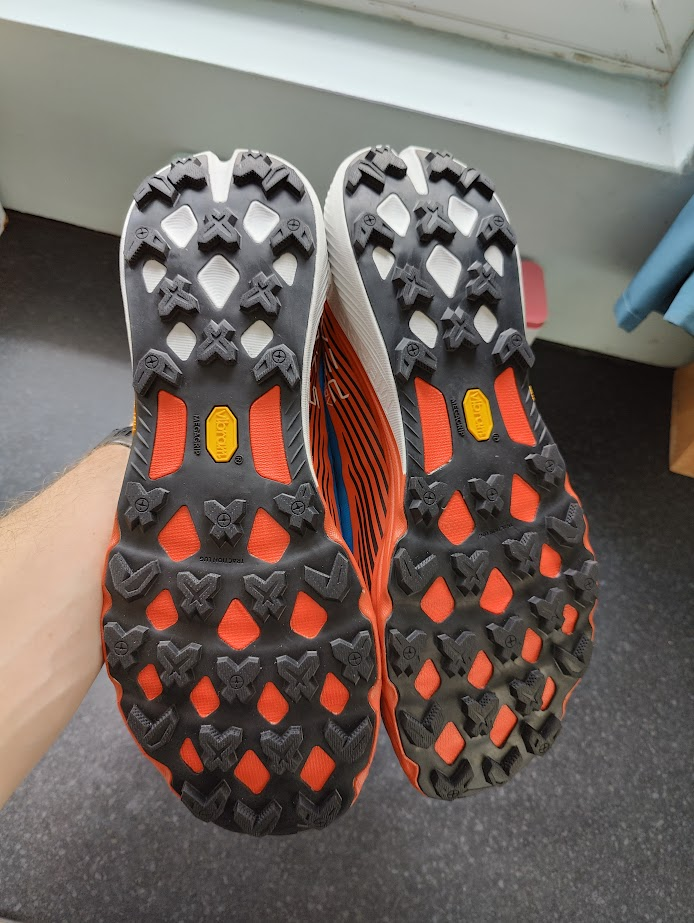 Starting at the bottom they have these gnarly 5mm Vibram Megagrip lugs that will eat up a wide variety of technical terrain if they run anything like other shoes with the same rubber.
Under the midfoot and forefoot the red area is a rockplate for protecting against sharp rocks.
The midsole is their FloatPro foam, giving a high stack height of 31mm at the heel, 25mm at the forefoot (that's a 6mm drop, on the lower end of the spectrum so not a major adjustment from Altra's zero drop platform).
At the back is a thin but structured heel cup that gets more padded at the top.
The upper is a sock-like mesh, super thin and light, which is meant to be good at dispelling water when wet. The tongue is also gusseted, which is a fancy way of saying it's got a layer that wraps around your foot to stop the tongue slipping down.
At the front is a flexible toe bumper, more protection than a Lone Peaks, but less that an Olympus, a good mid ground.
Finally there's a D ring and velcro for gaiters if that's your jam.
One big win here is the upper mesh and laces are both 100% recycled materials, whilst the midsole foam is 50% recycled. More of this!
Unboxing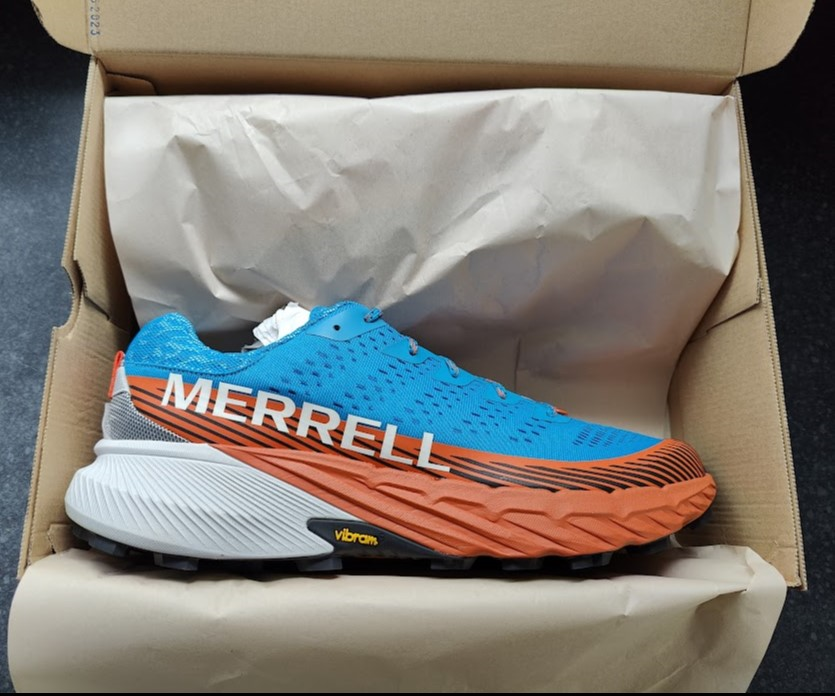 Coming out of the box and looking at the features, these are clearly Merrell's answer to the Hoka Speedgoats. The feature set is similar with both the outsole and upper designs sitting right alongside Hoka's most popular trail runners.
Thought it would be interesting to see how they fit in comparison, I found the Hoka's to be too narrow for me, even their wide models, and caused me issues in the toe box.
I love the colour way, they've got a road race shoe style to them I'm onboard with.
First Run - 5k Local Trails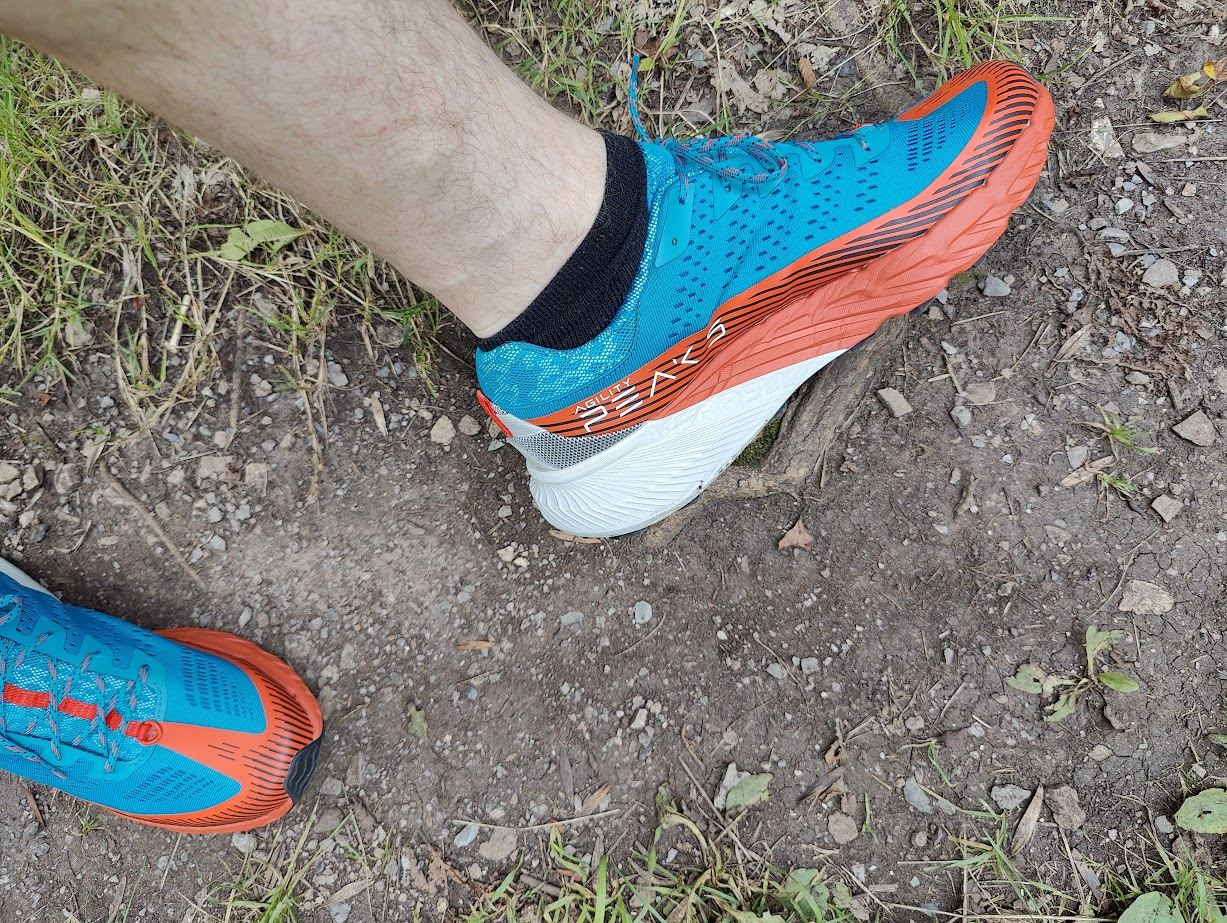 Once these turned up I couldn't resist, on they went immediately and off to the local trails I went to test them out.
Super comfy to put on, they fit true to size for me with a spacious toe box. My midfoot and ankle felt secure too, rather than sloppy. Definitely giving a good locked in vibe.
The grip underfoot is excellent, confidence building, definitely reminds me of the Speedgoats, whilst they were fun and agile feeling, light over the trails and fast feeling on descents.
Cushioning was good, helped a lot on the downhills and road sections.
The best comparison I can make is that these feel very similar to the Hoka Speedgoats, except with a more spacious, natural feeling toe box and a little more arch support (Merrell tend to be know for more structure under the arch).
Proper Test Run - 30k Mixed Trails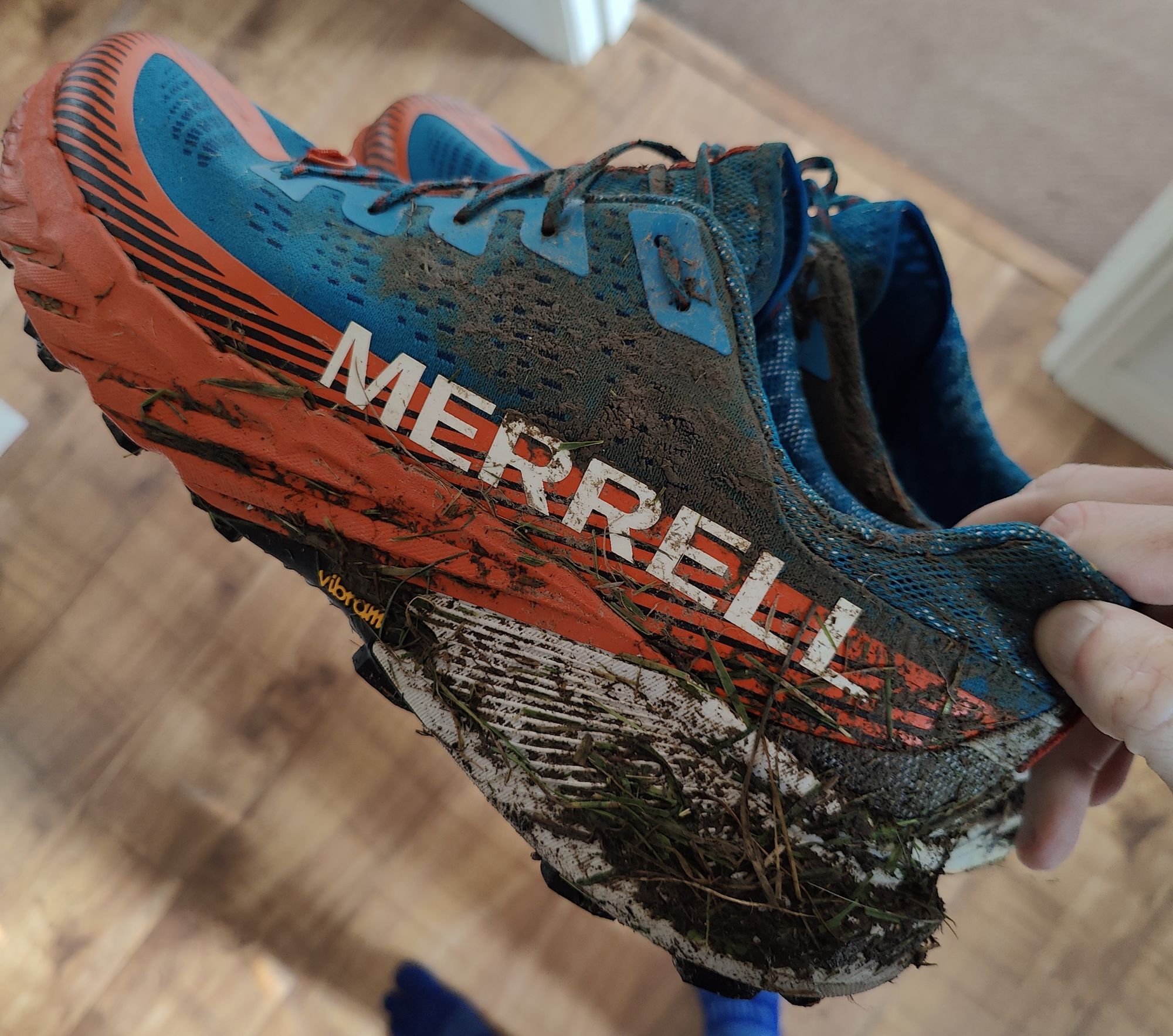 Probably not advisable to do 30k in a brand new model of shoe you've only done a short run in previously but I've never claimed to be a smart man.
Took these on a loop of the Cotswolds with a big mixture of terrain. From steep descents to technical woodland to stream crossings, wet grass, a stretch through town & not a few muddy patches, they were definitely put through the ringer.
First up; on the descents I felt a good bit of toe stubbing early on as the heel didn't lock down as well as it had felt on the first 5k. Stopped and tied a heel lock which helped enormously and solved the issue for me. Didn't have to stop and retie them the rest of the run.
Grip gave me a tremendous amount of confidence over some pretty gnarly terrain & they are now the top shoe I'd consider for a shorter trail race for sure.
Midsole cushioning helped a lot on the descents and reduced the fatigue on the roads.
Felt like they dried out quickly, much faster than my plushy padded Lone Peak 7s.
Main drawbacks were the heel cup letting my foot slide more than I'd like, and a squishy sound coming from the midsole when I'd filled it with stream water 😅.
Next?
Coming up next Saturday I've got the last Pegasus event of the year: the RIDUM, a 30 mile ultra around the Rhymney Valley Ridgeway Walk along mostly trail with lots of climbing.
I know the sensible thing to do would be to stick with the Altra Lone Peaks for this one.
But a big part of me wants to go for it in these shoes...