VOGUM 2022 Race Report
How things went along 40 miles of the Wales Coastal Path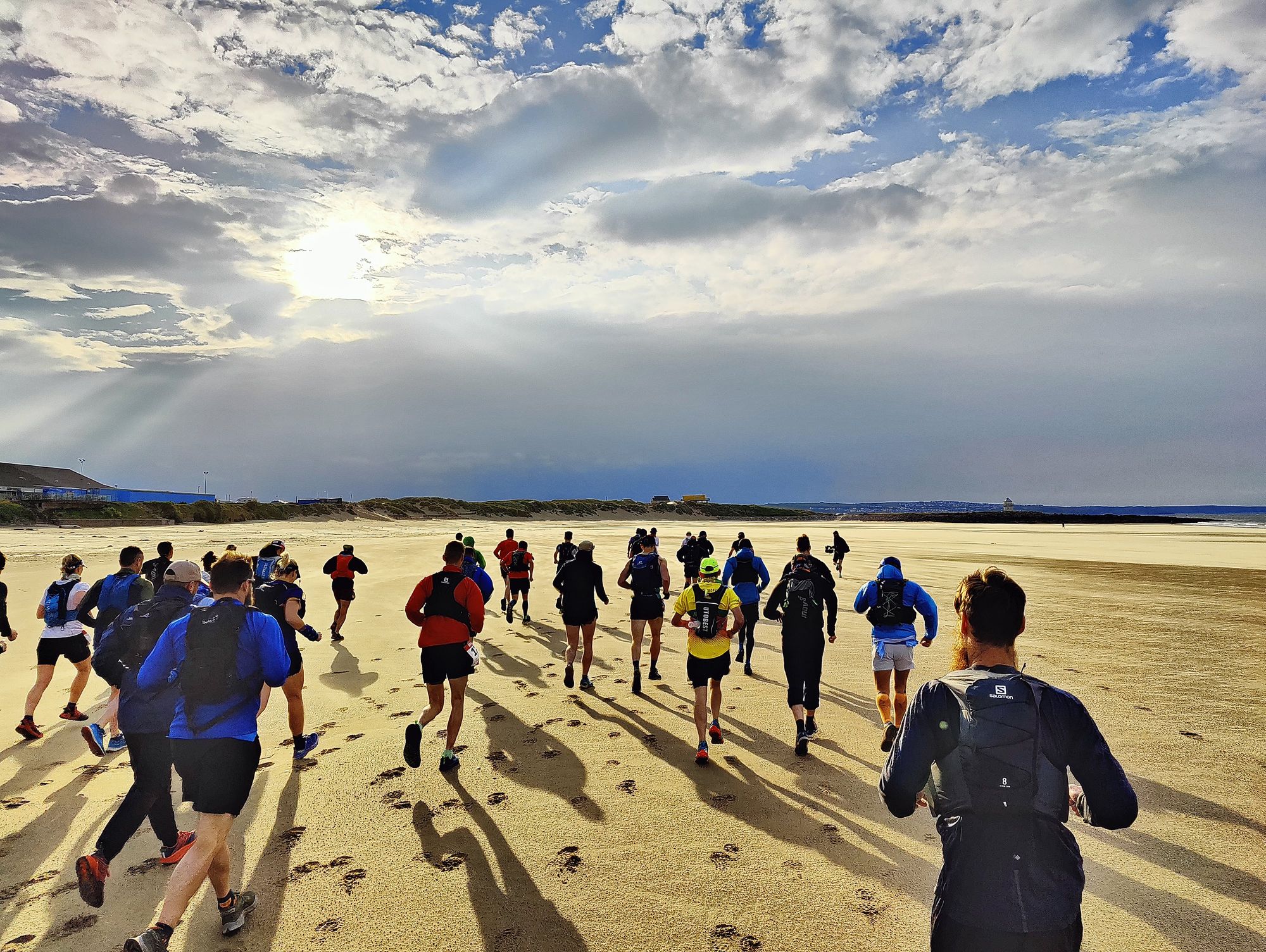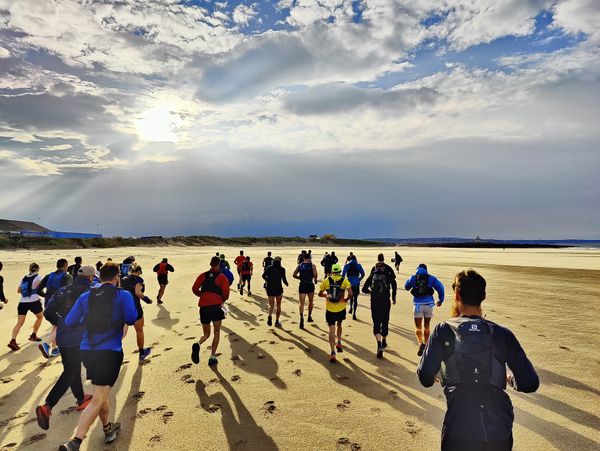 I'd always heard great things about the folks at Pegasus Ultra Running who run 5 events across Wales, including the Vale of Glamorgan Ultra Marathon.
Fellow Running Punk Catrin Fenton encouraged me to sign up for the VOGUM, and as it lined up nicely in the training plan for the Long Road North (aka the Race to the Tower happening at the end of June) I relented and signed up.
The VOGUM is a 40 mile race starting in Porthcawl and following the Wales Coastal Path to Penarth (just below Cardiff).
I cannot express how much I absolutely loved this event, from the wonderful, bloody lovely volunteers to the well stocked aid stations to chats with fellow runners on the course, it was by far my favourite ultra so far, and I'll definitely be returning to a Pegasus event soon!
Before I start the write up I wanted to say a massive thank you to the volunteers on course who made the day. The warmth & atmosphere at each checkpoint was enough to make you wish you could stay.
Training & Goal
On the run up to the event I was happy with my training load; I'd peaked well, maintained it and was able to taper nicely for the big day

However a few weeks before I'd tackled the Blorenge, a peak in the Brecon Beacons, over a 20 miler that ended up breaking me a bit. A day after the run my ribs were aching again from the break back in March, and I'd picked up a new injury on the outside of my left knee I'd never experienced before.
Runs were making it worse so I was forced into recovery mode. Shoes with better arch support helped stabilise it a bit, and the Punks Backyard marathon went ok with that extra support.
Was definitely still worried in the days before, but a few base runs in the Lone Peaks I was planning to wear went ok, so cautiously optimistic in the end 🤞.
Goal for the day was a sub-8 hour time; it was a loose casual goal though and really so long as I completed I'd be happy.
Gear & Nutrition
My gear is pretty static these days, I'm happy what I've got works for me and didn't want to mess with it too much.
Only real change was a recent move away from heel lock lacing back to traditional lacing.  I use to get severe toe bashing in my shoes, that heel locking alleviated for me. However the downside is heel locks put more pressure on your ankles, and can cause damage across your extensor tendon if overtightened (especially with the swelling you get during distance activities).
Now by going a size up in my shoes this toe bashing isn't an issue anymore, so back to a more relaxed, ultra friendly lacing approach.
Nutrition wise I'm still rocking Tailwind in the bottles, specifically the caffeinated variants, at 2 scoops in 500ml every hour.
Food wise I've come to like Kendal Mint Cake's Recharged bars. They are lightweight and easy to pack, and each bar has 2 hours worth of energy. Where usually I'd be carrying 4 gels for that time, instead I've got this small tasty bar that melts in your mouth, lovely stuff.  Then it was just whatever struck my fancy at each aid station.
Conditions on the Day
It was forecast to rain on and off from the start right through to my expected end time, with strong winds as well, alongside high UV levels too just to make sure we packed for all weathers!
I spent way too long trying to choose a jacket for the day (between a lightweight running jacket that's not waterproof, or a heavier but fully waterproof Patagonia jacket).  Ended up going with the heavier one, figuring it would be better to have it and not need it, than need the warmth and be stuck in a thin soaking wet layer.
Lining Up
Up at 02:00 (😭) for breakfast, left at 03:10 to arrive in Penarth for 04:30. Pegasus put on a coach to take up to the start line in Porthcawl, and due to the weather forecast also moved registration to a local village hall instead.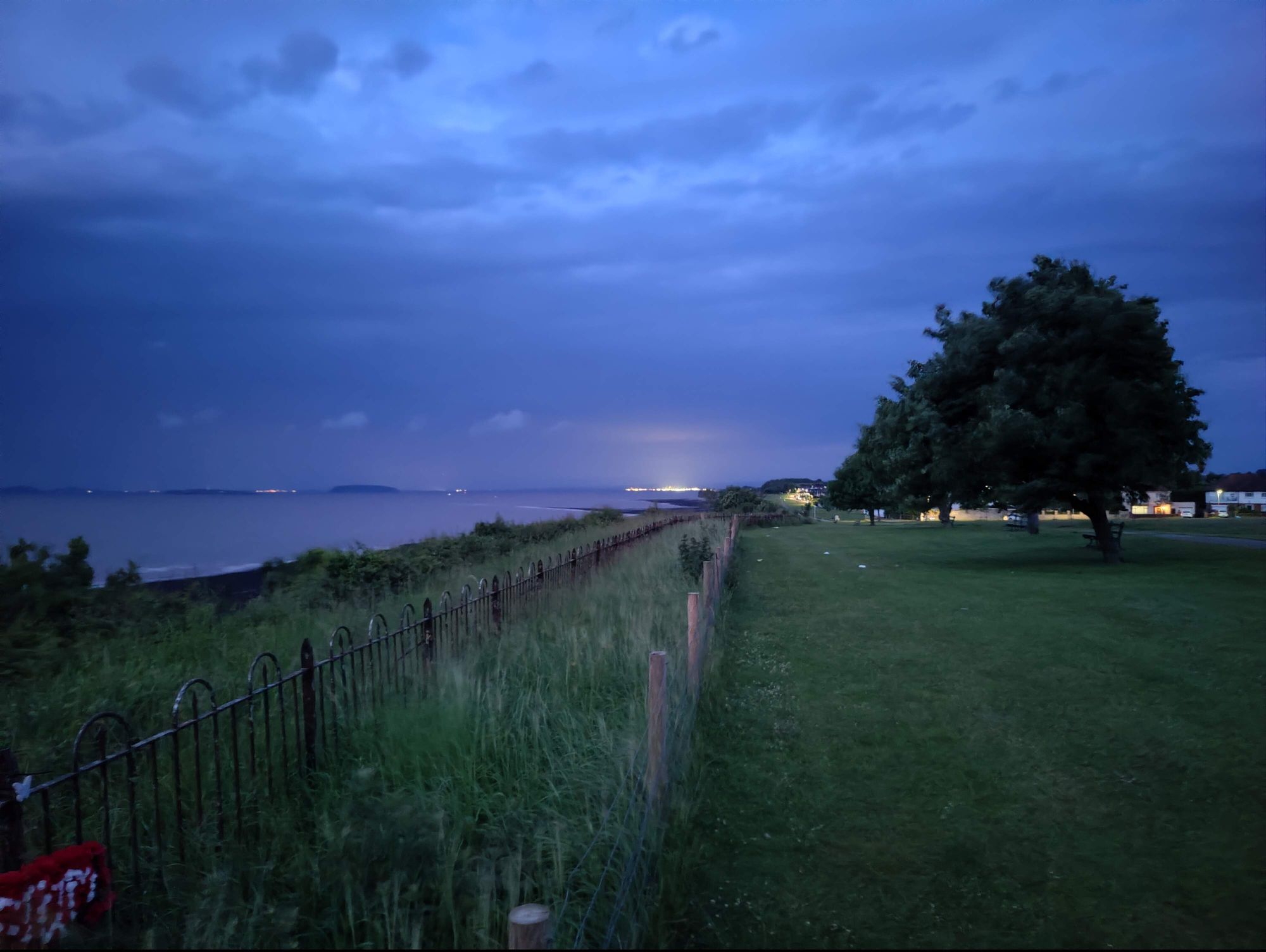 The hall had lovely, much needed coffee. Grabbed a cup and read a book to keep my mind off the impending ultra.
Bumped into fellow Running Punk Kevin and chatted for a bit. He'd given me great advice the week before about chilling out on the first part over the sand dunes, not exhausting yourself on one of the courses hardest sections.
After a briefing from Rhys we made our way down to the beach for the count down.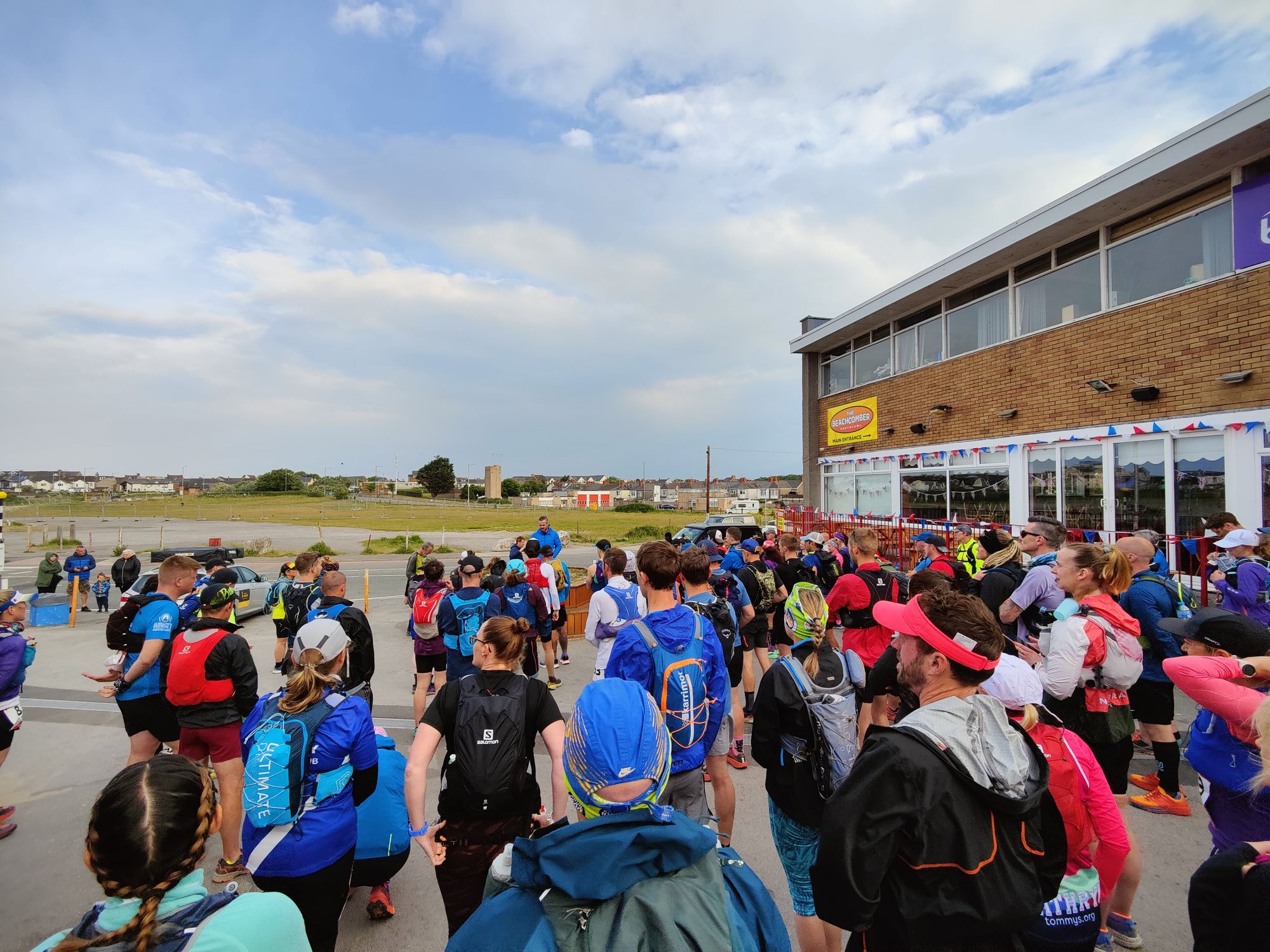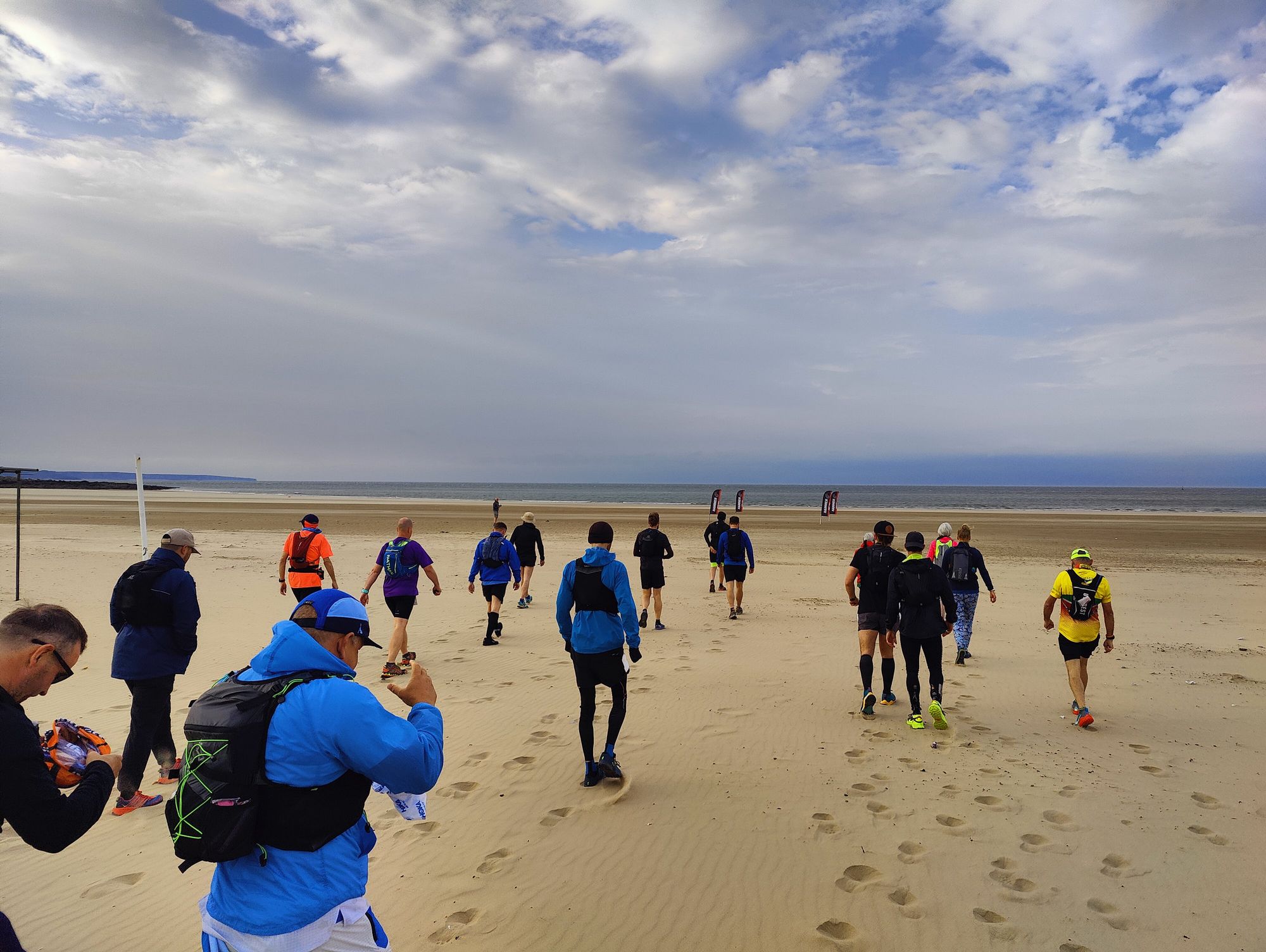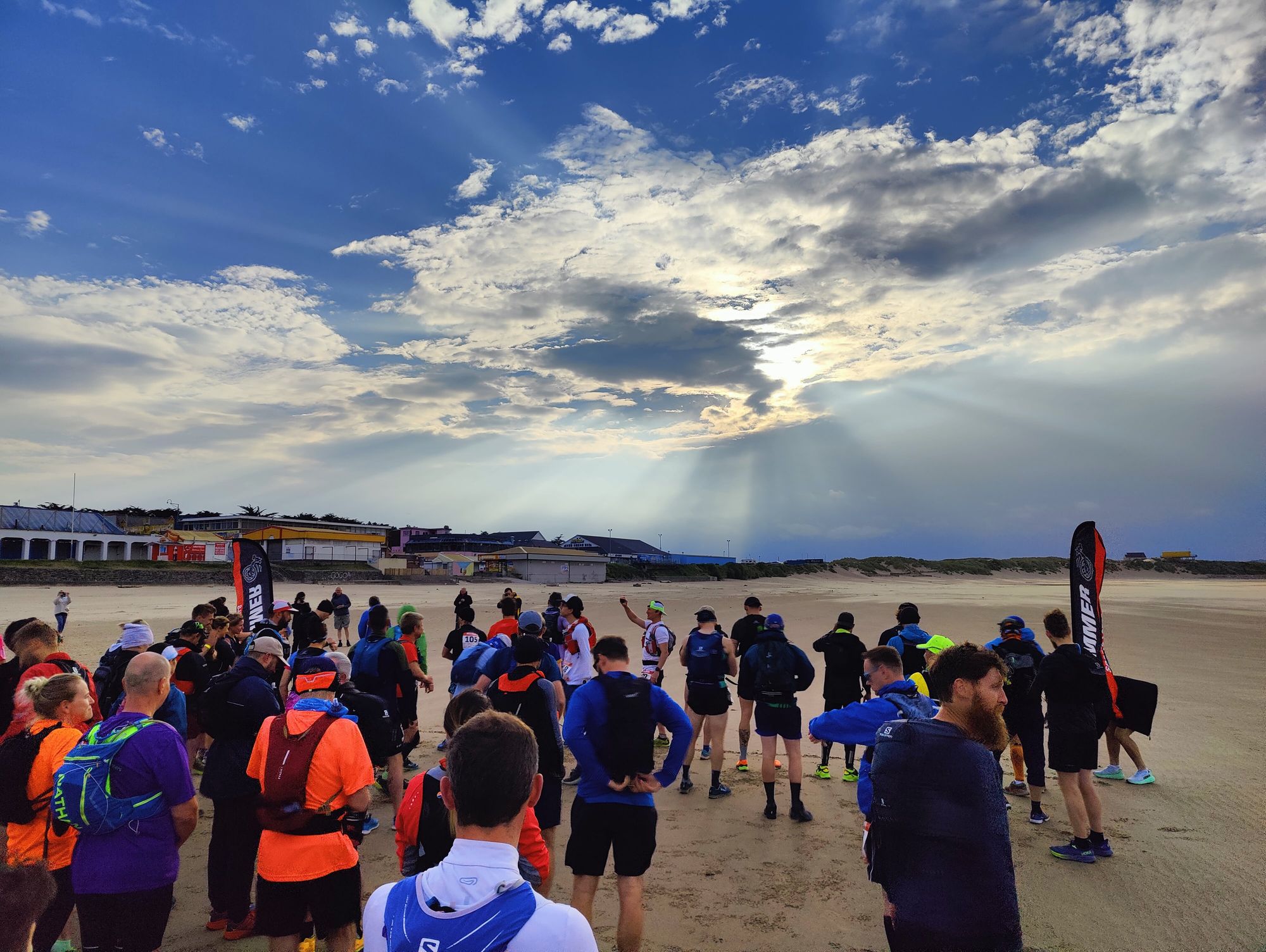 Stage 1: Porthcawl to Ogmore-by-Sea
And we're off, running into the sunshine over Porthcawl beach. A fantastic way to start a race, everyone spread out in the morning sun ready for a nice long bimble up the coast.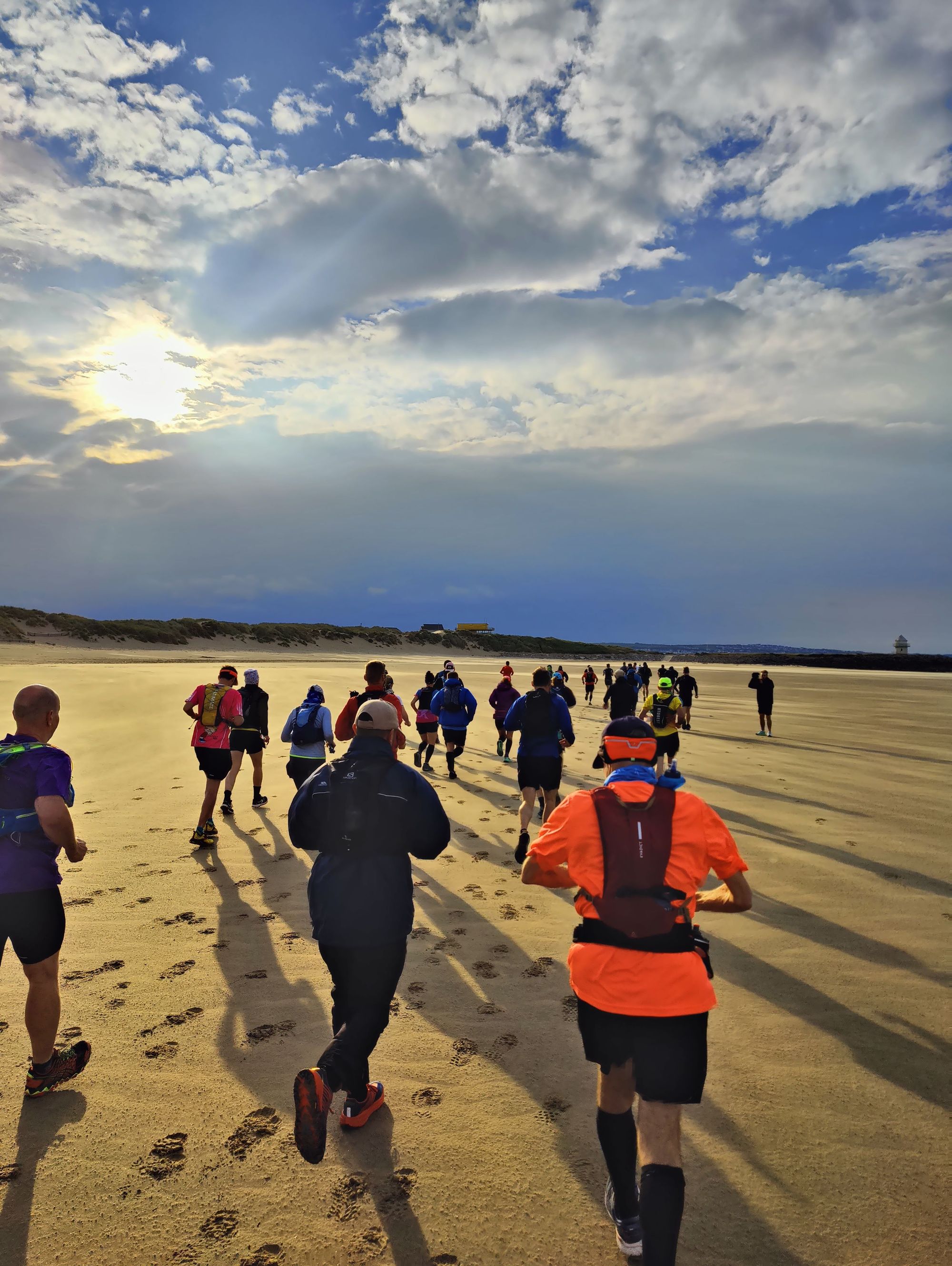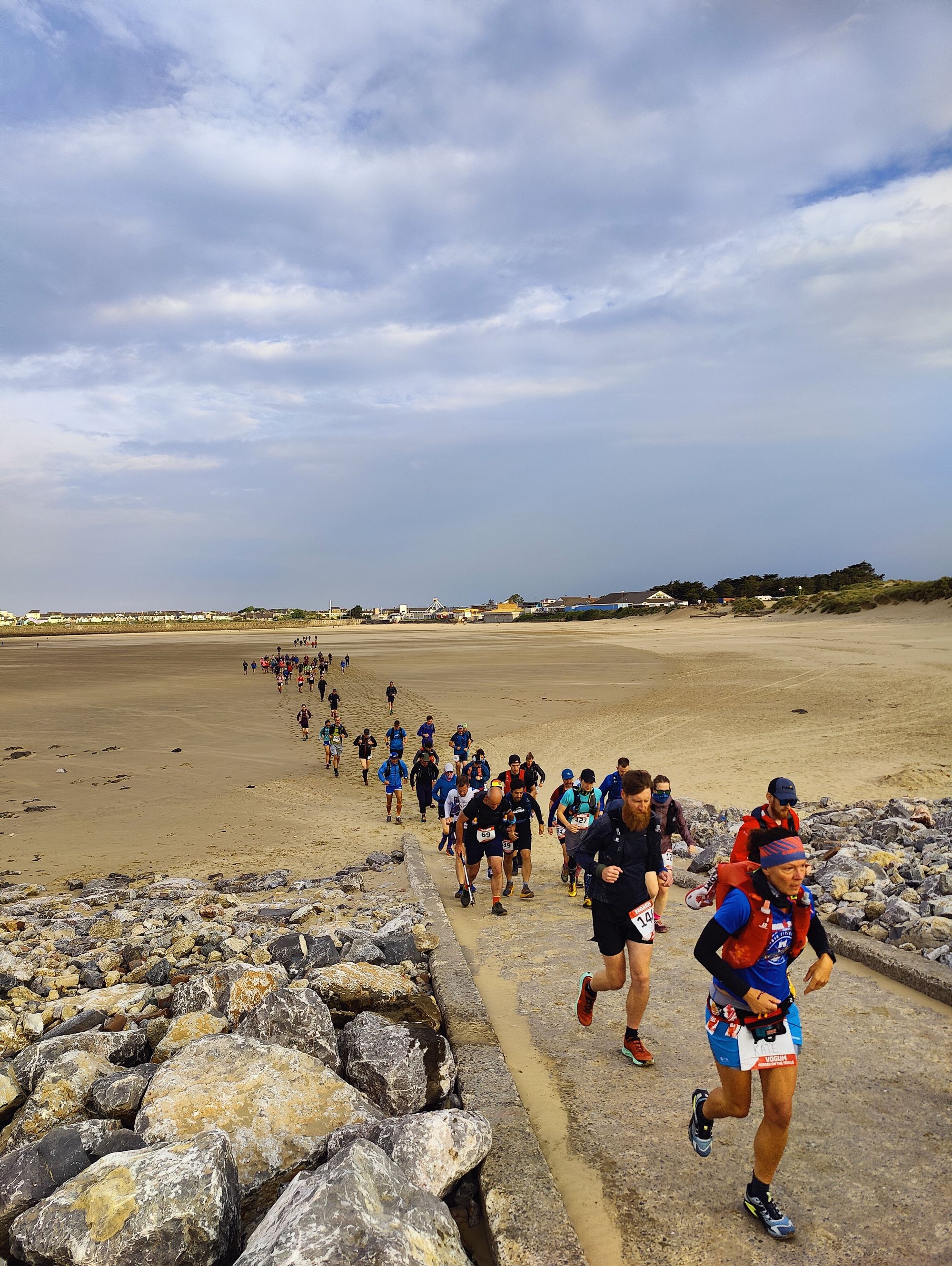 To the first checkpoint was mostly over sand and sand dunes; the dunes especially were challenging, sapping your energy away.  I remembered Kevin's advice and kept the pace low, didn't try to keep up with the front of the pack and just took it chill.
For the first 30 mins I was glad of the heavier jacket, keeping the wind off me, however as the morning warmed up and with no sign of rain, it soon became stifling.  Threw it round my waist and, unbeknownst to me at the time, wouldn't need it at all during the run. Was dry (though windy) the whole day.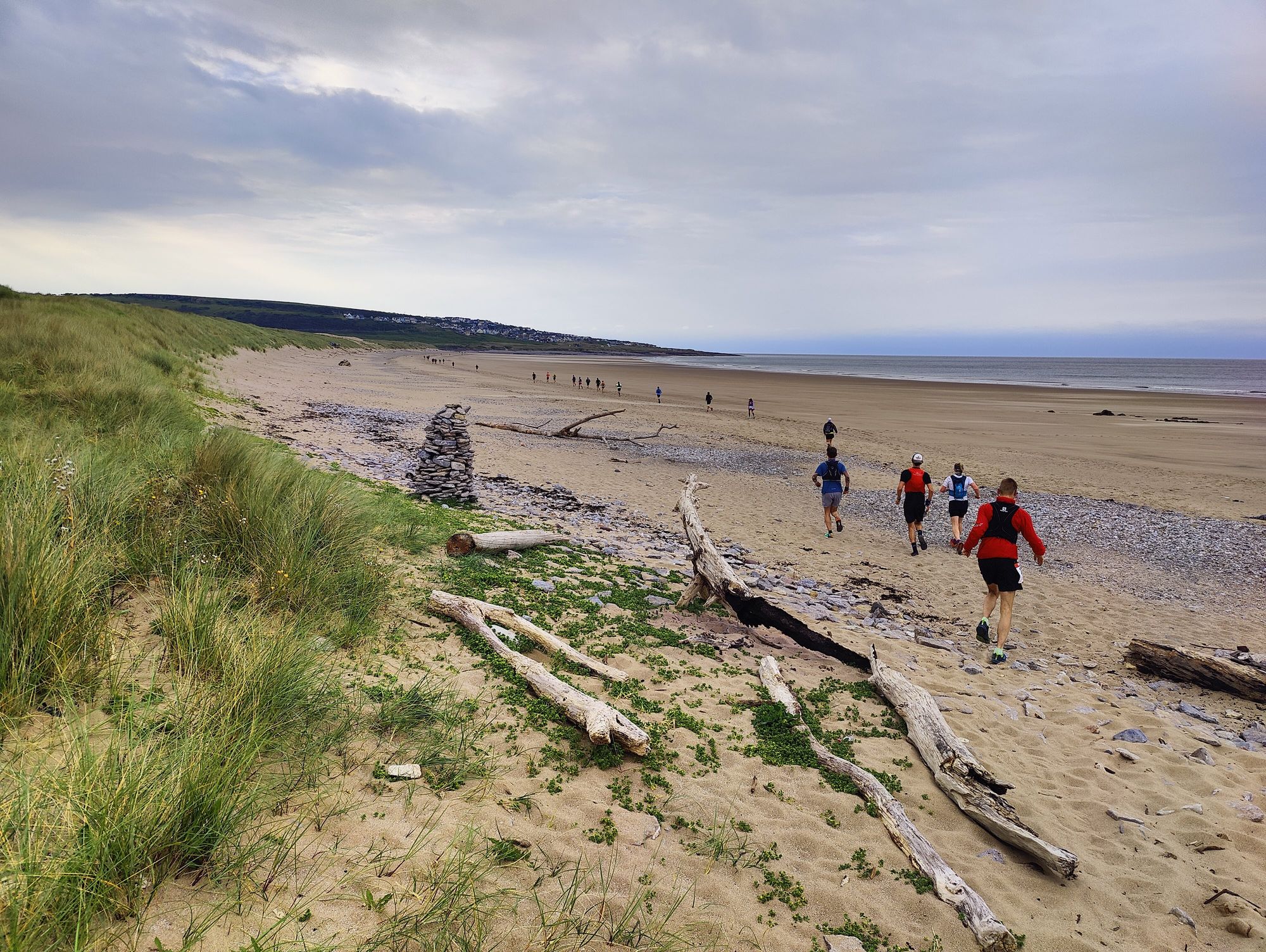 Approaching the first checkpoint I got talking to John, a Pegasus veteran doing his second VOGUM. He gave me some advice about the route and sung Rhys' praises as an event organiser (praises I now echo).
The checkpoint was incredibly well stocked, I went away happily chomping an ice lolly with a bag full of cakey snacks.
Stage 2: Ogmore-by-Sea to Llantwit Beach
Leaving CP1 we also left the sand dunes behind for a climb up to the cliff tops for a long stretch of more rural coastline.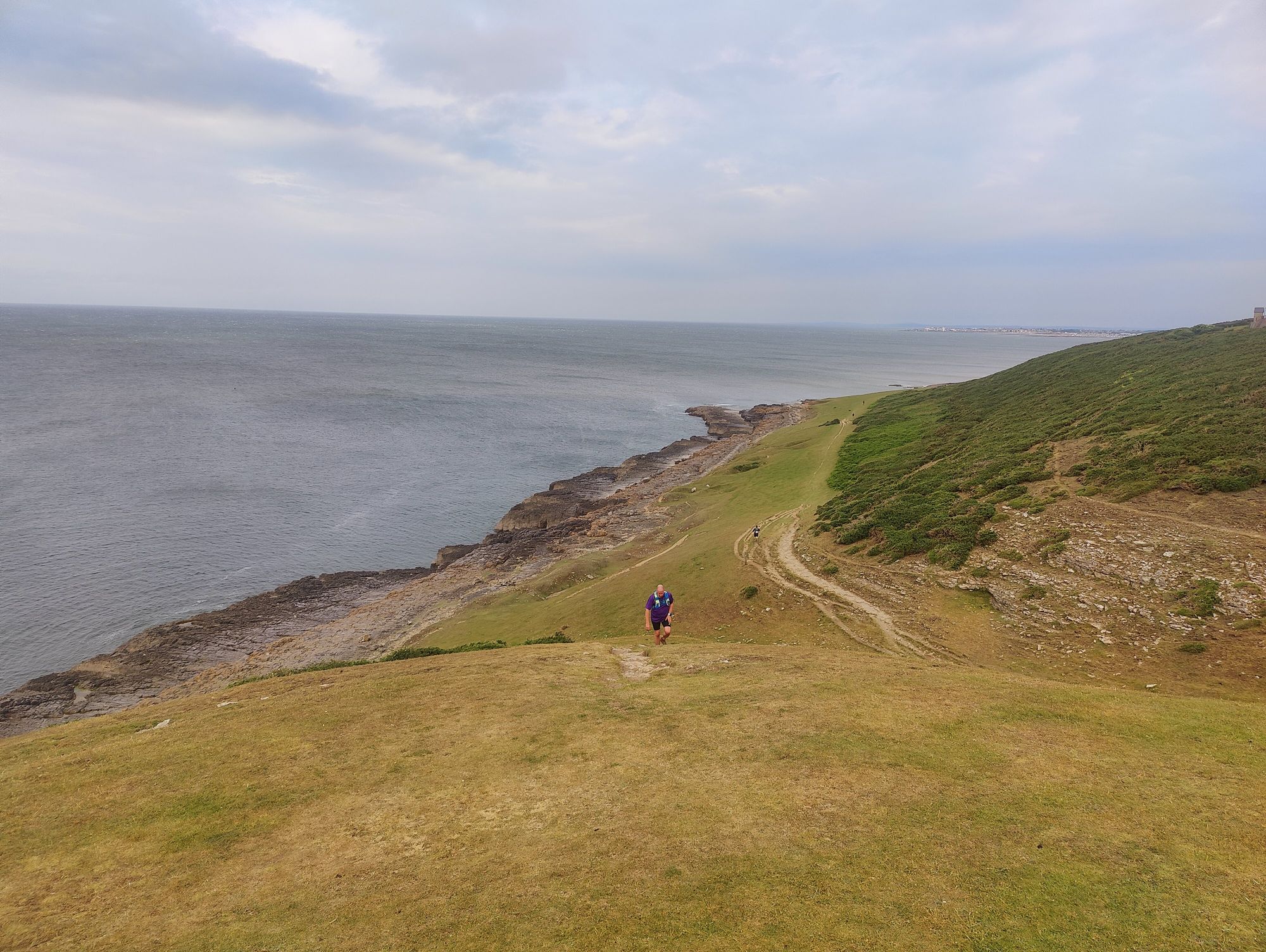 Where more exposed the wind was fierce and kept you on your toes.  The scenery was worth it though, I had no idea how gorgeous the Vale of Glamorgan is, it gives Pembrokeshire's coast a run for it's money.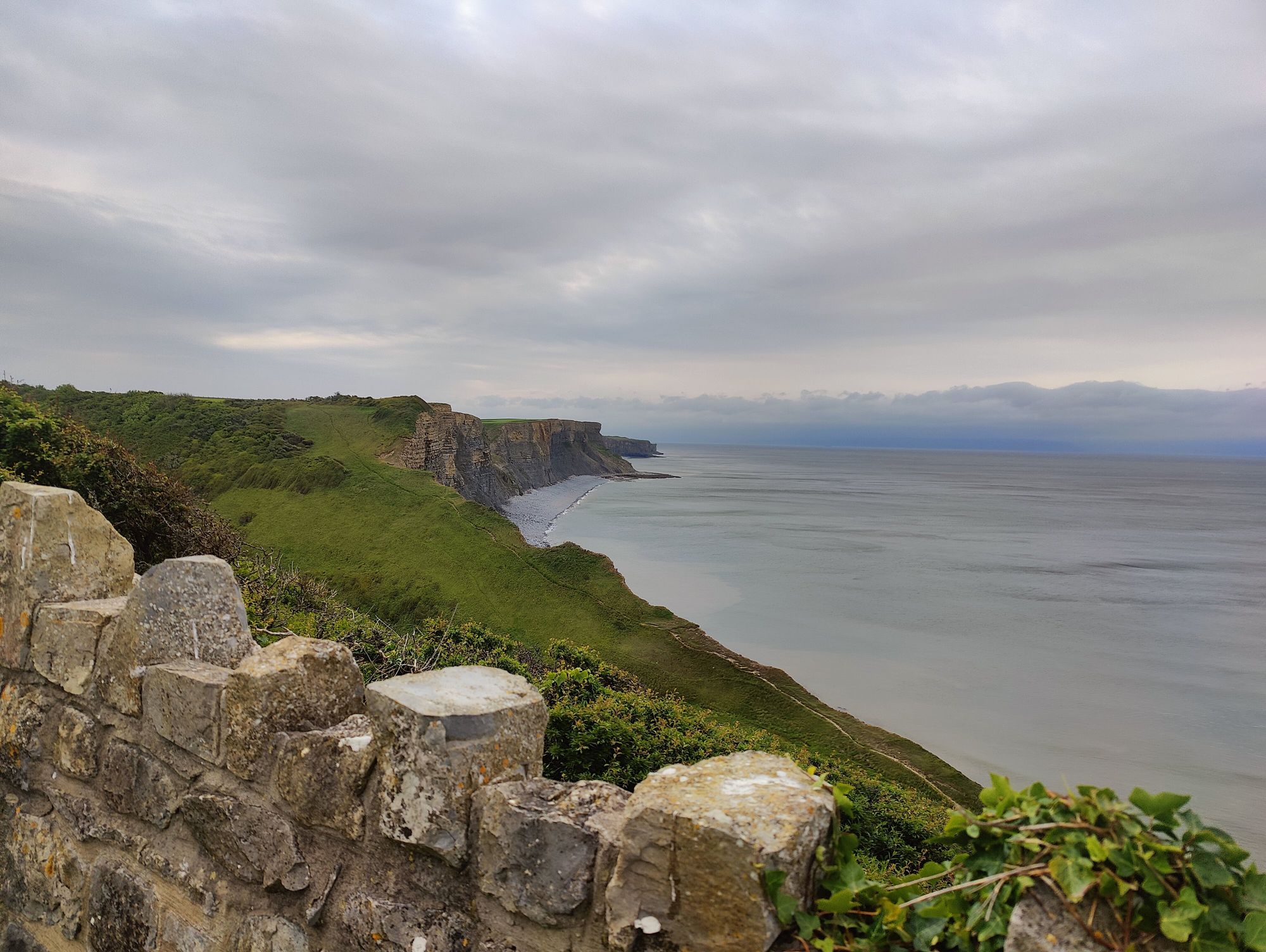 There was some technical sections along the way, specifically beaches made of large, ankle breaking pebbles. Without the rain the course felt bone dry and was harder underfoot than expected. Ended up wishing for thicker soles by the finish line. (It's ok Altra Lone Peaks, I still love you)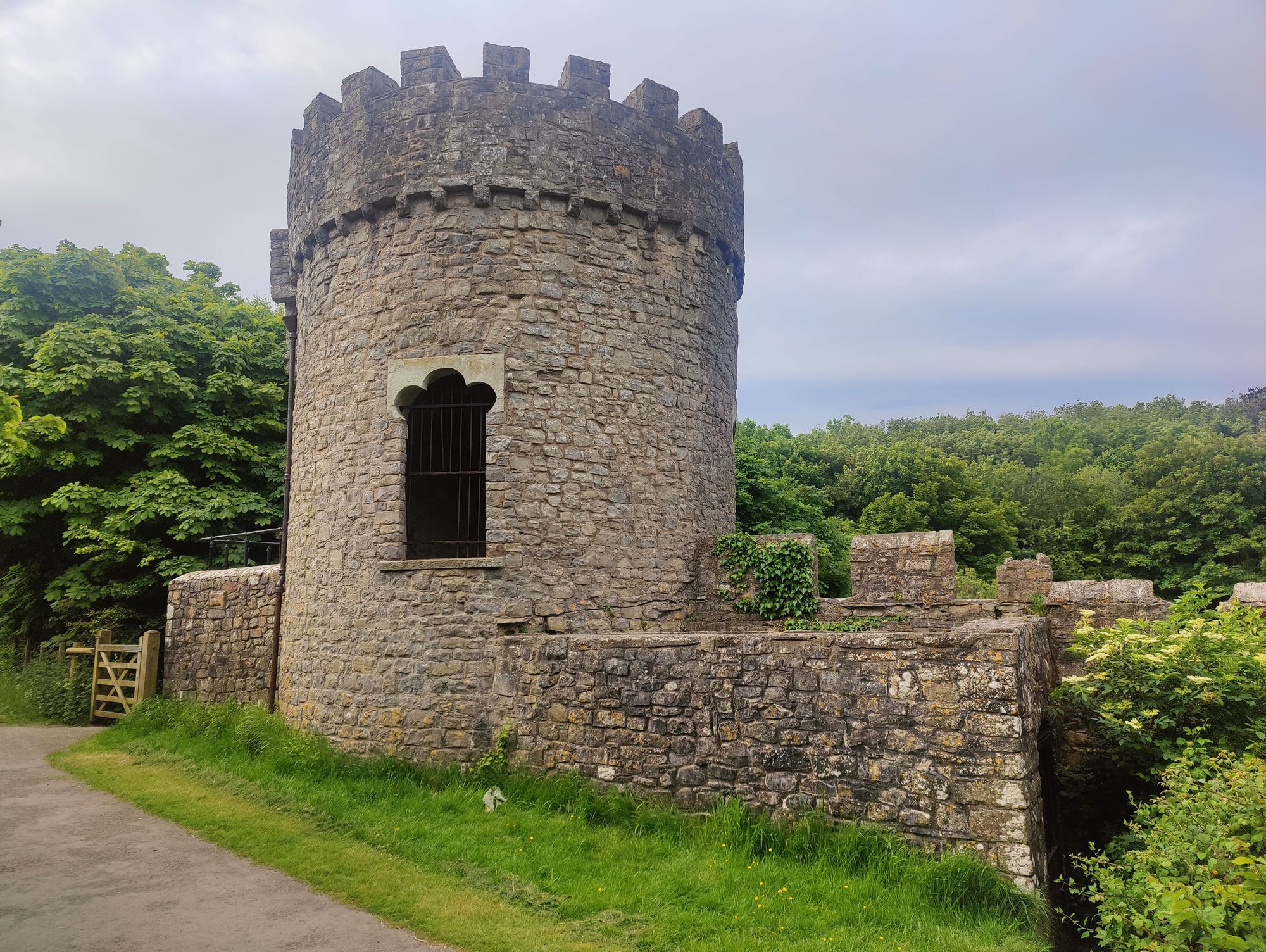 CP2 was nestled in a car park next to a bay, lovely friendly folk who couldn't do enough for you, making sure you have everything you need and presenting a spread of tasty grub that would rival a kid's birthday party.
Stage 3: Llantwit Beach to Font-y-Gary
Immediately after CP2 was a climb up onto the cliffs again for more beautiful but undulating coastline.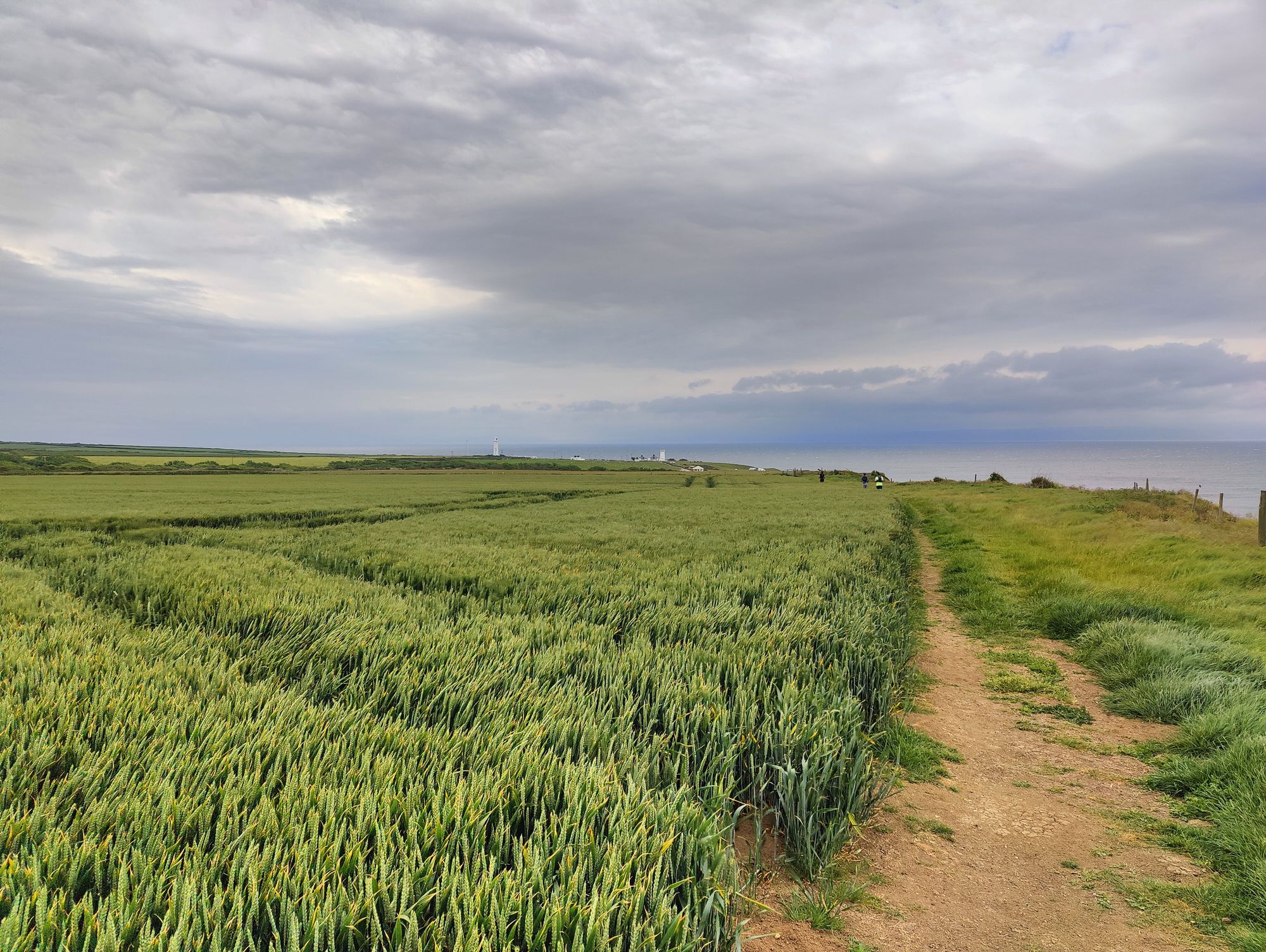 Started running with Daniel who was tackling his first ultra event after completing a 30 miler during training. We were both going roughly the same pace so kept each other's heads high on the stretch to the next checkpoint.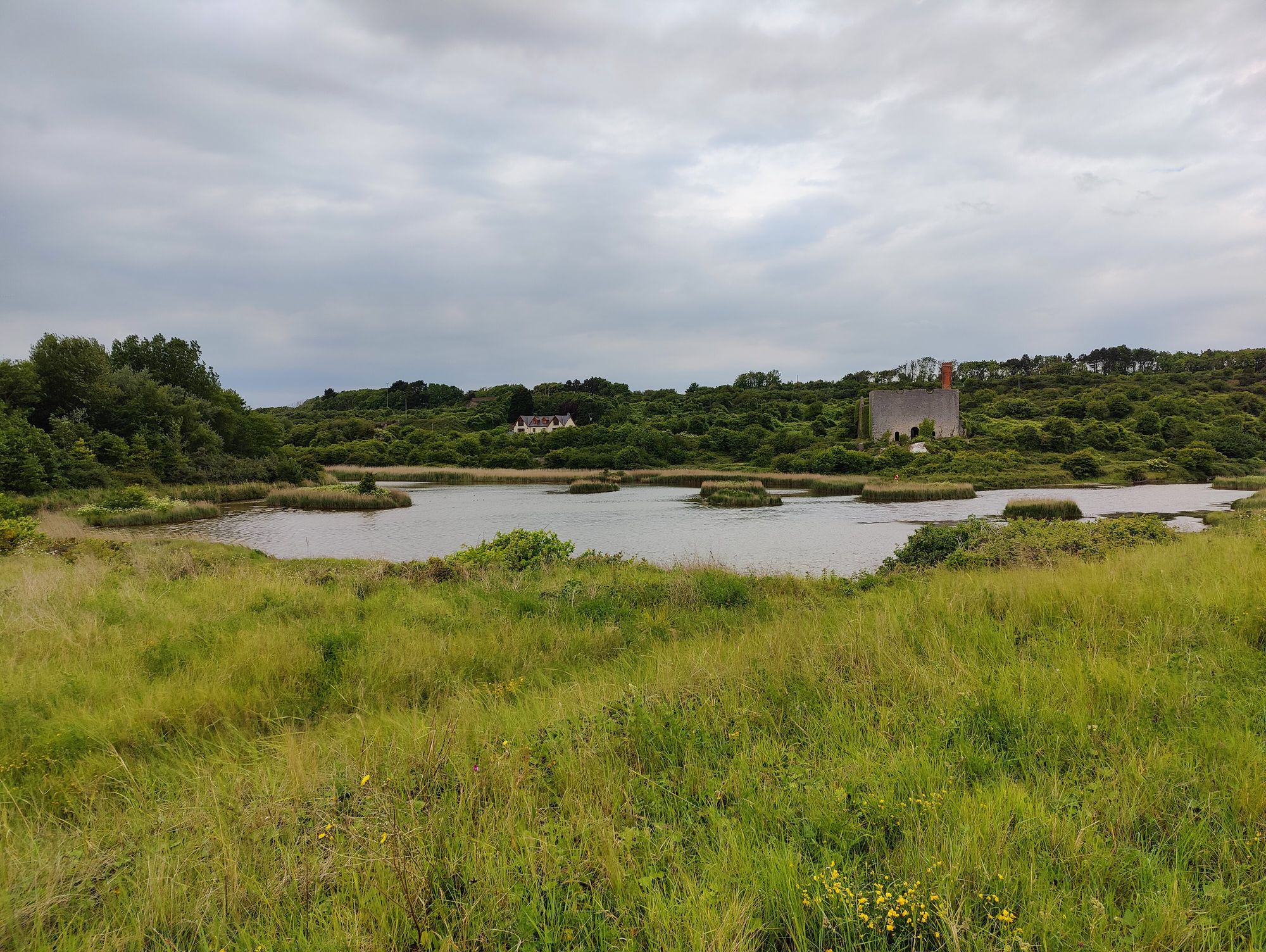 Was still feeling great at this point. My legs were carrying me well, though starting to tire, but spirits stayed high.
I kept an eye on my watch and made sure not to push my heart rate too high, keeping it between zone 2 and mid zone 3, cutting back if it crept towards zone 4. This tactic worked well for me, partially as it gave me something to focus on, partially as it reminded me to keep the pace chilled.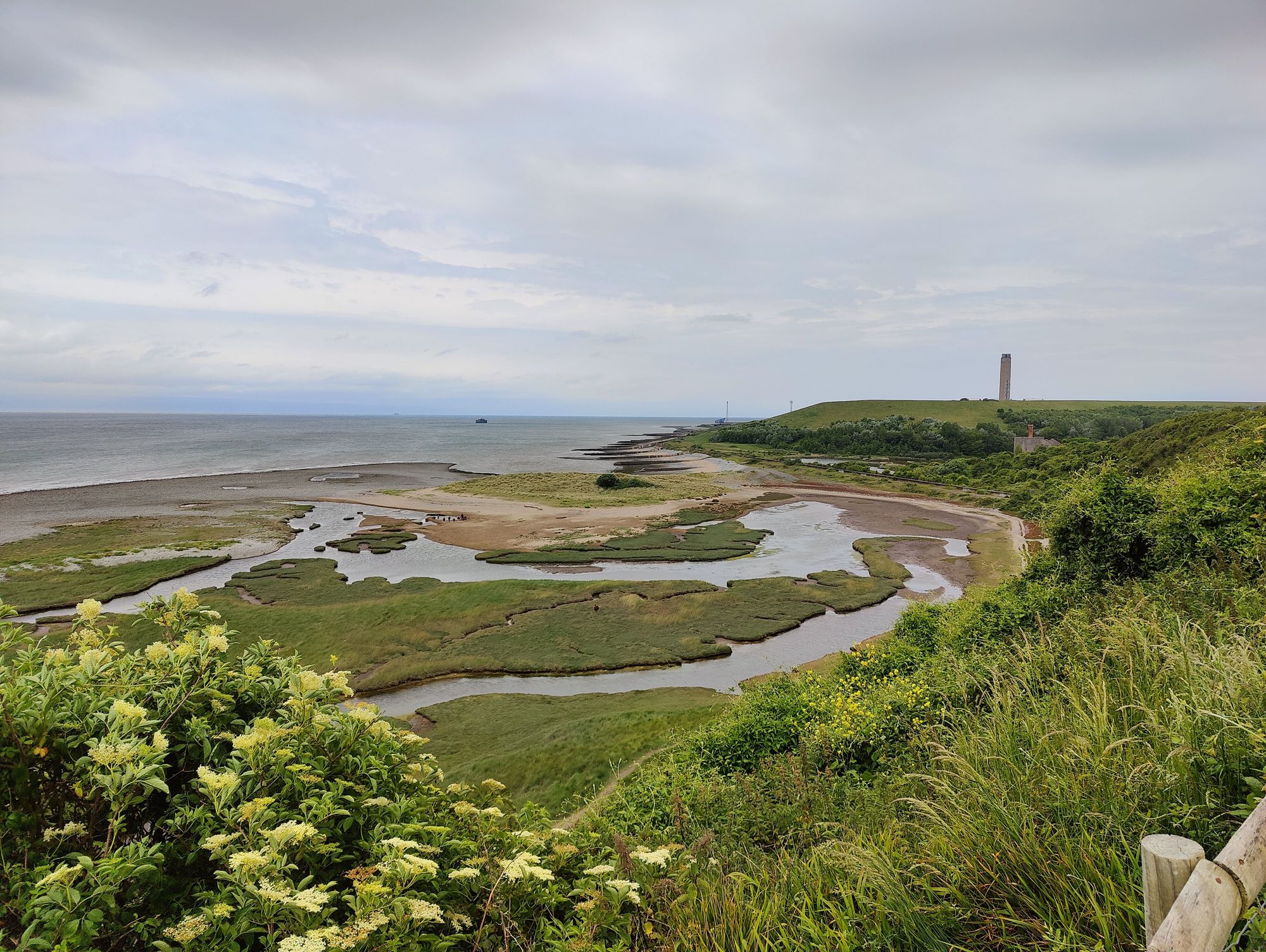 CP3 was run by the absolutely amazing She Runs: Cardiff, a lovely bunch with a whole heap of delicious food, a lot of it home made, and plenty of smiles and chats to go around.  Really didn't want to leave that checkpoint, but rock on we must.
Stage 4: Font-y-Gary to Barry Docks
Started this section continuing to run with Daniel, staying together for the first stretch before he needed a loo break.
Afterwards I ran with Rachel for the section leading into The Knap just before Barry. She was doing her first big event since having her two boys and aimed to complete 17 miles today, deciding whether to carry on for more when she met her family in the next town.
Took a loo break and bumped into Daniel again. We stuck together until the checkpoint in Barry Docks.  Rachel flew past us a few minutes later (whatever was in the tea she had with her family at The Knap, I want some!) after heroically deciding to go for a full finish.
Was fun to run through Barry after a long stretch of remote costal path, from here it remained mainly town and road running until we were closer to Penarth. One highlight was seeing a water fountain and us both charging through for a nice refresher.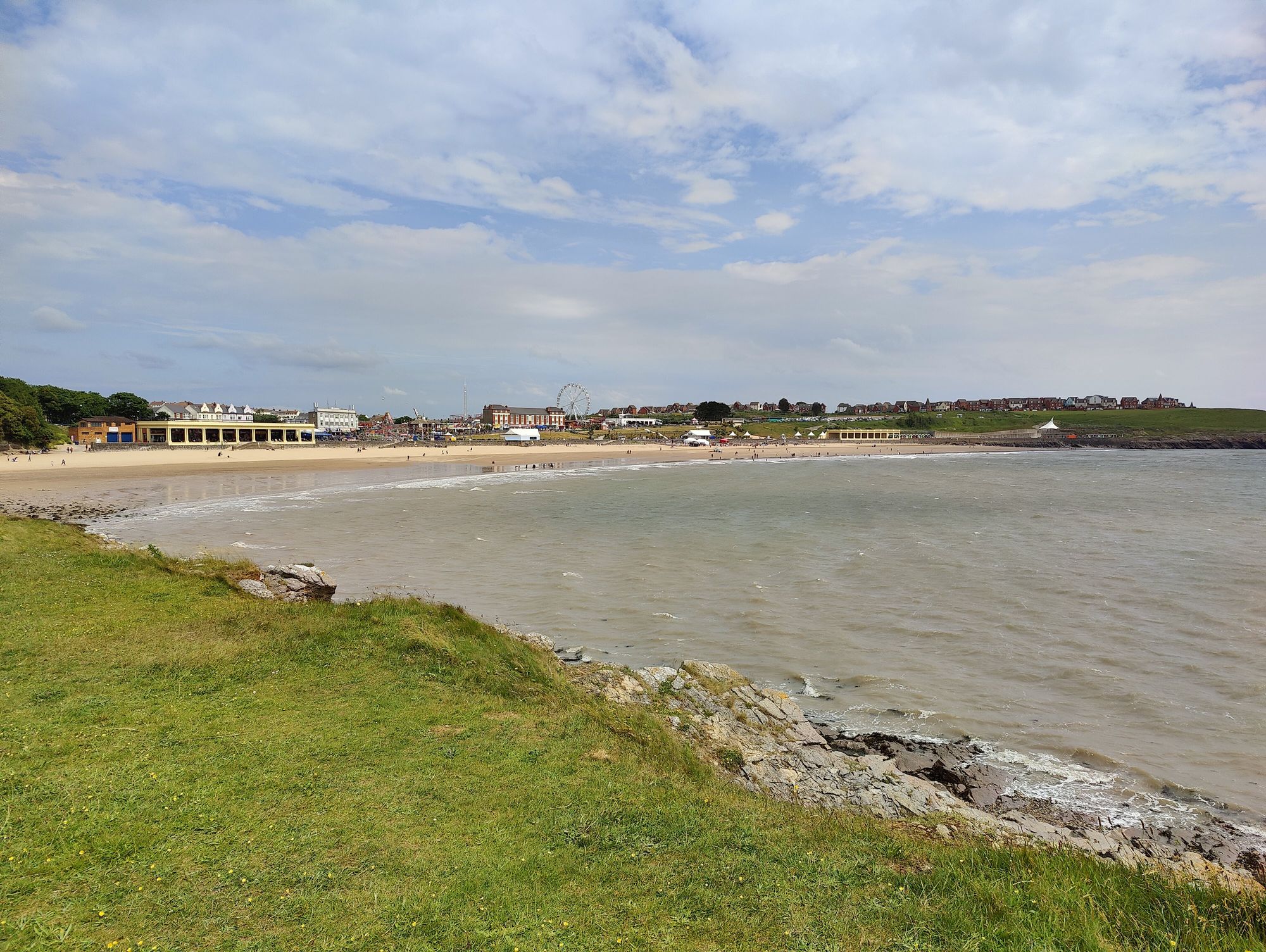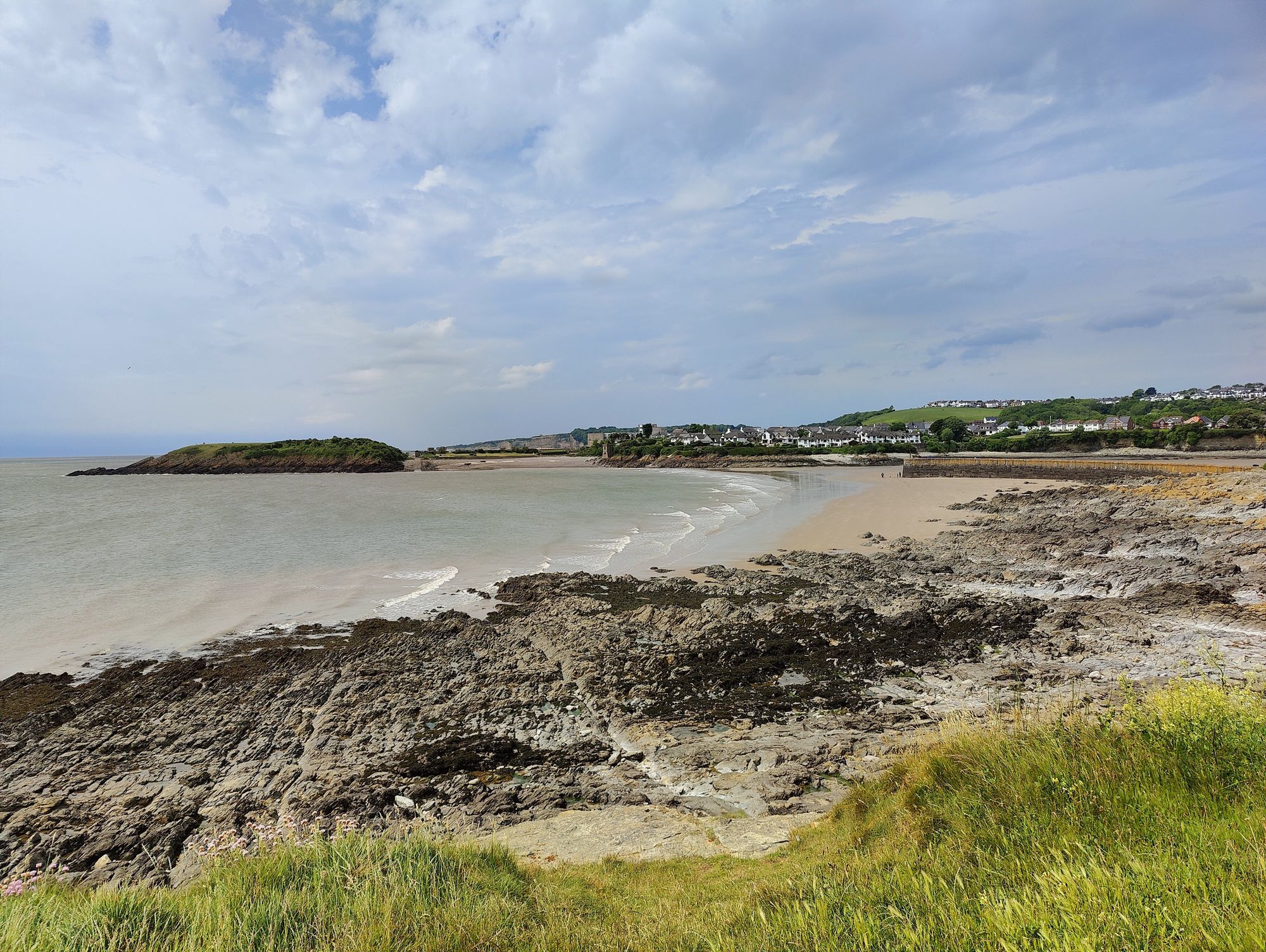 The Barry Docks checkpoint was a sight for sore eyes after running through the town, and much needed. Smiles all round though as we refuelled, recharged and looked towards the last stretch.
Daniel had been struggling with his knee over the preceding section and needed a little more of a break.  We bumped fists, wished him luck and off I plod for the final stage.
Stage 5: Barry Docks to Penarth
Rachel and I teamed up for the last stretch on leaving CP4, the next section had a long road segment so was definitely up for the company.
At this point in an ultra I was usually jeffing and struggling through a dark spot, however this time us chatting away really helped, and we maintained a solid steady pace, only walking hills.
Closing in on the finish at Penarth, we realised if we kept it up a sub-8 hour finish was on the cards.  All we had to do was keep the steady pace for the last 5k.
The finish line was up a long gradual hill, which we somehow managed to keep jogging up. The flags were hidden round a bend so for a moment there was a fear they'd been placed further into Penarth than expected!  Lots of shouting and cheering from us ensued when we saw the flags pop up.
A last minute overtake from behind led to a fun sprint finish over the line, coming it at a final time of 07:46! Massively happy with that, beaming as I crashed out on the grass with a bottle full of sprite & enjoyed the sensation of not running anymore.
Final position: 35th of 141 finishers.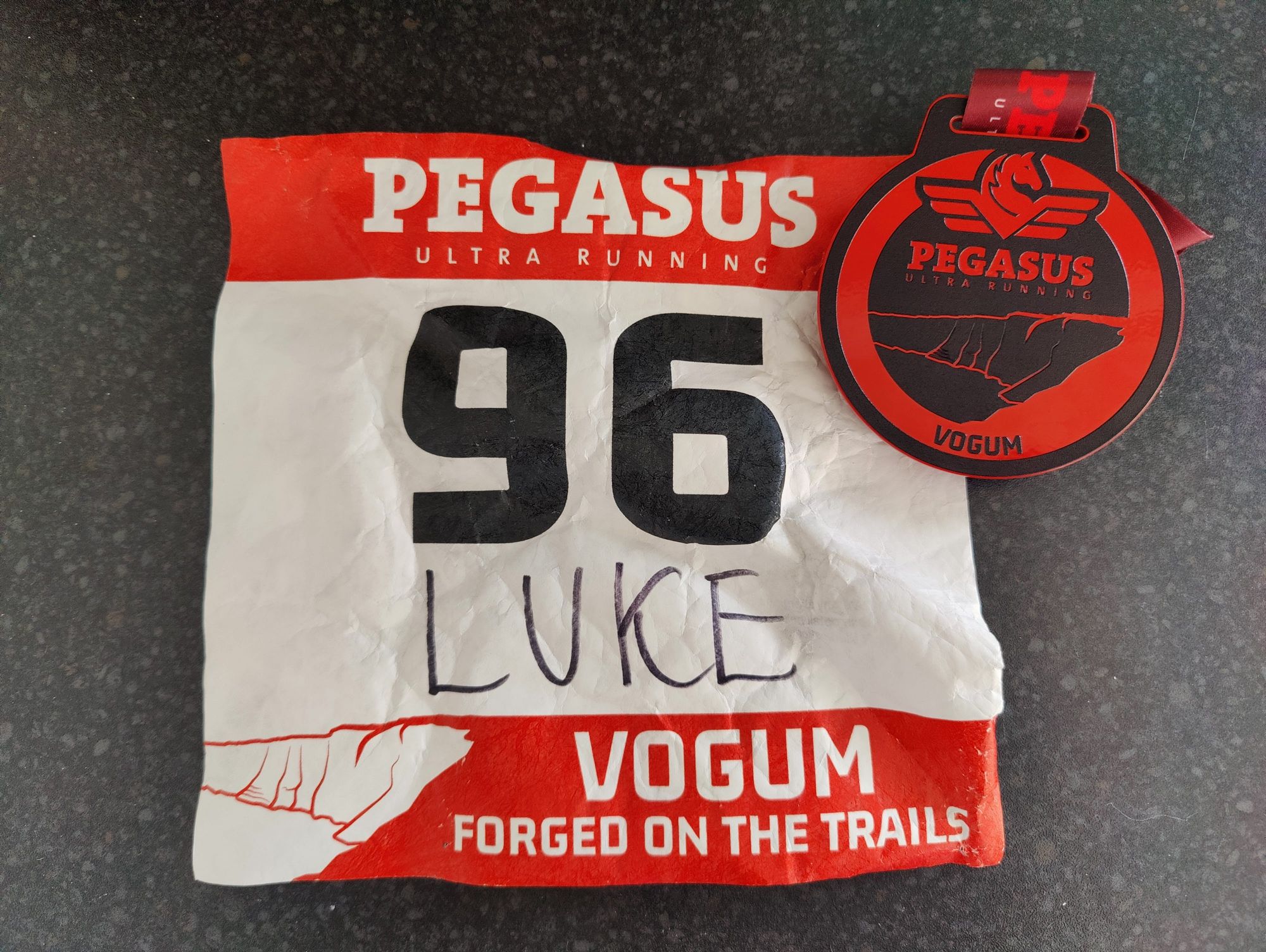 After Action Report
This is the best I've felt at the end of an ultra, and a sign that both the training and mental side of things are progressing nicely. It's true that it's 90% spirit that gets you over the line, and I've realised that running with others makes such a huge difference I'm now tempted to sign up anyone who's mad enough to join me for Race to the Tower!
A huge thanks to Rachel and Daniel for keeping me company for half the race, wouldn't have finished anywhere near as fast, or as happy, without the teamwork.
I've come away with a lot of confidence for my next event, so long as I keep up the level of fitness and taper the same way I know I've got this.
Damage
General aches, nothing unexpected, really happy with that
Bruising under my left toe nail that I hope won't turn into a lost nail before the next event
Knee held up without issue, this was the biggest concern yet a complete non-issue on the day
No aches or pains along the ribs, whatever I did the other day has healed up
What Worked
Running with others, chatting away and staying positive. It made such a difference
Taking longer at checkpoints, recharging and refuelling, both physically and mentally.  A good chat, smiles and few fistfuls of food did wonders
Letting the front runners disappear into the distance, keeping to my own pace from the start & remembering I'm here to complete, not compete
Keeping an eye on my heart rate consistently, ensuring it stays in zone 2 / low zone 3 as much as possible
Being strict on eating constantly, taking on a variety of food and treating it like a fun all day picnic
What Didn't
Still struggled with nutrition in the later stages, though this time past the 50k mark so that's an improvement
Need to work on refuelling in those late stages, maybe by stopping to eat as it's the motion that makes it a struggle towards the end
Heavyweight waterproof jacket, too big and bulky, had to haul it round the whole way, need something smaller but still waterproof
A few folks brought back up shoes in their drop bags, switching into them as conditions allowed at the half way point. Great idea as the course ended up being dry and hard underfoot, making thicker soled road shoes a solid choice.  I was regretting not doing this by the end