Training Plan for the Summer Green Man Ultra
A training plan to help me get over the 45 mile finish line in one piece, hopefully without too much crawling.
Having signed up to the Summer Green Man Ultra in Bristol, I now needed a training plan to help me get over the 45 mile (72.4km) finish line in one piece, and hopefully without too much crawling.
Training Background
After finishing Couch to 5K in Sept 2019 I've been slowly building my weekly mileage, from 20k at the end of 2019, 40 for most of 2020 and now hitting 60-70 during my sabbatical in 2021.
I'm use to running on tired legs and mixing in lots of different distances, even doing the odd tempo and interval session, however the training has never really had any structure to it. Simply the goal of hitting a given weekly mileage and letting the chips fall where they may.
I've done 5 marathons now and 1 50k ultra, so have some experience of the distance, but also know that the extra 22.5km on top of that max distance will be an absolute killer, and recognise I am not ready!
So for the run up to the event I wanted to try a more structured plan recommended by existing ultra-runners.
Baseline Plan
Heather Hart of Relentless Forward Commotion has a series of free plans on her blog here for new runners, from 50 right up to 100 milers.
I'm using her 50 mile training plan as the basis for my own, which looks like this: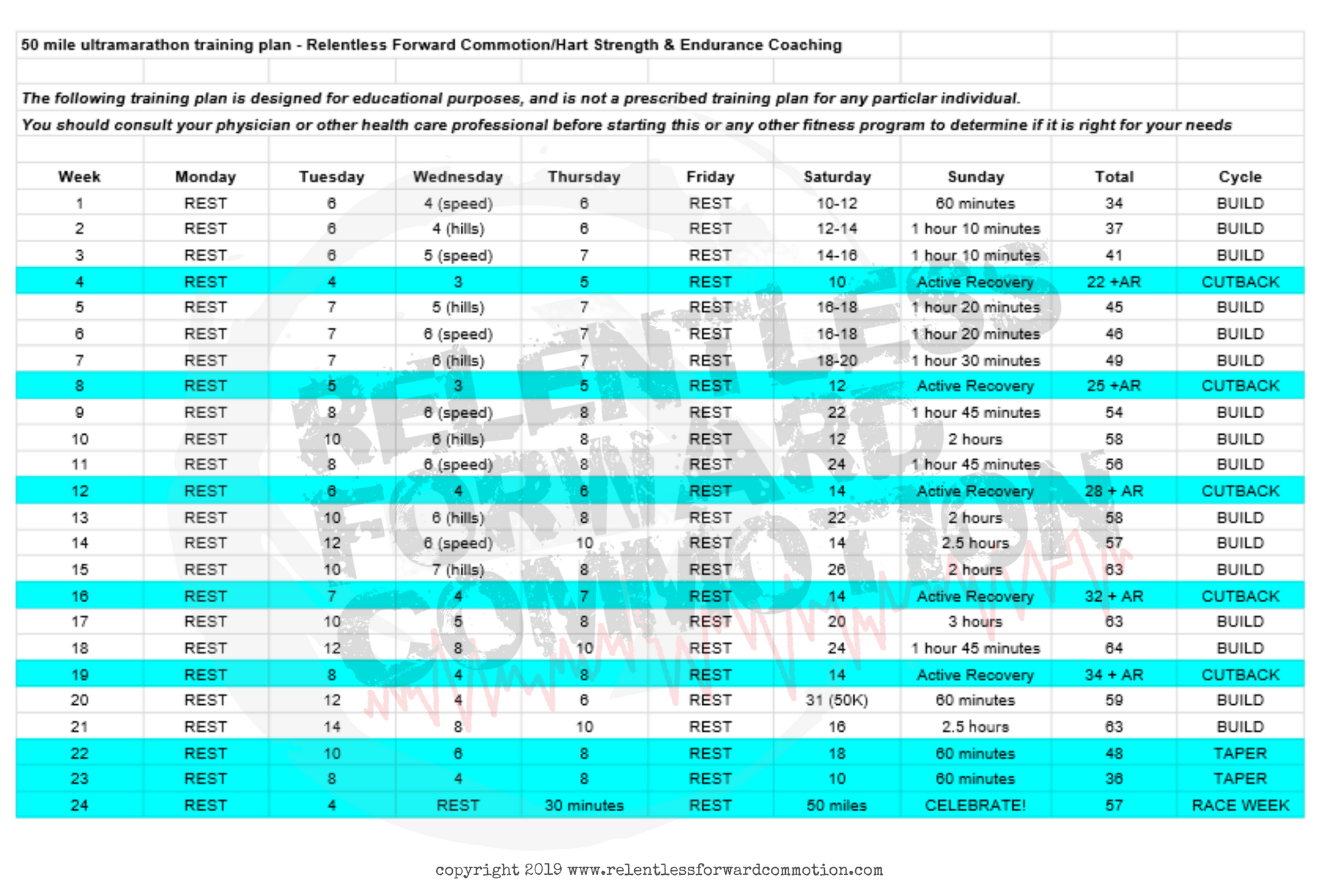 However; I had a moment of horror when I realised the Green Man is less than 24 weeks away, meaning I'm already late to starting the plan 😱😱😱.
So for my plan I'll have to start on week 6. Thankfully I've been running plenty lately (bar this weeks unfortunately injury week) so I'm not too concerned about the load, but after week 6 it really does start to rack up....best get cracking.
My Training Plan
Initially I'm starting with the same plan as above, modified to begin at week 6 and converted to kilometres for my metric-addled brain: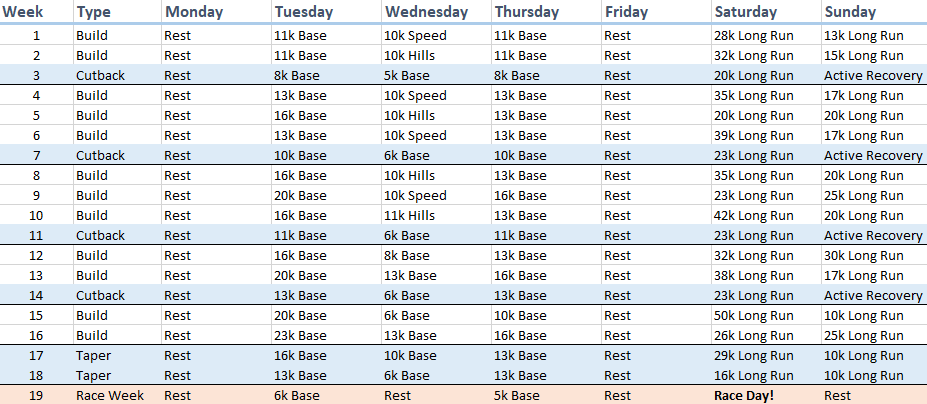 Heather's structure is to have 2-3 weeks of building sessions where the distance grows, then a cutback week of reduced load to allow both your body and mind to recover. There's then 3 weeks of tapering at the end to prepare for rest day.
The base runs are easy, conversational pace, which tends to match my current training anyway so no worries there.
It incorporates speed and hill sessions; I've done plenty of intervals before but not so strictly, and hill repeats are brand new to me.  There's a tough hill on a quiet spot nearby I'm going to try using.
The long runs are where I already focus my training on the weekends, and happy this lets me continue along the Cotswold Way. However what's going to be the real killer is the back to back long runs on Saturdays and Sundays; usually I'll go out for a 5k if that on a Sunday, never 2 big uns in a row.
Finally for the active recovery sessions I'll stick to some hiking or gravel biking..
I'll keep updating the blog with how it's going.  Fingers crossed the extensor tendonitis has healed when I get out again this weekend, then the training plan is all ago on Monday 19th April 🤞.